Sean Lien denies misconduct

'NO SECRETS': The possible candidate for Taipei mayor said a refund from the underwriters of a TDR issue was due to the intervention of the financial watchdog

By Mo Yan-chih / Staff reporter
---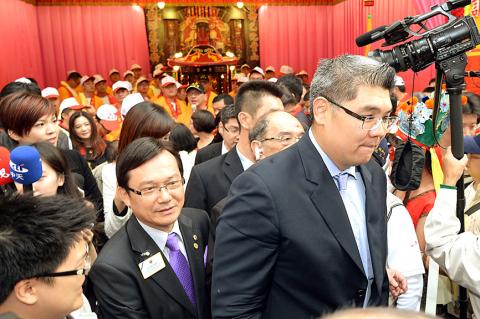 Chinese Nationalist Party (KMT) Central Committee member Sean Lien, front, shakes hands with visitors at Chingshan Temple in Taipei on Nov. 22.
Photo: CNA
---
Former Taipei EasyCard Corp (悠遊卡公司) chairman Sean Lien (連勝文) yesterday defended the legality of his investment in Ting Hsin International Group (頂新集團) Taiwan depositary receipts (TDRs), denying allegations of business relations with the troubled company.

The allegations in a Next Magazine report came amid speculation about Lien's decision on whether to run in the Taipei mayoral election.

Tingyi (Cayman Islands) Holding Corp (康師傅控股), a subsidiary of Ting Hsin International Group, issued 380 million TDRs in 2009 at NT$45 each. Lien, the son of former vice president Lien Chan (連戰), spent NT$7.7 million purchasing 172 TDRs for himself, his family and friends.

According to the report in Next Magazine, yesterday, Wei Ying-chung (魏應充), chairman of the group, asked the deal's underwriters, SinoPac Securities (永豐金證券), to refund NT$75 million of the handling fees for the TDR issues and Sean Lien received an NT$18,000 refund from Wei as a result.

Sean Lien yesterday insisted on the legality of his investment in the company and said the refund was given by the securities firm because the Financial Supervisory Commission said it had overcharged for handling the TDR issue and ordered it to refund investors.

"I was serving as chairman of Taipei EasyCard Corp at that time and all my financial records can be found in the Control Yuan's asset reports. There are no secrets to be divulged," Sean Lien said in a statement.

The company has recently been involved in a food safety scandal, with Wei being released on NT$10 million bail last month and allegations that his company had produced and marketed adulterated oil.

While he enjoys great popularity in the pan-blue camp as a promising politician, Sean Lien has declined to confirm whether he will run for Taipei mayor next year.

He said in an interview with the Chinese-language >United Evening News earlier this week that he will announce his decision soon after the Lunar New Year holidays in February, acknowledging that his wife's opposition to his involvement in politics is the main reason behind his hesitation.

"Since I am considering the possibility of joining the election, I need to clarify some issues because I need to be responsible for myself, my family and my supporters," he said.

Sean Lien has been unable to make up his mind due to health reasons and an incident in 2010 when he was shot in the cheek during election campaign activities in New Taipei City (新北市).

President Ma Ying-jeou (馬英九) and the Chinese Nationalist Party (KMT) have dismissed allegations that the party is not supportive of Sean Lien's bid because of Ma's problematic relationship with Lien Chan, saying that the KMT will give full support to all the party's candidates when they are determined by the primary mechanism.

The KMT is scheduled to finalize its candidates for the seven-in-one local elections after the Lunar New Year holidays.