Chai Trong-rong suffers stroke, in critical condition

By Chris Wang / Staff reporter
---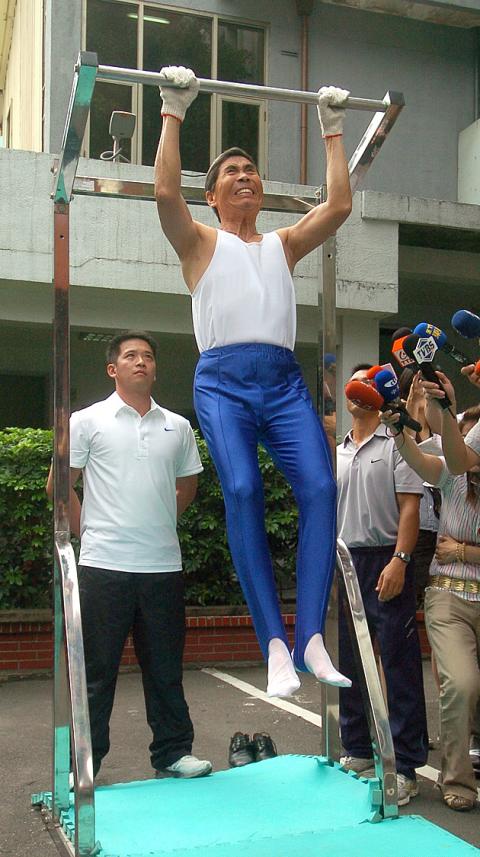 Former Democratic Progressive Party legislator Chai Trong-rong exercises on a horizontal bar on June 15, 2009.
Photo: Wang Min-wei, Taipei Times
---
Former Democratic Progressive Party (DPP) lawmaker Chai Trong-rong (蔡同榮) underwent an emergency operation yesterday after suffering a stroke and remained in critical condition at press time.

Chai, 78, was found unconscious by his maid at about 8:30am in his residence in New Taipei City's (新北市) Banciao District (板橋) and was transported to National Taiwan University (NTU) Hospital for treatment.

He was diagnosed to have suffered a brainstem hemorrhage and lapsed into a severe coma after he scored less than 9 on the Glasgow Coma Scale.

The scale is a diagnostic tool that labels patients who score approximately between 3 and 8 points in responsiveness tests to be comatose and also grades the severity of the coma.

The hospital performed an emergency operation that lasted almost four hours.

Chai's condition did not improve following the procedure and he was found to be suffering from increased intracranial pressure about seven times higher than normal, upon which he was subjected to another CAT scan, the hospital said.

The news sent shock waves throughout the pan-green camp, with most people saying it was hard to believe that Chai, who is known for adhering to a strict daily exercise regimen, had had a stroke.

DPP Chairman Su Tseng-chang (蘇貞昌) and other senior party members either visited the hospital or sent representatives to extend their get-well wishes.

Born in 1935, Chai was on the blacklist of the former Chinese Nationalist Party (KMT) government and was in exile between 1960 and 1990, during which he dedicated himself to securing congressional support for Taiwan's democratic movement.

The staunch Taiwanese independence advocate established the World United Formosan for Independence organization in 1970 and served as its chairman.

After returning to Taiwan in 1990, he served as a DPP lawmaker between 1993 and 2008, and is known for his advocacy for the Referendum Act (公民投票法). He ran for the DPP chairmanship unsuccessfully three times, in 2005, 2008 and last year.

Chai was also in the media business and founded Formosa Television Inc in 1996.