Rally protests cross-strait trade pact

By Rich Chang / Staff reporter
---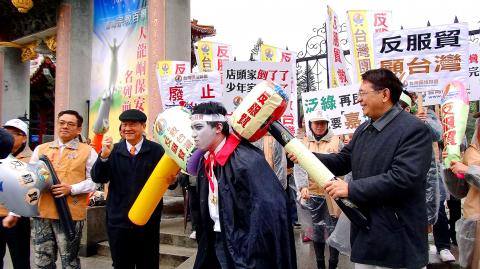 Members of the Taiwan Solidarity Union youth branch perform a skit at a protest in Taipei yesterday against the cross-strait service trade agreement.
Photo provided by Taiwan Solidarity Union
---
A rally against the controversial cross-strait service trade agreement is to take place this afternoon on Ketagalan Boulevard in front of the Presidential Office, the Democratic Front Against Cross-Strait Trade in Services Agreement announced yesterday.

At a press conference held on the boulevard yesterday morning, spokesperson for the civic group, Lai Chung-chiang (¿à¤¤±j), said the group has asked all 112 legislators to answer a survey and express their positions on several points in the pact, including foreseen impacts of the pact, compensation for those whom it marginalizes, regulation on Chinese investment and monitoring of the agreement.

So far, only 42 legislators have responded to the survey, Lai said, and called for the remaining legislators to respond by 10am today, to avoid having their names publicized during the rally.

Lai said that among the 42 respondents are a People First Party legislator, three Taiwan Solidarity Union legislators and 38 Democratic Progressive Party legislators.

The Legislative Yuan on Friday decided not to convene an extra session to review the cross-strait service trade agreement, delaying the review process until March next year, Taiwan Democracy Watch convener Hsu Wei-chun (®}°¶¸s) said. He added that problems with the agreement still exist and has called on the public to join in the rally today to demand renegotiation of the pact.

The group said the agreement, finalized in June during the ninth round of cross-strait talks, was signed in a nontransparent way and was not reciprocal, as Taiwan would be forced to liberalize almost all of its retail and wholesale sectors for Chinese investment, with Beijing not offering the same rights for Taiwanese investors and businesses.