Rescued tourist arrives back in Taipei

END OF ORDEAL: Chang An-wei, who had been held hostage by Abu Sayyaf rebels since Nov. 13, touched down at Taiwan Taoyuan International Airport yesterday

By Chu Pei-hsiung, Rich Chang and Shih Hsiao-kuang / Staff reporters, with agencies
---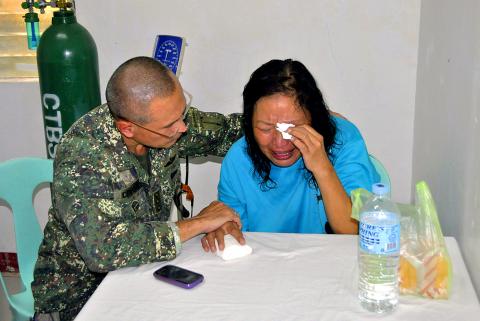 Chang An-wei, also known as Evelyn Chang, right, who was abducted by armed men at a resort in Malaysia's Sabah state, is comforted by Colonel Joriel Cenabre of the Philippine marines on Friday at a hospital in Jolo town on the southern Philippine island of Mindanao after she was found in a village on the remote island of Jolo.
Photo: AFP
---
Taiwanese tourist Chang An-wei (張安薇), who had been held for ransom in the southern Philippines for a month, returned to Taiwan yesterday afternoon after being released by her captors.

She was accompanied by her brother Chang Ta-kong (張大公) and Criminal Investigation Bureau (CIB) agents when she arrived at the Taiwan Taoyuan International Airport from Manila. Television footage showed her dressed in a loose T-shirt and wearing sunglasses, walking to a minibus parked at the airport, waving briefly to the media and giving a thumbs-up sign. She was subsequently transported to the National Taiwan University Hospital for medical checkups.

"I just want to say I deeply appreciate the Philippine military for giving me such a big help and assistance to rescue me. Thank you very much," Chang An-wei said in English in a video report aired yesterday on several Taiwanese TV news channels.

Chang Ta-kong told a 4:30pm press conference hosted by the CIB at the airport that his sister was not abused during her captivity and that the kidnappers were only after money.

Chang Ta-kong thanked the Philippine National Police's Anti-Kidnapping Group for helping him to communicate with the kidnappers and his sister during her captivity. He also expressed gratitude to the CIB, the Ministry of Foreign Affairs and the Malaysian and Philippine police authorities for their work in the rescue mission.

While CIB Commissioner Lin Teh-hua (林德華) confirmed at the press conference that the kidnappers were a group of Abu Sayyaf rebels — a militant Islamist separatist group based in and around the southern Philippines — both he and Chang Ta-kong declined to reveal details about the rescue operation and the ransom negotiations out of concern for the safety of people involved in the mission.

Standing next to Chang Ta-kong at the press conference was Yu Ching (余靖), whom Chang Ta-kong introduced as a good friend of the Chang family who had played a role in assisting Chang An-wei's rescue.

It was later revealed that Yu is President Ma Ying-jeou's (馬英九) nephew, a former US Green Beret who graduated from the US Military Academy at West Point and who has extensive experience in the field, including assisting in operations against Abu Sayyaf.

The 58-year-old woman was kidnapped by Philippine gunmen on Nov. 13 while on vacation in a villa on the resort island of Pom Pom off the East Malaysian state of Sabah.

Her 57-year-old male companion, Hsu Li-min (許立民), was shot and killed during the armed attack.

Since then, her family and Taiwan's Ministry of Foreign Affairs, as well as police authorities, have been seeking assistance through various channels to rescue Chang An-wei.

After her abduction, Chang An-wei was taken to the southern Philippine island province of Sulu, which is adjacent to Malaysia.

Philippine police and marines found her on Friday in a village on the Philippine island of Jolo after they were tipped off by local residents, according to Sulu provincial commander Colonel Jose Cenabre. Philippine marines on Friday afternoon took her back to Manila.

Abu Sayyaf, which is thought to have received funding from al-Qaeda in the past, is notorious for kidnapping.

Early this month, Jordanian journalist Baker Atyani was freed by Abu Sayyaf after more than a year in jungle captivity. He was lured him into one of their camps with a promise of an interview. Militants are still holding more than a dozen captives, including two European bird watchers who were kidnapped last year in Tawi-Tawi Province.