Court probes, detains two former DORTS officials

TIP OF ICEBERG? DPP legislators yesterday panned the administration of President Ma Ying-jeou for alleged links to possible corruption at the MeHAS City project

By Chris Wang / Staff reporter, with staff writer
---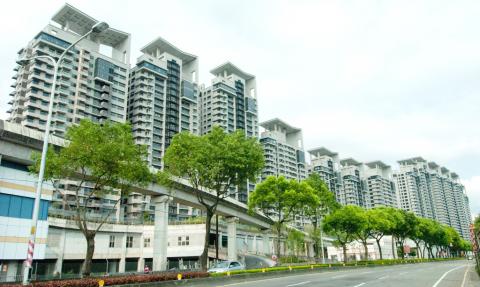 The MeHAS housing project near Xiaobitan MRT Station in Xindian District, New Taipei City, is pictured on July 8 this year. The developer, Radium Life Tech Co, has given its assurance that it will deliver all the units to buyers smoothly despite a burgeoning scandal surrounding the development.
Photo: Wang Min-wei, Taipei Times
---
The Taipei District Court yesterday granted a request by the Taipei District Prosecutors' Office to detain two former Taipei City Department of Rapid Transit Systems (DORTS) officials for their roles in a possible corruption case related to the "Mass Rapid Transportation (MRT) Xiaobitan Station Joint Development" project.

Following a hearing of three hours, the court decided to detain former director of the DORTS' development branch, Kao Chia-nung (高嘉濃), and former DORTS section chief Wang Ming-tsang (王銘藏) to prevent collusion on testimony.

In 2006, the department and Radium Life Tech Co (日勝生) signed a contract to jointly carry out the development project, also known as the MeHAS City (美河市) project, in New Taipei City's (新北市) Xindian District (新店).

The project sits on 28,000 ping (9.3 hectares) of land along the Xiaobitan riverside and is valued at NT$300 billion (US$9.98 billion).

The Taipei District Prosecutors' Office said the department is suspected of forging a property value estimation document, so it would underestimate the Taipei City Government's stake in the construction project and overestimate Radium Life's stake, which cost the city government an estimated NT$10 billion in losses.

The MeHAS City project began in 2006 when President Ma Ying-jeou (馬英九) was Taipei mayor.

Noting that a number of former DORTS officials were investigated on Tuesday for their roles in the possible corruption case related to the MeHAS City project, Democratic Progressive Party (DPP) lawmakers earlier yesterday lambasted the Ma administration for its connection to the matter and preferential treatment of large corporations, and its disregard of the interests of the public.

"The potential scandal is just one of many cases under the Ma administration that involved fraudulent data conducted by government agencies, bloated projects and budgets, and administrative actions that favored developers," DPP Legislator Gao Jyh-peng (高志鵬) told a news conference held at the Legislative Yuan in Taipei.

Citing another case as an example, the lawmaker said the Construction and Planning Agency was found to have submitted fraudulent population data for the Taoyuan Aerotropolis project in Taoyuan County. The same agency reportedly favored developers over local residents in the property distribution of affordable housing near A7 station in New Taipei City's Linkou District (林口).

"Both were listed in Ma's i-Taiwan 12 public construction projects — the backbone of Ma's presidential campaign pledge last year," Gao said.

These projects not only violated the Constitution, which allows the expropriation of private property only for the purpose of the public good, but also benefited the developers and government officials rather than the public, DPP Legislator Wu Ping-jui (吳秉叡) said.

"If other controversial cases were included, such as the one in Miaoli County's Dapu (大埔), I would say that we should pay close attention to the prevalent corruption in this administration and its close ties with the rich," DPP Legislator Huang Wei-cher (黃偉哲) said.

The Ma administration's mentality has turned both the government and Taiwanese into losers, with developers the only winners, he added.