Rights lawyer says Taiwan democracy under threat
 
By Jenny W. Hsu
STAFF REPORTER
Monday, Dec 15, 2008, Page 3

Taiwan still stands as a beacon of hope for the rule of law and democratic development in Asia but recent government-related human rights violations have caused its rays to shine less brightly, said David Kilgour, a Canadian human rights lawyer, urging the public to closely monitor the administration in order to safeguard the country's democracy.

Kilgour, the vice president of the Taiwan-Canadian Friendship Group in the Canadian parliament, a well-known international human rights lawyer and activist and a former prosecutor, was one of the invited speakers at the International Forum on the 60th Anniversary of the Universal Declaration of human Rights held in Kaohsiung City on Thursday.

Citing the example of police brutality and riots last month during the visit of Chinese envoy Chen Yunlin (陳雲林), Kilgour said many friends of Taiwan were concerned about dramatic deteriorations in the rule-of-law, human dignity and democratic practices in Taiwan in recent months.

"To tell people that they couldn't wear 'I love Taiwan' T-shirts or hold the national flag was ridiculous," he said in an interview with Taipei Times.

"I hope President Ma Ying-jeou (馬英九), a Harvard-trained man, will understand that democracy is more than about having elections every four years. Democracy is about things such as allowing people to protest peacefully," he said.

It has been reported that more than 100 people, including protestors, lawmakers and policemen, were hospitalized for various injuries in protests during Chen's visit. One police officer had a stroke and a television reporter was badly beaten.

Kilgour also voiced concerns over the "preventative detention" allowed by the Taiwanese legal system in which a number of former Democratic Progressive Party (DPP) figures, including former president Chen Shui-bian (陳水扁), were incarcerated before a formal indictment had been handed down.

Quoting Ma's Harvard law professor Jerome Cohen, Kilgour said preventative detention should be rarely used, stressing it should only be invoked in infrequent exceptions when the person is denied bail and has been deemed by the court as a potential flight risk or presents the potential of colluding with others.

He urged Minister of Justice Wang Ching-feng (王清峰) to promptly provide substantive answers to inquiries raised by many legal scholars and human rights activists both in Taiwan and abroad.

"It is surprising to many that Mr. Ma, a Harvard law graduate, does not understand these things. I hope that he will show us from now on that he does understand the nature of an open rule of law society," Kilgour said.

He also urged Ma to disclose his reason why he objected to a visit by the Dalai Lama, calling the rejection a "slight to the 23 million people in Taiwan."

In a press conference with foreign media last month, when asked about a possible visit by the much revered Tibetan spiritual leader, Ma said "the timing is not right."

The answer appeared to be an about face to the support he voiced for the Tibetan movement in April during the presidential campaign.

Taiwan, along with the rest of international community, must not be discouraged from condemning Beijing's human rights abuses for fear of harming trade relations with China, Kilgour said.

History has shown that countries that have publicly criticized actions have not suffered strained economic ties with Beijing, citing Denmark, France and the Netherlands for example.

"Whenever someone is told they were going to lose business if they meet the Dalai Lama, those [threats] almost all prove to be bluffs later on," he said.

Taiwan as a beacon of rule of law and democracy is "shining less brightly" now and the government and the Chinese Nationalist Party (KMT), especially, must try harder to polish Taiwan's image especially given its totalitarian past, he said.

"Democracy is more than elections. It includes civil society and checks on any government in office in any national capital," Kilgour said. "The people of Taiwan should keep an eye on the Ma and any other government you elect to ensure that your hard-won democracy and dignity of all Taiwanese are strengthened, rather than focusing on appeasing the party-state in Beijing."
---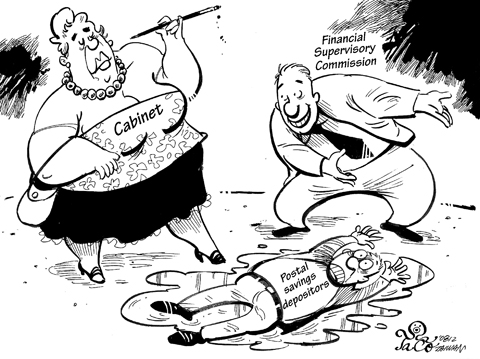 ---
It's 'rule of law,' not 'rule by law'
 
By Cao Changqing 曹長青
Monday, Dec 15, 2008, Page 8

China has a draconian law regulating re-education through labor. People can be placed in this system without charge or due legal process. Re-education through labor is given out as an executive order by the Public Security Bureau (PSB), and the longest period an individual can be placed in re-education through labor is four years. China is the only country in the world with such a law and it does not look like it will be abolished any time soon.

Re-education through labor is a tool used by the Chinese government to punish people that they view as "disobedient," such as Falun Gong adherents, Christians and dissidents.

Detainees in re-education centers are forced to do hard penal labor and the limits placed on their freedom are the same as if they were in jail. People can be taken into re-education through labor for reasons such as lack of proper employment, undermining discipline, obstructing public order and public affairs and for repeat offenders. These ambiguous regulations give the PSB huge amounts of power, allowing it to issue re-education through labor to anybody it wishes to punish.

Taiwan's detention system effectively has the same effect as China's re-education through labor system and gives those in power the opportunity to abuse their power. Any suspect that is "disobedient" or who displeases prosecutors may be detained before charges are brought against them. The "non-collusion clause" plays a major role in detention and prosecutors have the power to decide who is and who isn't likely to collude with others.

Although judges give out the final verdict, the non-collusion clause normally makes it very difficult for judges to refuse prosecutor's requests to detain a suspect. The clause makes it extremely convenient for prosecutors to detain anyone they wish, much in the same way as Chinese police can arrest anybody they want and place them in a labor camp.

The detention of former president Chen Shui-bian (陳水扁) is a prime example of how "collusion" can be used as an excuse to detain a suspect. When Chen was taken into detention, other suspects in the case who could have colluded with him had already all been detained. How could Chen have colluded with anyone? The non-collusion clause has provided the Chinese Nationalist Party (KMT) with a legal expedient for political payback and allowed them to insult and humiliate a former president.

In the US, suspects are in effect permitted to "collude" openly. They are given the right to silence and can be represented by their lawyers. In cases with more than one suspect, the lawyers of each suspect can meet and discuss their plans for representing their plaintiffs against the prosecutors. This is not done to give suspects the opportunity to make up false statements, but to protect their human rights as much as possible and to guard against the abuse of power by the prosecutors.

The police in the US are only allowed to detain suspects for 48 hours, after which they have to release the suspect if the prosecutor does not press charges. When a prosecutor does press charges, the majority of suspects are granted bail while they await a court date. In the US, each state has its own list detailing bail prices for different crimes. Only murder suspects, those who could continue to hurt people or escape are detained.

The longest possible period that somebody can be held in detention in Taiwan is two months, which is extendable if deemed necessary. Former deputy minister of the National Science Council Shieh Ching-jyh (謝清志), who once headed the nation's space program and was in charge of the launch of satellites, was detained for 59 days because the prosecutors were worried he would collude with others if he was not in detention. On the very last day of Shieh's detention, prosecutors applied to have him detained even longer, citing the fact that a witness in the case was still overseas and had not yet returned to Taiwan for questioning. The court of first instance later found Shieh innocent.

In a new book on his detention, Shieh posed the question of whether he would have had to stay in detention forever had that witness not returned to Taiwan.

Chu Chao-liang (朱朝亮), head of the Tainan prosecutors' office, was the head prosecutor in Shieh's case and is also now a prosecutor on the Special Investigation Panel (SIP) investigating Chen's alleged money laundering. Chu once told reporters that "Suspects in a certain case investigated by prosecutors need not be guilty, we can use the investigation process to teach them a lesson."

When somebody shows off by making comments about how they have the power to give people lessons and abuse their human rights, it is really hard to gauge what sort of understanding they have of the rule of law in a democratic nation.

The US is a country characterized by the rule of law, and the law is placed above everything else. The US has special mechanisms in place to guard against the abuse of power by the government and other law enforcement agencies and to protect the rights of each individual.

China is a country that is "ruled by law." From the numerous reforms carried out by Shang Yang (商鞅) during the Warring States period through to the Chinese Communist Party's administration, Chinese leaders have always viewed the law as a tool for controlling people, and ultimately, maintaining rule.

Judging from the problems plaguing Taiwan's judicial system, it seems we have inherited more of China's "rule by law" than the US' "rule of law."

Cao Changqing is a writer based in the US.