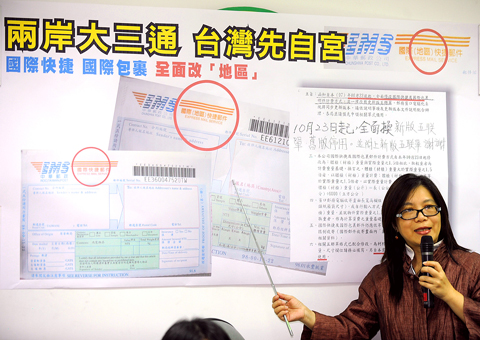 GOING POSTAL
Democratic Progressive Party Legislator Kuan Bi-ling criticizes Chunghwa Post Co yesterday at a press conference in the legislature for changing the name of its international express mail service for deliveries to China to "the international [regional] express mail service."

PHOTO: WANG YI-SUNG, TAIPEI TIMES
---
Ma receives former law mentor
 
By Mo Yan-chih
STAFF REPORTER
Wednesday, Dec 17, 2008, Page 3

President Ma Ying-jeou (馬英九) yesterday dismissed concerns that his administration had abused its power with a recent string of pre-indictment detentions, and said the Ministry of Justice was discussing whether suspects should be handcuffed when taken into custody.

"Whether to handcuff suspects is an issue that can be discussed ... When comparing the number of prosecutions and pretrial detentions, I don't think the number [of pretrial detentions] was excessive," Ma said yesterday while receiving New York University law professor Jerome Cohen.

Cohen was Ma's mentor during his studies at Harvard University. He recently shared his concerns over a string of detentions of present and former Democratic Progressive Party (DPP) government officials and called for an independent commission to investigate the matter in an opinion piece published in the South China Morning Post last month.

Cohen said in the article, which was subtitled "Improved cross-strait relations appear to have come at a cost to some civil liberties in Taiwan," that pre-indictment detention, although legal, made it difficult for the detained party to "mount an adequate defense."

He also challenged police handling of the protests during Chinese envoy Chen Yunlin's (陳雲林) visit to Taiwan last month.

Ma yesterday lauded his mentor for raising "correct and tough" questions in the opinion piece about pretrial detention, handcuffing suspects and the police's handling of the protests, and said the Government Information Office had provided Cohen with information to address his concerns.

The decision to detain suspects before indictment was made by three court judges, rather than by prosecutors, Ma said, and not every suspect would be detained.

Cohen did not mention the issues yesterday, and instead urged the public to support Taiwan's democracy and Ma's leadership, as the country faced a difficult time.
---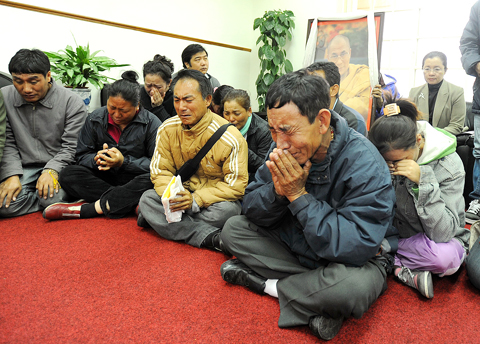 NOWHERE LEFT TO GO
Tibetan exiles shed tears while seated in front of a picture of the Dalai Lama as they appeal to legislators for legal status in Taiwan in the legislature yesterday.

PHOTO: WANG YI-SUNG, TAIPEI TIMES
---
Ma's law professor confident about judiciary
 
MENTOR MUSINGS: Jerome Cohen met his former student yesterday and urged an independent commission investigate the recent detentions and police brutality
 
By Jenny W. Hsu
STAFF REPORTER
Wednesday, Dec 17, 2008, Page 1

Taiwanese should be confident in their legal system's political neutrality, but non-governmental organizations (NGOs) must be vigorous in holding the government accountable, Jerome Cohen, President Ma Ying-jeou's (馬英九) Harvard law professor, said yesterday in Taipei.

Cohen, now a New York University law professor and a senior fellow of the Council on Foreign Relations, expressed confidence that most of the prosecutors and judges in Taiwan are objective and neutral.

"Since the early 1990s, Taiwan, by and large, has developed neutrality of prosecutors and judges. I have met prosecutors, lawyers, law professors [on this visit] and I have a pretty good feeling about it," he said.

In a Nov. 13 op-ed piece, "Ties that blind," in the South China Morning Post, Cohen said some critics complained about the arrests and incommunicado detentions of former Democratic Progressive Party (DPP) government officials, including former president Chen Shui-bian (陳水扁).

He said the investigation into Chen's financial dealings began in 2006 while he was in office and continued after he stepped down.

"For two-and-a-half years they have been investigating Chen. This is not something they just heard about. Now [the prosecutors] tell the court they need to lock him up to prevent him from talking to other people. But he has been talking to other people for two-and-a-half years," Cohen said.

"Without knowing more, the face of it raises real questions," he said.

However, the majority of those in Taiwan's judicial system strive to remain impartial, he said, urging the public to refrain from judging the system until the case is over.

Cohen met Ma yesterday and suggested an independent, impartial commission be set up to probe the legitimacy of the detentions and the reports of police brutality during last month's protests against the visit of Association for Relations Across the Taiwan Strait Chairman Chen Yunlin (陳雲林).

Ma thought such a commission unnecessary because that would be the task of the Control Yuan, Cohen said.

"Sure, let's give the Control Yuan a chance. But I want to see it act effectively. At the same time, a commission comprised of NGOs should also be set up [to probe the matter]," he said, naming the Judicial Reform Foundation as a perfect candidate for the commission.

More than 100 people, including police and protesters, were injured during last month's protests.

Stating that some of the police violence was provoked by the protesters, Cohen chided DPP Chairwoman Tsai Ing-wen (蔡英文) for not controlling her demonstrators.

"I understand the anxiety of the demonstrators because these are matters of the gravest importance to the Taiwanese people … but when you do demonstrate, the people under your leadership need to show discipline," he said.

Critics of the Ma administration have said the violence represented an erosion of human rights and that the White Terror of the old KMT regime is returning, but Cohen dismissed those claims.

He said such rhetoric was "hyperbole" and "sheer accumulated hatred."

"I come from a background of lifelong study of mainland China and the situation here is really good. I know something about the White Terror and the 228 Incident and this is no return to the White Terror," he said.

Cohen also agreed with Ma that now was not the right time for the Dalai Lama to visit Taiwan, saying the political cost of such a visit on cross-strait relations would far exceed its benefit.

"It is a tough call, but I understand what is at stake here. We are at a very tentative crucial stage of possible limited reconciliation with the mainland and progress will be very slow from now on. I don't see a reason to rush the Dalai Lama to come here because people already know him and his position. It would be nice, but I think too much is at stake here," he said.
---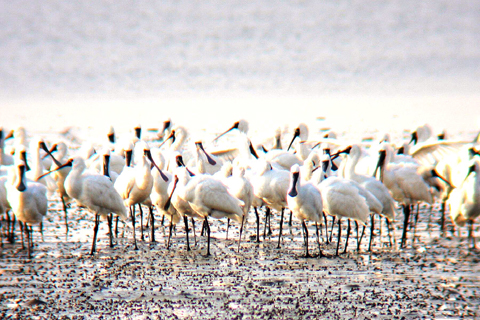 BIRDS OF A FEATHER
Black-faced spoonbills wade in a Tainan County wetland yesterday. The birds can be seen in Taiwan between October and May every year.

PHOTO: CNA
---