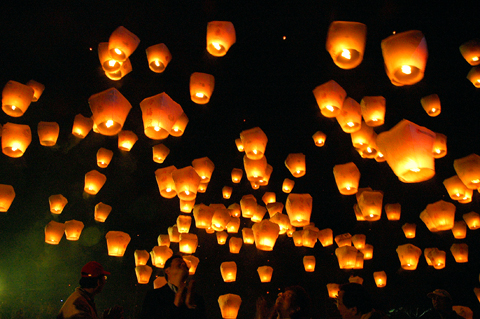 UP AND AWAY
Hundreds of sky lanterns are released in Pingsi, Taipei County, yesterday as part of the Pingsi Lantern Festival.
Also see story: Pingsi lets off sky lanterns

PHOTO: CNA
---
Clinton may visit PRC, discuss Taiwan
 
HUSH HUSH: Although the State Department declined to confirm the trip, a source said that the talks would probably lead to an informal review of US-Taiwan relations
 
By William Lowther
STAFF REPORTER IN WASHINGTON
Monday, Feb 02, 2009, Page 1

US Secretary of State Hillary Clinton is expected to visit Japan and China on her first foreign trip in her new position, with a senior congressional source saying Clinton would be certain to discuss Taiwan with the Chinese leadership.

The source said the discussions would probably lead, on Clinton's return, to an informal State Department review of US-Taiwan relations.

Last week, professor Robert Sutter of Georgetown University's School of Foreign Service said the US should reassess its Taiwan policy and consider what it would do if Taiwan chose to align itself with China.

Sutter said that while President Ma Ying-jeou's (馬英九) policies had won some progress in cross-strait economic and trade development, there had been no concessions of substance from China on its military, diplomatic or economic policies.

US State Department officials declined to confirm Clinton's trip to China, but officials said in private that she was "leaning" toward visiting Asia at some point before US President Barack Obama meets Chinese President Hu Jintao (胡錦濤) at a London summit in April.

The New York Times reported over the weekend on speculation that Clinton would visit Japan and China and possibly South Korea. The trip would allow her to check in with Japan, a staunch ally, and take stock of an economic rival, China, the paper said.

The paper quoted an experienced State Department hand as saying: "Besides, if no one of her stature shows up in Tokyo by April or so, the Japanese will wonder what is wrong with the relationship."

"A secretary of state's first foreign trip is always an event — steeped in symbolism and parsed for clues about how the new boss will conduct diplomacy," the paper wrote.

"Mrs Clinton's celebrity lends the maiden voyage added glitter, but also the burden of great expectations," it said.

Obama and Hu spoke on Friday morning, US time, in their first telephone call since the US leader came to power.

"President Obama told President Hu that he looked forward to meeting with him and to early contacts and exchanges between senior officials of our two countries," White House spokesman Robert Gibbs said.

Gibbs would not say whether Taiwan had been discussed in the telephone conversation, but China's Xinhua new agency said the two leaders had agreed to meet at the G20 economic summit in London in April.

It also said the leaders exchanged invitations to visit each other's country.

Clinton said earlier that she would pursue a "comprehensive" dialogue with China that went beyond the economic focus of the administration of former US president George W. Bush.

The senior congressional source said Clinton had made it clear to her staff that on foreign visits she would only deal with substantive issues and issues in which she could make a difference.

"That being the case, it would be impossible for her to visit China without discussing Taiwan," the source said.

He said that last month China issued a 105-page White Paper on national defense stating that "the United States continues to sell arms to Taiwan," which leads to "serious harm to Sino-US relations as well as peace and stability across the Taiwan Straits."

David Rothkopf, an academic at the Carnegie Endowment for International Peace and a member of the Council on Foreign Relations, said: "The critical relationship that requires the most attention right now that has gotten the least is that with China."

"They are a critical strategic partner in every area of international priority for the US. Because they are also a potential rival, we need a dialogue open and constant enough to manage the relationship through those times when there are, as there inevitably will be, disagreements," Rothkopf said.

"The foundation for that relationship needs to be laid in an early high-level visit by her, followed by an early state visit by President Obama," he said.
---
Pollution causing rise in babies with defects: China

AFP, BEIJING
Monday, Feb 02, 2009, Page 1

Every 30 seconds a baby is born with physical defects in China, partly because of the country's deteriorating environment, state media said, citing a senior family planning official.

The figure, reported by the China Daily in its weekend edition, adds up to almost 1.1 million a year, or about 7 percent of all births countrywide.

"The number of newborns with birth defects is constantly increasing in both urban and rural areas," the paper quoted National Population and Family Planning Commission Vice Minister Jiang Fan (江帆) as saying.

She did not give a figure for the increase in the rate of birth defects.

A report in the Hong Kong-based Ta Kung Pao newspaper last month gave a lower figure for birth defects, saying they showed up in 4 percent to 6 percent of all births in China.

The factors behind birth defects are "very complicated," Hu Yali, a professor at the Affiliated Drum Tower Hospital of Nanjing University, told the Beijing-leaning Hong Kong paper.

Hu said research suggested 10 percent of defects were caused by pollution, while 25 to 30 percent were a result of genetic factors and the rest a mixture of both.

Shanxi Province, a major source of toxic emissions from large-scale chemical industries, has recorded the highest rate of birth defects, the China Daily said.

"The problem of birth defects is related to environmental pollution, especially in eight main coal zones," said An Huanxiao, the director of Shanxi's family planning agency, the paper reported.

Pan Jianping, a professor of the Women and Child Health Research Office under Xi'an Jiaotong University, said the increasing rate of birth defects would soon become a social problem.

"Economic pressure is very heavy for families raising babies with physical defects, particularly for those who live in poor rural areas," he said.
---
Can Ma swallow Lee's cure?

Monday, Feb 02, 2009, Page 8

On Lunar New Year's Day, President Ma Ying-jeou (馬英九) paid a courtesy call to former president Lee Teng-hui (李登輝) and took advantage of the occasion to consult with Lee on national policy.

Over the years, Lee has made significant contributions to Taiwan's democracy, its relations with China and its international standing, and he has often spearheaded original approaches to key problems. Any advice he might offer should, therefore, be useful for Taiwan in this difficult period. The problem is that Taiwan may have fewer options now that Ma has taken the country down the blind alley of the "one China" principle.

Lee expressed his concerns over Taiwan's economic development, and urged Ma to boost the economy by promoting exports. Lee said the key to Taiwan's continued economic progress is for the country to keep its competitive edge. If this can be done, the standard of living will gradually improve.

Lee's advice hit the nail on the head. The Ma government recently issued consumer vouchers to encourage spending and stimulate the economy, and this measure has produced a certain effect over the Lunar New Year holiday. However, Taiwan's economy is export-oriented. Even taking the multiplier effect into account, the NT$88 billion (US$2.6 billion) short-term surge in domestic consumption can be no more than a temporary shot in the arm for the economy as a whole. This measure alone cannot overcome the difficulties and revive the economy because Taiwan relies on international trade for its economic well-being.

Even with regard to overseas trade, Ma's line is fundamentally different from that of Lee. Lee reportedly told Ma that, for the sake of Taiwan's integration and position in the global economy, he does not oppose fostering relations with China. At the same time, however, he said that Taiwan's prospects cannot be based entirely on the development of the Chinese market. Rather, Taiwan must develop its own economy of its own accord.

Since Ma took power, he has pinned Taiwan's economic hopes on the Chinese market. However, his policy to open the nation to Chinese tourism has failed and the opening of direct cross-strait transportation links has not produced the desired effect. This leads to concern over the prospects for opening Taiwan to Chinese financial capital. With China busy with its own economic troubles, Ma's China card has lost its efficacy.

Despite the Ma administration's focus on the Chinese market, Beijing remains strongly hostile to Taiwan and still intends to annex it. The focus of the government's economic policies on China will certainly sabotage Taiwanese independence and sovereignty, and it is this that causes Lee's concern about the Ma administration's cross-strait policies.

Ma accepts the fictional "1992 consensus," does not deny Beijing's "one China" policy, is unwilling to advocate Taiwanese sovereignty and independence and fears disobeying Chinese requests. This weak approach means that over time, even if Taiwan were granted observer status at the World Health Assembly, Taiwan would stop seeing itself as a sovereign state. In turn the international community would view Taiwan as a subordinate region of China. Taiwan would wither and become a part of China. This is the Ma administration's most serious policy mistake.

Lee has pointed out a blind spot in the Ma government's economic and cross-strait policies. However, no matter how effective the medicine, it will be useless if ignored. If Ma were to earnestly take Lee's advice and change his policies, it would be a blessing to the nation.
---
Freedom of press has plummeted under Ma
 
By Hsieh Chih-lu 謝秩祿
Monday, Feb 02, 2009, Page 8

Half a year after President Ma Ying-jeou's (馬英九) administration took office, its control over the media is gradually taking hold. The practice of gagging the press is returning to Taiwan.

One example is the recent rumor that television show host Cheng Hung-yi (鄭弘儀) of SETTV may be replaced after the Lunar New Year because his political stance is considered "too green," which would have an adverse impact on the station's bid for government projects.

Meanwhile, the budget for the Public Television Service (PTS) has been frozen and its program content must be reviewed by the Government Information Office as part of the budget application process. On top of that, legislators made things difficult for PTS board members and the general manager because they were not "blue enough." The government is also considering greatly increasing the number of board members in order to tighten its control of the station.

Earlier, the residence of Chen Tsung-yi (陳宗逸), news editor of the pro-localization weekly New Taiwan (新台灣), was searched for no reason and police have visited political commentator Paul Lin (林保華) and his wife.

It is obvious that those who dare to oppose the pro-China, pro-unification government — individuals or media outlets — had better be careful as suppression is back.

Since the Ma administration assumed office, controlling the media has been its primary task. Last July, when the Central News Agency (CNA) underwent a personnel reshuffle, not only did top leaders of Ma's presidential election campaign join the team, but with the exception of the chairman, at least 70 percent of the board members appointed by Premier Liu Chao-shiuan (劉兆玄), are Mainlanders like Liu himself. Since then, professionalism at CNA has degenerated and it is now a cheerleading squad for the Ma government.

Two months later, Radio Taiwan International (RTI) was pressured by the government, which demanded that the station not be too critical of China. Then-RTI chairman Cheng Yu (鄭優) and several board members were forced to resign after being humiliated by the government and pan-blue media outlets, placing RTI under the control of the government as well.

Along the same lines, after having existed for 25 years, the Broadcasting Development Fund (廣電基金) was dissolved because its chairman was considered "pan-green."

The crackdown on grassroots radio stations criticizing the government for alleged legal violations has also highlighted the fact that the authorities brook no dissent.

It is inevitable that a one-party state controls the media. The Chinese government has never allowed broadcasting media to be privatized. Even when they were in opposition, the pan-blue camp took advantage of its legislative majority to pass the unconstitutional National Communications Commission Organic Law (國家通訊傳播委員會組織法), which gives the government control over the media. Now that the Chinese Nationalist Party (KMT) is back in power, it has adopted the same approach as marketers by spending large sums of money and having newspaper editors-in-chief interview government heads for publication. More importantly, media outlets and individuals that don't do as they are told are being intimidated.

Taiwan's press freedom used to rank first in Asia. However, half a year after Ma was sworn in, the ranking has plummeted.

Ma's Harvard Law School mentor Jerome Cohen has said in a telephone interview with the Associated Press that, "It is as if there are people trying to repudiate all the progress that Taiwan has made over the past 15 years."

Unfortunately, this is the truth.

Hsieh Chih-lu is a freelance writer.