Chinese dissident to stand trial over quake campaign

AFP, BEIJING
Tuesday, Feb 03, 2009, Page 1

A Chinese dissident who was arrested after campaigning for the parents of children killed in the Sichuan earthquake will stand trial on state secret charges, his wife and lawyer said.

The abrupt announcement that Huang Qi (黃琦), 45, would be tried came nearly eight months after he was detained as authorities silenced criticism about fragile school buildings that collapsed on children in the May 12 quake.

"This morning I received a phone call from the court ... to ask me to tell Huang Qi's lawyers that he will be put on trial on Tuesday [today] for illegal possession of state secrets," Huang's wife Zeng Li (曾莉) told reporters by phone yesterday.

Later, Huang's lawyer Mo Shaoping (莫少平) said that the district court in Chengdu, capital of Sichuan Province, had agreed to push back the trial date after attorneys protested they had not been given enough time to prepare.

"The court must warn the defense side three days before," he said, adding that he did not know when the trial would begin.

Huang was detained in Chengdu on June 10 — about a month after the 8.0-magnitude earthquake left more than 87,000 people dead or missing.

Huang, a long-time rights activist who used the Internet to publicize his causes, had started to campaign for parents whose children were killed when their schools collapsed in the quake.

About 7,000 schools were destroyed, often as nearby buildings stood firm, and relatives of the dead children initially spoke out loudly against the graft they believed led to shoddy construction.

"Up to now, we still have not been able to see the [specific] charges" against Huang, Mo said.

Zeng said Huang's arrest was a result of his work in the earthquake zone.

"This is because he went to the disaster area a couple of times. He reported on the shoddy schools and reported about the appeals of the parents of the students. So he was arrested and charged with possessing state secrets," she said.

The ill-defined charge is often used to clamp down on dissent and send activists to prison.

Huang was jailed between 2000 and 2005 on charges of subversion after he set up a Web site that independently investigated government corruption and advocated democracy.

After his release, Huang resumed his rights work and opened the Tianwang Human Rights Center, which claims to be the only non-governmental human rights organization in China.
---
Five arrested as Chinese premier visits UK leaders

AFP, LONDON
Tuesday, Feb 03, 2009, Page 1

Five protesters were arrested on Sunday ahead of talks between Chinese Premier Wen Jiabao (溫家寶) and British Prime Minister Gordon Brown in London yesterday. The meeting marked the end of the Chinese leader's tour to strengthen European ties.

Wen's first trip to Britain since 2006 concluded a high-profile visit to Europe that included Germany, Spain, the EU headquarters in Brussels and the World Economic Forum in Davos, Switzerland.

One of his aims was to mend relations strained over the Dalai Lama, Tibet's exiled spiritual leader whom Beijing accuses of seeking independence from Chinese rule for the Himalayan region, as well as to boost trade ties.

Brown has stressed the importance of Britain's relationship with China, although human rights activists have warned against getting too close.

PROTESTERS

Pro-Tibet protesters staged a noisy demonstration outside the Chinese embassy on Sunday as Wen visited, and five people were arrested as they leapt over security barriers and tried to run toward the building.

A rival pro-China demonstration of about 100 people faced them, while further pro-Tibet protests were planned yesterday.

Among the items being discussed by Brown and Wen yesterday was the G20 meeting in London.

The April summit will be dominated by the financial crisis and Brown has argued that Beijing's increasing power — it is the third-biggest economy in the world — makes it a "vital" partner in restoring economic stability.

In a strategy document published last week, his government made Britain's relationship with China a top priority, saying its rise was "one of the most significant developments of our time."

Brown has argued for an international approach to the financial crisis, and in Davos, Wen also backed the British leader's call for greater cooperation and against a retreat into protectionism in response to the downturn.

WESTERN PROBLEMS

But Wen was outspoken about the role of Western countries in the crisis, blaming "inappropriate macroeconomic policies of some economies" and "prolonged low savings and high consumption" in a lightly veiled attack on Washington.

He also said rich countries must "assume their responsibilities" and minimize the impact of the crisis on developing countries, saying it had "fully exposed the deficiencies in the existing international financial system."

In an interview with the Financial Times yesterday, he played down hopes in London that China would help bolster global institutions to meet the challenge.

Brown has pressed China and the Gulf states to contribute more to global bodies like the IMF, but Wen signaled that China was still growing and needed its reserves for itself.

He used a similar argument following pressure on signing up to mandatory cuts in carbon emissions when a new global deal is agreed to follow the Kyoto Protocol on climate change.

While China would continue to set itself targets to improve energy efficiency, it would be difficult for a developing country "to undertake quantified quotas to reduce our emissions," the premier said.

He met the leader of the main opposition Conservatives, David Cameron, on Sunday, discussing topics including the economic crisis and combating climate change.

Cameron also raised human rights issues and stressed the need for "greater participation" in China's political process, his office said.
---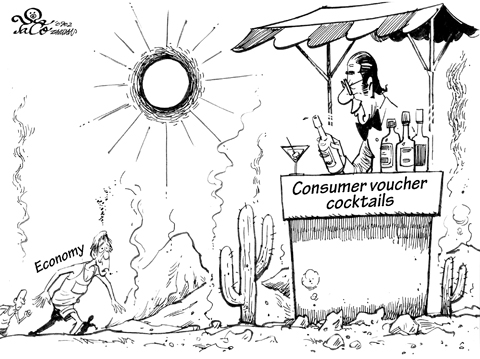 ---
The cost of 'constructive' ties

Tuesday, Feb 03, 2009, Page 8

With North Korea again raising the specter of war in the Korean Peninsula, Afghanistan slipping out of control, continued unrest in Pakistan, a defiant Iran and a deepening global financial crisis, it was not surprising that US President Barack Obama and his Chinese counterpart, President Hu Jintao (胡錦濤), would strike an amiable tone during their first telephone conversation late last week.

During their conversation, Obama may also have gone out of his way to repair whatever damage his earlier comments about Beijing manipulating its currency may have caused to Sino-American ties.

After all, if any of the challenges listed above — to which we might add counterterrorism and climate change — are to be resolved, a weakened US will need the help of the rising Asian giant. Aside from the economy, Afghanistan — a neighbor of China — stands out as a principal area where the US may need help, largely as a result of the impact of the global financial crisis on contributing NATO countries, many of which are nearing the end of their commitments to Afghanistan. Despite Beijing's reservations about intervening in the internal affairs of states, Washington could very well call upon it to lend an unofficial hand.

Hu, meanwhile, must have been at his charming best during the conversation, as Obama's first week in office showed signs — with, among others, the announced closure of the Guantanamo Bay detention facility and an end to questionable interrogation techniques by the CIA — that human rights could be at the forefront of his administration's policies. Beijing may also have been uncomfortable with US Secretary of State Hillary Rodham Clinton, who last week accused the administration of former US president George W. Bush of having placed too much emphasis on the economic sphere when dealing with Beijing, a hint that the new White House could very well be responsive to calls by Congress and rights organizations that Washington apply more pressure on China in the realm of human rights.

At this juncture, it is hard to tell which direction Obama will choose when it comes to China. It would not be the first time, however, for a new administration, fresh with revolutionary zeal, to see its ideals flounder on the shores of economic and geopolitical realities, which in today's circumstances is, sadly, the likelier scenario. The list of challenges is simply too long for an administration facing serious unemployment at home and a series of commitments abroad to risk alienating an important ally like China.

Indeed, Pyongyang, another regime that bristles whenever US presidents raise the human rights issue, may have timed its latest flare-up in the Korean Peninsula to add to the external pressures on Obama. For whether Obama likes it or not, the Bush administration made Beijing an indispensable ally in the six-party talks on North Korea, and he will have no choice but to rely on China if all-out war is to be avoided between the two Koreas.

Hu — and North Korean leader Kim Jong-il, for that matter — are fully aware of Obama's dependence and will strategically apply the pressure whenever it suits their needs.

The coming year will be a true test of leadership for Obama. But one thing is certain: If maintaining smooth relations with China helps repair the ailing US economy, create much-needed jobs at home and alleviate the US' heavy burdens abroad, chances are that relations between Hu and Obama will be no bumpier than they were between Hu and Bush.

Human rights? Former US president Bill Clinton's administration put it best — it's the economy, stupid.
---
Hillary Clinton's challenge to PRC
 
By Richard Halloran
Tuesday, Feb 03, 2009, Page 8

Buried in US Secretary of State Hillary Clinton's testimony in her confirmation hearing before Congress two weeks ago was a subtle challenge to China wrapped in an evident preface to US President Barack Obama's emerging policy toward Beijing.

Shortly after, and almost on cue, Beijing published a White Paper on defense that pointed warily to what they saw as an increase in US power in Asia. The US, the White Paper said, has been "consolidating its military alliances, adjusting its military deployment and enhancing its military capabilities" in the Asia-Pacific region.

Clinton, who was confirmed as secretary the day after Obama's inauguration on Jan. 20, told the Senate Foreign Relations Committee: "We want a positive and cooperative relationship with China."

She said, however, that "this is not a one-way effort. Much of what we will do depends on the choices China makes about its future at home and abroad."

In a written report, Clinton answered earlier questions from the committee and elaborated on what the US expects.

"We can encourage them to become a full and responsible participant in the international community — to join the world in addressing common challengers like climate change and nuclear proliferation — and to make greater progress toward a more open and market-based society. But it is ultimately up to them," she said.

An interesting sequence here: On Jan. 8, then US deputy secretary of state John Negroponte was in Beijing to mark 30 years of Sino-American diplomatic relations, but evidently was not informed of the forthcoming White Paper, which took months to prepare. On Jan. 13, Clinton testified and her written report was made public. On Jan. 20, the Chinese released their White Paper, the same day Obama took office.

In substance, Clinton's testimony suggested that Obama's policy toward China would continue that of former president George W. Bush. But the firm tone, challenging China to respond without ambiguity, was new.

Clinton was non-committal on dialogue with Beijing, saying in her written report: "We are looking carefully at the question of how to develop this important engagement with China. We expect high-level engagement to continue in some form."

However, Clinton was clear on the issues of Taiwan, Tibet and human rights in China.

On Taiwan, Clinton followed precedents set earlier.

"The administration's policy will be to help Taiwan and China resolve their differences peacefully while making clear that any unilateral change in the status quo is unacceptable," she said.

The former government of president Chen Shui-bian nudged Taiwan toward independence, while the current government of President Ma Ying-jeou (馬英九) has pledged to maintain the "status quo."

Clinton said the new administration "will speak out for the human rights and religious freedom of the people of Tibet. If Tibetans are to live in harmony with the rest of China's people, their religion and culture must be respected. Tibet should enjoy genuine and meaningful autonomy."

Beyond Tibet, Clinton said, the US administration would "press China on our concerns about human rights at every opportunity and at all levels, publicly and privately, both through our mission in China and in Washington."

In response, China's White Paper asserted: "Separatist forces working for 'Taiwan independence,' 'East Turkestan independence' and 'Tibet independence' pose threats to China's unity." East Turkestan refers to Muslim Uighurs in Xinjiang Province.

China, the paper contended, "faces strategic maneuvers and containment from the outside." US presidents, secretaries of state and defense, commanders of US Pacific forces and US ambassadors in Beijing have sought for much of the last 30 years to persuade Chinese leaders that the US poses no threat, apparently without success.

The White Paper contends: "In particular, the United States continues to sell arms to Taiwan in violation of the principles established in the three Sino-US joint communiques, causing serious harm to Sino-US relations as well as peace and stability across the Taiwan Straits."

The three communiques, of 1972, 1979 and 1982 were intended to define relations between the US and China but have been in dispute from the beginning as the US and China disagree on what they mean. The US, for instance, says they call on China and Taiwan to settle their differences peacefully; Chinese say they retain the right to employ military force to settle the dispute.

Richard Halloran is a writer based in Hawaii.