Conference seeks saner economic plan
 
'PIECEMEAL': From tax cuts that benefit the rich to policies that create too much dependence on China, the policies of the Ma administration were picked apart
 
By Rich Chang
STAFF REPORTER
Sunday, Feb 22, 2009, Page 3

Participants at the Taiwan Citizen Conference on National Affairs yesterday called on the government to make better use of its resources to help the poor and create substantive jobs rather than fund small public construction projects and create short-term jobs.

"The government was sleeping at the switch when it suddenly faced a rise in unemployment," former Council for Economic Planning and Development vice chairman Chang Ching-sen (張景森) told the conference.

"Its 'piecemeal' economic polices cannot resolve the problem," he said.

The event was hosted by the Democratic Progressive Party and the Taiwan Solidarity Union to encourage discussion on economic matters.

Chang said the government should cut inflated budgets and use the money to help economically disadvantaged people directly.

The government should also use budgets to create jobs in the public sector.

Special emphasis should be put on social programs such as digitizing Chinese-language books, creating care centers for the elderly and young children, building community security networks and creating free tutoring schools for children from poor families, he said.

Liu Chin-hsin (劉進興), a former consultant for the Council of Labor Affairs, said that the government's economic policies tended to benefit investors rather than workers and created too much dependence on China.

Instead, we need to build a healthy economic environment in Taiwan, he said.

He said that allowing Chinese to work in Taiwan — a possibility explored by the government — would be dangerous at the present time.

Liu called on the government to extend relief funds for unemployment from six months to nine months and improve the social security network before a potential rise in unemployment.

Chien Hsi-chieh, executive director of the Peacetime Foundation of Taiwan, criticized the tax reduction measures adopted by the government.

He said the new reductions benefited the rich and increased the tax burden on low and middle-income earners.

Statistics showed that some rich people do not pay income tax, while the exchange and estate taxes have been reduced, Chien said.

The working class pays 75 percent of the nation's total tax revenue, which shows an imbalance in tax liability between employers and employees, he said.

Also attending the conference was former vice president Annette Lu (呂秀蓮), who said that she would take a NT$500,000 cut in her annual retirement benefits this year, which amount to NT$3.5 million, so that the government could use the money to help disadvantaged people.

Lu also called on her "former colleagues" to follow her example, saying that it was time for Taiwanese society to develop a social conscience and to strive for greater justice.
---
DPP legislators accuse Ma of lying about donations
 
By Lee Hsin-fang
STAFF REPORTER
Sunday, Feb 22, 2009, Page 3

Democratic Progressive Party (DPP) caucus whip Ker Chien-ming (柯建銘) and other DPP legislators yesterday accused President Ma Ying-jeou (馬英九) of filing a false report on political donations of NT$670 million (US$19.25 million) and requested that prosecutors investigate a recent claim made by former president Chen Shui-bian (陳水扁).

After visiting Chen at the Taipei Detention Center in Tucheng (土城), Taipei County, yesterday, Southern Taiwan Society director Cheng Yu (鄭煜) said Chen had told him that two "important individuals" had each made donations of NT$1 billion to Ma in the hope that they would be made premier.

Ker said he had heard Chen talk about the issue before, adding that no one believed Ma had only spent NT$670 million on his presidential campaign.

Prosecutors should look into Ma's campaign expenditure report, Ker said, adding it was unfair that only Chen would be investigated on such matters.

DPP Legislator Chiu Yi-ying (邱議瑩) agreed with Ker that an investigation should be launched, as did DPP Legislator William Lai (賴清德), who said that although he had not heard Chen talk about the matter, he believed the former president had good reasons for making such allegations.

Lai also questioned how some businesses had so readily admitted to making donations to DPP presidential and vice presidential candidate Frank Hsieh (謝長廷) and Su Tseng-chang's (蘇貞昌) election campaign while not making any donations to Ma.

How is this possible, given that many companies are generally perceived as pan-blue, he asked.

Looking at the manner in which the Special Investigation Panel had investigated Chen, Lai said prosecutors should also investigate the pan-blue camp.

He said he hoped prosecutors would launch an investigation based on the information provided by Chen and make the results public.
---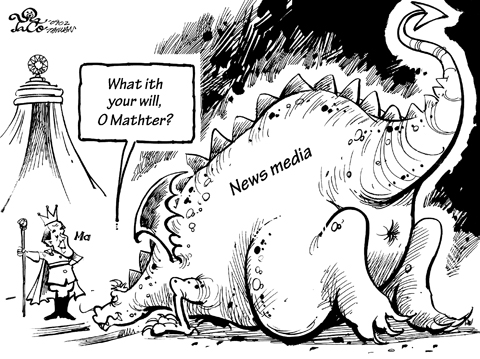 ---
Heritage smeared over Tkacik

Cao Changqing's (曹長青) commentary "The KMT is a master at silencing dissidents" (Feb. 18, page 8) is plain wrong; indeed, the whole article is unworthy of the Taipei Times' editorial page, which has many sound analytical and commentary pieces.

Dr John Tkacik was not forced out of The Heritage Foundation. He retired for personal reasons which have absolutely nothing to do with Ambassador Jason Yuan (袁健生), the KMT or Taiwan funding for The Heritage Foundation. The Heritage Foundation has made a number of statements to this point.

Dr Tkacik wrote on many issues in addition to Taiwan. His work was always well researched, principled and deemed a valuable contribution to US policy toward Asia. It never demonstrated any characteristic other than full-forced support for US interests in Asia, not as a proxy for domestic Taiwan consumption — even if some of his material was used by third parties in that manner. Taiwan as a nation benefited from Dr Tkacik's commentary and analysis regardless of political affiliation.

Finally, The Heritage Foundation is one of the world's leading think tanks with significant resources raised in many quarters of America and the world. It is wholly implausible that any possible unrestricted contribution from the Taiwan government, which would surely represent significantly less than 1 percent of the institution's annual budget, could or would be leveraged to force personnel changes. Such a position runs contrary to the reputation of The Heritage Foundation built over decades.

This story is a complete canard.

RUPERT HAMMOND-CHAMBERS
President, US-Taiwan Business Council
---
The US fears Taiwan

US Secretary of State Hillary Rodham Clinton visits Asia, and like every other US official, she bypasses Taiwan. What is it about Taiwan that strikes fear in the hearts of US leaders? It is an island no bigger than Louisiana, home to 23 million people laboring for democracy and is a friend of the US.

The fortitude of the Taiwanese in fighting tyranny and oppression while striving for hope and democracy is to be admired and emulated.

Could it be that when the US government acknowledges Taiwan, it must confront its own Janus-faced reflection? The US, which prides itself on supporting democracies like Taiwan, must recognize its willful business relations with communist countries like China.

And what of China, a country that has given us SARS, tainted food products and toxic children's toys, oppresses civil and political rights and restricts freedom of the press?

The US has been straddling the Taiwan Strait for decades and the longer she tries balancing herself with one foot on China and one foot on Taiwan, the more likely she will end up all wet.

NORMA CHRISTIANSEN
Taichung