Keep buying US Treasury bills, Clinton urges China

AFP, BEIJING
Monday, Feb 23, 2009, Page 1

US Secretary of State Hillary Clinton yesterday urged China to keep buying US debt as she wrapped up her first overseas trip, during which she agreed to work closely with Beijing on the financial crisis.

Clinton made the plea shortly before leaving China, the final stop on a four-nation Asian tour that also took her to Japan, Indonesia and South Korea, where she worked the crowds to try to restore the standing of the US abroad.

In Beijing, she called on Chinese authorities to continue buying US Treasuries, saying it would help jump-start the US economy and stimulate imports of Chinese goods.

"By continuing to support American Treasury instruments the Chinese are recognizing our interconnection. We are truly going to rise or fall together," Clinton said at the US embassy.

Clinton had sought to focus on economic and environmental issues in Beijing, saying Washington's concerns about the human rights situation should not be a distraction from those vital matters.

Beijing's human rights record emerged nonetheless as an issue, as dissidents on Saturday reported being harassed or intimidated by Chinese authorities.

Clinton and Chinese Foreign Minister Yang Jiechi (楊潔箎) largely agreed to disagree on human rights as they pledged future joint action on the economy and climate change.

The goodwill, also on display in her talks with Chinese President Hu Jintao (胡錦濤) and Premier Wen Jiabao (溫家寶), could raise hope for a new era of cooperation between the two largest greenhouse gas emitters and two of the world's top three economies.

Clinton began her day by attending a Protestant church service in west Beijing. Later, She met Chinese women's rights advocates at the US embassy, but continued to steer clear of speaking on contentious human rights issues.

While expressing understanding for the weighty economic and environmental issues, dissidents who reported continued confinement in their homes yesterday urged Washington to keep human rights on the agenda.

"Chinese human rights defenders and civil society would suffer even more if the international community does not pay enough attention and [place] enough pressure on China," prominent dissident Zeng Jinyan (曾金燕) said.
---
Daughter of 228 victim accuses police of threats
 
By Loa Iok-sin
STAFF REPORTER
Monday, Feb 23, 2009, Page 3

Lin Li-ying (林黎影), daughter of 228 Incident victim Lin Chieh (林界), yesterday accused the police of threatening victims' families amid rumors that they planned to throw shoes at President Ma Ying-jeou (馬英九) at an event to remember the victims on Saturday.

"A police officer [from the local Chenggong Road Police Station in Kaohsiung] came to my house on Friday, but since I wasn't home, he went to the place of my neighborhood chief instead," Lin Li-ying, who lives in Kaohsiung, told the Taipei Times by telephone.

When Lin Li-ying got home, the neighborhood chief rushed to her house, asking if she would take part in the 228 memorial event "because the police were looking for me," she said.

Lin Li-ying contacted the police station afterwards and was told that the police wanted to know how many people would participate in the event and what activities they had planned, she said, adding that such inquiries had never occurred before.

"The officer said he had to ask because 'someone above' wanted to know," Lin Li-ying said. "I suspect that the police are doing this because they are worried that we will throw shoes at Ma when he attends the memorial event."

Media reported earlier this month that victims' families planned to throw shoes at Ma to protest his cross-strait policies and Chinese Nationalist Party (KMT) Legislator Hung Hsiu-chu's (洪秀柱) proposal to cut the 228 Memorial Foundation budget.

"I haven't heard of anyone talking about throwing shoes at Ma and I wouldn't do it either, because my shoes are too pretty to throw at him," Lin Li-ying said.

The Chenggong Road Police Station declined to comment when contacted by telephone, but a Kaohsiung police officer with experience handling demonstrations and other public events who spoke on condition of anonymity said the whole thing may be a misunderstanding.

"We always contact event organizers in advance to get an idea of how many people will be there and what they plan to do," the officer said.

However, he criticized the handling of the matter.

"You can't just pop in and ask questions like this — you should always try to establish a good relationship with [organizers] so that there will be some basic trust between you," the officer said.

"After all, these people are the families of victims of political persecution. Of course they will be more sensitive to police questioning," the officer said.

Lin Li-ying's father, Lin Chieh, who was chief of Lingya District (苓雅) in Kaohsiung, was killed by the KMT government during the 228 Incident in 1947.

Her mother, Hu Chin-hua (胡錦華) later committed suicide because she could no longer take the humiliation and discrimination from others because of her husband's death, leaving Lin Li-ying and her sister Lin Li-tsai (林黎彩) orphaned.
---
Dissidents, monks freed in amnesty
 
PRISON CLEARANCE: A Thailand-based rights group said a total of 19 political prisoners were scheduled to be freed. Three were among those released on Saturday

AGENCIES, YANGON, MYANMAR
Monday, Feb 23, 2009, Page 4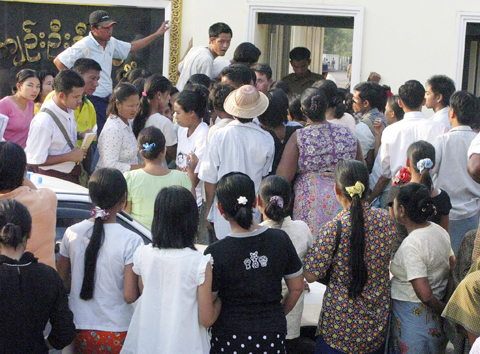 Family members wait outside the Insein Central Jail in Yangon, Myanmar, yesterday, after the government announced an amnesty for thousands of prisoners.

PHOTO: EPA
Several monks and three members of pro-democracy leader Aung San Suu Kyi's political party were among the more than 6,300 prisoners released by Myanmar's junta as part of a government amnesty, a party spokesman and a rights group said yesterday.

Among those freed from prisons around the country beginning on Saturday was Zaw Myint Maung, a lawmaker who was serving a 20-year sentence and had been in prison since 1991, National League for Democracy (NLD) spokesman Nyan Win said.

Two other NLD township committee leaders — Pe Thein and Thet Wai — also were released.

The three were among 19 political prisoners scheduled to be released, said the Assistance Association for Political Prisoners, a Thailand-based rights group whose information has proven accurate in the past. Most of the 16 remaining prisoners were monks detained in 2003 after rejecting a donation to their monastery from former junta member General Khin Nyunt.

"This is just for show," NLD secretary Tate Naing said. "This group does not include any policy makers or other key players."

Nyan Win said he was expecting to hear yesterday about more NLD members freed.

State radio and TV announced on Friday that 6,313 prisoners were released in recognition of their good conduct and so they would be able to participate in a general election planned for next year. The announcement came after UN human rights rapporteur Tomas Ojea Quintana ended a five-day visit during which he called for the progressive release of "prisoners of conscience."

In recent months, courts have sentenced more than 100 dissidents, including some of the country's most prominent activists, to prison terms that would keep them incarcerated well past the 2010 polls. The junta says the vote will restore democracy, but critics say it will be a sham to keep the military in control.

Human rights groups estimate the regime holds more than 2,100 political detainees, including Aung Sang Suu Kyi, who is under house arrest.

The junta denies the existence of any political prisoners, saying all detainees have committed crimes.
---