Chen ends hunger strike after Wu visit
 
DODGY DVDS: The former president's lawyers made public videos of interviews with key witnesses, many of which were incomplete or muted in certain places
 
By Jimmy Chuang
STAFF REPORTER
Tuesday, Feb 24, 2009, Page 1

Former president Chen Shui-bian (陳水扁) yesterday ended his four-day hunger strike, the day before a three-day court hearing that is part of his trial on money-laundering and corruption charges.

Chen had not eaten anything since Friday in protest at what he says is political persecution by the Chinese Nationalist Party (KMT) government.

The former president started eating again after his wife, Wu Shu-jen (吳淑珍), visited him for the first time since he was detained in late December.

"He ate some rice porridge and some fish and vegetables his wife brought in," Taipei Detention House deputy director Lee Ta-chu (李大竹) said.

Democratic Progressive Party (DPP) Legislator Hsueh Ling (薛凌), who accompanied Wu, told reporters that Wu asked her husband to eat as he would need his strength to fight the charges against him.

"He is still in reasonable health, although a little dehydrated and should be able to attend tomorrow's hearing," Lee said.

Meanwhile, Chen's lawyers told a press conference at Chen's office yesterday afternoon that prosecutors from the Supreme Prosecutor's Office Special Investigation Panel (SIP) had deliberately altered witnesses' testimony in the alleged money laundering case.

His lawyers yesterday made public DVDs of prosecutors' interviews with former Presidential Office treasurer Chen Chen-hui (陳鎮慧), former Chinatrust Financial Holding Co (中信金控) vice chairman Jeffrey Koo Jr (辜仲諒), Taiwan Cement Corp (台泥) chairman Leslie Koo (辜成允) and James Lee (李界木), former Hsinchu Science Park Administration chief. Conversations between the defendants and SIP prosecutors were incomplete, as parts of them were muted and other parts had been deleted.

"This is incontrovertible evidence that the statements from witnesses presented by the SIP are insufficient and ineligible as evidence for the hearings, as they are incomplete," said Cheng Wen-lung (鄭文龍), one of the former president's lawyers.

In addition, Cheng also questioned why prosecutors had only selected statements against Chen Shui-bian and deleted statements made in his favor.

"Statements like these should be inadmissible as evidence for hearings," said Shih Yi-ling (石宜琳), another lawyer.

"We will ask the judges to review these DVDs. We will also ask for cross-examination of the witnesses and the former president in court if necessary," Shih said.

In response to the complaints, SIP spokesman Chen Yun-nan (陳雲南) said: "Our colleagues may have forgotten to push the record button, so some of the interview would be muted. Glitches like these can be ironed out in the future. But all these statements were signed by the witnesses under their own free will. So the statements are 100 percent qualified as testimony for the hearings."

Chen Yun-nan also confirmed that prosecutors interviewed Central Bank Governor Perng Fai-nan (彭淮南) in connection with the case at a secret location yesterday, but the spokesman refused to confirm the contents of the conversation.
---
DPP pans Ma's unfreezing of 228 budget
 
INSiNCERE: DPP officials said the president was only concerned with winning votes and avoiding protests, and that he still revered the dictator behind the 228 carnage
 
By Flora Wang And Rich Chang
STAFF REPORTERS
Tuesday, Feb 24, 2009, Page 3

The Democratic Progressive Party (DPP) yesterday criticized President Ma Ying-jeou's (馬英九) decision to unfreeze the budget for the 228 Memorial Foundation, calling it insincere.

"It is clear the Chinese Nationalist Party [KMT] has boycotted issues related to the 228 Incident because of its ideology and Ma Ying-jeou's decision to unfreeze the 228 foundation budget was only made because victims' families were mulling a protest against him over the issue on the eve of 228 Memorial Day. I think Ma's decision was insincere and hypocritical," DPP Chairperson Tsai Ing-wen (蔡英文) told reporters at a press conference yesterday.

Ma on Sunday promised to continue funding the 228 Memorial Foundation with an annual budget of NT$300 million (US$9.2 million) after the legislature, dominated by the KMT, froze last year's budget and then refused to grant a budget for this year.

SUPPORT

Ma, who has long sought support from 228 Incident victims, said the government would make up for the previous cuts by providing an annual budget starting next year.

The president also asked the Cabinet to apply to the legislature to unfreeze the 2008 budget.

DPP Legislator Lee Chun-yee (李俊毅) told a press conference the KMT government should fund the 228 Memorial Foundation with the whole budget of NT$1.5 billion at once and allow the foundation to operate independently if Ma really wanted to compensate 228 Incident victims.

If Ma is involved in the foundation's operation, he and his party will be able to manipulate it, Lee said.

Although Ma was making an effort to compensate 228 victims, he and the KMT still idolized the prime culprit behind the killings — dictator Chiang Kai-shek (蔣介石) — and his decisions to reopen the Chiang Kai-shek mausoleum at Tzuhu (慈湖) and propose changing the name of National Taiwan Democracy Memorial Hall back to Chiang Kai-shek Memorial Hall was proof of this, Lee said.

DPP Legislator Gao Jyh-peng (高志鵬) said Ma decided to continue funding the 228 foundation to win more votes in elections.

KMT SUPPORT

Meanwhile, the KMT caucus yesterday threw its support behind Ma's promise to continue the foundation's funding, but a KMT legislator who previously proposed freezing the foundation's budget expressed reservations.

At a press conference, the KMT caucus said it would respect and support the president's call.

KMT Legislator Wu Yu-sheng (吳育昇), who was present during the media conference, said the Legislative Yuan could discuss whether to unfreeze the foundation's budget in the current spring session.

The 228 Incident refers to an uprising against the KMT that began on Feb. 27, 1947, and was followed by a bloody crackdown, resulting in the deaths of tens of thousands of civilians.

However, KMT Legislator Hung Hsiu-chu (洪秀柱), who proposed last year to freeze the foundation's budget request, said the government should instead review whether the foundation had achieved its mission of promoting harmony between different ethnic groups.

"Is it really trying to bridge the gap between different ethnic groups or trying to incite conflict and hatred each time Feb. 28 approaches? [If so], it is meaningless to continue to fund the foundation," Hung told reporters.

When asked for comment on the government's plan to reinstate the plaque bearing the title Chiang Kai-shek Memorial Hall by July, Wu said the government should prevent conflict while returning the plaque to the hall.
---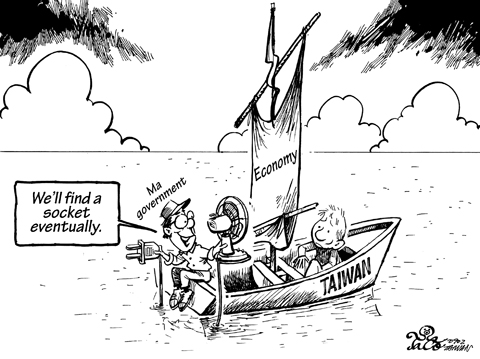 ---
KMT, get your priorities right

Let me see if I understand this correctly. Under the KMT's watch, Taiwan's unemployment rate is skyrocketing, GDP is in a free fall, exports are at their lowest in decades and people are increasingly concerned about losing their jobs and feel insecure about their future — yet Kaohsiung City Councilor Wang Ling-chiao (王齡嬌) of the KMT can find nothing better to do than collect signatures for a petition asking that the son of former president Chen Shui-bian (陳水扁) not be allowed to live in Kaohsiung.

I am sure there are rapists and child molesters living in southern Taiwan, yet no one is seeking to force them to change their city of residence.

The KMT does a great job of shifting attention away from how horribly it runs the country and onto the former president and his family.

Hopefully Taiwanese are smart enough to see through these tricks but I don't hold out much hope based on the KMT supporters that I know.

Maybe we should start a petition asking that Wang leave the country. Let me know where and when to sign up for that.

CHRISTOPHER CASAS
Taipei
---
Prisoners have rights too

The Geneva Conventions grant prisoners of war protection from "public curiosity." But in the civilian case involving former president Chen Shui-bian, the media have inflamed public curiosity, often showing Chen through barbed wire doing his daily workout.

The guilt of the former president has not yet been proven in court and statements from President Ma Ying-jeou (馬英九) affirm that Chen is not being punished.

Public interest, which differs from public curiosity, is insufficient cause to infringe the minimum rights that ensure a fair trial. It is horrific to see footage of Chen in prison dress being broadcast repeatedly.

Though I feel he may likely be found guilty of at least some charge of corruption, guilt in this case should not be influenced merely in the interest of public curiosity.

As people deserve to be treated humanely, Taiwan has an obligation to establish better rules for custody that protect even guilty prisoners from public curiosity.

TOM ANDERSON
Jhongli, Taoyuan County