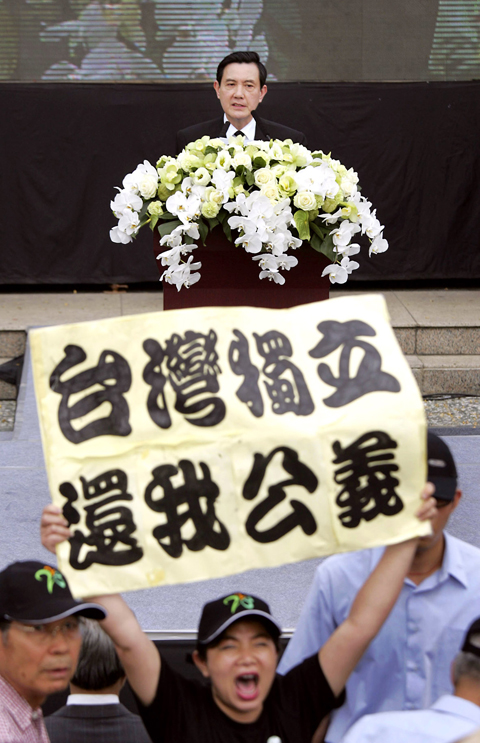 A protester holds a sign reading "Taiwan independence, give me justice" as President Ma Ying-jeou delivers a speech during a memorial service marking the 228 Incident in Kaohsiung yesterday.

PHOTO: AP
---
Tibetan monk sets himself on fire in Sichuan city

AFP , BEIJING
Sunday, Mar 01, 2009, Page 1

Tensions were high in a flashpoint town of southwest China yesterday after a Tibetan monk set himself on fire in protest against Chinese rule, activist groups and residents said.

Chinese authorities confirmed a man had set himself alight, but did not acknowledge claims by activist groups that police shot the monk and that he had embarked on his protest after officials banned prayers at his monastery.

The incident on Friday came amid reported protests across the Tibetan plateau ahead of the ultra-sensitive 50th anniversary on March 10 of a failed uprising against Chinese rule that led to the Dalai Lama fleeing to India.

The monk, in his late 20s, was shot after dousing himself with gasoline and setting himself alight in the Tibetan-populated town of Aba in Sichuan Province, the London-based group Free Tibet reported.

The monk, from Kirti monastery in Aba, held a flag with an image of the Dalai Lama, the Himalayan region's spiritual leader, as he embarked on his protest, Free Tibet and other activist groups said.

They cited unnamed witnesses and Aba residents.

In a brief report from Xinhua news agency, Aba Communist Party chief Shi Jun confirmed a man wearing monk's robes had walked out of the monastery and set himself alight.

Shi reportedly said police put out the fire and that the man was taken to hospital with burn injuries to his neck and head.

The Xinhua report made no mention of any shooting by police, while local authorities refused to comment to reporters.

Locals telephoned by reporters yesterday were extremely fearful of discussing the matter. Some said police had fired shots but would not elaborate.

One resident, who could not be named for fear of reprisal, said police had told her not to say anything but she confirmed police had fired shots.

"It's true, but I can't say anymore. My phone is monitored," she told reporters before hanging up.

Aba has been a flashpoint town since police opened fire on an anti-Chinese protest there in March last year, in violence that activists said left at least seven Tibetans dead.
---
REMEMBERING THE 228 INCIDENT: Hundreds join 228 sit-in rally
 
NEVER FORGET: One of the participants at the rally stressed the need to find the truth for the country to be able to move on and promote reconciliation
 
By Loa Iok-sin
STAFF REPORTER
Sunday, Mar 01, 2009, Page 2
"Our ancestors were so brave in resisting the [KMT] regime at the time, but we have compromised. We're letting them down."— Yang Tzu-fu, protester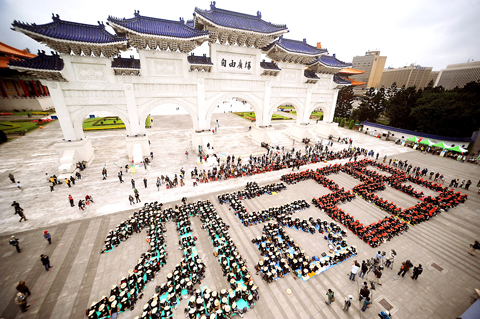 Participants at an an event organized by the Taiwan Association of University Professors form the Chinese characters for "Do not forget 228" at Liberty Square in Taipei yesterday to commemorate the 228 Incident.

PHOTO: FANG PIN-CHAO, TAIPEI TIMES
More than 1,000 people took part in a sit-in rally on Liberty Square yesterday to commemorate the 62nd anniversary of the 228 Incident. The group formed the Chinese characters "wuwang 228" (勿忘228) —"Do not forget 228" — to remind the public not to forget the tragedy.

"Everyone in this country — not just those who were killed during the incident — is a victim of the 228 Incident, yet we only got to talk about the incident in public and tried to find the truth about it after martial law was lifted more than 20 years ago," said Chen Yi-shen (陳儀深), chairman of the Taiwan Association of University Professors, the group that organized the rally.

"But 20 years after we began our search for the truth, did we find it? Did we find out who should take ultimate responsibility? Did we prosecute the culprit?" Chen asked the crowd.

The 228 Incident refers to the uprising in 1947 against the Chinese Nationalist Party (KMT) regime and the brutal crackdown that left tens of thousands dead and led to a nearly four-decade-long rule under martial law.

"Chiang Kai-shek (蔣介石) was the one who made the decision to send troops to Taiwan based on all the information he had received, of course he should be held responsible," Chen said. "We need reconciliation, but without confession and truth, there cannot be reconciliation."

A participant in his 70s surnamed Liao, who witnessed the 228 Massacre, said the lessons of 228 have to be remembered.

"You were dead if you tried to challenge dictatorship through peaceful means," he said.

Liao said that people were too naive and believed that they could talk and negotiate with Chen Yi (陳儀), the executive administrator at the time.

"Chen Yi promised reforms on one hand, but asked for more troops from Chiang on the other," Liao said. "At the end, most of the people who negotiated with Chen Yi were murdered."

"People should remember the lessons and do not get deceived again," he said.

Yang Tzu-fu (楊梓富), who did not join the crowd in forming the Chinese characters, began his own sit-in at the square on Friday night. He said that the public should remember 228 for the courage that the people showed during the incident.

"Our ancestors were so brave in resisting the [KMT] regime at the time, but we have compromised. We're letting them down," he said.

Taiwan Solidarity Union Chairman Huang Kun-huei (黃昆輝) told reporters that he felt proud and honored to participate in the sit-in and would continue to contribute to the search for the truth behind the 228 Incident.

"Activities like these promote social justice, human rights and peace," he said, adding that people can forgive what the KMT has done but should never forget the "costly historical lesson."
---
REMEMBERING THE 228 INCIDENT: Lin says renaming hall an insult
 
WHEN SORRY IS NOT ENOUGH: Former DPP chairman Lin I-hsiung said that aside from offering an apology, the government should make an effort to right past mistakes
By Rich Chang
STAFF REPORTER
Sunday, Mar 01, 2009, Page 2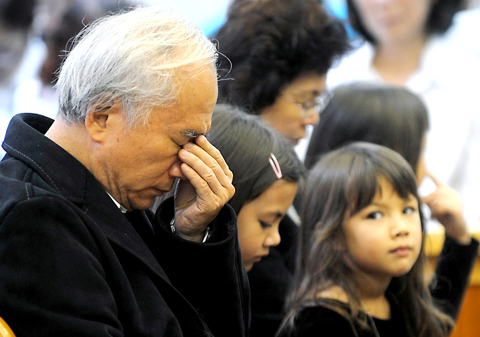 Former Democratic Progressive Party chairman Lin I-hsiung bows his head in prayer at an event organized by Gikong Presbyterian Church yesterday to commemorate the unsolved murders of Lin's mother and twin daughters on Feb. 28, 1980.

PHOTO: LIN CHENG-KUNG, TAIPEI TIMES

The Chinese Nationalist Party (KMT) government's plan to change the name of National Taiwan Democracy Memorial Hall back to Chiang Kai-shek Memorial Hall is a severe insult to Taiwanese, former Democratic Progressive Party (DPP) chairman Lin I-hsiung (林義雄) said yesterday.

Lin made the remarks after attending a memorial service in remembrance of his mother and twin daughters, the victims of a brutal murder nearly three decades ago.

On Feb. 28, 1980, the body of Lin's mother, Lin Yu A-mei (林游阿妹), 60, was discovered by the basement stairs of the Lin family residence. She had been stabbed 13 times. Lin's seven-year-old twin daughters Lin Liang-chun (林亮均) and Lin Ting-chun (林亭均) were also found dead after being stabbed once. His nine-year-old daughter, Lin Huan-chun (林奐均), who had been stabbed eight times, survived. His wife, Fang Su-min (方素敏), was visiting Lin in prison at the time. Lin was arrested on Dec. 13, 1979 for participating in a human rights rally in Kaohsiung three days earlier.

"It is a great insult to the Taiwanese people when the government employs abundant resources to commemorate a man who is perceived by most historians in other countries as a dictator," Lin said when asked by reporters for comments on the government's plan to change the name of the hall back to Chiang Kai-shek Memorial Hall

"To this day, who should be held accountable for the 228 Incident remains unknown," he said. "All the memorial services and compensation for the 228 Incident are meaningless if it remains unclear who should be held responsible."

Many pro-independence activists suspect that the "Lin Family Murders," as the case came to be known, were orchestrated by the KMT government to discourage political activism, but this has never been proved.

To this day, no assassin has been apprehended and the motive remains unknown.

Lin Huan-chun and Fang Su-min also attended the memorial service yesterday at Gikong Presbyterian Church (義光教會). The church is located on the Lin family's former residence, the site of the murder 29 years ago.

Asked to comment on DPP Chairperson Tsai Ing-wen's (蔡英文) criticism that President Ma Ying-jeou (馬英九) was not sincere in his apology over the 228 Incident, Lin I-hsiung said whether or not one apologizes is meaningless to overall social progress.

People who have committed mistakes should admit their wrongdoings and make a sincere effort to right their wrongs — not just offer an apology, he said.

He added that to the families of the 228 Incident victims, an apology would not erase the wounds.

The key is to set the record straight and let truth about the 228 Incident be known so that future generations can learn from the past, Lin said.
---
REMEMBERING THE 228 INCIDENT: Academic accuses 228 Foundation of historical bias

STAFF WRITER
Sunday, Mar 01, 2009, Page 2

A research fellow at Academia Sinica's Institute of Modern History yesterday accused academics with hidden political agendas of attempting to monopolize the right to interpret the 228 Incident.

"This means that the history presented to the public is biased," Chu Hong-yuan (朱浤源) told a symposium on the 228 Incident.

Other academics who attended the forum were Yin Chang-yi (尹章義), chairperson of Taiwan History Research Foundation; Chi Chia-lin (戚嘉林), a political science professor at Foguang University; and Cheng Yu-fong (程玉鳳), an associate professor at Shih Hsin University's Center For General Education.

The group also issued a draft "statement on the 228 Incident from academic circles," in which they expressed their concern over "biased historical interpretations" of the 228 Incident.

"The 228 Incident has long been manipulated for political purposes and under the eight years of rule by the Democratic Progressive Party, the truth about the incident has been severely distorted," Chu said.

Chu is known as one of the progenitors of the conspiracy theory that former president Chen Shui-bian (陳水扁) staged his own shooting on the eve of the 2004 presidential election. Chu had also attacked former US naval attache George Kerr, claiming that the 228 Incident was the result of Kerr's support for a pro-independence campaign that blackened the Chiang Kai-shek (蔣介石) regime.

Touching on the debate about the continued existence of the 228 Memorial Foundation, Chu said: "The current staff are all pan-green supporters and that they all have a vengeful mindset."

He added that unless they were replaced, it would be useless to continue the foundation.

Addressing Ma's repeated apologies over the 228 Incident, Chu said some historians had found that the executive administrator of Taiwan at the time, Chen Yi (陳儀), "indeed did all he could," and suggested that Ma give his full support to 228 Incident research so that the role of all participants be clarified lest he be handicapped by biased interpretations.

Yin said that "truth is the beginning of everything" and historians should search for the historical truth.

Yin echoed Chu's claims that current interpretations of the 228 Incident were biased and called on historians to refrain from becoming political tools of the pan-blue or pan-green camps in their search for the truth.

The group suggested that Academia Historica be put in charge of the 228 Incident issue, that the National Archives Administration and other organizations provide historians with research materials and that periodic academic symposia be held so that the whole truth about the 228 incident could be gradually unearthed.

At a separate setting yesterday, 228 Memorial Foundation president Chen Chin-huang (陳錦煌) rebutted Chu's comment that the foundation's research on the 228 Incident were politically biased.

"All statements and publications published by the foundation on the 228 Incident are open to public scrutiny because the foundation has always believed in 'letting the evidence speak for itself.' This has always been the guiding principle in the foundation's work in uncovering the truth about the 228 Incident," Chen told the Taipei Times.
---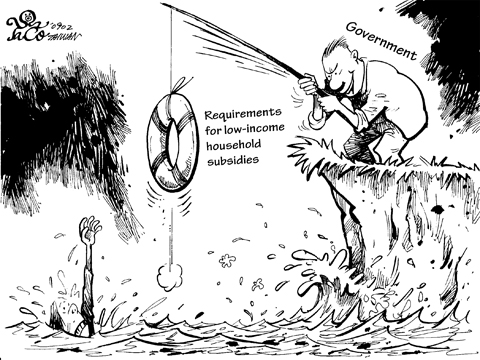 ---
The bottom line that Taiwan faces
 
By Dennis V. Hickey
Sunday, Mar 01, 2009, Page 8

Despite recent improvements in cross-strait relations, tensions between Beijing and Taipei have jeopardized world peace and stability on numerous occasions. Many people do not understand the nature of this quarrel.

As Republican Senator Fred Thompson of Tennessee observed, it is difficult for Americans to understand "why a little, small place like Taiwan would be so important to the People's Republic of China." Numerous explanations for this have been offered over time.

Some argue that the restoration of China's territorial integrity is the driving force behind Beijing's claims to Taiwan. According to the Chinese government, "Taiwan has belonged to China since ancient times."

The loss of Taiwan to Japan during the first Sino-Japanese War in 1895 is described officially as a "wanton betrayal and humiliation [that] shocked the whole nation and touched off a storm of protest." In 1943, the Cairo Declaration returned Taiwan "to the Republic of China [ROC]."

Following the ROC's retreat to Taiwan in 1949, the new government of the People's Republic of China (PRC) proclaimed that it must be considered the "replacement of the old regime" and that the ROC no longer existed. Beijing emphasized it now exercised sovereignty over Taiwan.

Unification proposals have changed significantly since then. But Beijing's bottom line remains that Taiwan is Chinese territory and it is determined to prevent the island from ever achieving de jure independence.

Others contend that Taiwan's strategic importance is the genuine reason behind Beijing's claims to the island. In 2007, then vice president Annette Lu (呂秀蓮) declared that Beijing "clearly recognizes Taiwan's strategic importance, as access to Taiwan is necessary for China to fully develop into a Pacific power."

Recent US government studies concur that the PRC's acquisition of Taiwan could "have very practical applications, such as providing access to shipping lanes or oil and gas resources."

Moreover, PRC military officials contend that possession of Taiwan would hinder efforts by unfriendly forces to use the island as a "gateway" to bully China. And some argue that Beijing will never allow Taiwan to formally secede from China because this would encourage other restive areas — including Tibet and Xinjiang — to follow in its footsteps.

Still others point to Taiwan's economic prowess as a critical factor. The island's incorporation into the PRC would bolster the country's economic muscle significantly.

China would inherit Taiwan's advanced technology, educated workforce and economic power if it managed to secure the island largely intact and would replace Germany overnight as the world's largest exporting nation.

There are other explanations that might help one understand Beijing's longstanding claims to Taiwan — an island that has never been administered by the PRC since its founding 60 years ago.

Some suspect that the People's Liberation Army has a vested interest in keeping the "Taiwan issue" alive as it justifies annual double-digit increases in defense outlays and ensures that the military retains a voice in policymaking. Others contend that domestic political considerations are the driving force in the campaign for eventual unification.

Nationalism and economic prosperity have replaced the communist ideology as the Chinese mainland regime's primary source of legitimacy. Preventing Taiwan's independence is critical to the legitimacy of the government.

In fact, the late Chinese leader Deng Xiaoping (鄧小平) reportedly claimed that any government that acquiesced to Taiwan's independence would be forced to step down from power. Interestingly, this might be traced, in part, to what social scientists call "rhetorical escalation" or "oversell."

In other words, unification with Taiwan might be critically important to Beijing simply because it has emphasized repeatedly that the matter is of crucial significance.

Finally, some believe that, despite the passage of time, Taiwan is still considered a "rival" to the PRC regime and perhaps even a threat to its legitimacy.

Although Taipei abandoned plans to "retake the mainland" long ago, it continues to threaten the regime in other ways. Indeed, US leaders often describe Taiwan as a "model" for political reform and freedom in China and scholars claim that the island is viewed as a chief exporter of "subversive values" to China.

Independence activists have long made arguments that Taiwan does not belong to China. Some delight in quoting embarrassing proclamations by Sun Yat-sen (孫逸仙), Mao Zedong (毛澤東) and even Chiang Kai-shek (蔣介石) that appear to support their position.

Others cite studies showing that Taiwan's strategic importance appears to be overstated, or that economics cannot be the driving force behind claims to Taiwan, as China has threatened to unleash a war that would destroy its own economy if Taiwan declared independence.

Irrespective of evidence and arguments to the contrary, it is important to understand that Chinese at both elite and popular levels perceive Taiwan to be an integral part of China. The issue may be shelved or creatively side-stepped temporarily.

It could even conceivably simmer below the surface for quite some time. However, it is likely that Taiwan's sovereignty and international status will always remain the most sensitive issue in Beijing's relations with Taipei and the global community.

Dennis V. Hickey is the James F. Morris Endowed Professor of Political Science at Missouri State University.
---
CECA comes with big hidden costs
 
By Tsai Ing-Wen 蔡英文
Sunday, Mar 01, 2009, Page 8

On Feb. 16, an editorial in the Chinese-language newspaper the China Times said that the Democratic Progressive Party (DPP) is ideologically opposed to the signing of a comprehensive economic cooperation agreement (CECA) between Taiwan and China. However, the signing of such an agreement would not only affect issues such as Taiwanese sovereignty and economic autonomy, but also affect the lives of ordinary Taiwanese. It is simplistic to argue that the DPP opposes the CECA merely on ideological grounds.

When the DPP was in power, we did comprehensive assessments of the risks and opportunities of major policies, including the big three links and direct flights with China. These assessments were closely analyzed before any policies were implemented and special attention was given to the impact each policy would have on industries and social groups. The small three links were our first test case.

To date President Ma Ying-jeou's (馬英九) administration has not released any details about what a CECA would entail, nor has it engaged Taiwanese society in any substantial dialogue on the matter. Instead, it simply announced that the basic CECA policy tone has been set and that details will be discussed between the Straits Exchange Foundation (SEF) and China. These decisions show the intransigent nature of the Ma administration's policy making and its disdain for listening to opinions from the public.

China has maintained a consistent economic strategy against Taiwan that involves making it part of the greater China economic sphere and enslaving Taiwan to China's economy. China thus does all it can to stop Taiwan from signing Free Trade Agreements with other nations and regional alliances, while also trying to entice Taiwan into signing arrangements similar to the Hong Kong and Macau Closer Economic Partnership Arrangements. This is a current point of contention between the two sides.

In his "Six-Point Proposal" for cross-strait relations, Chinese President Hu Jintao (胡錦濤) said that there is only one China and that its sovereignty and territorial integrity cannot be changed. Therefore, the premise of signing a CECA would be that Taiwan and China share the same understanding of what the "one China" principle means. Taiwan would have to adhere to the "one China" principle and become a part of China. As part of the same "country," it would relinquish its right to impose anti-dumping measures against China and would be unable to levy equalization duties on China.

This would ultimately see Taiwan become a dumping ground for low-priced goods from China. The negative impact on Taiwan's small and medium enterprises (SMEs) and our farmers would be immense. While Taiwanese workers, farmers and SMEs would incur huge losses from a CECA, large corporate groups in both Taiwan and China would benefit greatly. It is clear to me, as a member of the team who prepared Taiwan's accession to the WTO, that an opening-up policy with no form of protective measure is not in line with the spirit of the WTO.

Taiwan's recent economic performance, in terms of overall economic growth and exports, has been criticized by international organizations as very poor. The main reason is that the Ma administration's economic policies are overly reliant on China and have resulted in Taiwan losing economic autonomy. For example, as of January, Taiwan's overall exports dropped by 44.1 percent. The main reason was because our exports to China decreased 58.6 percent, whereas China's exports for the same period dropped by only 17.5 percent. This drop-off included a decrease in the number of exports of many Taiwanese products or key components that China has managed to reproduce and make by themselves. This is a warning the Ma administration must take seriously.

The first task for the government is to solve Taiwan's unemployment problem. If the Ma administration signs a CECA with China and allows technological professionals, funds, labor and products from Taiwan and China to move in an even freer fashion, not only will local employment opportunities be influenced by an influx of Chinese workers, it will also be much easier for Taiwanese businesspeople to invest in and set up factories in China. This will not only move all of Taiwan's production lines to China, it will also see the products produced in China sold back to Taiwan where their lower prices will be used to compete with local manufacturers' products. This will cause even more of our businesses to close down, impact our local industries, increase job losses for our workers and thus worsen Taiwan's unemployment problem.

We are fighting to avoid this nightmare scenario. The reality is that cross-strait relations are no longer just a matter of sovereignty; the survival of our economy is also at stake. This is why I object to the China Times' cavalier dismissal of the DPP's opposition to CECA as "ideology." All the possible ramifications of a CECA must be thoroughly discussed because they have the potential to have a heavy impact on the vital interests of the people of Taiwan.

Tsai Ing-wen is chairperson of the Democratic Progressive Party.