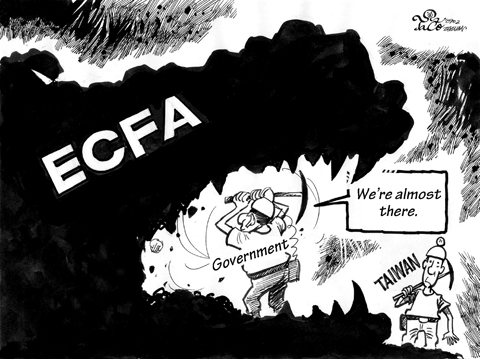 ---
Harvey Feldman remembered for spirit, dedication
 
By William Lowther
STAFF REPORTER , WASHINGTON
Monday, Mar 02, 2009, Page 3

"If we were asked how to characterize Harvey's role, we'd immediately say, without question there would have been no Taiwan Relations Act without him."— Christopher Nelson, editor of the Nelson Report

Former US ambassador Harvey Feldman, a giant within Washington's tight community of China watchers and a good friend of Taiwan, died on Tuesday following emergency heart surgery.

"The people of Taiwan owe him a lot," said Christopher Nelson, editor of the Nelson Report.

"Without Harvey there would have been no Taiwan Relations Act [TRA]," he said.

"Harvey was able to span the gulf between Congress and the administration, and to this day the TRA has played a central role in keeping peace in the region and safeguarding the rights of more than 20 million people on Taiwan," he said.

Derek Scissors, a research fellow in the Asian Studies Center at the Heritage Foundation, where Feldman served as a distinguished fellow in China Policy, recalled his intellectual generosity.

At a recent roundtable debate on Asian policies, the two clashed over economic matters. At the height of the dispute, Feldman shared an insight that supported Scissors' argument and made it more persuasive, even though it undercut his own point of view.

Feldman was known for his sharp sense of humor, sense of fun and enthusiasm.

Longtime colleague Jim Wolf said: "Harvey was a lofty spirit who took an almost impish delight in deflating those who thought they were high and mighty."

Walter Lohman, director of the Asian Studies Center at Heritage said: "I'll miss his advice and his passion for all things Taiwan. But most of all, I'll just miss him — his wisecracking, tell-it-like-it-is, endearing self."

Feldman worked for the American Foreign Service for more than 30 years, most of them as an East Asian specialist.

He served in Hong Kong for eight years, Taiwan for six and Japan for four.

As a member of the State Department's Policy Planning Council, he helped plan late US president Richard Nixon's first visit to China in 1972.

Later, he became director of the Office of the Republic of China Affairs and created the American Institute in Taiwan, which replaced the US embassy after relations were shifted to Beijing.

After serving as ambassador to Papua New Guinea and the Solomon Islands, Feldman was appointed an alternative US representative to the UN.

On retiring from the Foreign Service, Feldman spent a year as vice president of the Institute for East-West Security Studies, taught graduate seminars at New York University and became a partner in Global Business Access Ltd, a consulting firm formed by retired senior diplomats.

He joined the Heritage Foundation in 1996.

Feldman spoke Mandarin, Japanese and Bulgarian. He was the editor of two books, Taiwan in a Time of Transition and Constitutional Reform and the Future of China.

In a tribute delivered at Feldman's funeral, Nelson — speaking for himself and professor Jim Przystup of the National Defense University — said: "In 1978, Harvey was the Republic of China desk officer at State, which meant that he was in charge of managing and safeguarding the official diplomatic relations between the United States and Taiwan."

"His immediate boss was Dick Holbrooke, who was characteristically hell-bent on accomplishing his assigned task of 'de-recognizing' Taiwan," he said.

"It was Harvey who helped conceive of the compromise which was hammered out between Congress and [former US president Jimmy Carter's] administration, a piece of legislation called the Taiwan Relations Act," he said. "If we were asked how to characterize Harvey's role, we'd immediately say, without question there would have been no Taiwan Relations Act without him."

"Carter and State would have just let the place go and certainly would never have agreed to a continued arms sales requirement," Nelson said.

Feldman is survived by his wife, Laura Sherman, and three sons, Christopher, Peter and Alex.
---
Take advice from Australia

Much has been written in recent months on the global financial crisis, looming recession, rising unemployment rates and their anticipated social and economic costs. What I wish to draw readers' attention to is the recent (seemingly unrelated) job losses in Australia and those in Taiwan and other developed economies around the world.

Pacific Brands, Australia's largest textiles and clothing manufacturer, announced on Wednesday that it was shutting-up shop and moving (equipment and) operations to China, a hitherto unforeseen consequence (in Australia) of the global economic slow down. This step toward lower cost production means the loss of almost 2,000 Australian jobs, with many of those (typically low-paid and low-skilled) workers affected, likely to find it hard to re-enter the job market again in the short to medium term.

What does this have to do with Taiwan and its current economic woes? The editorial in The Age newspaper on Friday, I believe, has some useful advice for those in Taiwan wishing to mitigate the effects of the global economic downturn and offset the competitive advantage China has as a low cost manufacturer of consumer items. Australia, like Taiwan, should "foster industries that draw on and increase the educational advantage of Australian workers over those in low-wage economies," the editorial said.

In pursuing innovation and new economic opportunities, Australia (read Taiwan) needs to "be clever in deciding what industries are sustainable in the global markets in which we compete," the paper said.

Taiwan, like Australia, is a country with comparatively high living standards, high wages and a well educated population; it needs to play to its strengths and develop expertise in certain key industries, the technology and alternative fuel/transport sector for instance. Taiwan also needs to diversify its investments and think creatively in developing markets for its goods; overreliance on China, or indeed, any one market, is imprudent and defies the reality of an already globalized investment market.

While we in Australia and Taiwan reflect on the job losses to date, with more likely to come, now is the time to pursue strategies which play to our advantages in the new, emerging and sustainable markets of the future.

KARL HABY
Taipei
---

Blame Fu, not Cao

Rupert Hammond-Chambers (Letters, Feb. 22, page 8) needs to direct his protest or clarification toward Norman Fu (傅建中), not towards Cao Changqing (曹長青) as Cao was merely quoting Fu's Feb. 13 article in the China Times in his opinion piece ("The KMT is a master at silencing dissidents," Feb. 18, page 8).

In his article, titled "All royal palaces to the new Master," Fu bragged proudly about the Chinese Nationalist Party (KMT) successfully insisting that "John Tkacik must walk."

To give Hammond-Chambers the benefit of understanding Fu's proud report, I am translating, as follows, the last three paragraphs of Fu's article.

"Therefore, after regaining power, the KMT insisted that John Tkacik must walk. The KMT went as far as summoning the president of the Heritage Foundation Edwin Feuner [sic] to TRCRO [sic] to give him an in-person lecture about the right thing to do. Both sides, for the sake of saving face, in the end agreed on the 'retirement' of John Tkacik; thus, achieving the goal of firing Tkacik. This was the second time Tkacik retired. Previously, he retired from the position of chief of China Analysis, Bureau of Intelligence and Research, US Department of State."

"Fairly speaking, although John Tkacik is not a top China expert of any sort, he does write a lot and produces a lot, which is an undeniable fact. Exactly because of that, he is particularly dangerous. [We] absolutely must give him a 'Riddance Party.'"

"The KMT's return to power is, in a way, the start of John Tkacik's bad luck. In addition to being forced into retirement, he recently also suffered from the loss of his mother. It's a double misfortune for him. But John Tkacik supports the Democratic Progressive Party, is extremely hostile to the Chinese Communist Party, opposes the 'one China' policy, agrees with Taiwan's independence and supports the referendum initiated by [former president] Chen Shui-bian (陳水扁), he indeed has gone overboard with his right-wing position and has totally ignored the interests of the United States. His fate today should be a cause for him to reflect on his conscience. Yet, as an American, how could he possibly be capable of understanding the great principle of "self-reflection" of [the people in] China. One shall say that John Tkacik fetched his own fate by offending the new master of the royal palaces [ie the new ruler]. He might wish that he had known what he was getting into and he must be regretting very much now about what he did in the past."

The translation above retains Fu's writing style, to give Hammond-Chambers a sense of what China Times readers received.

Fu's self-congratulating, arrogant, childish tone has been reduced, not enhanced, in the translation. The phrase "Riddance Party" was written in English in Fu's otherwise Chinese article. As well, Fu's improper inclusion of Tkacik's loss of a loved one in Fu's count of Tkacik's "double misfortune" is retained in the translation, for Hammond-Chambers' benefit.

Fu spelled out the events in absolutely clear text. We have not seen a clarification from the Heritage Foundation on the subject since the publication of Fu's article on Feb 13. Unless no China expert there is capable of reading the China Times, one must assume that the foundation indeed has allowed itself to be bullied into silence.

SING YOUNG
Taoyuan City