MOFA delays 'Taiwan' name changes
 
FLIP-FLOP: After asking embassies and representative offices to use "ROC" instead of "Taiwan" and "Mainland China" instead of "PRC," the ministry changed its mind
 
By Jenny W. Hsu
STAFF REPORTER
Friday, Jun 06, 2008, Page 1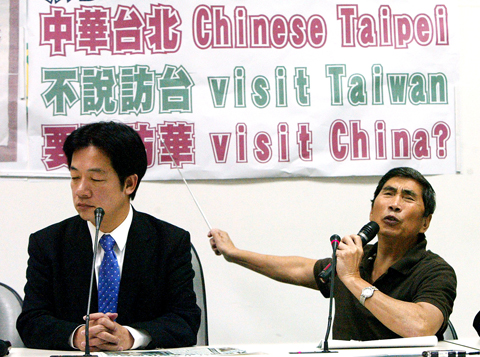 Democratic Progressive Party (DPP) caucus whip William Lai, left, and DPP Legislator Chai Trong-rong hold a press conference yesterday condemning the administration for recommending use of the name "Republic of China" instead of "Taiwan."
 

PHOTO: CNA

The Ministry of Foreign Affairs (MOFA) yesterday performed an about turn on its recommendation on Wednesday that embassies and representative offices use the title "Republic of China (ROC)" instead of "Taiwan" on invitations to foreign dignitaries.

The recommendation also included using the term "Mainland China" instead of "The People's Republic of China (PRC)" when referring to China.

The Chinese-language Liberty Times (the Taipei Times' sister newspaper) reported yesterday that the ministry had sent a notice to all embassies and representative offices two weeks ago informing them of its decision, saying the name "ROC" could best safeguard the nation's sovereignty because it referred to the country by its official designation.

The document said that the decision was in keeping with President Ma Ying-jeou's (馬英九) stance on cross-strait relations based on the so-called "1992 consensus." To maintain the "status quo," all official documents henceforth had to use "Mainland China" or "Mainland" when referring to China and use "visit the Republic of China" instead of "visit Taiwan" when referring to foreigners interested in visiting the nation, it said.

Many envoys were reportedly surprised when informed of the ministry's decision. Some voiced surprise at why they could not continue using the name "Taiwan" and had to replace it with "ROC" even while reverting to the use of "Mainland China" or "Mainland."

Minister of Foreign Affairs Francisco Ou (歐鴻鍊) said yesterday morning that the recommendation to use the name "ROC" was not meant to downplay Taiwan, but to promote the Republic of China.

He added that using the term "Mainland China" not only suited the new administration's stance, but also got around the issue of "two separate countries."

The minister, however, changed his tune less than three hours later, saying the ministry would postpone the recommendation until a consensus on the issue had been reached.

"We saw from the news that there were many opposing voices. I think it would be better to hold off for now," Ou said in an emergency press conference yesterday afternoon.

Democratic Progressive Party (DPP) spokesman Cheng Wen-tsang (鄭文燦) condemned the attempted change yesterday, saying it was tantamount to eradicating Taiwanese consciousness.

He also said that most people now refer to relations between Taiwan and the US as "Taiwan-US" relations and not "China-US" relations.

DPP Legislator Chai Trong-rong (蔡同榮) said yesterday that he would question Ou on the English translation.

"It took us a lot of time to establish the image of 'Taiwan' in international society so people would not be confused between the 'Republic of China' and the 'People's Republic of China.' Ou is trying to take us back to where we were years ago. This is absurd," Chai said.

Ministry spokeswoman Phoebe Yeh (葉非比) later told the Taipei Times that the recommendation on using the term "Mainland China" would also be held back until a public consensus was reached.

She said that the ministry's recommendation was only meant to advise the offices that it would be more appropriate to use those terms, but that the ministry would also allow a certain degree of flexibility.
---
Let Taiwan join global bodies, US tells China
 
'Full role': A US official expressed hope that China would realize that allowing Taiwan to participate fully on the world stage was critical to regional stability
 
By Charles Snyder
STAFF REPORTER, WASHINGTON
Friday, Jun 06, 2008, Page 1

A senior US State Department official on Wednesday called on China to allow Taiwan to "play a full role" in international organizations in response to initiatives taken by President Ma Ying-jeou's (馬英九) government to ease cross-strait tensions.

Deputy Assistant Secretary of State for East Asian and Pacific Affairs Thomas Christensen said the US hoped that the Ma government's policies would lead Beijing to adopt a more "expansive" policy in relation to Taiwan's role in the world community.

Christensen made his comments while testifying before a congressional hearing on China's relations with Africa.

"We're hopeful that the warming trend in cross-strait relations will lead the government in Beijing to realize that it is in the long-term interest of stability across the Strait and in the long-term interest of international peace for Taiwan to play a full role on the international stage," he said.

Christensen was responding to a question about China's intensive efforts to deny Taiwan diplomatic recognition in Africa, where only four nations recognize Taiwan instead of China, and where China's often heavy-handed commercial activities have generated resentment.

"I think in general there are optimistic trends in cross-strait relations that may lead to more expansive and open policies by the mainland [sic] toward Taiwan in cross-strait relations, and also toward Taiwan in the international community, to provide Taiwan with more international space, and we push for this as part of our policy. That includes Taiwan's international space in international organizations," he said.

OPPOSITION

Asked by reporters after the hearing whether he thought China would relent in its opposition to Taiwan's participation in the WHO, Christensen said: "This is something for the future."

He added: "We're urging them to do this. We take some optimism from the trends across the Strait ... [but] how that will play out over time, we'll have to see."

Asked about reports that China may be willing to reducing its 1,300 missiles aimed at Taiwan, Christensen said he had not seen such reports.

"We're hopeful that that will happen in the future, but that's a goal. I don't have anything to report to date," he said.

In his testimony, Christensen said that one of China's three goals in Africa was to deny diplomatic space to Taiwan. The others were a search for resources and for "prestige."

He and committee members said that while China employs the principle of non-interference in African countries' affairs in foreign aid, commerce and investment, the one exception was its opposition to diplomatic recognition for Taiwan.
---
Taiwan remains on 'Tier 2' list for human trafficking

STAFF WRITER, WITH CNA, WASHINGTON
Friday, Jun 06, 2008, Page 1

The US has placed Taiwan on a list of "Tier 2" countries for human trafficking for the second year in a row, saying Taiwanese authorities had failed to comply with the minimum standards to eliminate trafficking while commending them for making significant efforts to do so.

The Trafficking in Persons Report 2008 released on Wednesday by the US Department of State described Taiwan as a destination for men, women and children trafficked for the purposes of forced labor and sexual exploitation.

Taiwan is also a source of women trafficked to Japan, Australia, the UK and the US, the report said.

"Many foreign workers remain vulnerable to trafficking because legal protections, oversight by authorities and enforcement efforts are inadequate," it said.

The report recommended that Taiwan pass and implement a comprehensive anti-trafficking law prohibiting and punishing all severe forms of trafficking and extend full Labor Standards Law (勞動基準法) protection to all categories of foreign workers, including domestic helpers and caregivers.

It also suggested that Taiwan fully implement a recent Immigration Law amendment to extend its protection to trafficking victims and ensure that law enforcement personnel, prosecutors and judges consistently follow formal trafficking victim identification procedures to prevent the prosecution of trafficking victims.

Taiwan should establish procedures for referring victims to shelters, improve incentives for victims to assist in the prosecution of traffickers, and increase police efforts to investigate trafficking crimes and to identify trafficking victims, the report said.

Taiwan should also launch a campaign to discourage child sex tourism by Taiwanese and improve cooperation with the governments of labor source countries, it said.

The report this year rated 170 countries and regions and placed them on three lists, based primarily on the extent of government action to combat trafficking.

Governments that fully comply with the minimum standards for the elimination of human trafficking are placed on the "Tier 1" list, while those that are making significant efforts to meet the minimum standards are placed under "Tier 2." Governments that do not fully comply with the minimum standards and are not making significant efforts to do so are placed on the "Tier 3" list and may be subject to certain sanctions.

In 2006, Taiwan was placed on the "Tier 2 Watch List" for not fully complying with the minimum standards for the elimination of human trafficking. The US government removed Taiwan from the watch list and ranked it among "Tier 2" countries again last year in view of the country's significant efforts to tackle the problem.
---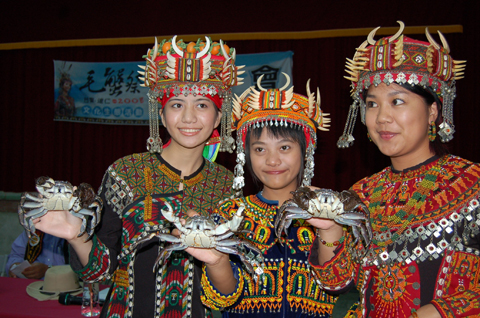 TASTEFULLY DONE
Tajen Township residents dressed in traditional Aboriginal clothing hold up crabs yesterday at an event held to invite residents of Taitung County to take part in this year's crab festival.


PHOTO: WANG HSIU-TING, TAIPEI TIMES
---
Green cards could be banned for officials
 
NOT SO GREEN: Francisco Ou said he plans to launch a comprehensive investigation to see how many of the current Ministry of Foreign Affairs personnel hold green cards
 
By Shih Hsiu-Chuan and Jenny W. Hsu
STAFF REPORTER
Friday, Jun 06, 2008, Page 3

The government would consider amending laws to prohibit officials from holding permanent resident status in other countries if the public considers this to amount to disloyalty to the country, Executive Yuan Spokeswoman Vanessa Shih (史亞平) said yesterday.

"Loyalty should not be a problem for officials holding green cards because a green card is a travel document," said Shih when asked to comment on the apology offered by Minister of Foreign Affairs Francisco Ou (歐鴻鍊) yesterday for having applied for and received a US green card while he was the country's representative to Guatemala in 2005.

"If there is a high degree of consensus that being a green card holder is disloyal, the ban should be written into law," Shih said.

Dual nationality is not permissible under the Civil Servants Work Act (公務人員服務法) and Nationality Law (國籍法). The law, however, does not cover green card status or other permanent resident status.

Ou, previously insisting that he should not have to apologize over the issue as he did not violate any law, called a provisional press conference yesterday afternoon and offered his apology "for all the troubles I might have caused."

Ou said that in a meeting with Premier Liu Chao-shiuan (劉兆玄) yesterday morning, the premier asked him to "think over" what he had done wrong.

"After contemplating the issue, I realized I have made some errors in the process and I want to apologize to the public and to President Ma Ying-jeou (馬英九) and Premier Liu for the troubles that I might have caused," Ou said at a press conference.

Although apologetic, Ou deflected criticism that his loyalty was questionable, saying his willful renunciation of his US permanent residency immediately after he agreed to serve as the foreign minister is enough to demonstrate his patriotism to Taiwan.

Ou, a career diplomat of 44 years, repeated that he had obtained a green card because he had planned to settle in the US after his retirement, which he had planned to do in 2005 when he reached 65. But he decided to extend his public service beyond 2005 to help cement Taiwan-Guatemala ties, which appeared to be shaky at the time, he said.

Ou said he plans to launch a comprehensive probe to check how many of the current Ministry of Foreign Affairs (MOFA) personnel hold green cards. The Democratic Progressive Party (DPP) caucus, however, yesterday continued to condemn Ou over the green card issue, with DPP legislative caucus whip William Lai (賴清德) describing as "ridiculous" Ou's possession of US permanent residency during his term as the nation's ambassador to Guatemala in 2005.

In related news, Chuang Chin-kuo (莊進國) of the Central Personnel Administration said yesterday that the country's representative to Switzerland, George Liu (劉寬平), is now in the process of renouncing his US nationality, as is the vice chairman of the Overseas Compatriots Affairs Commission (OCAC), Hsueh Sheng-hwa (薛盛華), who has Canadian citizenship.

Chuang said Liu and Hsueh are the only two officials in the administration that hold foreign citizenship.

Hsueh said in a press release yesterday that he had renounced his Canadian citizenship on May 15 at the Canadian representative office in Taipei before assuming office.

Director of Personnel Department of Ministry of Foreign Affairs Wu Chi-an (吳基安) said Liu surrendered his US citizenship last November before he took up office in Switzerland and Liu will go back to the American Institute in Taiwan to complete the process this month.

According to MOFA Spokeswoman Phoebe Yeh (葉非比), public servants have one year to relinquish a second citizenship.

However, Liu, a former overseas legislator for the Taiwan Solidarity Union, might have broken related laws governing legislators because now it is apparent that he possessed US nationality while serving as an overseas lawmaker in February 2005.

Overseas legislators are required to renounce citizenship in other countries after being elected and submit certificates of loss of nationality to the legislature when they are sworn in as legislators.
---
Taiwan's new shadow government
 
By Lin Cho-Shui 林濁水
Friday, Jun 06, 2008, Page 8

'So five government leaders and the KMT chief make all this effort to hold regular meetings and all they do is just "chat"?'

In the two months since his election, President Ma Ying-jeou's (馬英九) view of party-government relations changed from a separation of party and government to party-assisted government and now to the establishment of a "state policy forum." The last change attracted more criticism than the first two.

The foundation arranges regular meetings between Ma, his vice president, the legislative speaker, the premier and the Chinese Nationalist Party (KMT) chairman. This is unacceptable, and academics like Shih Chih-yu (石之瑜), a political science professor at National Taiwan University, have characterized the arrangement as a "constitutional mafia." Ma was quick to say the meetings are "just chats" that do not touch upon national policy.

So five government leaders and the KMT chief make all this effort to hold regular meetings and all they do is just "chat"? What do they chat about? Perhaps they talk about the government budget and the minister of finance's report.

Ma really loves idle talk, and the more he talks the more he confuses his listeners. Some people call him brilliant, and say chatting is within the clear limits of what is allowed in constitutional government. The problem is that although the boundaries of constitutional government may be clear, nobody is quite sure where to draw the line between national politics, decision-making and chatting.

The key to the difficulty of handling party-government relations lies in the incompatibility of a constitutional government system and a party-state system.

Democratic politics requires a separation of powers to avoid autocracy. At the same time, integration of policy between the various branches of government is required — especially between the executive and legislative branches — or the administration cannot function properly.

Political parties are often an indispensable medium for policy integration, especially in countries with a parliamentary system. Taiwan wants a system with separation of powers like many Western countries, but instead of three branches of government, it has five. However, after dividing executive power between the president and Cabinet, the party system was not adjusted to the role of parties in policy integration. Instead, it maintained the Leninist party system, thus establishing another power center outside the constitutional system.

From this point on, the political party became necessary to policy integration, but not only could the party not play its role as mediator, it became an obstacle to such integration.

Most European countries have put their Cabinet inside parliament, so that parties and the executive and legislative powers operate together. Under the Constitution, Taiwan's Cabinet is both the highest executive power and accountable to the legislature. It is not possible to unite the three, because the president and Cabinet members are not members of parliament.

However, opting for the next best thing — having parties work together with any constitutional institution to integrate policy — is also not feasible, for the following reasons.

First, if the president is also the party leader, as former president Chen Shui-bian (陳水扁) was for a while, then legislators will be subordinate to the party leader/president within the party. This violates the principle that the president must maintain strict separation between the executive and legislative powers.

Second, if the premier doubles as party leader, then the party leader will be the superior of legislators even though he or she has not been elected by the people. This situation would be even worse.

Third, if the legislative speaker doubles as party leader, then the Cabinet and the president will be mere figureheads.

None of these options is a workable solution. Hence, mainstream opinion among many academics and Ma himself is that there should be separation of party and government, just like in the US.

However, separation of party and government in the US is based on three premises: First, political parties in the US are "weak" parties without party discipline; second, the president leads the Cabinet, as there is no other "highest executive leader;" third, the executive and legislative powers are separated and the Cabinet answers directly to voters, not to Congress. These prerequisites mean it is not necessary, or even possible, for the president to let his or her party lead the government, assist the government or integrate party and government. But Taiwan does not enjoy these three premises.

Because of the conflict between a constitutional system and a party system, relations between government and party kept changing during Chen's presidential term. But under Ma, they are changing much faster.

Is Ma more amenable than Chen by nature? Or is he less inclined to respect the governmental system?

None of the above: it's actually the other way around. Chen has always focused on what he wanted, and so it wasn't important how relations between party and the government changed. Ma is trying to respect both the constitutional and the party systems, except that the two seem impossible to integrate.

In addition, the traditional Leninist system of the KMT is more deeply rooted than that of Chen's Democratic Progressive Party, so all Ma can do is keep trying.

The problem lies in the mutual conflict between the constitutional system and the party system, making systemic reform necessary. But to change the system, one has to deal with Ma, a conservative who has said that enforcing the Constitution is more important than amending it. If that is the case, we will all have to let him keep trying, and keep changing, but he will not be able to make the two systems compatible regardless of how hard he tries.

Lin Cho-shui is a former Democratic Progressive Party legislator.