Farmers slam fertilizer price hike
 
HOARDING: Police arrested a man suspected of stocking up with 15,400 bags of fertilizer in Yunlin County, saying this affected supply of the commodity in central Taiwan

AP, WITH STAFF WRITER
Saturday, Jun 07, 2008, Page 1

About 200 farmers from the south protested yesterday against a 70 percent increase in fertilizer prices, demanding government subsidies to help them offset rising costs.

The protesters, mostly from Pingtung and Tainan counties, held up fertilizer bags emblazoned with slogans such as "Fertilizer Prices Rise, Farmers Die."

Last month, the government lifted a three-year freeze on fertilizer prices, allowing suppliers to factor in their rising costs amid soaring global raw material prices.

The protesters said the move encouraged widespread hoarding, leading to a severe fertilizer shortage.

The new administration under President Ma Ying-jeou (馬英九) has also lifted freezes on fuel and electricity prices, setting off a wave of price hikes for everything from food to household supplies.

"Our new leader has promised us a better life, but we see nothing but hardships ahead," said protester Lan Yi-yuan, a vegetable and fruit grower in Pingtung County.

Council of Agriculture Minister Chen Wu-hsiung (陳武雄) promised the farmers that the government would stop further hikes in fertilizer prices for at least four months as an anti-hoarding measure. He did not comment on the farmers' demand for subsidies.

The government has said it would strive to keep inflation at 3.3 percent this year — up from a 2 percent forecast in February — by cutting commodity taxes and offering other subsidies.

In related news, the Bureau of Investigation under the Ministry of Justice yesterday arrested Chiu Hsin-hsing (邱信行), a specialist at a branch of the state-run Taiwan Fertilizer Co (台肥) in central Taiwan, for illegally storing 560 tonnes of fertilizer in Yunlin County.

Investigators from the bureau's Chiayi County branch — along with police from Minsyong Precinct of the Chiayi County Police Bureau and officials from Yunlin County Government — yesterday found 15,400 bags of fertilizer in Douliou City (斗六), Yunlin County, allegedly hoarded by Chiu. Each bag weighed about 40kg.

Chiu is suspected of purchasing the 15,400 bags from the company in the name of a dummy fertilizer store that he had set up in Douliou City, investigators said. He then hoarded the bags, waiting to profit from the price hikes.

Chiu's action resulted in a shortage of fertilizer in central Taiwan last month, police said, adding that as fertilizer prices had already risen from NT$350 to NT$510 per bag, Chiu could have made more than NT$2.5 million (US$82,450) profits from his stock of fertilizer.
---
Chen downbeat on cross-strait plans
By Jenny W. Hsu
STAFF REPORTER
Saturday, Jun 07, 2008, Page 3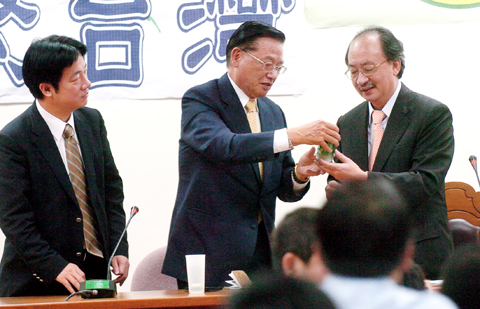 Straits Exchange Foundation Chairman Chiang Pin-kung, center, receives a bottle of Taiwanese soil from Democratic Progressive Party (DPP) caucus whip Ker Chien-ming at the DPP legislators' meeting yesterday after Chiang spoke about cross-strait relations with legislators.


PHOTO: LO PEI-DER, TAIPEI TIMES
Taiwan has already lost out to China even before it enters into formal negotiations with Beijing next week, said former Mainland Affairs Council (MAC) chairman Chen Ming-tong (陳明通) yesterday, expressing his pessimism about the KMT administration's strategy on cross-strait issues.

"Frankly, it is heartbreaking to see what the new administration has done to what we [the Democratic Progressive Party (DPP) government] had so painstakingly established in the last eight years," he said in a meeting with the press.

Chen, a major figure in the talks on direct-charter flights during the DPP era, said after extensive negotiations with Beijing, his team had successfully clinched direct cargo flights but the Chinese Nationalist Party (KMT) surrendered these soon after the party took power this March.

"Direct cargo flights benefit Taiwan more than they benefit China and that's why Beijing was very reluctant about agreeing to them. But we insisted very strongly that all three [direct passenger and cargo flights and opening Taiwan for Chinese tourists] must be bound together," Chen said, letting out a sigh.

"It is like someone giving you a piece of candy that has one-third of it missing and the missing part is the chocolate cover, the best part of the candy," he said.

The quasi-official Straits Exchange Foundation (SEF), however, is slated to meet with its Chinese counterpart, the Association on Relations Across the Taiwan Strait (ARATS), in Beijing to sign a deal on only two issues — commencing direct weekend passenger-flights and allowing Chinese tourists to come to Taiwan by next month.

"Now the KMT has abandoned the cargo flights. What will Taiwan do next to get them back?" he asked rhetorically, saying the KMT had dug their own grave because "it was the KMT that trashed all the existing communication channels when it took office."

"Since the KMT was the one that wanted to start the negotiation process from scratch with a brand new team of negotiators, the Chinese are not obliged to continue to honor the commitments it made in the previous negotiations," he said.

MAC Deputy Chairman Fu Tung-cheng (傅棟成), however, argued that the government had not "lost" cargo flight as accused, but rather cargo flights have been temporarily halted because of recent fuel hikes.

Chen said this was nonsense and that if increased oil prices were the cause of the suspension of cargo flights, then passenger flights should be suspended as well.

Chen said the next thing to watch is the content of the joint declaration that SEF and ARATS are expected to sign next week.

Chen, who has returned to his teaching post at National Taiwan University, predicted Beijing would manipulate the content of the declaration by including the agreement signed in 2005 between then KMT chairman Lian Chan (連戰) and Chinese President Hu Jintao (胡錦濤) in his capacity as the Chinese Communist Party leader.

Among the five-point "vision for cross-strait peace" agreement inked between Lien and Hu, both parties oppose Taiwanese independence.
---
Kuan slams Yuan over green card
 
By Mo Yan-chih
STAFF REPORTER, WITH CNA
Saturday, Jun 07, 2008, Page 3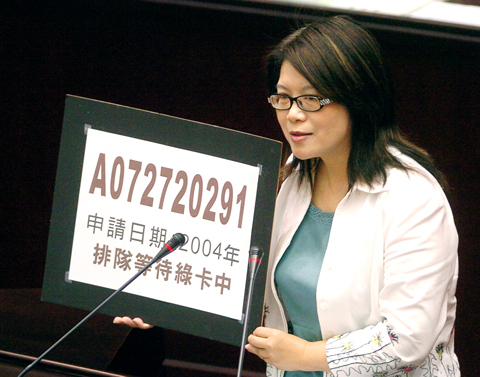 Democratic Progressive Party Legislator Kuan Bi-ling yesterday holds up a sign in the legislature showing the application date when Jason Yuan submitted his green card application and the application reference number.


PHOTO: LO PEI-DER, TAIPEI TIMES

Democratic Progressive Party (DPP) Legislator Kuan Bi-ling (管碧玲) accused designated representative to Washington Jason Yuan (袁健生) of applying for a green card in 2004, urging the Ministry of Foreign Affairs to look into the case.

Kuan said Yuan is still waiting for approval of his green card application, urging the ministry to invite the Ministry of Justice to run a background check on him.

According to regulations published by the Ministry of Civil Service, background checks are required for civil servants in charge of security affairs or affairs involving major interests of the country.

These target individuals "residing overseas and have become eligible for citizenship of the country of residence," Kuan said.

The Ministry of Foreign Affairs (MOFA) yesterday said it could not comment on the allegations because Yuan has not been sworn in as the official representative to the US.

The ministry will follow the regulations by making sure that no personnel appointments are contrary to the law, MOFA Spokeswoman Phoebe Yeh (葉非比) said.

She said that so far Washington had not approved Yuan's appointment.

Kuan attacked Executive Yuan Spokeswoman Vanessa Shih (史亞平) yesterday for arguing that "loyalty should not be a problem for officials holding green cards because a green card is a travel document."

Yuan made the comments on Thursday when asked about the apology offered by Minister of Foreign Affairs Francisco Ou (歐鴻鍊) for obtaining a green card.

Green card holders are entitled to certain rights and obligations in the US, including paying federal and local taxes and enjoying voting rights in specific elections in some states, Kuan said.

"How would this not involve allegiance? How could it be that a green card is only a travel document?" Kuan asked

The green card issue came to light after Ou admitted that he obtained US permanent resident status in 2005 when he was Taiwan's ambassador to Guatemala. He only renounced the status one month before assuming his ministerial position on May 20.

Although there are no laws forbidding diplomatic officials from holding permanent resident status of a foreign country, it is argued that holding or applying for a green card calls their allegiance to the country into question.
---
Differences in culture, education and charity
 
By Chang Kun-Chiang 張崑將
Saturday, Jun 07, 2008, Page 8

The efforts of overseas Chinese to help victims of the Sichuan earthquake show that blood is thicker than water, and have attracted the attention of the world. Taiwanese were the biggest aid donors, giving even more than some rich Chinese. Why was Taiwan's show of support even stronger than that of the Chinese public and the wealthier people among them?

The answer likely involves differences between the historical experience and the educational systems in Taiwan and China, which in turn involve culture and tradition.

The most obvious difference in historical experience is the chaos during the Cultural Revolution between 1966 and 1976, which almost destroyed China's culture. Chinese Communist Party chairman Mao Zedong (毛澤東) stirred up political struggle and built a personality cult. Children attacked their parents and students attacked their teachers. China's long tradition of respect for parents and teachers was lost, and even worse, people lost their humanity.

Today's Chinese millionaires all lived through that period, and in their communist education there was little room for developing a humane perspective. This is the reason why most rich Chinese are indifferent.

Educational differences between Taiwan and China are also reflected in care for others. For a long time, Chinese have been educated in a system controlled by a party-state, and we all know that such education often includes one-sided patriotism and nationalism, and is not likely to cultivate the spirit of humanity that can reach across borders and between peoples.

Everywhere in China it is obvious that the party controls everything, including the media. This is no different from the situation in Taiwan under dictators Chiang Kai-shek (蔣介石) and his son Chiang Ching-kuo (蔣經國).

In Taiwan, on the other hand, a Chinese cultural revival was promoted before the lifting of martial law. Since then, Taiwan has enjoyed a democratic and liberal education system, freeing itself of single-minded nationalism and patriotism. Everything can be discussed and debated, and the government is no longer unaccountable. Only in a country that values human rights is there room for sympathy with the suffering of others.

Another important difference between Taiwanese and Chinese culture is aid from religious workers. The dissemination of religion is restricted in communist China, and as a result religion takes on a political color. In Taiwan, religion is spontaneous and part of civil society. Religious aid organizations attract a lot of donations and look after disadvantaged groups, providing a large part of emergency aid and care for the elderly.

Given the lack of efficiency of the Taiwanese government and its empty coffers, disadvantaged groups such as the unemployed and the physically disabled depend largely on the attention of religious groups that fill in the vacuum left by government shortcomings.

Religious charity organizations transcend racial and national borders. In their eyes, there are only living creatures in need. This pure and practical ideal of helping others is the main reason why religious Taiwanese donate to charity; organizations like Tzu Chi, Dharma Drum Mountain and the Fo Guang Shan Monastery are therefore able to accomplish much with their work. The role Chinese religious organizations can play is much more limited.

The earthquake in Sichuan has brought to light many problems in China, but also highlights that a humane core of empathizing with the suffering of others is still lacking in communist China.

Chang Kun-chiang is an associate professor in the Department of East Asian Culture and Development at National Taiwan Normal University.