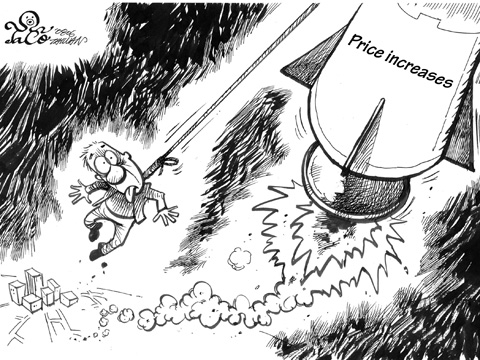 ---
To earn respect, show respect first

Monday, Jun 09, 2008, Page 8

Less than three weeks after the Chinese Nationalist Party (KMT) administration took office, the first official to defy a government ban and challenge the Cabinet is not a Democratic Progressive Party county commissioner or mayor, but Kinmen County Commissioner Lee Chu-feng (李炷烽), of the pan-blue New Party.

Lee openly defied the law that says county commissioners and mayors who want to visit China must first get approval from the Mainland Affairs Council (MAC). He also signed an agreement to import water from China, thereby violating the Act Governing Relations Between Peoples of the Taiwan Area and the Mainland Area (兩岸關係條例), which bars agreements with China without government authorization.

To make matters worse, when the council warned Lee to stop, Lee insulted council Chairwoman Lai Shin-yuan (賴幸媛). Nevertheless, the Cabinet set a precedent by allowing Lee to visit China in his capacity as advisor to Kinmen Kaoliang Liquor, in spite of his flagrant breach of the law and defiance of Taipei. When pressured to apologize, Lee said he thought that Lai did not have a full understanding of the situation, the council remains the main institution for cross-strait policy.

Cross-strait relations have been changing quickly since President Ma Ying-jeou (馬英九) took office. The ban on Taiwanese officials visiting China may be changed, but until that happens the Cabinet should uphold the law. Yet neither the Presidential Office, the Cabinet or any government official have said a word in defense of Lai.

Before showing China goodwill, the government should demand its own officials be shown respect. No government should tolerate behavior as arrogant as Lee's.

However, not only has the government not defended Lai, it appears that the MAC only agreed that Lee could visit China after it was pressured to do so by Premier Liu Chao-shiuan (劉兆玄). Such reports simply reinforce the image of Lai — a former Taiwan Solidarity Union (TSU) legislator close to former president Lee Teng-hui (李登輝) — as an outsider and a token political sop to non-KMT supporters.

Even if it were government policy to let mayors and county commissioners travel to China, would the implementation of that policy really require humiliating Lai? Ever since her appointment, Lai has been treated with contempt by the pan-blue camp. If this is representative of the government's "hospitality," one can only wonder why anyone from outside the pan-blue camp would consider joining the Cabinet.

The humiliation of Lai has nothing to do with Lee Teng-hui or the TSU, and everything to do with the overall attitude of Ma's government. It is this attitude that allows Lee Chu-feng to behave as he does.

After this week's talks between the Straits Exchange Foundation and China's Association for Relations Across the Taiwan Strait, more mayors and county commissioners will probably want to visit China. The MAC is the only remaining barrier stopping an all-out stampede across the Strait. If the Ma administration cannot guarantee the council's authority and the dignity of its officials, its China policies will descend into chaos.

If Ma loses control of cross-strait exchanges, he will not be able to protect Taiwan's sovereignty and dignity at the negotiating table, either from Beijing or from the self-serving politicians who are so willing to trade away their fellow citizens' rights for personal aggrandizement.