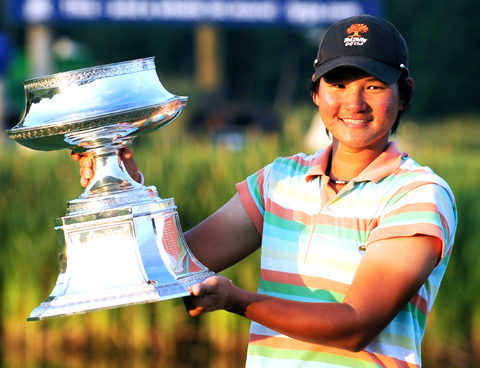 CUP'S FULL
Yani Tseng of Taiwan holds her trophy after winning the LPGA Championship golf tournament on the 18th hole in a sudden death playoff against Maria Hjorth at Bulle Rock Golf Course in Havre de Grace, Maryland, on Sunday.

Also See: Taiwan's Tseng captures LPGA major
PHOTO: AP
---
Chen Chu will not insist on leading delegation to China
 
ONLY AS MAYOR: Chen said she had not applied to the Mainland Affairs Council for permission to travel to an upcoming tourism expo in Beijing as it would be 'difficult'
 
By Flora Wang
STAFF REPORTER
Tuesday, Jun 10, 2008, Page 3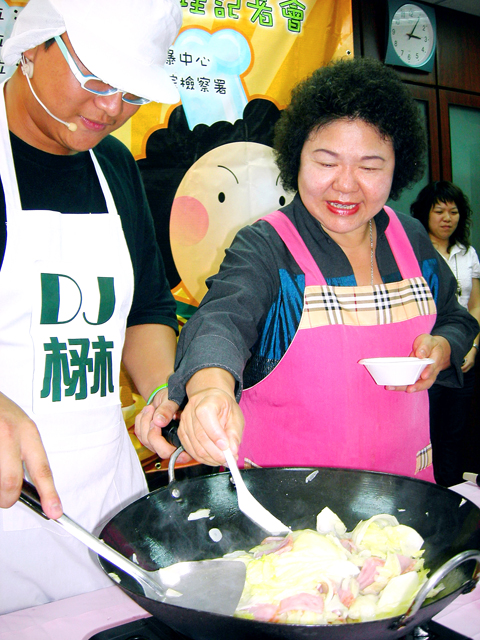 Kaohsiung Mayor Chen Chu, right, tastes a dish made by "A-Mao," the winner of the municipal applied skills competition for junior high schools, at a press conference in Kaohsiung yesterday.


PHOTO: CNA
Kaohsiung Mayor Chen Chu (陳菊) of the Democratic Progressive Party said yesterday that she would not insist on leading a tourism marketing delegation to China if her application to the Mainland Affairs Council (MAC) would pose a challenge.

Chen, who had expressed the intention to lead a delegation to the upcoming international tourism expo in Beijing, said she had not submitted any application to the MAC.

"I know the application would be difficult. Why bother?" she said when approached for comment.

Chen said although she was willing to do anything to benefit the city and wanted to attend the fair as Kaohsiung mayor, she respected the nation's laws concerning government chiefs' visiting China.

Under existing law, local government heads' travel plans to China require prior approval from the MAC.

On Thursday MAC Vice Chairman Chang Liang-jen (張良任) said that the council would deal with applications from government chiefs in accordance with the law.

Chen yesterday reiterated her insistence that if she attended the event it would be in her capacity as mayor, on a principle of reciprocity and dignity.

Among the senior city government officials who plan to join the delegation, Director-General of the Economic Affairs Bureau Liu Hsin-cheng (劉馨正) has already obtained permission from the MAC.

The delegation, composed primarily of representatives of the city's tourism industry, will leave for Beijing on June 19.

An increasing number of local city and county chiefs have been planning to visit China since the May 20 inauguration of the Chinese Nationalist Party (KMT) administration, which is seeking to build closer trade ties with China.

Kinmen County Commissioner Lee Chu-feng (李炷烽) last week visited China in his capacity as a shareholder of Kinmen Kaoliang Liquor Inc to attend an earthquake relief fund raising event after the MAC had originally rejected his application.

Lee said on Sunday that he would like to visit China again.
---
Chen ruling upholds free speech
 
By Bruce Liao 廖元豪
Tuesday, Jun 10, 2008, Page 8

The Supreme Court on Thursday upheld the high court's decision against former president Chen Shui-bian (陳水扁) in the "soft coup" case, ordering him to pay NT$1 in compensation and run half-page apologies in three local newspapers to former Chinese Nationalist Party (KMT) chairman Lien Chan (連戰) and People First Party Chairman James Soong (宋楚瑜). This case is important because it is a confirmation of the freedom of speech, or the right of every citizen to freely criticize the conduct of authorities in dealing with public affairs — rather than the protection of powerful individuals who wag their tongues rather too freely.

On the surface, this case does not have much room for debate: Chen accused then KMT chairman Lien and Soong of attempting to stage a "soft coup" by persuading high-ranking government officials to feign illness and retire after his re-election in 2004. After Lien and Soong sued for slander, Chen claimed he had grounds for his accusations. However, he failed to provide concrete evidence and consequently lost the case.

During the second trial, Chen's lawyer produced what he claimed to be "evidence" substantiating the coup remark — a written report by former minister of national defense Lee Jye (李傑). However, the court dismissed the report, saying it was produced only after the accusations had been made and did not make any reference to either of the two parties. The court ruled that Chen's accusations were unfounded, with not even a shred of evidence to support them.

Constitutional Interpretation No. 509 stipulates that those who damage the reputation of others through speech must have considerable reason to believe that they are propagating the truth. In this case, Chen was unable to prove he had any substantial justification and thus lost the case.

In my opinion, what should be highlighted in the "soft coup" case is not the status of the persons being criticized (Lien and Soong) but that of the criticizer (Chen). How can the leader of a nation, the commander-in-chief, the person who controls the intelligence service and has the highest right of investigation in the land hurl unfounded accusations with unbridled liberty?

When important officials or presidents are involved in slander, they should bear even more responsibility than the general public or the media in terms of providing proof and should not be allowed to escape liability easily, using freedom of speech as an excuse.

The US Supreme Court's progress in offering better protection against slander and libel, beginning in 1964, was to a certain extent a product of time and the system.

On one side is the US government and law enforcement authorities in the south who used slander or libel to suppress or intimidate proponents of civil liberties. On the other side are the media and social rights groups that did not have the investigative authority of judicial bodies. To ensure that civic bodies and the public could criticize the government with impunity, the court placed the onus of providing evidence on the government officials or public figures.

US courts hope the public were able to critique public servants or influential public figures without fear of treading on thin ice. So long as the criticism is not wanton abuse of free speech, there is little risk of liability for defamation.

In countries like the US where political standards of behavior have reached a certain level, there are few instances of officials wantonly abusing members of the public.

This is in contrast with Taiwan, where both government officials and the public condemn one another imprudently.However, compared with high-ranking government officials, the media or the public, who have no investigative authority, are more likely to say the wrong things — and hence deserves more tolerance.

In any case, criticizing the government is an inherent responsibility of citizens in a democracy and should be encouraged . But why should those with the resources and authority, such as government officials, be accorded special protection by the Constitution when they wantonly condemn the public without evidence?

Former presidents Lee Teng-hui (李登輝) and Chen have successively lost their defamation lawsuits. This should serve as a warning: Powerful political figures should speak with caution. Freedom of speech is a sword that the public may wield against the government, not a shield behind which political figures can hide.

Bruce Liao is an assistant professor of law at Soochow University.
---

Rethinking cross-strait strategies
 
By Edward Chen 陳一新
Tuesday, Jun 10, 2008, Page 8

President Ma Ying-jeou (馬英九) outlined Taipei's diplomatic strategy in his inaugural address, while the recent actions of Chinese leaders imply that Beijing is also considering its own strategy.

Ma's new strategy includes the following five points.

First, Taiwan considers the US its most important ally. Hence, Taipei's most urgent task will be the building of mutual trust between Taipei and Washington and reinforcing bilateral security and trade cooperation.

Second, as Taiwan considers China its most important economic partner, the resumption of cross-strait negotiations and dialogue between the Straits Exchange Foundation and China's Association for Relations Across the Taiwan Strait (ARATS) will be a top priority.

Third, in terms of relations with Washington, Taipei will use improvements in cross-strait relations as leverage. Furthermore, the enforcement of intellectual property rights and the import of US pharmaceuticals, agricultural products and weapons will be used as bargaining chips in negotiations with the US. Taipei also wishes to restart negotiations with the US on a free-trade agreement, to obtain security assurances from the US and to develop more intimate military cooperation.

Fourth, in terms of cross-strait relations, Taipei will use the Taiwan-US economic and security relationship as a backup and the possibility of another change in government in Taiwan as a tool for negotiation with Beijing. Taipei also hopes that the next stage of sensitive negotiations with Beijing over political and foreign relations issues will help resolve Taiwan's marginalization in the Southeast Asian economic bloc, and that Beijing will agree to let Taiwan become an ASEAN economic partner. Taiwan also hopes to reach new breakthroughs in its pursuit of more international space.

Fifth, Taipei's new strategy is to use Taiwan-US relations and cross-strait relations as complementary parts — obtaining security from Washington and economic benefits from Beijing.

Beijing's thoughts on Taipei and Washington's tactics can be determined by the recent actions of the Chinese leadership.

First, high-level decision-makers in Beijing have obviously decided to replace "one China with each side having its own interpretations" with the so-called "1992 consensus" as the basis for resuming cross-strait dialogue. Yet judging from the words of Jia Qinglin (賈慶林), deputy head of the Central Leading Group for Taiwan Affairs, Beijing seems to hope that the two sides of the Taiwan Strait can, under the "1992 consensus," move quickly toward talks on direct links.

Second, Beijing obviously intends to replace "one China" with "the Chinese people" as part of the overall framework for cross-strait negotiations. If replacing "one China with each side having its own interpretations" with the "1992 consensus" is its negotiation strategy, then replacing "one China" with "the Chinese people" is a major strategy that both adjusts Beijing's policy toward Taiwan and tries to win over Taiwanese through emotions. This is highlighted by the praise and many reminders that both sides of the Taiwan Strait are part of the "Chinese people," as Chinese President Hu Jintao (胡錦濤) and other Chinese leaders asserted during Chinese Nationalist Party (KMT) Chairman Wu Poh-hsiung's (吳伯雄) recent visit to China.

Third, Beijing is differentiating between economics and foreign affairs during economic, trade, foreign policy and political negotiations. It is one thing for Beijing to give way on direct flights, tourism, the direct links and other economic issues. Politically sensitive issues are another thing altogether, however, as seen in Jia's indication that cross-strait negotiations should deal with the simple before the difficult, the economic before the political — and progress in this order.

Fourth, Beijing's plan has lengthened front-line negotiations over topics including reconciliation and disarmament to recapture the initiative. As former head of the Taiwan Affairs Office Chen Yunlin (陳雲林) said prior to stepping down, the means to reconciliation and disarmament must be sought through the peaceful development of cross-strait relations.

In other words, at the earliest date, this scenario would have to wait until Beijing has expressed its satisfaction after a period of cross-strait development; similarly, the beginnings of a solution to Taiwan's problem of international space would have to wait.

This was confirmed by Hu's agreement during Wu's visit to discuss Taiwan's entry into the WHO after the resumption of cross-strait dialogue. After all, there is still a gap between the start of negotiations and their success, and Beijing is clearly the party that is in control.

Finally, Beijing's new strategy will be to reconsider the idea that the shortcut to influencing Taipei goes through Washington. This idea was adopted by former Chinese president Jiang Zemin (江澤民) after former president Lee Teng-hui (李登輝) proposed his "special state to state" model of cross-strait relations which Hu has embraced.

Yet, as cross-strait communication channels become clearer, with the KMT-Chinese Communist Party communication platform in the lead, and the precondition that there will be no discussion of Taiwanese independence, Washington's role as a mediator will be greatly diminished.

The twists and turns of Beijing's strategy can be discerned through the new ARATS director's words in March — that control of the cross-strait future is in our own hands. This is a reminder to Ma that the cross-strait issue should not allow external intervention. As to how Beijing defines "external intervention" — that is an interesting question.

Edward Chen is a professor in the Graduate Institute of American Studies at Tamkang University.
---
US, Japan must work together to strengthen relations
 
Ties have weakened as the Iraq and Afghanistan wars have dominated US attention and Japan has dragged its feet on collective defense

By Richard Halloran
Tuesday, Jun 10, 2008, Page 9

At a gathering of Americans steeped in US diplomatic and security relations with Japan, an analyst summed up the sentiments around the table in Honolulu and among many colleagues on both sides of the Pacific by saying: "We are entering a dark time in US-Japan relations."

To encourage candor, the conference organizers asked that those attending not be named. No matter. Plenty of Japanese and American specialists have pointed, in each country, to an absence of leadership, an abundance of political turmoil, a lack of vision and a preoccupation with immediate issues. None has singled out an instance of long-range vision in Washington or Tokyo or anyplace else.

US President George W. Bush is a lame duck who becomes less relevant by the day as his approval rating slips below 30 percent. His administration is preoccupied, to the exclusion of almost all else, with the wars in Iraq and Afghanistan. There's an occasional glance at policy toward China but relations with Japan have been reduced to tired slogans about "linchpins" and "cornerstones."

There are exceptions — US Secretary of Defense Robert Gates and Admiral Michael Mullen, Chairman of the Joint Chiefs of Staff, who have just visited Asia seeking to reassure friends of US commitments to their region. But US Secretary of State Condoleezza Rice has been to Asia just once this year and once last year. And Assistant Secretary of State for East Asia Christopher Hill has left to subordinates all but nuclear negotiations with North Korea.

Japanese Prime Minister Yasuo Fukuda's approval rating hovers around 20 percent as he deals with a divided legislature in the Diet. Within his Liberal Democratic Party, little gets done as factions jockey for position as they seek to oust Fukuda. Within the opposition, the Democratic Party of Japan, which controls the upper house in the Diet, the turbulence is much the same.

Japanese Defense Minister Shigeru Ishiba, at the Shangri-la meeting of Asian defense ministers in Singapore last weekend, confirmed that "Japan plans neither to amend its Constitution nor change its interpretation," meaning Tokyo would not engage in collective defense. The US for years has been urging Japan to remove the so-called "no war" constitutional clause to legitimize its armed forces.

The refusal to engage in collective defense means that the US is obliged by treaty to protect Japan, but Japan has no reciprocal obligation to help defend the US. In an otherwise bland address, Ishiba assured his audience that Japan "does not have any plan whatsoever to become a nuclear power." That seemed to express confidence that the nuclear umbrella of the US would remain in place over Japan.

Differences over realigning US military forces in Asia and the Pacific are illuminating. US leaders see shifting Marines from Okinawa to Guam as strategically preparing, if necessary, to confront China's emerging power or North Korean threats. Japanese are more interested in reducing inevitable frictions between Americans on bases in Japan and Japanese living outside the gates.

Richard Lawless, until recently a senior Pentagon official immersed in policy toward Japan, told the Yomiuri Shimbun: "The alliance can't move any faster than one of its partners. Right now, Japan clearly is not making adjustments and developing the alliance in its own best interest."

Otherwise, he said, "Japan becomes marginalized."

In a separate interview, Ryozo Kato, until recently Japan's ambassador to Washington, told the Yomiuri that Japan and the US "need ceaseless management to maintain our alliance." In the understated terms of the diplomatic profession, Kato said US and Japanese military leaders should have "more meetings or dinners together" to work out specifics in deterrence or operational plans.

The US election campaign has seen little debate over foreign policy outside of Iraq. In a rare exception, US Senator John McCain, the presumptive Republican candidate, and US Senator Joseph Lieberman, an independent who votes with the Democrats, wrote jointly in the Yomiuri: "Strengthening the US-Japan alliance is going to demand strong, courageous and innovative leadership from Tokyo and Washington alike."

They expected "to have a partner in Japan that is willing to assume a role in international affairs that reflects its political, economic and self-defense capacities … The United States in turn must itself be a responsible, reliable ally to Japan, and a good global citizen."

"US power does not mean we can do whatever we want, whenever we want," they said. "If we are to ask more of each other, we must also pay greater attention to each other's concerns and goals."

Richard Halloran is a writer based in Hawaii.