Japan's representative expresses regret
 
NOT SATISFIED: Minister of Foreign Affairs Francisco Ou said that although Tokyo had promised to pay damages for a boat collision, Japan still needed to apologize
 
By Jenny W. Hsu
STAFF REPORTER, WITH CNA
Monday, Jun 16, 2008, Page 1

Five days after the collision between a Taiwanese fishing boat and a Japanese coast guard patrol boat near the Diaoyutai (釣魚台) islands, Japan's representative to Taiwan expressed Tokyo's regret over the incident to Ho Hung-yi (何鴻義), the captain of the fishing boat.

Koichi Ito, director-general of the Interchange Association, Japan's representative office in Taiwan, visited Ho yesterday afternoon at his home in Rueifang Township (瑞芳), Taipei County, with personnel from the Ministry of Foreign Affairs.

Ito said that the patrol boat Koshiki had not rammed Ho's boat on purpose.

Ito did not use the word "apology" in his statement yesterday. He said, however, that the Japanese Coast Guard would compensate Ho as required by law.

On Tuesday, the day of the accident, Ito said the collision had occurred "in Japan's territorial waters," but said "the incident should be handled so as not to influence the positive relations between Tokyo and Taipei."

APOLOGY WANTED

Minister of Foreign Affairs Francisco Ou (歐鴻鍊) told a press conference yesterday that although Japan had shown its goodwill by releasing the people who were aboard the Taiwanese boat and agreeing to compensate them, "we are not satisfied with Japan's lack of a formal apology."

"We will continue to work hard to obtain a formal apology from Japan," Ou said.

He said the government's priority was to resolve the incident and protect the rights of the fishermen involved.

"All issues regarding the dispute over the sovereignty [of the Diaoyutais] will be discussed later as we engage in further negotiations with Japan," he said.

Earlier yesterday, Executive Yuan Secretary-General Hsueh Hsiang-chuan (薛香川) visited Ho and said the government would file a lawsuit in a local court against Japan for detaining Ho for four days.

"We will help Captain Ho, who owns the boat, seek compensation for losses and an apology from the Japanese government," Hsueh said.

"Since the Diaoyutais are part of the Republic of China's territory, we will file the suit in Taiwan, on the grounds that the Japanese patrol illegally intruded into the country's territorial waters," he said.

TOUGHEN UP

Ho said the government must take a tougher stance and hold a press conference with foreign media "to tell the whole world of Japan's arrogance."

"It was entirely their [the Japanese coast guards'] fault. I did nothing wrong ... They rammed their boat into my small fishing boat on purpose. That should count as [attempted] premeditated murder," Ho said.

Hsueh said he would help Ho obtain an interest-free loan to cover the damages and said the Executive Yuan would increase from three to seven the number of navy patrols protecting the nation's fishing boats in its territorial waters.

Meanwhile, Representative to Japan Koh Se-kai (許世楷) returned to Taipei last night after the ministry recalled him on Saturday to report on his contact with the Japanese government over the incident.

Ou confirmed yesterday that the recall was a form of diplomatic protest, but said it did not mean that Koh would not return to Japan.

At a meeting with colleagues in Tokyo yesterday, Koh reportedly said that the ministry should "handle the incident rationally," given that "maintaining good relations with Japan is crucial to Taiwan."

The Japanese word for "regret" can also mean "apology," said Koh at a press conference late last night after a 45-minute closed door meeting with Ou.

"In many instances throughout the history, Japan used the word 'regret' to express its apology," he said.

When asked if the ministry would accept such answer, Ou smiled and said: "We can feel Japan's good will in their response in this matter."

Koh said that many people in Japan have expressed that they hope the incident will not damage bilateral relations.
---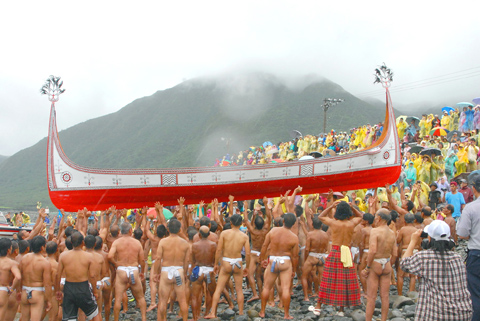 NEED A LIFT?
Residents of Orchid Island launch a 10-person boat yesterday in the rain. Boats of this size are difficult to maintain and often only last three to five years.


PHOTO: CHANG TSUN-WEI, TAIPEI TIMES
---
A look at Green Island's dark past
 
DISSIDENTS: Oasis Village, which once hosted a jail for political prisoners, has made Green Island a must-visit attraction for those interested in the nation's history

By Shelley Shan
STAFF REPORTER
Monday, Jun 16, 2008, Page 2

When friends of Liu Yueh-shan (劉玥珊), an employee of an electronics firm in Taichung, heard that she had just returned from a trip to Green Island (綠島), they were eager to find out if she had gone snorkeling or tried the hot springs on the island's northeast coast.

"I would always tell them that 'I wasn't going there for fun,'" Liu wrote in her online journal. "I told them I was there to be in prison, to feel and experience the torture and sufferings that my grandfather had been through."

Liu knew from her childhood that her grandfather was one of the victims of the 228 Incident and was executed by the Chinese Nationalist Party (KMT) Government in Taipei. The 228 Incident took place in 1947 when Chinese Nationalist troops suppressed a Taiwanese uprising, leaving tens of thousands dead, missing or imprisoned.

Liu, however, was not motivated to take on this root-searching journey until she saw the name of her grandmother, Liu Wan-shan (劉萬山), carved on the 228 Monument in the Taiwan Democracy Memorial Hall in March.

Liu was one of the 40 people who participated in the Prison Experience Camp last month, hosted by the Taiwan 21st Century Cultural Association. Participants stayed in prison cells at the Eastern Coastal Patrol Office on Green Island for two nights. Aside from spending the night in prison, the association took them to visit the Oasis Village (綠洲山莊), which is now known for once being the home of political prisoners.

Attendees also took part in a question-and-answer session with victims of the White Terror, who were addressed as "freshmen" (新生) back in those days.

The Oasis Village is no longer used as a jail. The history, however, has made Green Island a must-visit tourist attraction for those interested in the nation's history.

The association's chief secretary, Chen Yi-shan (陳億珊) said that young people learn many things through the event.

Facilities inside the village, such as the large hexagon prison that housed all the inmates and the administrative office, remain intact. Two years ago, the government decided to establish the Green Island Culture Park (綠島文化園區).

"The 13th Squadron," (中隊), for example, was a title given to those who died on the island from sickness or accidents. Those of the 13th squadron were buried in a site near the village.

"Hell's Gate" (鬼門關) is a giant rock near the seaside in the shape of an elephant's nose. Every newcomer had to enter Oasis Village under the elephant's nose. The rock was named Hell's Gate because it led to the unpredictable path of life or death.

Built in 1999, the Human Rights Memorial Park near the Oasis Village has also become part of the culture park. Designed by Taiwanese architect Han Pao-teh (漢寶德), the Memorial Park is known for its Human Rights Monument, the first one in Asia.

On the monument is a verse written by poet Bo Yang (柏楊): "In that era, mothers cried night after night over their children imprisoned on this island."
---
People of Taiwan still in thoughts of the Dalai Lama
 
PRAISE INDEED: The Tibetan spiritual head said that, despite obstacles, he was keen to visit Taiwan again and lauded the nation's development and democracy
 
By Loa Iok-sin
STAFF REPORTER
Monday, Jun 16, 2008, Page 3
 
"Taiwan has achieved outstanding economic development, pursued modern culture and democracy — it has really set a example for many in the world to follow."-the Dalai Lama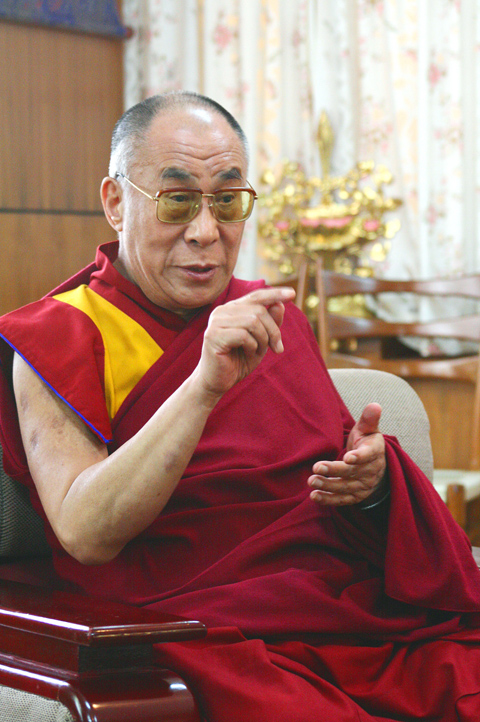 The Dalai Lama gestures during an interview with the "Taipei Times" at his residence in Dharamsala, India, on June 6.


PHOTO: LOA IOK-SIN, TAIPEI TImeS
From politics to the Olympics, human rights to life during half-a-century of exile, the Dalai Lama shared his views on a variety of topics during an interview with the Taipei Times at his residence in Dharamsala, India, on the morning of June 6.

Without much formality and after only a brief greeting, the Dalai Lama began the conversation by praising Taiwan's democratic achievements.

"The second transfer of power has just taken place in Taiwan ... I think this shows that Taiwan is a true democracy," he said in Tibetan. "Many people say that democracy is not suitable for Asian countries — but Taiwan's case just proved otherwise."

The Dalai Lama also expressed his admiration for Taiwan's cultural diversity.

"It's a good thing that Taiwan has been able to preserve elements of Chinese culture that has been passed down for thousands of years — most of them have already been lost in China," he said.

"In addition to that, Taiwan has achieved outstanding economic development, pursued modern culture and democracy — it has really set a example for many in the world to follow," the Dalai Lama said.

Recalling his two visits to Taiwan, first in 1997 and then in 2001, the Dalai Lama, switching to English, said: "I've got happy memories from my first visit to Taiwan. Taiwanese people — the public in general and Taiwanese Buddhists — all expressed warm feelings to me."

"I remember one occasion when I was in Kaohsiung giving some teachings and talks, and it started to rain suddenly," he said, "but people remained there in the rain."

This enthusiasm was impressive, the Tibetan spiritual leader said.

"So since then, I was determined that every two years I want to go to Taiwan," he said.

Unfortunately, political pressure from China has blocked him from fulfilling his wish.

"In 2002, we developed direct contacts with the Chinese government, hoping that there would be some concrete understandings [between China and Tibet]," he said. "They are very, very against my visiting Taiwan."

Although the Dalai Lama assured China that any trip to Taiwan would only be concerned with Buddhism and the promotion of human values and harmony, Beijing still objects, he said.

"I told them that they can send an official with me when I'm in Taiwan, so they can check whom I meet with, what I talk about or whether there's a secret conspiracy," he said, but the suggestion has yet to be accepted.

"The Chinese government in Beijing is very concerned about my visiting Taiwan. So after two visits, I cannot go there [anymore], and I would like to apologize to you," he said while bowing his head. "But Taiwanese brothers and sisters — I never forget [about you], and I'm waiting for another opportunity to go there."

He also expressed gratitude to all the Taiwanese who offered their support and help to Tibetan communities after unrest in March following gatherings in Tibet to commemorate the March 10, 1959, uprising against Chinese rule.

Demonstrations were answered by a violent crackdown by Chinese authorities which in turn, triggered more demonstrations and protests by Tibetans in Tibetan communities inside and outside Tibet as well as pro-Tibetan sympathizers.

"I always consider our supporters not pro-Tibet or anti-Chinese, rather, they're pro-justice," he said.

It's unfortunate that many Chinese people have the impression that he is anti-China, he said.

"Since the [March] crisis, I've visited America and Europe, and wherever I go, there would be demonstrations [against me] from local Chinese communities," he said.

However, he said that deep in his heart, he not only has respect for Chinese people and culture, he also considers the Chinese older brothers in terms of following the teachings of the Buddha.

"Whenever I give teaching to Chinese Buddhists, I always at the beginning [give] my salutation to Chinese Buddhists, because, historically, [they] are the elder and senior students of the Buddha while we're the younger and junior students," he said. "So, it's our tradition and moral responsibility to elder students."

He also showed his wit.

"As far as Buddhist knowledge is concerned, junior students sometimes may be a little better," he said, laughing.

He went on to reaffirm his support for the Beijing Olympics.

He said that even before Beijing was selected as the Olympic host city, "I said that the People's Republic of China — as the most populous and an ancient country — they deserve to host the Olympics."

"After the 10 March [incident] my [opinion] has not changed," he said.

However, the Tibetan leader is critical of China's manipulation of the media and its human rights violations.

"The Beijing government says [the] crisis in Tibet [came] from here — it's the Dalai Lama's creation, and made me a big troublemaker," he said. "We welcome any Chinese official to come to Dharamsala to investigate all our records, the files in our [exiled government] departments and my personal talks with Tibetans, which are all recorded. So let them check whether I was behind the crisis or not."

The Dalai Lama went on to say that on one occasion, when a reporter from Xinhua news agency asked him about China's accusation that he was behind the Lhasa incidents and opposed to the Olympics: "I [gave] my explanation, but told the reporter 'I don't know if you can really print it [in] your newspaper or not.'"

"This is the problem," he said, "the Chinese media — all under some sort of influence from the government — can only print things that suit [the government's] policies and cannot publish things that don't suit their policies."

The Dalai Lama said he was not personally upset when the Chinese government called him a demon and a wolf in a monk's robes, but it made him feel sad because "the denouncement from the news media, from the government; the millions of innocent Chinese people in Mainland China — who have no other source of information, [but] the government propaganda — see the Dalai Lama as a mogui [demon]."

What's even worse is that Tibetans in Tibet are being forced to denounce him, he said.

"They call me a wolf in a monk's robe — if they feel happy with that kind of denouncement, it's okay, no problem," he said.

"But forcing Tibetans to denounce the Dalai Lama and putting those who refuse to do so in prison — it's violation of human rights and of freedom of religion, that's really bad," he said.

Asked if Tibetans in exile are happy after living outside of their homeland for almost half a century, the Dalai Lama gave a positive answer.

"I think Tibetan people outside Tibet are generally quite happy, he said.

He talked about better educational opportunities for exiles, adding that freedom was the main reason behind their happiness.

However, "emotionally, we're concerned about our own land, when [a] crisis happens there, people get very emotional," he said.

As for himself, the Dalai Lama said he always tells people that he has been "homeless" for half a century.

"But the homeless one has found many new homes around the world," he said, with a big smile on his face.

"If I'd remained in the Potala, I don't think I [would] have had the opportunity to meet so many people — especially Taiwanese people like [former presidents] Lee Tung-hui [李登輝] and Chen Shui-bian [陳水扁], [US] President [George W. Bush] and his father, the Pope and many scientists and economists."

The Dalai Lama said that, while it is a misfortune to live in exile, he always thinks positively and appreciates the opportunities that came to him because of his "homelessness".

"In thinking this way, I've got my peace of mind," he said.
---
DPP criticizes KMT over recall of envoy
 
NEUTRAL LINE: AIT Director Stephen Young said the US would not interfere in the dispute between Taiwan and Japan following the sinking of a fishing boat
 
By Rich Chang
STAFF REPORTER, WITH CNA
Monday, Jun 16, 2008, Page 3

The Democratic Progressive Party (DPP) yesterday said that the Chinese Nationalist Party (KMT) government had overreacted by recalling the nation's representative to Japan.

Koh Se-kai (許世楷) was recalled on Saturday by the Ministry of Foreign Affairs (MOFA) over the sinking of a Taiwanese fishing boat sank last Tuesday following a colliding with a Japanese patrol vessel in the waters near the Diaoyutai (釣魚台) islands.

"The government should have been more cautious regarding the dispute between the two countries. The recall of the representative in Japan is an overreaction," DPP Chairwoman Tsai Ing-wen (蔡英文) told reporters yesterday.

The government initially took no action in response to the incident but criticism for perceived weakness led it to overeact by recalling Koh, Tsai said. She said she was concerned about the government's ability to handle the dispute.

Koh's return marks the first time in recent years that Taiwan has recalled its representative to Japan. Koh was appointed as the top representative to Japan in July 2004 by then-president Chen Shui-bian (陳水扁).

DPP Caucus Whip William Lai (賴清德) yesterday said his party was concerned the government's action may damage the relationship between Taiwan and Japan.

Lai said that the KMT government had not followed diplomatic norms, noting that negotiations should precede a decision to recall a representative.

The government seemed to have shifted all responsibility for the incident to Koh, and took the opportunity to replace him, Lai said.

Although the government can replace Koh at any time, it was unacceptable to use the incident as an excuse to ease him out, Lai said.

At a separate setting yesterday, American Institute in Taiwan Director Stephen Young said the US would not interfere in the dispute.

"As the US has good relations with both Taiwan and Japan, we do not want to step into the problem," Young said in response to reporters' questions. "I don't think that is necessary."

Young said he regretted that someone was hurt in the accident and that the Taiwanese boat sank but said he was confident the dispute could be resolved amicably.

"I think Taiwan and Japan are able to solve the problem peacefully through dialogue as the two countries have been so closely connected in history," he said.

The incident has sparked renewed discussion on the sovereignty of the Diaoyutais, which are claimed by Taiwan, China and Japan. The waters around the island group have traditionally been used by Taiwanese fishermen.

Taiwan and Japan held a round of fishing industry talks in July 2005 to try to resolve recurring disputes and agreed to hold the next round of dialogue in March 2006, but the talks never took place.

Yonghe (永和) People First Party councilor Huang Hsi-lin (黃錫麟) yesterday said he was leading a team of 10 people to Diaoyutai to claim Taiwan's sovereignty of the islands.

His boat was due to depart from Taipei County's Shenao (深澳) at 10pm.

He said the team might land to raise the nation's flag on the island, but added he hoped the protest would be peaceful.
---
Clear direction on Diaoyutais needed

Monday, Jun 16, 2008, Page 8

After a Taiwanese fishing boat sank following a collision with a Japanese patrol vessel near the Diaoyutai (釣魚台) islands on Tuesday, the Presidential Office issued a statement on Thursday and the Ministry of Foreign Affairs recalled the nation's representative to Japan on Saturday. The government has vacillated between a tough and a soft line, causing concern over the direction of the government's Japan policy.

The sinking of the fishing boat was an unexpected incident, but dispute over the Diaoyutais goes back decades. Taiwan, Japan and China all claim sovereignty over the island chain, setting the stage for disputes over fishing rights, oil exploration rights and use.

In his youth, President Ma Ying-jeou (馬英九) passionately defended Taiwan's claim to the Diaoyutais. He wrote his doctoral thesis on the issue and has said he would be willing to go to war to back the Republic of China's claim. From this perspective, the Presidential Office's statement on Thursday was weak, but as head of state, Ma can hardly be blamed as the captain of the boat was still being detained by Japan, which made coordinating his release the top priority. High-handed talk about being willing to go to war would have been of no help. Instead, Ma convened the National Security Council, and the decisions to recall Taiwan's representative, file a lawsuit and demand negotiations with Tokyo were all made by the council.

Now that the captain is back home, Taiwan should consider how to handle any future incidents. As the boat sank after collision in Taiwan's territorial waters, the case falls under Taiwanese jurisdiction, and prosecutors could prosecute the officials on the Japanese patrol vessel for bodily harm, bodily harm caused by professional neglect, or damaging a vessel if the captain and the ship owner wanted to press charges.

Although Taiwan has sovereignty over the Diaoyutai, effective jurisdiction is in favor of Japan. Even if both governments were willing to take an ambiguous approach to the sovereignty dispute and concentrate on shared fishing rights, diplomatic consultations are required. But little progress has been made in recent years.

Three years ago, a Taiwanese warship patrolled the Diaoyutai waters. However, the Japanese government was clear about the Democratic Progressive Party's policies toward Japan and therefore did not consider the incident a military and diplomatic conflict.

Times have changed, however, and the smallest misstep by the patrol ships scheduled to set sail on Wednesday could escalate diplomatic tensions. The government has already recalled its representative to Tokyo to show its dissatisfaction with the Japanese government response and to increase the pressure on Japan to work out a solution.

Former president Chen Shui-bian's (陳水扁) foreign policy placed importance on the US and Japan rather than China, but Ma's foreign policy is clearly different. Formal talks have just resumed between the Straits Exchange Foundation and China's Association for Relations Across the Taiwan Strait after almost a decade and the two sides have agreed to cooperate on oil field exploration in the East China Sea. The government's tilt toward China is abundantly clear.

Maybe Ma is trying to change relations with Japan by adjusting cross-strait relations. But how does the government intend to resolve the Diaoyutai controversy through the trilateral China-Taiwan-Japan relationship?
---
Actions more important than words
 
By Lin Cheng-Yi 林正義
Monday, Jun 16, 2008, Page 8

The Chinese Nationalist Party (KMT)-controlled legislature passed the budgets for the PAC-2 missile upgrades and the PAC-3 missile, and substantially increased the defense budget. After a meeting between KMT Chairman Wu Poh-hsiung (吳伯雄) and Chinese President Hu Jintao (胡錦濤), the KMT said China intends to redeploy the missiles currently aimed at Taiwan. The Chinese Communist Party (CCP), however, has neither publicly confirmed nor denied this information.<> Even if Beijing decides to remove these missiles, we can be certain that it will demand corresponding adjustments from Taiwan and the US.

On Double Ten Day in 2002, then-president Chen Shui-bian (陳水扁) asked Chinese leaders to remove the 400 missiles Beijing was then deploying on the other side of the Taiwan Strait and to say that they would give up any military threats against Taiwan. The Ministry of Foreign Affairs also promoted the idea of removing the missiles and seeking peace.

On Oct. 25 that year, at a Texas summit with US President George W. Bush, then-Chinese president Jiang Zemin (江澤民) ignored Taiwan and told Bush that the missiles aimed at Taiwan could be linked to the US sale of arms to Taiwan.

President Ma Ying-jeou (馬英九) has said many times that the removal of missiles was a precondition for negotiations on a cross-strait peace agreement. Once weekend chartered flights begin crossing the Strait, it would seem contradictory, if not ironic, for China to increase its missile deployment against Taiwan in Fujian, Guangdong, Jiangxi, Zhejiang and Anhui provinces.

Therefore, in addition to the KMT, the Democratic Progressive Party (DPP), the US, Japan and the EU should demand the complete removal of missiles aimed at Taiwan, rather than just a freeze or reduction in their numbers.

If China removes these missiles, but does not destroy them or the missile heads, they could be redeployed if the DPP were to regain power or tensions return across the Strait.

Through its missile deployment, Beijing is trying to kill many birds with one stone. While a reduction of missiles would have a political and psychological impact on Taiwan, the US is still the main recipient of Beijing's demands.

If Beijing demonstrates goodwill, the missiles could be removed either quietly or publicly. Insistence on negotiations with the US would indicate a hidden Chinese agenda.

There are already different voices within the US concerning whether Taiwan should be able to obtain additional F-16 fighter jets or submarines. If Beijing removes its missiles, this debate would be further complicated. Whether the EU weapons embargo on China should continue is still a major point of debate.

Taiwan will not always be ruled by Ma or the KMT. The CCP may withdraw its missiles and call a diplomatic truce with Taiwan while the KMT is in power. The same cannot be expected if the DPP returns to power.

Before the KMT took office, KMT leaders said they would allot US$10.5 billion per year, equivalent to 3 percent of GDP, to the defense budget. This shows us that the KMT also knows that solely relying on improving cross-strait relations is not enough and that a national defense plan is still necessary.

The increased business interaction and other exchanges between Taiwan and China as well as quicker cross-strait flights are promising developments. These same factors also make cross-strait relations more complex.

Taiwan may not have to worry about Chinese missile tests anymore, but Hu has still not said if he would relinquish the use of force against Taiwan. China's "Anti-Secession" Law remains on the books and keeping Taiwan out of the UN and its agencies is still the main thrust of Beijing's diplomatic actions.

The chartered flights and the increase in Chinese tourists proposed by the KMT government are about to become a reality. At this time, the real challenge for the KMT lies in how to get Beijing to remove its missiles and stop isolating Taiwan diplomatically.

It would be better for cross-strait relations if written agreements were reached between China and Taiwan instead of Beijing just saying it will remove the missiles. At talks held in Macau years ago, China and Taiwan declared they would do away with signing written agreements. This is inadequate for limiting Beijing's actions and is also not enough to ensure Taiwan's safety.

Taiwan has long had plans for Confidence-Building Measures for cross-strait relations, such as agreements on making military information more transparent, limiting military deployments, establishing communication channels and setting up inspection measures. It is now high time for Beijing to give some sort of response on such matters.

It is more important for China to actually remove the missiles, not just talk about it. It would be positive for Taiwan and cross-strait relations regardless of whether China reduces the number of missiles, removes all of them or destroys them.

What is crucial is that until Beijing renounces the use of force against Taiwan, Taiwan must be ready to defend itself. Washington also needs to continue to assist Taiwan in defending itself in accordance with the Taiwan Relations Act.

We can welcome China's removal of missiles, but we should not be overly optimistic and think that war will never happen in the Taiwan Strait. Nor should we naively believe that everything will be peaches when and if China removes its missiles.

Lin Cheng-yi is a researcher at the Institute of European and American Studies at Academia Sinica.