Envoy to Japan tenders resignation
 
UNDER ATTACK: Koh Se-kai refused to show up for a legislative interpellation after KMT lawmakers questioned his loyalty, while activists traveled to the Diaoyutais
 
By Jenny W. Hsu And Flora Wang
STAFF REPORTER
Tuesday, Jun 17, 2008, Page 1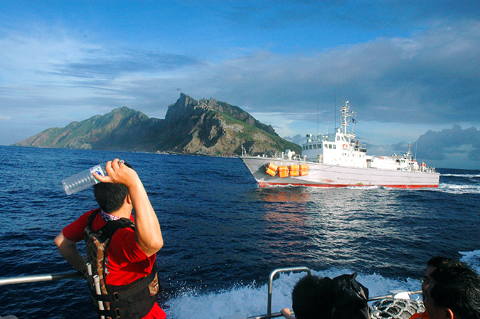 People First Party Legislator Huang Hsi-lin prepares to throw a plastic bottle at a Japanese patrol boat to protest the Japanese coast guard using a megaphone and electronic signs to warn off a Taiwanese flotilla sailing around the Diaoyutais to assert Taiwan's claim to sovereignty over the island chain yesterday morning.


PHOTO: CNA
Representative to Japan Koh Se-kai (許世楷) submitted his resignation yesterday after he was accused by Chinese Nationalist Party (KMT) lawmakers of being a "traitor" for "siding with the Japanese."

As of press time, the Ministry of Foreign Affairs had not accepted the resignation and had instead lauded Koh's contribution and hard work in solidifying bilateral relations.

"A solider can be killed, but must not be insulted. I absolutely cannot accept the accusations that have been leveled at me," said the 74-year-old diplomat, who is highly respected in Japan.

Koh refused to show up at the legislature yesterday afternoon as scheduled "because they [pan-blue lawmakers] would only pepper me with insults instead of letting me explain the details of the incident."

Koh said he had planned to submit his resignation after the transfer of power on May 20, but the ministry had been reluctant to accept it, especially in the wake of the high-seas collision off the Diaoyutai (釣魚台) islands a week ago that led to the sinking of a Taiwanese fishing boat.

The ministry recalled Koh in protest against the Japanese authorities' claims that the accident resulted from a bungled attempt by the Japanese patrol vessel to chase the fishing boat away from Japan's territorial waters and that the Taiwanese vessel was partly to blame for the incident.

Koh said he had originally agreed to stay on until the incident blew over, but said "the caustic affront by the pan-blue camp has prompted me to seek immediate relief from my duty."

In a press release, the ministry said Koh's refusal to show up at the legislature for an interpellation session was "very inappropriate" because he was still the representative to Japan and has the responsibility to report to the legislature even though he has submitted his resignation.

The ministry also said Koh's request to leave his position by the end of next month must be approved by the president because the post he occupies is that of a presidentially appointed special envoy. The ministry said it would respect Koh's wishes by submitting his resignation to the Presidential Office.

Koh, a staunch supporter of Taiwanese independence, also said he would not consider giving up his permanent residency in Japan because he plans to retire soon.

He said holding residency in a foreign country does not violate any law.

Koh said he obtained Japanese residency more than three decades ago when he was in political exile after the then-KMT government placed him on a blacklist.

"I couldn't come back to Taiwan. When my Republic of China [ROC] passport expired Japan offered me two choices — to become a naturalized citizen or a permanent resident. I chose the latter," he said.

Meanwhile, KMT caucus whip Lin Yi-shih (林益世) lashed out at Koh for not announcing his resignation at the legislature, saying that he treated his resignation as "child's play."

KMT Legislator Lu Hsueh-chang (呂學樟) said Koh's insistence on retaining his Japanese residency had prompted suspicions about his loyalty.

In related news, KMT Legislator Lin Yu-fang (林郁方) said the legislature's Diplomacy and National Defense Committee should still make an inspection trip of the area around the Diaoyutais tomorrow. He said the nation needed to take a hardline stance on the Diaoyutai issue before continuing negotiations with Tokyo.

"This is exactly what [President] Ma [Ying-jeou (馬英九)] said by 'keeping it alive.' We have to keep the issue in the spotlight. Tokyo will talk to us nicely when it can't handle it anymore," Lin said.

But KMT caucus deputy secretary-general Wu Yu-sheng (吳育昇) said there was no need for the committee members to take the trip and such an expedition could raise tensions with Japan.

"We should decide our next step after careful consideration," he said.

A group of activists, escorted by Coast Guard Administration (CGA) vessels, sailed around the Diaoyutais yesterday morning to highlight Taiwan's claim to the islands.

CGA official Huang Han-sung (黃漢松) told a press conference that the coast guard had dispatched four large patrol vessels and five patrol cutters to guard the activists' boat.

The 12 activists sailed from Shenao, Taipei County, at midnight on Sunday, accompanied by about 30 reporters.

Huang said the boat sailed within 12 nautical miles (22km) of the Diaoyutais at 4:55am. When the boat was within six nautical miles of the islands at 5:25am, two Japanese patrolboats started to block the vessel. One Japanese boat started spraying water at the Taiwanese boat, while another created waves to halt the boat's progress, Huang said.

He said the Taiwanese boat and its coast guard escort continued to press forward until 5:44am when the activists' vessel was within 0.4 nautical miles of the islands, as the Japanese ships used ropes to halt the boat.

Huang said the five CGA cutters accompanied the boat as it circled the Diaoyutais before starting the trip back to Taiwan at 6:23am. He said the expedition had been peaceful, but tense.

Deputy Coast Guard Administration Minister Cheng Chang-hsiung (鄭樟雄) said a coast guard vessel tried to communicate with the Japanese Maritime Safety Agency authorities to tell them that the Taiwanese convoy's sail around the disputed island group was aimed at "protecting the territorial waters of the Republic of China," but the Japanese did not respond.

In related news, Koh yesterday reiterated that he believed Tokyo has already apologized for last week's incident by expressing "regret" and that the Japanese government hopes the incident will not damage bilateral relations.

Koh said he had met with several high-ranking Japanese officials following the incident, including a former prime minister, all of whom expressed a desire to minimize the incident to protect bilateral ties.

"The government must be rational in dealing with this issue. Of course the Diaoyutais are part of our territory, but we must exhaust all diplomatic means and calculate each step carefully before we even speak of war," the envoy told a press conference.

Koh said that in Japanese diplomatic custom the word "regret" carries the same meaning as an "apology." The headline of one Japanese newspaper, he said, even used "admits its wrongdoing" to describe the Japanese attitude toward the accident.

Japanese representative to Taipei Koichi Ito and a Japanese coast guard official, on separate occasions over the last two days, have said the Japanese government hopes the incident will not damage bilateral relations and that the incident was "deeply regrettable."

Ito said the Japanese patrol boat Koshiki did not ram the fishing boat, as the boat's captain has claimed.

Although the Japanese government has agreed to pay compensation, the boat's captain, Ho Hung-yi (何鴻義), has been charged with "negligence due to incurring danger during official business."

The incident, and what has been seen as Tokyo's refusal to give a formal apology, has sparked outrage in Taiwan.

This has included an online petition that calls for a boycott of all Japanese-made goods.

Meanwhile, Democratic Progressive Party (DPP) spokesman Cheng Wen-tsang (鄭文燦) criticized the Ma administration yesterday over its handling of the dispute, saying the government lacked maturity and consistency.

Cheng quoted DPP Chairwoman Tsai Ing-wen (蔡英文) as saying that the administration was slow to respond to the situation and has been inconsistent in handling the affair, which created the impression that it was immature in dealing with foreign affairs and did not know how to run the country.

Cheng, however, praised Koh's performance, saying the envoy has done a good job negotiating with Tokyo.

The DPP was sorry to see the administration use this incident to humiliate him, Cheng said. He said the DPP supported Koh's decision to resign.
---
Smugglers feared to have shared nuclear blueprints
 
PROLIFERATION?: Drawings found on computers in 2006 detailed how to build a nuclear warhead small enough to fit on ballistic missiles used by Pyongyang and Tehran

AP AND THE GUARDIAN, WASHINGTON AND LONDON
Tuesday, Jun 17, 2008, Page 6

An international smuggling ring may have shared blueprints for an advanced nuclear weapon with Iran, North Korea and other rogue countries, the Washington Post reported on Sunday.

The now-defunct ring led by Pakistani scientist Abdul Qadeer Khan is previously known to have sold bomb-related parts to Libya, Iran and North Korea. A draft report by former top UN arms inspector David Albright says the smugglers also acquired designs for building a more sophisticated compact nuclear device that could be fitted on a type of ballistic missile used by Iran and other developing countries, the Post said.

He said the network might have supplied Tehran or Pyongyang with the more advanced and much more useful bomb blueprints that have now surfaced.

"They both faced struggles in building a nuclear warhead small enough to fit atop their ballistic missiles, and these designs were for a warhead that would fit," he said in the report. "These would have been ideal for two of Khan's other major customers, Iran and North Korea."

The drawings were discovered in 2006 on computers owned by Swiss businessmen; they were recently destroyed by the Swiss government under the supervision of the UN nuclear watchdog agency to keep them out of terrorists' hands.

But UN officials said they couldn't rule out that the material already had been shared.

"These advanced nuclear weapons designs may have long ago been sold off to some of the most treacherous regimes in the world," Albright wrote in the draft report, which was expected to be published later this week, the Post reported.

"This was very proliferation-sensitive stuff," a western diplomat said.

Swiss president Pascal Couchepin, announcing the destruction of the files last month, said: "There were detailed construction plans for nuclear weapons, for gas ultracentrifuges to enrich weapons-grade uranium as well as for guided missile delivery systems."

A spokesman for the Pakistani embassy in Washington, Nadeem Kiani, did not rebut the report.

"The government of Pakistan has adequately investigated allegations of nuclear proliferation by A.Q. Khan and shared the information with" the UN's International Atomic Energy Agency (IAEA), Kiani told the Post. "It considers the A.Q. Khan affair to be over."

Traveling with President George W. Bush in Europe, national security adviser Stephen Hadley said he had not read accounts of the Albright report, "But obviously we're very concerned about the A.Q. Khan network, both in terms of what they were doing by purveying enrichment technology and also the possibility that there would be weapons-related technology associated with it."

In Vienna, a senior diplomat said the IAEA had knowledge of the existence of a sophisticated nuclear weapons design being peddled electronically by the black-market ring as far back as 2005. The diplomat, who is familiar with the investigations into the A.Q. Khan network, spoke on condition of anonymity because he was not authorized to comment publicly on the issue.

IAEA chief Mohamed ElBaradei had made it public knowledge back then and had expressed concern about who potentially had come in possession of the information.

The diplomat referred a reporter to a transcript of a panel discussion on Nov. 7, 2005, where ElBaradei spoke of at least one weapons design being copied by the Khan network onto a CD-ROM "that went somewhere that we haven't seen" and added, "That gives you an indication of ... how much the technology had [been] disseminated."
---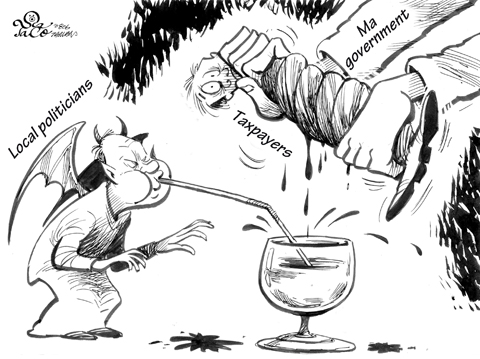 ---
Listen to the voice

Twenty-five days of shame
By Eugene Liu
, ATLANTA, GEORGIA
Tuesday, Jun 17, 2008, Page 8
May 20 was a proud day for all Taiwanese. Another peaceful democratic transition took place as Ma Ying-jeou (馬英九) was inaugurated as president. It's been almost a month since that glorious day, but President Ma has fallen short of public expectations.

Although there were breakthroughs in cross-strait dialogue — something Ma promised and promoted during his campaign — the administration has lost focus on important domestic issues and unnecessarily escalated a boating incident with Japan.

In the 25 days since Ma took office, Taiwan's economy has been threatened by inflation and higher prices of oil and fertilizer. Prices rose overnight without warning to adjust to global market conditions and to prevent hoarding.

In theory, the price adjustments make sense, but because oil and fertilizer suppliers are state-owned and their prices controlled by the government, the aftermath for consumers has been quite shocking. The ripple effect of rising fuel prices caused significant drops in the TAIEX as investors reacted negatively. Workers, farmers and investors must now deal with having thinner wallets.

Since Ma entered the Presidential Office, children have been threatened by a spreading disease that claimed the lives of seven infants and infected hundreds more. There is no coordinated effort from the executive level to counter the epidemic; so far it's the local municipalities that have drawn up plans to fight the disease. Schools are being shut down, playgrounds are closed and parents are being advised by city and county governments not to take their children to crowded areas.

The administration seems so set on approving a deal to bring over Chinese tourists and arranging airplane services that it has neglected these young sufferers and their distressed families.

It has been 25 days in a typical rainy season. Recent downpours have drowned towns in the south and devastated crops. Along with the higher fertilizer price, this has not been a good year to be a farmer in Taiwan. Premier Liu Chao-shiuan (劉兆玄) visited the hardest-hit regions, but the president remained silent on the matter when he was questioned by reporters during a trip to Tainan. Neither did he extend his itinerary to visit nearby flooded regions. Where is the compassionate politician that the public elected?

Ma has also faced his first international incident, which could soon escalate into a crisis. A Taiwanese fishing boat conducting business off Diaoyutai collided with a Japanese patrol vessel and sunk. The Ministry of Foreign Affairs protested the incident, demanded an apology and recalled its representative to Japan. Now there's talk of sending the navy to Diaoyutai to face off with Japanese patrol boats.

This saber-rattling merely reflects the immaturity of the administration. The defense and foreign ministries should know that only the president has the constitutional authority to deploy the military, and that sending battleships in that direction would not be taken lightly and could even be construed as an act of war.

Keeping in mind that there is no formal diplomatic relationship with Japan, Tokyo actually saved Taiwan face by treating this as a legal dispute and not a diplomatic one, but the foreign ministry, by recalling its envoy, transformed it into a diplomatic matter.

To make matters worse, Ma again remained silent, never coming out to publicly declare Taiwan's sovereignty over the Diaoyutai islets nor offering a clear, concise course of action.

What if Japan offers no apology? Are we to risk severing all ties with Japan, one of the most important East Asian nations? What if China decides to send its naval ships there, too? What position will we take then?

Judging by how the administration is handling these issues, the public would likely give Ma and his Cabinet a failing grade in a first monthly review. That's really a shame, because voters had high hopes for — and were promised — positive changes in Taiwan.
---
Diaoyutai scrap needs diplomatic solutions
 
By Ng Chiau-Tong 黃昭堂
Tuesday, Jun 17, 2008, Page 8

The incident involving a Taiwanese fishing boat that sunk when it was hit by a Japan Coast Guard patrol boat has drawn a lot of criticism in Taiwan and according to reports, this matter has also attracted a lot of attention in Japan.

Serious conflicts over territory are common even between friendly nations.

Taiwan and Japan have close relations that are constantly improving. Relations between both sides are now at the highest point they have been in 50 years.

Hopefully the leaders of Taiwan and Japan will be able to solve this conflict in a calm manner.

The best way of handling this matter is for both parties to make the truth of the incident known and then come up with ways to make amends.

While this issue involved a fishing boat, the crux of the matter is territorial sovereignty. If the Diaoyutais belong to Taiwan, then a Taiwanese boat fishing within its own territory is legal.

On the other hand, if the Diaoyutais belong to Japan, the actions carried out by the Japan Coast Guard were also legal. In the second case, it should still be asked whether Japan's actions were excessive.

The Diaoyutai archipelago is made up of uninhabited islands, and from early times only fishermen from the Ryuku islands and Taiwan fished there. The area's small, narrow geography makes it unsuitable for habitation and therefore the sovereignty of the area was never really an issue.

Later, according to the Treaty of Shimonoseki signed by Japan and the Qing court of China, Taiwan was ceded to Japan. Fishermen from Taiwan and the Ryuku islands continued to fish as they had done in the past with no conflict.

Japanese fishermen even erected racks for drying fish on the islets.

After World War II, when the US occupied the Ryukus, the US military used the Diaoyutais as a shooting range until 1972, when it returned the Ryukyus to Japan.

Ever since then the area has been effectively ruled by Japan.

Japan legally gave up its claim to Taiwan when the San Francisco Peace Treaty came into effect in 1952. Since then, some have claimed that Taiwan is a sovereign nation, while others claim that its status is uncertain.

But the Taiwanese public and government have never declared ownership of the Diaoyutai in an international forum.

The Diaoyutais attracted much international attention when reports some years ago suggested that there were oil reserves in the area.

That was the time when the Republic of China on Taiwan asserted its ownership over the islets.

Meanwhile, because the People's Republic of China believes that Taiwan is a part of its territory, it views the islets as part of its own territory.

It is therefore evident that Beijing's claims to the islets are hard to accept.

This incident has happened at a time when Taiwan-Japan relations are warming.

Hopefully, the Taiwanese and Japanese governments can negotiate peacefully and rationally based on their friendship and resolve the matter appropriately while maintaining their mutual interests.

From history and experience, we know that the negotiation of sovereign issues is often time-consuming.

To maintain friendly relations in the long term, the Taiwanese and Japanese governments should come up with a temporary solution so that they can share the waters for fishing and marine resources.

Ng Chiau-tong is chairman of World United Formosans for Independence.