DPP lawmakers criticize 'Mr Ma'
 
NAME GAME: SEF chief Chiang Pin-kung backed Ma's approach and he said the MAC had told him to address Chinese President Hu Jintao as 'Chairman Hu'
 
By Shih Hsiu-chuan
STAFF REPORTER, WITH CNA
Thursday, Jun 19, 2008, Page 1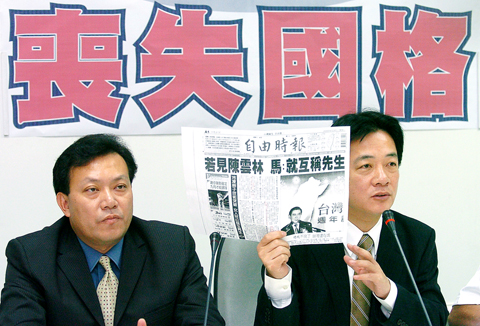 Democratic Progressive Party (DPP) caucus whip William Lai, right, holds up a copy of the Liberty Times (the Taipei Times' sister newspaper) during a press conference in Taipei yesterday as he criticizes President Ma Ying-jeou for agreeing to be addressed as "Mr Ma" during meetings with Association for Relations Across the Taiwan Strait Chairman Chen Yunlin later this year. PHOTO: LIU HSIN-DE, TAIPEI TIMES


PHOTO: LIU HSIN-DE, TAIPEI TIMES

Democratic Progressive Party (DPP) lawmakers accused President Ma Ying-jeou (馬英九) yesterday of belittling himself and eroding national dignity by agreeing to be addressed as "Mr Ma" when he meets Association for Relations Across the Taiwan Strait (ARATS) Chairman Chen Yunlin (陳雲林) later this year.

The DPP lawmakers, led by caucus whip William Lai (賴清德), told a press conference that they could not accept Ma's view of the title he should use in talks with Chen.

Ma told reporters at the Presidential Office on Tuesday that having the head of ARATS address him as "Mr Ma" while he calls him "Mr Chen" would be "the best way to avoid the question of inequality and put aside disputes."

The position of president is the symbol of the nation, Lai said, accusing Ma of humbling himself and damaging Taiwan's national dignity. He urged Ma not to belittle himself in his own country.

Chinese Nationalist Party (KMT) Legislator Lee Chia-chin (李嘉進) defended Ma yesterday.

The public should not focus too much on the titles Chen and Ma use, Lee said.

"I think the title 'Mr' is a very neutral term," Lee said, adding that concrete development in cross-strait affairs and reciprocity were more important than titles.

Straits Exchange Foundation (SEF) Chairman Chiang Pin-kung (江丙坤) also backed Ma.

"[Ma's] proposal has made the Ma-Chen meeting possible, which is good," Chiang said when questioned by DPP Legislator Su Cheng-ching (蘇震清) at the legislature's Home and Nations Committee yesterday. "We've called him Mr Ma on some occasions."

When Chiang met Chinese President Hu Jintao (胡錦濤) last Friday after inking agreements with his ARATS counterpart, Chiang called Hu "Chairman Hu" in recognition of his role as chairman of the Chinese Communist Party.

"Why didn't you call Hu Jintao 'Mr Hu'? Hu called Chiang "Chairman Chiang" and [you] think it is fine that Ma calls Chen 'Mr Chen'?" Su said.

Chiang said he had been told by the Mainland Affairs Council (MAC) before he left for China to call Hu "Chairman Hu."

Asked by DPP Legislator Yeh Yi-ching (葉宜津) how he would introduce Ma to Chen in Taiwan, Chiang said he would follow Ma's suggestion and call him "Mr Ma."

"Everyone is clear that Mr Ma is the president of the Republic of China," Chiang said, adding that when Chen visits, "[I] believe he would know [Ma] is the president of the Republic of China."
---
Koh in scrap with unification activist
 
PRIVATE MEETING: The outgoing representative to Japan visited the former president who appointed him yesterday, but their staff declined to comment on the conversation
 
By Ko Shu-ling and Jimmy Chuang
STAFF REPORTERS
Thursday, Jun 19, 2008, Page 3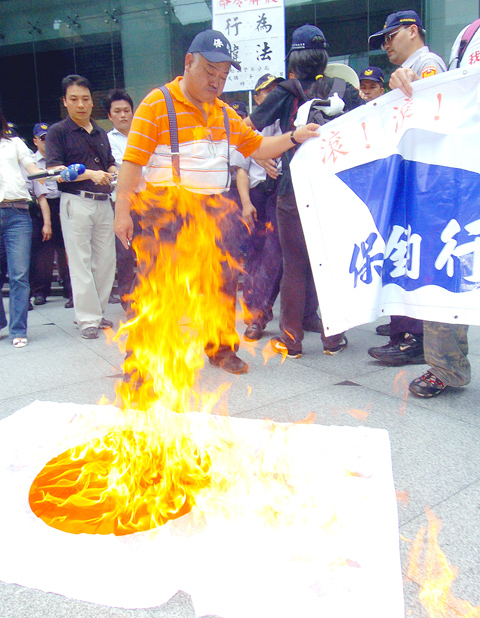 A member of the Hong Kong-based Action Committee for Defending the Diaoyutai islands burns a Japanese flag in front of the Japanese Interchange Association in Taipei yesterday to protest the collision of a Taiwanese fishing boat and Japanese patrol vessel off the islands last week.


PHOTO: CHANG CHIA-MING, TAIPEI TIMES

The Democratic Progressive Party (DPP) yesterday expressed regret after outgoing representative to Japan Koh Se-kai (許世楷) was struck by a protester, saying the Chinese Nationalist Party (KMT) was partly responsible for the incident.

A man who claimed to be a member of the pro-unification Patriot Association (愛國同心會) elbowed Koh outside the building where former president Chen Shui-bian (陳水扁) has his office.

Koh visited Chen yesterday afternoon after the envoy was recalled on Saturday by the KMT administration over a dispute with Japan concerning a boat collision near the Diaoyutai islands.

President Ma Ying-jeou (馬英九) said on Tuesday that he would accept Koh's resignation.

Koh was appointed by Chen.

Staff at Koh and Chen's offices declined yesterday to say what they had discussed.

DPP spokesman Cheng Wen-tsang (鄭文燦) said Koh had received high praise both in Japan and Taiwan for his performance. Cheng urged the administration to map out a detailed plan to handle diplomatic incidents like the collision near the Diaoyutais to protect national interests.

KMT legislators had called Koh a traitor and other humiliating words that incited the hostility of die-hard unification advocates, he said, adding that the assault on Koh could have been avoided.

In related news, the DPP released survey results yesterday saying that the majority of voters were dissatisfied with the government's handling of the Diaoyutai incident.

Chen Chun-lin (陳俊麟), director of the DPP's Public Opinion Survey Center, said more than 80 percent of those polled said they were in favor of dealing with the dispute in a peaceful manner, while 15 percent said they were against peaceful means.

Lin Chen-wei (林成蔚), director of the DPP's Department of International Affairs, said the nation's relations with Japan had been optimal during the past eight years, adding that Koh's departure was bound to affect Tokyo's understanding of Taipei.

Meanwhile, former vice president Annette Lu (呂秀蓮), who just returned from Japan, yesterday spoke out against Chinese meddling in Taiwan's dispute with Japan.

She called on the Ma administration to map out a comprehensive plan to deal with the problem in the future, including formulating a maritime policy, establishing a maritime affairs ministry and passing a basic maritime law. adding that Ma is an expert in maritime law.

Lu made the remarks in Kaohsiung. Lu defended Koh and said those who had called him a traitor had gone too far, as Koh had done his best to negotiate with Tokyo over the incident.

Lu said that although some had suggested that the government ask China to step in on its behalf over the territorial dispute with Japan, this kind of strategy would only undermine Taiwan's sovereignty by leading the international community to think Taiwan is part of China.

At a separate setting, Minister of National Defense Chen Chao-min (陳肇敏) said the military and coast guard would protect fishing vessels whenever necessary.

The minister made the remark during a meeting of the legislature's Diplomacy and National Defense Committee yesterday. He said the ministry would consider allotting battle ships to the coast guard as most of the coast guard's ships are old.

Coast Guard Administration Director-General Wang Chin-wang (王進旺) said the owner of the fishing boat that sank on Tuesday last week would be fined between NT$30,000 and NT$150,000 (US$5,000).

Tourism fishing boats must stay within 24 nautical miles (44.4km) of the coast.

"Obviously the boat had crossed that line when the incident took place," Wang said.

The Coast Guard will finish its evaluation of the situation and submit a report to the Council of Agriculture, he said.
---
MOFA bungled reaction to Diaoyutai collision: Koh
 
In the midst of the blame game over the collision last week of a Taiwanese fishing boat and a Japanese marine defense frigate near the Diaoyutai islands, Representative to Japan Koh Se-kai, whose resignation was accepted by President Ma Ying-jeou on Tuesday, sat down with 'Taipei Times' staff reporter Jenny W. Hsu to tell his side of the story and share his views on the future of Taiwan-Japan relations

Thursday, Jun 19, 2008, Page 3
 
Koh Se-kai

• 1934: Born in Changhua County.

• 1957: Earned a law degree at National Taiwan University.

• 1959: Finished compulsory military service, went to Tokyo on a full scholarship offered by the Japanese government.

• 1960: Joined a student independence movement. Key founder of the Independence Alliance of Taiwanese Youth; blacklisted by the Chinese Nationalist Party (KMT) government for more than 30 years.

• 1962: Received a master's degree in political science from Waseda University.

• 1968: Earned a juris doctor of law at Tokyo University.

• 1970: Koh became one of the first central committee members in the World United Formosans for Independence (WUFI) organization founded in New York.

• 1987 to 1991: Chairman of WUFI.

• 1992: Returned to Taiwan.

• 1997-1998: Chairman of the Taiwan Independence Party.

• 2004: Appointed the nation's representative to Japan.

During his term as representative:

• September 2005: Japanese Diet voted unanimously to allow visa-free entry for Taiwanese visitors.

• September 2007: Taiwan and Japan recognize each other's drivers licenses.

• June 2008: Taiwanese nationals are allowed to write "Taiwan" instead of "China" on Japanese registration documents.
 

Taipei Times: Some Chinese Nationalist Party (KMT) legislators and the Ministry of Foreign Affairs (MOFA) have said that you failed to report to the government about the incident in an accurate and timely fashion and that this caused confusion in Taipei. What happened at your end when the incident took place? Could you take us through the chronology of the events including the role you and your office played?

Ko Se-Kai (許世楷): The accident took place around 3am on the 10th. About two hours after the accident, the Taiwanese Economic and Cultural Representative Office's (TECRO) Naha Branch Office called Taipei and our office to report on the accident and said the boat sank but that all the men on board had been saved. They said they were on the way to Ishigaki Island to visit our men. I gave the go-ahead because the first priority was the safety of these people.

As soon as I arrived at the office that same morning, I called several key Japanese politicians to meet with them. I was able to get two officials from the Ministry of Agricultural, Forestry and Fisheries to meet with me at 3pm and 3:30pm that afternoon. The two officials were directly involved in the incident and said they would report back to the ministry on the issue.

By the end of the night, I had met seven prominent Japanese officials, include a former prime minister and two incumbent ministers. I met with a total of nine high ranking officials that day. We all agreed to keep the incident minimal in order to avoid damaging the much cherished relations between Taiwan and Japan. I called for the immediate release and repatriation of the 16 people on board.

The next day, the Japanese released the 13 recreational fishermen but kept the two crew members and the captain in custody. It just so happened that former vice president Annette Lu (呂秀蓮) was scheduled to attend an international conference in Tokyo on the 11th to 12th. That morning, Lu and I visited former Japanese foreign minister Taro Aso to inform him of the matter. Later that afternoon, we also met the Nikkakon, a Taiwan-friendly parliamentary group, in an open setting to make our case. President Ma Ying-jeou (馬英九) also released a "four point-statement" on the issue. On the 12th, I contacted the Interchange Association, hoping to meet their chairman to let him know about the four-point statement and to protest on behalf of Taiwan. The Interchange agreed to meet me at 10am the next day. Our office notified the media. So, in public we only met with Japanese officials twice, but in reality, we kept close contact with Japanese authorities throughout the ordeal.

On the 13th, on the way to the Interchange Association, I received a call from Foreign Minister Francisco Ou (歐鴻鍊), who instructed me to tell the Japanese that I would be recalled if the captain were not released.

That night, the Japanese released the boat captain. When I received the news I immediately called Minister Ou to inform him of the release. At the time I thought there would be no need to recall me since they had released the last man.

The next day, MOFA still sent me a telegram demanding that I come back right away. But in the MOFA official press release, they used the word "recall."

During the negotiation process, our office kept Taipei updated on the latest developments. We called Taipei several times each day. We did exactly what our jobs required us to do. If Taipei was not clear on anything, they could have called us, too. If you are not professional, maybe sometimes it will be hard for you to fully comprehend the situation. The minister probably did not read the daily communication log between our office and Taipei, which would show that we kept in close contact with Taipei. He probably only got his information from the newspaper.

TT: Some people say the Japanese officials' expression of regret over the incident was not equivalent to an apology. But you have stressed that in Japanese culture, "regret" can also mean an apology. If that's the case, do you think it is still necessary for the Ma administration to demand a public formal apology from Japan?

Koh: It is international custom that countries do not easily apologize, unless defeated in a war. In many countries, there is a basic understanding of the significance of certain words. Even though the word literally means one thing, it could mean another. But we don't have such a system in Taiwan. We only look at the literal meaning of the Chinese characters and ignore what the word means in Japan, especially on a diplomatic level.

A few days ago, a Japanese coastal guard official [Hideo Nasu, head of the Coast Guard's 11th regional headquarters in Naha, Okinawa Prefecture] even said "moushiwake animasen" and took a deep bow. We should accept their good will and not keep pressing for a formal apology.

In diplomacy, when one party shows good will, the other party should reciprocate by lowering its insistence. In this case, the Japanese side has already displayed good will by bending its usual protocol to release the 16 men, agreeing to compensate them and offering a sort of apology over the incident, because the Japanese really want to maintain their good friendship with Taiwan.

To reciprocate Japan's good will, MOFA should let me go back to Japan immediately. If the Japanese don't live up to their word after that, then recall me.

Recalling an ambassador is one of the severest forms of diplomatic protest. By recalling me, Taiwan loses its bargaining chip in negotiations. It also affects how Japan evaluates what appropriate compensation is.

MOFA should completely exhaust all of its diplomatic tactics before turning the issue over to the Ministry of National Defense. We must weigh the situation carefully and come up with the best scenario for both sides. We should always reserve protesting as the very last option or else MOFA should be renamed "the Ministry of Protest."

When everyone is demonstrating good will, we should do the same.

TT: On Monday you refused to report to the Legislative Yuan and said a "soldier can be killed, but not insulted." Why used such a strong phrase?

Koh: Because they [pan-blue legislators] were already berating me and calling me a traitor even before they had heard my report. If I had gone, I would only have been insulted more.

I am an ambassador of this government, even though I support Taiwanese independence. They should support and protect me. MOFA should have defended me from their insults. But instead, MOFA purposely asked me to go to the frontline, knowing full well they hate me.

The foreign minister even said most of the negotiations with Japan were done in Taiwan. If that's case, then MOFA has more reason to send someone who was directly involved in the negotiations to report to the legislature. Why ask me?

TT: In your opinion, how has the incident affected Taiwan-Japan relations? What do you see as the future of bilateral ties under Ma's leadership?

Koh: After Ma was elected on March 22, the foremost concern in Japan was whether Ma was anti-Japan. I tried to quell the concern by telling the Japanese that Ma deeply valued Taiwan's relations with Japan and that this was evident during his two visits to Japan during his campaign.

In Ma's inaugural speech, he never mentioned Japan, which sparked some concern from the Japanese delegation. Once again, I tried to assure them by telling them that the Japanese delegation was the second group of foreign dignitaries that Ma had lunch with on inauguration day. It shows that he deeply values Taiwan-Japan relations.

But of course I worry about the future of Taiwan-Japan ties going downhill during Ma's administration and that's why I have made a big effort to make sure the new representative will have a smooth transition.

The Japanese already had concerns about Ma's attitude toward Japan. That Ma was too slow in his reaction to the incident might raise more concerns.

TT: After serving the country for so many years, how does it make you feel to end your career as a public servant this way?

Koh: I have full confidence that I did my job and I fulfilled my obligations. Although President Ma has approved my resignation, he and Ou have publicly commended my efforts as the Japanese representative over the last four years. I am not very close to Ma and I am therefore not very familiar with his Japan policy. An ideal candidate would be one who is well-versed in the Japanese language, culture and has a tacit understanding with Ma.
---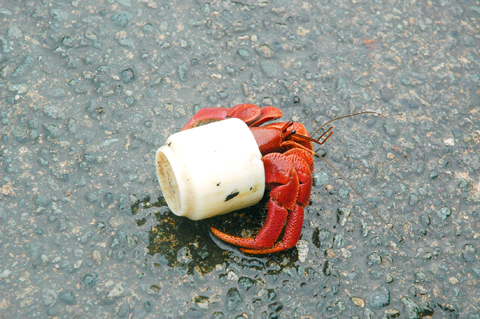 CRABERNET SAUVIGNON
A hermit crab crosses a road on Lanyu while dragging its winecup home. The influx of tourists to Lanyu, also known as Orchid Island, has resulted in tourists leaving behind litter such as winecups while bringing home seashells, where hermit crabs normally live.


PHOTO: CNA
---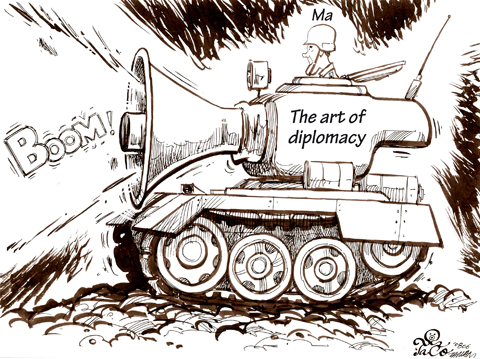 ---
Words and actions are threatening democracy
 
By Gerrit Van der wees
Thursday, Jun 19, 2008, Page 8

Two recent events have quickly earned the Ma Ying-jeou (馬英九) administration the label of troublemaker. Moreover, further actions by the courts and the Legislative Yuan have threatened to undermine the nation's hard-earned democracy.

First was the political uproar generated by the provocative comments of Prime Minister Liu Chao-shiuan (劉兆玄) and the reckless actions by some Chinese Nationalist Party (KMT) legislators in response to the accidental sinking of a Taiwanese fishing boat in the waters near the Diaoyutai (釣魚台) islands. Liu allowed himself to be goaded by the KMT legislators into saying that he "doesn't exclude war" with Japan over the incident.

While he later retracted the statement, the remark has highlighted a rather unbalanced thinking on the Ma administration's part on the issue of Taiwan's sovereignty and security. Ma seems to want to defend the nation's sovereignty over a fishing boat and a piece of rock, but he neglected to mention Taiwan's sovereignty in his inaugural address. The sovereignty issue was also whitewashed in the recent meetings with China.

If the Ma administration would have sought to determine what really happened in the Diaoyutais, it would have learned that the Taiwanese boat was inside the 19km zone delineated in an agreement between Taiwan and Japan and that the Taiwanese captain was unnecessarily endangering the lives of his crewmembers.

Instead of letting legal authorities handle the case (as the Japanese did, with evenhandedness), the KMT government made a political issue of it, going as far as recalling the nation's representative to Japan, a very unwise political move as it risks estranging Taiwan from its closest ally in the region. The act could also seriously undermine Taiwan's security.

At home, Ma has been undermining democracy and fostering the corruption he said he abhors: The judicial authorities are pressing charges against former president Chen Shui-bian in relation to a "slander suit" brought against the former president and two Democratic Progressive Party legislators, one of whom is still serving in the legislature.

The case stems from remarks made by Chen and the two legislators in 2005, alleging involvement of retired vice admiral Lei Hsueh-ming (雷學明), retired rear admiral Wang Chin-sheng (王琴生) and three others in a kickback scheme over the purchase of French-made Lafayette frigates. The two navy officers held key positions under former premier Hau Pei-tsun (郝柏村) when the decision was made to purchase French frigates rather than South Korean ones.

Former French foreign minister Roland Dumas said that some US$500 million in kickbacks were paid by Thompson CSF, US$400 million of which went through the office of the KMT secretariat-general, then headed by James Soong (宋楚瑜). During his terms in office, Chen encouraged the court system to investigate the case and prosecute those who were found guilty, but this was stonewalled by the KMT-dominated courts.

By allowing the slander suit against the former president to move ahead, Ma has undermined democracy and risks allowing individuals who were involved in large-scale corruption to go unpunished.

A fair and just judicial system should take legal action against corrupt individuals, not whistle blowers.

Taiwanese have worked hard to achieve security and democracy. It would be unfortunate for all that work to be squandered by the provocative words and reckless actions of the Ma administration and by hardline KMT legislators.

Gerrit van der Wees is editor of Taiwan Communique, a publication based in Washington.