US arms decision made last Christmas
 
ALREADY POLICY: Washington sources said that the recent requests by the Chinese Nationalist Party government to delay arms sales simply reaffirmed the US' position
 
By Charles Snyder
STAFF REPORTER IN WASHINGTON
Friday, Jun 20, 2008, Page 1

The decision by US President George W. Bush's administration to delay the processing of US$12 billion in arms sales to Taiwan dates back at least to last Christmas and recent requests by the Chinese Nationalist Party (KMT) government of President Ma Ying-jeou (馬英九) to further delay the process simply reaffirmed US policy, but did not initiate it, sources in Washington say.

The story was broken by Defense News on June 9, but observers said Washington's decision was more complex and long standing than recent news reports indicate. But, as more details of the situation emerge, the sources warn, the implications could be just as harmful for Taiwan's defense.

The impetus for the delay, many feel, has been the Bush administration's craving to curry favor with China for help with a number of foreign policy issues, notably in North Korea, Iraq and Darfur, and the plan by Bush to attend the opening of the Olympic Games in Beijing in August.

At the same time, with the US presidential election approaching, the feeling has grown that actions that could potentially inflame US-China tensions, such as arms sales, are better left to the new US administration that will occupy the White House come January.

The most recent word in Washington has been that the decision to freeze the arms sales came as a result of a meeting between Ma and a State Department member of the US delegation to Ma's inauguration and another meeting late last month between National Security Council Secretary-General Su Chi (蘇起) and Frank Januzzi, a visiting foreign policy aide to the chairman of the Senate Foreign Relations Committee, Joseph Biden.

Ma and Su reportedly both told the Americans that while the KMT is not opposed to the arms sales, this was a bad time for them to advance through the Pentagon and the congressional approval process.

"When the message came back from Taipei, that was used at the State Department by [Assistant Secretary of State for East Asia] Chris[topher] Hill and Secretary [of State Condoleezza] Rice as a perfectly good reason not to move forward on this," said John Tkacik, a strongly pro-Taiwan academic at the Heritage Foundation.

"Su Chi said this was his 'personal opinion,' but the personal opinion of the secretary-general of the National Security Council in Taiwan counts," Tkacik told reporters on Wednesday, conceding that his information was second-hand.

Januzzi was not in his Senate office on Wednesday and was not available for comment.

Supporters of the arms sales warn that any delay could end up killing the sales and could affect Taiwan's basic means of survival, if it renders Taiwan incapable of fending off a Chinese military attack at some future time when the US is unwilling or unable to come to Taiwan's aid, and if China's rapid military modernization continues apace.

The big concern is that the freeze could become permanent. That is because the new US administration is certain to conduct a review of its Taiwan policy next year, delaying any decisions. If the letters of acquisition are not signed by the end of the year, Taiwan's defense ministry will have to resubmit its budget to the Legislative Yuan, in which the KMT holds a three-quarters majority, and then all the arms budget items will be reopened for discussion.

The decision to freeze the processing of the arms package predated Ma's presidential victory, Rupert Hammond-Chambers, the president of the US-Taiwan Business Council, told the Taipei Times.

He said the decision was made before last Christmas at the highest level of the administration.

"And, indeed, by the president himself," he said.

Hammond-Chambers, whose organization includes the major US defense contractors who supply the lion's share of US weapons sold to Taiwan, said that Washington is not just "playing team ball," or reacting to Taipei's request. He felt that Ma's government has not ruled out future arms purchases, but just fears a public announcement coming at an embarrassing time could hurt his efforts to improve relations with Beijing.

Hammond-Chambers said that the items in question were far from the stage in the process where they will go to Congress for the 30-day review. Only after that review would the Pentagon's Defense Security Cooperation Agency make the planned sale public. And that's the time that China traditionally raises a verbal stink.

"But we are a way of a way from that, so why did the Bush administration stop so early on?" he said. "If they were playing team ball, surely they would walk this process all the way up to the 30-day notification period and then hold back."

As a result, Hammond-Chambers is critical of the Bush administration.

In recent years, he noted, there has been "an extremely ugly battle [in the legislature over the arms issue] and it has hurt US-Taiwan relations in a very profound way. To not bag this now jeopardizes all that we've gone through to reach a point now where we're finally able to tie this down. And, for the US to undermine that is highly questionable, it's more than disappointing, it's counterproductive and hypocritical."

Tkacik blames the Ma administration.

"Taiwan is making a decision to transfer responsibility for its security from the United States to Beijing," he told reporters, reasoning that Ma sees no need for new weapons if there is no danger of a Chinese invasion and that he is confident that China will not invade as long as Taiwan does not declare independence.

 
---
Listen to the voice

Amnesty calls on China to reveal fate of Tibet detainees

AFP, LONDON
Friday, Jun 20, 2008, Page 1

Amnesty International on Wednesday urged China to reveal what happened to people detained during the March crackdown on demonstrations in Tibet, as the Olympic torch heads for Lhasa.

The London-based human rights group, publishing an update on the situation in Tibet since the outbreak of violence, said more than 1,000 people were held but only a small number had faced "questionable" trials.

Amnesty also called for independent observers to be allowed free access to Tibet.

In its report, People's Republic of China — Tibet: Access Denied, Amnesty studied what it called the "severe censorship" facing journalists and Tibetans, plus reports that detainees had been beaten and deprived of adequate food and proper healthcare.

"There is very little information coming out of Tibet, but the information we have paints a dire picture of arbitrary detentions and abuse of detainees," said Sam Zarifi, Amnesty's Asia-Pacific director.

"With the torch relay about to enter Tibetan areas, this should be an opportunity to shine some light on the situation there," Zarifi said.

The Olympic torch, en route to Beijing for the Summer Games, was to spend three days touring Tibet.

However, China said on Wednesday that the flame would only spend one day there, going through Lhasa on Saturday.

The Beijing Games' organizing committee said 50 journalists from 31 news organizations would be allowed to cover the Lhasa relay. Tibet has been off limits to foreign reporters and tourists since the crackdown.

Amnesty said that limited reports emerging from Tibet said that police and security forces had raided hundreds of monasteries, nunneries and private homes, confiscating mobile phones, computers and other communications equipment — blocking the flow of information.

Those who send information out to foreign media or human rights groups about protests or arrests risk arrest and imprisonment, Amnesty said.

"The complete lock-down in Tibet is allowing human rights abuses such as arbitrary detentions, ill treatment and severe censorship to go unreported and unpunished," Zarifi said. "Hundreds of people languish in Chinese prisons for peacefully expressing their opinions, in appalling conditions and without their relatives even knowing where they are. The passing of the torch should allow journalists a chance to see the actual situation on the ground and promote the 'Free and Open Olympics' promised in the Beijing Olympic Action Plan."

The Chinese authorities have targeted Tibetan artists who had no direct involvement in the on-going protests, Amnesty said.

China accuses Tibetans of targeting the Olympics following the crackdown in Lhasa, though exiled spiritual leader the Dalai Lama has repeatedly expressed his support for the Beijing Games.

Exiled Tibetan leaders say 203 people died in a government crackdown on the anti-Chinese government riots that erupted in Lhasa on March 14.

China has reported killing one Tibetan "insurgent" and says "rioters" were responsible for 21 deaths.

 
---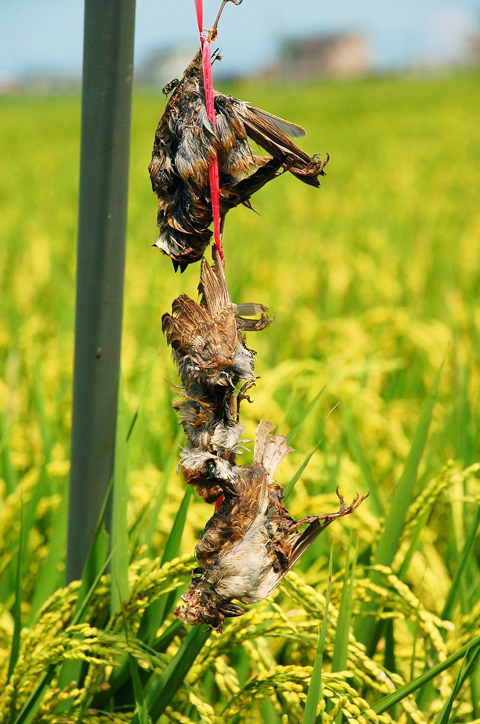 BIRDS ON A WIRE

Dead sparrows hang from a pole in an Ilan County field yesterday. As harvest season approaches, local farmers have used dead sparrows to scare other birds from their fields, despite the county government's warning that killing sparrows without permission may result in a fine of up to NT$300,000.

PHOTO: YU MING-CHIN, TAIPEI TIMES
---
Ma using economy as a guise to push unification: groups
 
By Loa Iok-sin
STAFF REPORTER
Friday, Jun 20, 2008, Page 3

Pro-independence groups accused President Ma Ying-jeou (馬英九) yesterday of working for cross-strait unification under the guise of promoting economic development.

"President Ma told us that allowing more Chinese tourists into Taiwan will bring economic benefits to the country," said Chang Hsyue-yih (張學逸), president of Northern Taiwan Society, at a press conference in Taipei.

Negative effects

"While it's true — we must not forget that more negative effects will also come with it," he said. "For example, it will deepen our economic dependence on China: a country that is still hostile to us."

Chang said Ma was "aiming at ultimate unification [with China] under the guise of promoting economic development."

Chang Yeh-shen (張葉森), president of Taiwan Hakka Society, agreed.

"Ma promised to improve the economy, but what have we seen one month into his term as president?" Chang Yeh-shen said.

"We have seen increases in utility and fertilizer prices, and then there was the surprise hike in gas prices ahead of schedule," Chang Yeh-shen said.

Flood Vs quake

"When heavy rainfalls caused flooding in the south, Ma said he would respect the system of government and let the Cabinet handle it," he said.

"But when an earthquake hit Sichuan [in China], Ma and the first lady were so eager to participate in fundraising activities," he said.

Chang Yeh-shen added that the government had been too rash in negotiating direct cross-strait passenger flights and allowing more Chinese tourists that "they did not take into consideration whether too many Chinese tourists would crowd out visitors from other countries, or whether our immigration service and epidemic prevention control systems are ready for it."

Security risks

Chen Gau-tzu (陳昭姿), secretary-general of the the Northern Taiwan Society, questioned potential security loopholes in opening airports in Hualien and Taitung for direct cross-strait flights.

Many of Taiwan's air force bases are located in the region, separated from the rest of the island by mountains.

"Ma promised to promote economic development, but he's apparently only interested in a protectorate economy from which only a few big corporations that have close ties with the Chinese government would benefit ," said Tsay Ting-kuei (蔡丁貴), chairman of the Taiwan Association of University Professors.

"I'm quite worried it would only widen the gap between the rich and the poor," Tsay said.
---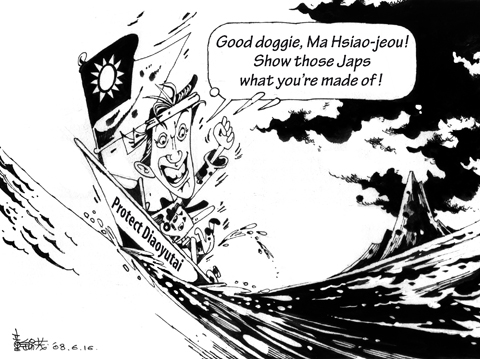 ---
Time for DPP to learn from errors
 
By Lin Cho-Shui 林濁水
Friday, Jun 20, 2008, Page 8

Talks between the Straits Exchange Foundation (SEF) and China's Association for Relations Across the Taiwan Strait (ARATS) have resumed after being frozen for a decade. The highest-level official participation has been elevated to include deputy ministers. China fever is at its peak and the Chinese Nationalist Party (KMT) is praising itself for creating a remarkable opportunity for improving cross-strait relations.

Former Mainland Affairs Council (MAC) chairman Chen Ming-tong (陳明通) has said that on direct flights between China and Taiwan, China will emphasize tourist flights while Taiwan will prioritize cargo flights. However, in the spring, both sides agreed on weekly direct tourist flights and daily direct cargo flights. It will be a step back if only tourist flights are on the agenda this time.

What Chen means is that things would be better if the Democratic Progressive Party (DPP) negotiated this matter. Is this really how things are?

The truth is that the DPP's success in winning various elections in both Taipei and Kaohsiung against the odds in the past made China believe the party is skilled at winning electoral support, and therefore it worried that it would have to continue to deal with the DPP in cross-strait talks. Therefore, in the spring of last year, Beijing reached the above-mentioned three links agreement with Taiwan without the premise of the so-called "1992 consensus."

However, the DPP was experiencing a period of extremism at this time and when another former MAC chairman, Joseph Wu (吳釗燮), presented the agreement to the premier, he was told: "Don't you know I'm busy preparing for the presidential election?"

This would have been a better three links deal than the KMT will get, but the DPP threw it away.

Senior officials in the previous administration wasted great opportunities for Taiwan on another three occasions.

When former president Chen Shui-bian (陳水扁) made his "four noes and one without" pledge, he was hoping to use a softer approach to establish direct links. However, China chose to believe former Singaporean prime minister Lee Kuan Yew (李光耀), who said Chen had a low tolerance for pressure and so it ignored Chen. Eventually, when Chen grew tired of China's pressure, he came up with his "one country on each side of the Taiwan Strait" statement.

At that time, Chen and his right-hand men in the National Security Bureau (NSB) believed this policy would insult Beijing. It was a tense time and Chen gave up all hope of establishing direct links. Beijing was indeed infuriated, but also soon discovered that it was unrealistic to oppress Taiwan any further in terms of foreign diplomacy and military affairs. China finally realized that the three links was its only hope of holding on to Taiwan and that a sense of urgency was needed.

Before long, China's Ministry of Transport and even former Chinese foreign minister Qian Qichen (錢其琛) formally announced that the "one China" principle was not necessary for establishing direct links and that flights would be considered not as international or domestic flights, but rather as special cross-strait flights.

Chen and other senior Taiwanese officials were unwilling to listen to calls for direct links and lost the chance to do away with the "one China" principle as a premise.

The second big chance Taiwan let go was when former minister of economic affairs Lin Hsin-yi (林信義) negotiated a free trade agreement with Singapore under the WTO framework. Senior NSB officials were unwilling to accept the names "Chinese Taipei" and the "Separate Customs Territory of Taiwan, Penghu, Kinmen and Matsu" and insisted on using the name Taiwan, thus losing yet another chance for a diplomatic breakthrough.

Taiwan let a third opportunity slip by when China established the "Anti-Secession" Law. Although parts of the law were detrimental to Taiwan, there was no risk of war and Taiwan instead had to respond to China's united front tactics, which were certain to intensify. However, Chen and then-KMT chairman Lien Chan (連戰) both believed war was imminent. Chen spent his energy resisting while Lien went to China to beg for peace. In the end, the DPP lost yet another solid opportunity to establish direct links without going begging to China like the KMT has done.

These four opportunities appeared because not even China can persist in its harsh policies toward Taiwan given the increasing trend toward globalization. However, over the last eight years, the DPP was unable to pave a steady road to Taiwanese independence and defend its status, maybe because it was oblivious to world trends, made misjudgments or was plagued by infighting.

It missed one opportunity after another and while the DPP may have stood its ground on Taiwanese independence, this ultimately had the effect of creating opportunities for the KMT to gain credit and claim it created a wonderful opportunity for cross-strait relations.

Now the DPP must learn from the experience and come up with some appropriate strategies for keeping tabs on the KMT and protecting the interests of Taiwan while trying to make a comeback.

Lin Cho-shui is a former Democratic Progressive Party legislator.