Chuang vows to hold hunger strike
 
PROTEST: After losing his job as a university professor over comments he made during the presidential election, Chuang Kuo-rong is now adopting a defiant approach
 
By Jenny W. Hsu
STAFF REPORTER
Sunday, Jun 22, 2008, Page 1

"I didn't know that Taiwan's presidents such as Chiang Kai-shek, Chiang Ching-kuo and Ma [Ying-jeou] were semi-deities, like the Japanese royal family."— Chuang Kuo-rong, former Ministry of Education secretary-general

Chuang Kuo-rong (莊國榮), former Ministry of Education secretary-general, said yesterday he would show his penitence for insulting President Ma Ying-jeou (馬英九) and his family by staging a hunger strike in front of the Presidential Office starting July 1.

Chuang caused a storm of controversy during the presidential campaign in March, when he used a profanity to imply Ma's late father had a salacious relationship with his goddaughter.

When then Democratic Progressive Party candidate Frank Hsieh (謝長廷) suffered a landslide defeat, some people blamed Chuang and his caustic remarks for turning voters away. Chuang resigned from the ministry and has since returned to his post as assistant professor at National Chengchi University (NCCU).

However, the school decided on Thursday not to renew his contract, saying his behavior during the election period had disgraced the institution.

"There was no need for the school to use such superficial standards to rob someone of their right to work," he told a press conference yesterday.

Mocking Ma as the "emperor," Chuang said: "I thought it was permissible to criticize a president of a democratic country, but I didn't know that Taiwan's presidents such as Chiang Kai-Shek (蔣介石), Chiang Ching-kuo (蔣經國) and Ma were semi-deities, like the Japanese royal family."

Given which, he said he decided to make his apology by staging a hunger strike starting next month, until Ma and his family forgave him.

Upon learning of his plans, Chinese Nationalist Party (KMT) legislators yesterday ridiculed Chuang, telling him not to act irrationally if he wanted to return to the educational field.

"I think Chuang should go see a psychiatrist and get some counseling," KMT Leigslator Wu Yu-sheng (吳育昇) said when asked for comment.

KMT legislators Chiu Yi (邱毅) and Justin Chou (周守訓) both said that Chuang was damaging his career prospects.

"If he continues making a fool out of himself like this, I am afraid that he will say goodbye to his teaching career," Chiu said.

In related news, another pan-green official might be forced to terminate his teaching post at NCCU, the Chinese-language Liberty Times (the Taipei Times' sister paper) reported yesterday.

Taiwan representative to the US Joseph Wu (吳釗燮), who taught at NCCU's Institute of International Relations prior to his governmental post, was rumored to have been rejected by the school when he applied to return to the institute, the report said.

Wu tendered his resignation on May 20 upon the inauguration of the KMT administration.

The Liberty Times report said that Wu's application was approved two out of three times by the school review committee, but was rejected at the final review.

The institute denied that the school had rejected Wu's application but rather, that it had decided to withdraw Wu's application because someone on the committee had informed the institute that Wu was not eligible to resume his teaching post, because he had not published any academic papers in the last five years as required by the school, the report said.
---
An uncompromising view on freedom from the largest Tibetan group in exile
The Tibetan Youth Congress (TYC) — the largest organization founded by Tibetans in exile — insists on its struggle for Tibet's complete independence. The organization's vice president, Dhondup Dorjee Shokda, sat down with 'Taipei Times' staff reporter Loa Iok-sin in Dharamsala, India, earlier this month and spoke of the ideological differences with the Dalai Lama. TYC President Tsewang Rigzin was unavailable for interview after his arrest for participating in a march to Tibet that left from Dharamsala in March

Sunday, Jun 22, 2008, Page 3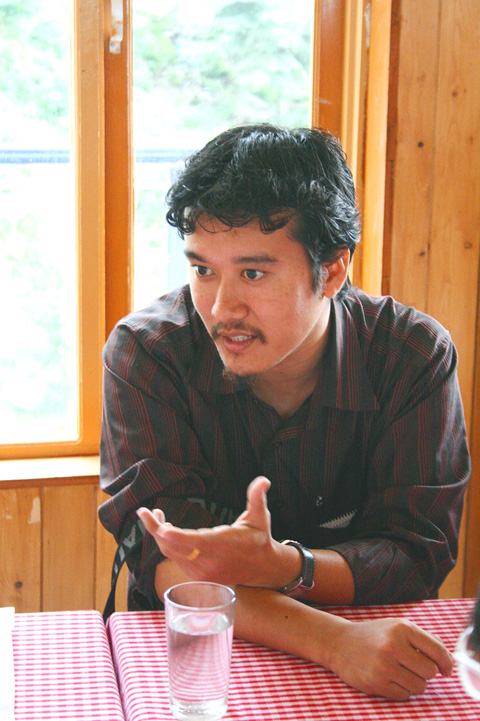 Dhondup Dorjee Shokda, vice president of the Tibetan Youth Congress, gestures during an interview with the Taipei Times in Dharamsala, India, on June 8.

PHOTO: LOA IOK-SIN, TAIPEI TIMES.

Taipei Times: First of all, can you give a brief introduction to your organization?

Dhondup Dorjee Shokda: When His Holiness [the Dalai Lama] took asylum in India after the failed national uprising in 1959, he was followed by some 80,000 Tibetans.

Having realized that the Tibet issue cannot be resolved in a short time, His Holiness started a Tibetan refugee school to provide modern education.

Those Tibetans who had a blend of traditional education in Tibet and modern education in India — some even studied abroad — began to gather and discuss the future of Tibet. They felt that they needed a common platform for the freedom movement to move on, so, after several meetings, these youngsters officially established the TYC on Oct. 7, 1970, in Dharamsala.

The TYC's inauguration was blessed by the Dalai Lama, and all Tibetans were for independence at the time.

From the 1970s to the 1980s, we mainly focused on community works, including community cleanness drives, road construction and repair, building public toilets, to gather support and to be more connected with our communities.

In the 1980s and 1990s, we began our political campaign — we represented the Tibetans at UN conferences and organized demonstrations and hunger strikes.

Today, we have 30,000 registered active members and over 80 regional chapters worldwide, and our funding depends completely on membership fees, regional chapter contributions and a small amount of individual donations — we don't accept any foreign funding so that we can be free of their influence.

TT: As you mentioned, the Dalai Lama gave his blessing when the TYC was founded in 1970. But how come there are such differences of opinion on Tibetan independence and on the Beijing Olympics?

Dhondup: The Dalai Lama and the exiled government have shifted their position, but we have not. From the beginning, the very existence of this organization is based on the political ideology to seek complete independence [for Tibet].

We understand that he [the Dalai Lama] is trying to compromise and propose a new solution — but he clearly stated that it's his own solution, and that in the end, it's the Tibetans who will decide.

Today, His Holiness is not just a leader of Tibetans; he has so many other responsibilities. For example, he is a world leader in promotion of humanitarian values, harmony and peace. We're not the Dalai Lama.

If China says today that they would give independence to Tibet if the Dalai Lama would kill a dog, he would not kill a dog. But for other Tibetans like me, I'd kill a hundred dogs if Tibet is getting independence.

So, there is a difference but nothing conflicting and contradicting at this point — the bottom line should be understood that whatever the Dalai Lama is demanding today, he's demanding for 6 million Tibetans, whatever the Youth Congress is doing, we're also doing it for the 6 million Tibetans.

TT: There are only about two months left before the Beijing Olympics open on Aug. 8. What plans do you have to protest the Olympics?

Dhondup: Many journalists have asked me about TYC activities and I told them we actually don't need to organize any activities — just look at how the torch relay was carried out in a cage around the world, and many non-Tibetans are introduced to the Tibet issues because of it.

In fact, we're trying to approach some participants in the Olympics and national Olympic committees. Maybe not to ask them to withdraw from the Games, but at least to make some protest gestures after winning their medals.

I have to stress that we're not against sports or the Olympics. It's just that communist China — which doesn't have the people's mandate and keeps Tibet under occupation — doesn't deserve to host the Olympics.

TT: Have any athletes responded positively to your request?

Dhondup: It's very difficult to get in touch with the athletes. You have to first confirm who have been selected and who are participating. Of course I can't give you any names, but there are some athletes who are approaching the end of their career, [and] may be playing in the Olympic games for the last time — we're trying to get hold of some of them to highlight the Tibet issue.

TT: Some media call you a terrorist organization, especially after the TYC president mentioned that suicide bombs could be used for the Tibetan independence movement in the future, in an interview published by the Italian newspaper Corriere della Sera.

Dhondup: The president [of TYC] has responded several times that he never made such a statement, and we're not sure how it came up in the newspaper. And the [Chinese state-run] Xinhua news agency reported on it — they've been waiting for an opportunity since the beginning to dub the TYC a terrorist outlet. Our activities are very open and transparent, we're not underground. We meet here on the ground and everything is on the table.

Today China is targeting the Dalai Lama and the TYC because they know the TYC has the potential to lead the [Tibetan] people in the coming decade, when the Tibetan movement takes a different shape. This movement can lead the people, even in the absence of the Dalai Lama.

TT: There are many Tibetans living in exile who seem to care more about improving their personal lives than fighting for Tibetan independence. How do you think this situation may impact the Tibetan movement?

Dhondup: Yeah, there are actually some people like that. Today, especially Tibetans in Taiwan and in Western countries, they work jobs that are less than decent and have to support themselves. They may not care, or even they may say they don't want Tibetan independence, but I guarantee you, once something happens in Tibet, they will not keep quiet.

This was the case when demonstrators in Lhasa were violently cracked down on by Chinese authorities in March — Tibetans around the world just came out without anybody asking them to.

Some Tibetans in Taiwan may have Taiwanese citizenship, but they know that inside, they're not Taiwanese. Like me, I can get Indian citizenship, get married to an Indian girl and run a hotel — but if the hotel runs too well, the local Indians may not be happy and they can just chase me out.

But if there are Tibetans who really don't care, then it would be better if they stay out. Rather than having uninterested people in our movement, it's better not have them at all.
---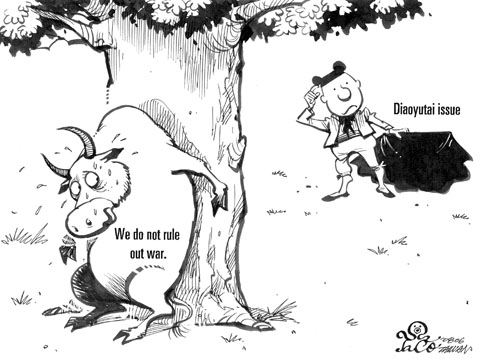 ---
US soft power still strong in Asia
 
By Richard Halloran
Sunday, Jun 22, 2008, Page 8

Conventional wisdom holds that the image of the US in Asia today is mostly negative. This is not the case, however, in China, Japan, South Korea, Vietnam and Indonesia, a survey published this week found. At the same time, perhaps surprisingly, the survey found that China had a negative reputation among its fellow Asian countries.

The Chicago Council on Global Affairs reported that "the United States is still highly regarded in all five of the key areas of soft power addressed in this survey: economics, culture, human capital, diplomacy, and politics."

The council said: "Whether this influence is a product of US foreign policy or exists in spite of it, it is clear that the United States has a very strong foundation on which to build future policy in the region."

On China, the survey found a majority of Asians believed the rise of that country to be inevitable but not to their benefit. A majority of respondents in Japan and South Korea were uncomfortable with China becoming the leader of Asia. In Indonesia and Vietnam, a minority said they feared China.

The survey, in contrast with other polls, found that China "lags behind the United States in perceptions of its diplomatic, political, and human capital soft power, though perceptions of China's soft power are decidedly stronger in Southeast Asia."

Asian skepticism was evident "when respondents were asked whether their countries share similar values with China."

China's diplomatic influence was not perceived as strong, as found in some studies.

When asked whether they believed China's political system served its people, respondents in other Asian countries were dubious.

The Chicago Council's survey may be deserving of criticism on two counts. It was largely funded by the East Asia Institute of South Korea; South Korean studies often incorporate nationalistic interpretations of data. Moreover, some questions about China were not asked in Vietnam, which is sensitive to its tenuous relations with China.

The survey was perhaps strongest on the complicated relations between Americans and Chinese, which "may be the most important bilateral relationship of the twenty-first century. It is certainly critically important to the future of Asia on both geostrategic and economic levels," it said.

Positively, the report said: "More than 67,000 Chinese students studied in American universities in the 2006-07 academic year, while more than 11,000 Americans were resident on Chinese campuses."

Negatively, it said relations were "troubled by trade and human rights issues, resource competition, and China's growing military power."

The survey found "a worrisome disconnect between American perceptions of China, which have deteriorated, and mostly positive Chinese perceptions of the United States."

The surveyed showed that "Americans have very cool feelings toward China in both absolute and relative terms. On a 0 to 100 scale where 50 is neutral, Americans give China a very low average rating of 35, down from 40 in 2006 and 44 in 2004."

"Americans clearly see China as a strategic competitor," the report said.

Americans rate the competitiveness of China's economy highly but think China produces inferior products in comparison to Japan and South Korea. Seventy percent of US respondents said they worried that "China could become a military threat to the United States."

US respondents gave China low ratings on human rights and the rule of law and its use of diplomacy to resolve problems. Americans do not think they share a way of life with the Chinese or hold values in common.

In marked disparity, Chinese views of the US were more positive, the survey found. Chinese respondents believed that trade and investment with the US were important to their country's economy and a majority said they thought the US exerted a positive influence in Asia.

Surprisingly, 63 percent of Chinese respondents said the US has effectively managed tensions between China and Taiwan.

Forty-four percent of Chinese respondents said they would pick the US as their first overseas choice for higher education and 82 percent said their children should learn English. Chinese respondents said they admired US science and technology, popular culture, entrepreneurial spirit and the political system.

On security, however, 76 percent Chinese respondents worried that the US could become a military threat.

Anecdotal evidence bears that out. Many Chinese have asked this correspondent: "Will there be a war between my country and yours?"

Richard Halloran is a writer based in Hawaii.
---
Working to strengthen the role of plebiscites
 
By Chen Lung-Chu 陳隆志
Sunday, Jun 22, 2008, Page 8

Before the Referendum Law (公民投票法) was passed in 2003, Taiwan had already held referendums at the local level. Since a committee protesting the construction of a fifth naphtha cracker plant by CPC Corp, Taiwan in Houchin (後勁), Kaohsiung City, held the nation's first referendum in 1990, there have been other referendums on various public issues.

In 1994, a referendum was held on the construction of the Fourth Nuclear Power Plant in Kungliao Township (貢寮) in Taipei County. In 1995, another referendum on the construction of the Fourth Nuclear Power Plant and a referendum on road construction in Sijhih (汐止) were held in Taipei County. Other referendums that year included another on nuclear power in Taipei City, one on the construction of Yongkang Park (永康公園) in Taipei City and one on the exploration of Daliao Township (大寮) in Kaohsiung County.

In 1997, a referendum was held on the reconstruction of Liaoting Community (寮頂) in Chiayi County and in 1998 a major investment project proposed by Bayer AG was put to a referendum in Taichung County.

The same year, a plebiscite was also held in Tainan City on Taiwan's future.

All of these referendums lacked a legal basis, however, so the results were not legally binding. The results of the referendum on the construction of Yongkang Park, however, were recognized by the Taipei City Government as binding.

Since the Referendum Law was passed, six nationwide referendums have been held. In 2004, two plebiscites were held, one on increasing the nation's purchase of anti-missile weaponry and one on negotiations with China on the establishment of a peace and stability framework. In January, two referendums were held in tandem with the legislative elections: the Democratic Progressive Party's referendum on recovering the Chinese Nationalist Party's (KMT) stolen assets and the KMT-proposed referendum on giving the legislature investigative powers.

Two more plebiscites were held in conjunction with the presidential election in March, both on seeking UN membership.

Although the results of each of the six referendums were affirmative, all were invalid because the total voter turnout fell below the legally specified minimum.

Before the Referendum Law became reality, it was impossible for the public to directly communicate their opinions on important issues to the government. It was not easy to pass this law. Without the efforts of academics, experts, civic organizations and the general public, legally binding direct democracy would never have been possible. However, the referendum system has repeatedly fallen victim to vicious political power struggles, which has led to boycotts that have taken advantage of the high threshold for valid results.

This has shown the deficiencies in the legislation, which must be amended in order for the act to serve its purpose: allowing the public a vehicle to communicate their will on crucial matters.

The government, political parties and the public each have an important role in deepening the nation's democracy. The government has the obligation to promote referendums and inform the public about them in a fair and transparent manner. Political parties need to throw their weight behind an amendment to the legislation rather than boycotting referendums for their own ends. The public, meanwhile, has a duty to exercise its rights when there is a plebiscite.

Together, the government, political parties and the public should strive to expand the role of referendums in the nation's democracy.

Chen Lung-chu is chairman of the Taiwan New Century Foundation.