No gambling, 'pornography' for Chinese tourists

AP, BEIJING
Monday, Jun 23, 2008, Page 1

Chinese visitors to Taiwan will not be allowed to gamble or engage in "pornographic activities," China's state news agency reported yesterday.

The warning was issued by the Cross-Strait Tourism Association, Xinhua news agency said. It followed the signing of breakthrough agreements on charter flights and tourism promotion between the two sides earlier this month.

"Travel agencies are not allowed to arrange gambling, pornographic and drug-related activities and other activities harming cross-strait relations," Xinhua said.

It did not explain what it meant by "pornographic activities."

Chinese travel agency managers have arrived in Taiwan on a fact-finding mission to inspect tourism infrastructure, such as hotels and transportation. They were to visit Sun Moon Lake yesterday, the Central News Agency reported.

The officials are visiting Taiwan for 10 days, the maximum allowed under the agreement that permits 3,000 Chinese tourists a day to visit Taiwan.

Taiwanese hoteliers, airlines and tour operators hope big-spending Chinese tourists will prove a shot in the arm to Taiwan's travel sector, although limited capacity and continuing political differences between the two sides dictate limits on numbers and itineraries.
---
Rice reiterates the US' support of Taiwan
 
UNDER PRESSURE: The US secretary of state went on to say that she thinks the UN membership referendum held during the presidential election "was just provocative"
 
By Loa Iok-sin
STAFF REPORTER
Monday, Jun 23, 2008, Page 3

"Look, our relations with Taiwan are not bad. We were concerned that some of the things that [former president] Chen Shui-bian tended to do were just outright provocative and we had to say so."— Condoleezza Rice, US secretary of state

Although the US encourages improvements in the Taiwan-China relationship, US Secretary of State Condoleezza Rice said in a recent interview that she wants to remind people that the US has a strong relationship with Taiwan, and would like to see "Taiwan have real space in the international community."

Rice made the comments in an interview with the Wall Street Journal editorial board on Thursday.

She was responding to a question whether the election of President Ma Ying-jeou (馬英九) had opened an opportunity to improve the relationship between the US and Taiwan.

"Look, our relations with Taiwan are not bad," Rice said. "We were concerned that some of the things that [former president] Chen Shui-bian [陳水扁] tended to do were just outright provocative and we had to say so."

Rice went on to say that she thinks the UN membership referendum held alongside the presidential election "was just provocative."

She said that the US has been encouraging improvements in cross-strait relations, but she also wants to "remind everybody that the United States has a relationship with Taiwan as well, and that we want to see things like Taiwan have real space in the international community, like through the WHO."

While saying the referendum was a provocative move, Rice stressed that "we also want to make sure that China understands that it's not just provocative behavior on the part of Taiwan that we would oppose, but provocative behavior on the part of China."

As Rice has said she believes that the dynamics in the cross-strait relations have changed, she also said that the US would keep an eye on future developments.

Asked for comment, political commentator Paul Lin (林保華) said he thought that Rice made the statement because the US realized the cross-strait relationship has developed too rapidly following Ma's election, and wants to slow it down to a more reasonable speed.

"Before, the US had Taiwan under a lot of pressure and had been very friendly to China," Lin told the Taipei Times via telephone. "After Ma's election, the US should be putting more pressure on China so that the two sides of the Strait can be balanced."

"But the statement should've come much earlier, and the pressure [on China] should be much heavier than this," he said.
---
Diaoyutais similar to Taiwan

The Diaoyutais a nd Taiwan are very similar in name, fate and history.

"Diaoyutai" and "Taiwan" have the common syllable "tai" (meaning "terrace") in their names. The former means "fishing terrace" and the latter "terrace bay." The names suggest the close relationship between the two — like brother and sister.

The Diaoyutais have a Japanese name "Senkaku" (meaning "sharp pavilion"). Taiwan also has another name, the "Republic of China" (ROC). Having two incompatible names of different backgrounds for an island, large or small, is the cause of disputes. The Diaoyutais are claimed by Taiwan, Japan and China. Taiwan is claimed by Taiwan and China, controlled by Taiwan but threatened by China — militarily, politically, diplomatically and economically.

Neither the Diaoyutais nor Taiwan were issues before 1945, when both were under Japanese rule. The key question for the Diaoyutais is whether they were a part of Taiwan or Okinawa under Japanese rule. If they were a part of Taiwan, they should belong to Taiwan now. If they were a part of Okinawa, they should belong to Japan. On the other hand, Taiwan was given up by Japan in the 1951 San Francisco Peace Treaty without specifying a beneficiary – neither the ROC nor the People's Republic of China. Taiwan should belong to the people of Taiwan after six decades, including two decades of democracy.

It might be premature for President Ma Ying-jeou (馬英九) to talk about maintaining sovereignty over the Diaoyutais while Japan effectively controls them. But it is opportune for Ma to declare Taiwan's own sovereignty before China comes to Taiwan.

Charles Hong
Columbus, Ohio
 
---
Will China be a peaceful power?
 
By Sushil Seth
Monday, Jun 23, 2008, Page 8

With China's increasing military buildup, there is a growing concern about its strategic goals in the Asia-Pacific region and elsewhere in the world.

The obvious questions are: Does it want to dominate the region? If not (as claimed by Beijing), why is it acting so rough and tough with its neighbors over contested sovereignty and ownership of South China Sea islands and their natural resources?

If it continues on a course of bullying its neighbors, this could unleash a regional arms race. Which, in turn, would create regional instability and hinder Asia's economic prosperity, of which China has been a major beneficiary.

Making these points in his keynote address at a recent Asian security conference in Singapore, the US Secretary of Defense Robert Gates reportedly said: "We should not forget that globalization has permitted our shared rise in wealth over recent years."

He added, "This achievement rests above all on openness: openness of trade, openness of ideas and openness of what I would call the 'common areas' — whether in the maritime, space or cyber domains," apparently referring to China's recent advances in these areas.

Beijing, however, doesn't accept the US criticism. China's position is that its increased military expenditure is defensive in nature, and any instability in the region is the result of the US seeking to expand military alliances and develop missile defense systems.

Lieutenant General Ma Xiaotian (馬曉天), deputy chief of the People's Liberation Army, put it this way at the Singapore conference: "It is imperative that China's armed forces keep up with this tide of world military development."

Besides, Ma said, "China's growing economy and fiscal revenue make the defense budget increase both a logical and imperative reality."

In other words, with or without perceived US containment of China, its military buildup would rise as a corollary of China's growing economic prosperity.

If, as Ma says, there is a logical correlation between China's growing economy and increasing military expenditure, by that logic China's determining, if not dominating, role in the region is also an "imperative reality."

The question then is: How would this fit into an existing set of rules and norms (of openness all around), as suggested by Gates?

And as China goes about actively pursuing its policy of securing resources in Africa, the Middle East, Central Asia and Latin America for its sustained economic growth, this is bound to put it into competition, if not confrontation, with the existing stakeholders of the international system, like the US and the West in general.

But there is a view in the US that China, which has so far benefitted economically from the existing international order, can be persuaded to continue operating within the system indefinitely.

In a recent Foreign Affairs article, John Ikenberry argued that, "The United States cannot thwart China's rise, but it can help ensure that China's power is exercised within the rules and institutions that the United States and its partners have crafted over the last century."

This should be possible, argues Ikenberry, because even if China were to overtake the US economically, it is "much less likely that China will ever manage to overtake the Western order."

And it will have to reckon with it.

And this should ensure for the US and its Western allies a powerful, if not the most powerful, role in the international order crafted by them over the last century.

There is one catch, though, in this neat scenario — an assumption that the West will operate as a monolith when dealing with China. Which might not necessarily be the case, with Beijing's growing clout allowing it to play favorites to undermine the Western bloc.

This seems to be the thrust of US policy toward China, as reflected in Gates urging Beijing to be transparent and open. And if it doesn't, the ensuing regional instability would adversely affect its economic prosperity.

Beijing is obviously expected to take heed of likely adverse economic consequences from not operating within a Western-designed system.

It is clear that neither China nor the US is keen on military confrontation. China is keen to build on its economic growth and political and military power. Any military confrontation in the short term will impede, if not reverse, this process, thus creating obstacles on its way to become a superpower.

In the case of the US, it is sufficiently over-stretched in Iraq, Afghanistan and elsewhere to want to avoid undertaking further military activity to complicate its situation. This has given China considerable leeway to expand its political influence in the region.

But despite all its problems, the US still remains the only superpower with economic, political and military preponderance. China, though, is working fast to catch up. And when it does, it might find the existing Western-crafted international order rather constricting and constraining for its expanding economic, political and military goals.

As John Mearsheimer observes: "If China continues its impressive economic growth over the next few decades, the United States and China are likely to engage in an intense security competition with considerable potential for war."

In the short term, though, China is keen to amass a panoply of military hardware to deter the US from risking a military confrontation with Beijing by making it potentially costly. This applies especially to Taiwan.

Gone are the days when by moving two aircraft carriers into the region during the 1996 Taiwan Strait crisis, the US was able to deter China from a risky military adventure against Taiwan.

Although the Taiwan situation is apparently calm now with the new political order in Taipei, it is far from resolved.

China's military buildup, with a growing fleet of submarines, missiles of varying range, attack aircraft and other long-range weaponry, certainly has a medium and long-term strategy to not only project power but also to assert it.

One example of this was the sudden appearance of a Chinese submarine close to the US aircraft carrier, Kitty Hawk, near Okinawa in 2006.

Aware that it will take China quite some time to reach military parity with the US, Beijing has been simultaneously working on building up its expertise and capabilities in asymmetrical warfare, like disabling (if necessary) the US' satellites and computer networks — now an integral part of its command, control and communications system.

It is fervently hoped that China can make a peaceful transition to great power status. But it hasn't happened before with other powers — like Germany and Japan — judging by the two world wars. Will China be different? Only time will tell.

Sushil Seth is a writer based in Australia.
---
Unicorn-like deer spotted in Italy

Monday, Jun 23, 2008,Page 15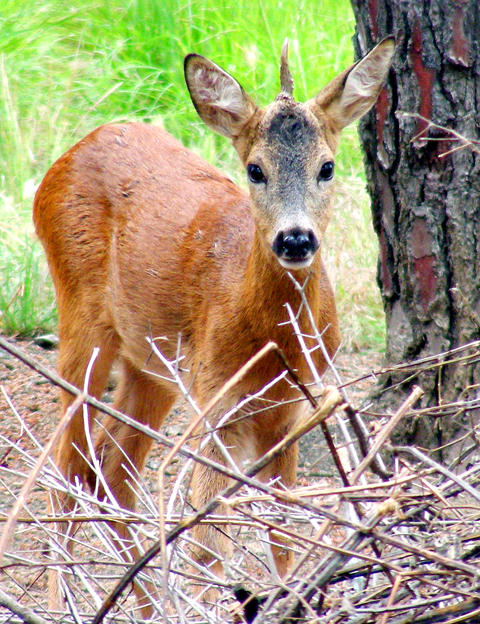 The deer is shown in this undated photo provided by the Center of Natural Sciences in Prato, Italy.


PHOTO: AP

A deer with a single horn in the center of its head — much like the fabled, mythical unicorn — has been spotted in a nature preserve in Italy, park officials said earlier this month.

"This is fantasy becoming reality," Gilberto Tozzi, director of the Center of Natural Sciences in Prato, told the Associated Press.

"The unicorn has always been a mythological animal."

The one-year-old roe deer, which is nicknamed "Unicorn," was born in captivity in the research center's park in the Tuscan town of Prato, near Florence, Tozzi said.

He is believed to have been born with a genetic flaw; his twin has two horns.

Calling it the first time he has seen such a case, Tozzi said such anomalies among deer may have inspired the myth of the unicorn.

The unicorn, a horse-like creature with magical healing powers, has appeared in legends and stories throughout history, from ancient and medieval texts to the adventures of Harry Potter.

"This shows that even in past times, there could have been animals with this anomaly," Tozzi said by telephone. "It's not like they dreamed it up." Single-horned deer are rare, but not unheard of. Even more unusual is the central positioning of the horn, experts said.

"Generally, the horn is on one side (of the head) rather than being at the center. This looks like a complex case," said Fulvio Fraticelli, scientific director of Rome's zoo. He said the position of the horn could also be the result of a trauma early in the animal's life.

Other mammals are believed to contribute to the myth of the unicorn, including the narwhal, a whale with a long, spiraling tusk. (AP)