China reopens Tibet to tourists
¡@
RESTRICTED MOVEMENT: Exiled Tibetan leaders say 203 people died during the Chinese clampdown on the riots, which began in Lhasa after peaceful protests

AFP, BEIJING
Thursday, Jun 26, 2008, Page 1

China re-opened Tibet to foreign tourists yesterday after claiming victory over the worst unrest there in decades ¡X which led Beijing to all but seal off the area from the outside world.

China¡¦s crackdown in the wake of violent protests in Tibet in March drew international condemnation and led to demonstrations in several countries that disrupted the Olympic torch relay ahead of the Beijing Games in August.

On the provincial Web site, spokesman Zha Nuo (¤ã¿Õ) said the region would be reopened for tourists ¡X and that having run the torch through the Tibetan capital Lhasa on Saturday without incident showed things were stable.

¡§After the quick quelling of the ¡¥March 14¡¦ incident in Lhasa, we have realized a great transitional victory in the fight against separatists,¡¨ Zha said.

¡§The successful Beijing Olympic torch relay in Lhasa on June 21 further proves that currently social stability in Tibet has been further consolidated,¡¨ he said.

Zha said two Swedish tourists were to arrive in Lhasa yesterday, followed by four from Singapore on Sunday.

He did not mention when a ban on foreign journalists would be lifted.

¡§Tibeten tourism is safe, Tibetans are friendly,¡¨ he said on Tuesday.

Beijing kicked all tourists and foreigners out of Tibet after violent protests against Chinese rule erupted in mid-March, prompting a massive Chinese security clampdown.

China allowed mainland Chinese tour groups back in at the end of April, followed by visitors from Hong Kong and Macau last month, when it also began allowing tourists from Taiwan.

¡§It is very hard for us to believe that China will allow free access to Western tourists,¡¨ said Paul Bourke, the executive director of the Australia Tibet Council.

¡§China has always seemed to go to great lengths to prevent Tibetans from having any contact with foreigners. We will be watching with interest to see how this so called ¡¥opening¡¦ develops,¡¨ he said.

Burke said he continues to receive reports from Tibet about a huge military presence in the region and an ongoing police and military lockdown on Tibetan Buddhist monasteries.

Foreign tourists are likely to be watched closely and their movements would be restricted, Bourke said, citing what he said was the stage management of Saturday¡¦s torch relay in Lhasa.

¡§They may be saying the torch relay was a success, but it was cut from three days to one day and then to a few hours,¡¨ Bourke said.

¡§It was completely stage-managed, with most Tibetans told to stay at home. There was a huge military presence on the streets, and the journalists covering it were all hand-picked and restricted,¡¨ he said.

China¡¦s crackdown on the unrest in Tibet sparked international protests that dogged the Olympic torch¡¦s month-long global journey in April before it arrived in China for a nationwide relay.

Exiled Tibetan leaders say 203 people died in the Chinese clampdown on the riots, which began in Lhasa after monks led peaceful protests to mark a 1959 uprising, and later spread across the Tibetan plateau.

China has reported killing one Tibetan ¡§insurgent¡¨ and says ¡§rioters¡¨ were responsible for 21 deaths.

With the Beijing Olympics set to start in less than two months, China faced the prospect of the Games being tarnished by continued overseas criticism of its Tibet policies if it had kept the region sealed off.

Officials had previously predicted that visitors to the remote region would hit 5 million this year. But just 120,000 people have visited Tibet since the end of April, official figures showed.
¡@
---
¡@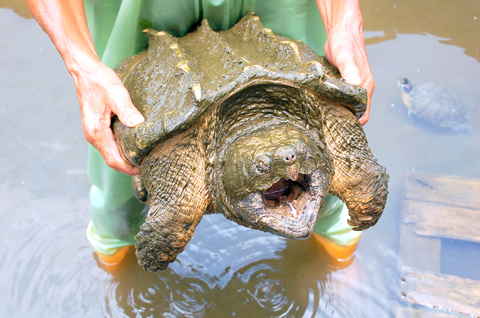 SHELL SHOCK
An alligator snapping turtle, a species exotic to Taiwan, is held up at Bajia Fish Farm in Ilan County yesterday.


PHOTO: YU MING-CHIN, TAIPEI TIMES
¡@
---
¡@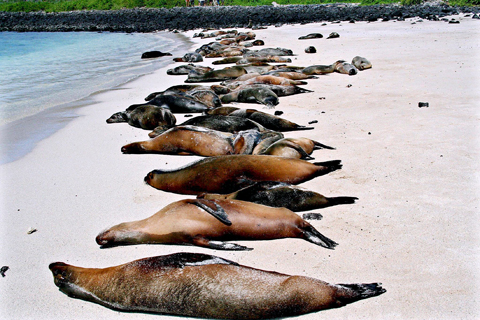 SUNNING SEALS
Seals are pictured resting on a beach on Santafe Island, Ecuador, in this picture released on Tuesday. A year after UNESCO declared the Galapagos Islands an endangered World Heritage Site, the Charles Darwin Foundation said ¡¥¡¥there¡¦s still time¡¦¡¦ to introduce a sustainable model of conservation and development in the archipelago.


PHOTO: EPA
¡@
---
¡@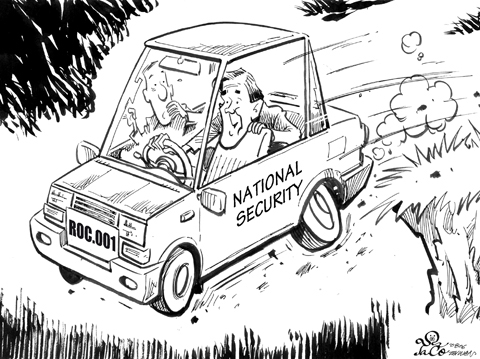 ¡@
---
Don¡¦t be a blue executioner

I think former Ministry of Education secretary-general Chuang Kuo-rong (²ø°êºa) should be given a chance to make up for what he said or did if his behavior made some people feel uncomfortable (¡§Chuang vows to hold hunger strike,¡¨ June 22, page 1). Although the words that he used were considered ¡§vulgar¡¨ or ¡§tasteless,¡¨ it was more of an issue of linguistic appropriateness rather than whether it was appropriate for a teacher of law to have said it. If he were a teacher of Chinese literature, we might worry about his grasp of the language.

I do believe Chuang has a problem with controlling his mouth. And if that had been a problem when he was teaching, then he should consider leaving his teaching post. But if he never had that problem, what reason does National Chengchi University (NCCU) have to not renew his contract? I think NCCU is not being fair if it fires a teacher for being passionate about his country, as many pan-greens claim. Yes, his choice of words was politically inappropriate. Yet I agree with what he said about how ¡§low¡¨ level it was to say ¡§execute [former president] Chen Shui-bian.¡¨ I would like to know who said that and was that person a teacher and was he or she ever punished for saying that?

My advice to NCCU is that students care more about their teachers¡¦ academic qualifications. You will make students and parents resent you for your political bias and for acting as the executioner for the party in power.

SUSAN SU
TAOYUAN
¡@