Tainan urges Falun Gong to leave site
 
TAKING ACTION: According to city officials, Falun Gong members have gathered in front of Fort Provincia for a long time, which has damaged the city's tourism industry

STAFF WRITER, WITH CNA
Wednesday, Jun 25, 2008, Page 1

The Tainan City Government has decided to persuade Falun Gong protesters to leave a historic site where they have maintained a constant presence to highlight their cause.

City government officials yesterday said the decision was reached after a meeting on Monday. If their efforts to communicate with the protesters fail, they will consider further steps, the officials said.

The city was particularly concerned about the possibility of a repeat of an incident on June 21 as the city gears up to welcome the expected influx of Chinese tourists next month.

On that day, a delegation of Chinese travel representatives visited the historic Fort Provincia in Tainan City. The fort was built in 1653.

Fearing that Chinese visitors would clash with the Falun Gong protesters gathered at the fort, the city government reportedly moved the protesters to another spot before arranging for the representatives to enter the fort via a side door.

In view of the city government's handling of the Falun Gong devotees, some Democratic Progressive Party (DPP) city councilors yesterday expressed concern about the matter, calling on the city government not to remove or use any forceful action against the group.

Tainan Mayor Hsu Tain-tsair (許添財) has previously stated his support for freedom of speech. The city government's cultural and tourism bureau yesterday said that the city government has long respected the religious thought and freedom of Falun Gong and would not use force against the group.

According to city officials, Falun Gong devotees have gathered in front of the fort for a long time, which officials believe has put tremendous pressure on the city's tourism.

Bureau chief Hsu Keng-hsiu (許耿修) said that Falun Gong devotees have long maintained a presence in front of Fort Provincia and on the sidewalk of the 300-year-old Sacrificial Martial Temple nearby.

They also post signs, which he said violate traffic regulations restricting the posting of advertisements.

The city government will first "try to persuade them to leave," and will "refrain from forcing them to disperse for the time being," he said.

As for the protesters at Anping Fort, a fort in suburban Tainan built by the Dutch in 1624, Hsu said they have rented a pavilion in front of the fort, and are not breaking the law or city regulations.

The city government will not "take any action there."

China in 1999 outlawed Falun Gong, a spiritual practice invented by Li Hongzhi (李洪志). Li has said that Falun Gong is simply a popular qigong activity that does not have any particular organization, let alone any political objectives.

Falun Gong protesters have since gained the spotlight in many countries protesting against what they say is Beijing's practice of torturing the movement's practitioners.
---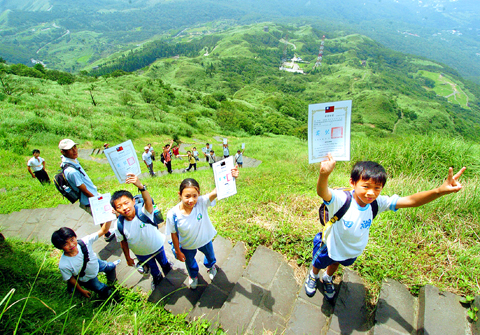 REACHING NEW HEIGHTS
Students at Taipei City's Hutian Elementary School hold up their graduation certificates while descending Taipei's Qixing Mountain yesterday. For the school's graduation ceremony, teachers took students up the mountain to award them their graduation certificates.


PHOTO: FANG PIN-CHAO, TAIPEI TIMES
---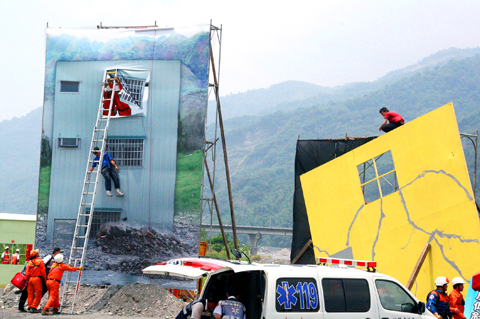 JUST FOR SHOW
Medical staff demonstrate evacuation procedures in Nantou County yesterday. The Soil and Water Conservation Bureau and the Nantou County Government organized the demonstration of evacuation and escape procedures beside the Choshui River. Rescue workers used ropes to save people trapped in a mock three-story building damaged by a landslide.


PHOTO: CNA
---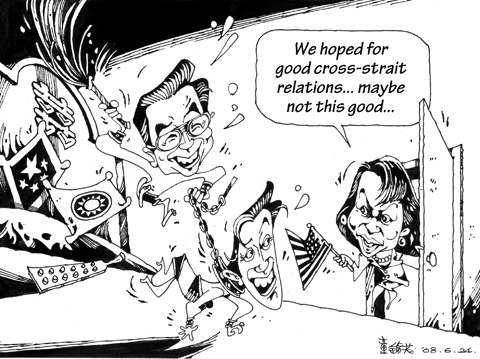 ---
The upshot of foolishness

Wednesday, Jun 25, 2008, Page 8

Taiwan has had more than its fair share of deplorable behavior on the part of political figures and civil servants. This has included adolescent displays of aggression in the legislature, rumor-mongering and vulgar personal attacks — all of which show a disregard for democracy.

Former Ministry of Education secretary-general Chuang Kuo-rong (莊國榮), however, seems to find it difficult to behave otherwise.

After the disgraceful end to his position at the ministry in March, Chuang returned to teaching at National Chengchi University (NCCU). But last week, when Chuang's contract came up for review, the school declined to renew it.

At a press conference on Saturday, Chuang accused the university of violating his right to employment and implied that the move was a politically motivated retaliation for his verbal attacks on President Ma Ying-jeou (馬英九) during his campaign in December and March. He offered a mocking apology to "emperor" Ma for daring to "criticize" him in a democratic country and said that some presidents were clearly "semi-deities."

Chuang said the university had violated procedural rules when it did not renew his contract, an allegation that deserves to be probed. With news emerging last week that outgoing representative to the US Joseph Wu (吳釗燮) had also lost his contract at NCCU, there is in fact reason for concern that the university is not maintaining political neutrality.

The university, however, did cite legitimate concerns in its decision not to re-employ Chuang. NCCU said Chuang had made discriminatory comments, making him unfit for employment at the university.

A university has a responsibility to uphold neutrality and tolerance. Any public profession of discrimination based on race, gender, sexuality, ethnicity or other factors is legitimate grounds to doubt a teacher's suitability.

In December, Chuang attacked Ma and Taipei Mayor Hau Lung-bin (郝龍斌) by implying they were homosexual and calling them effeminate.

Then, at a campaign rally for Democratic Progressive Party presidential candidate Frank Hsieh (謝長廷) one week before the election in March, Chuang made a salacious comment about the sex life of Ma's late father, Ma Ho-ling (馬鶴凌). His comments provoked a storm of criticism and within hours he resigned from the ministry.

Both incidents showed a lack of prudence that, while alarming, would not be grounds for dismissal from NCCU. But Chuang's comments in December also revealed a taste for bigotry — and that is of concern to a university.

The inappropriateness of his comments, however, still seems lost on Chuang, who at his press conference showed he had learned nothing from the incident.

Calling a political figure homosexual and his father licentious does not constitute "criticism," as Chuang euphemistically called it at his press conference over the weekend, but an undignified personal attack that rightly ended his service at the ministry.

Unfortunately, similarly reprehensible behavior by other officials and politicians has in many cases not prompted similar results. National Security Council Secretary-General Su Chi (蘇起), who has fabricated attacks on people and invented history over the years, is just one example. His party's response, far from castigation, was to reward Su with a top position in Ma's administration.

But political parties do not alone bear the responsibility for the behavior of their members. The public has the task of shunning unfit candidates, and can do so both in local and national polls. If Taiwan is to see an improvement in its politicians and officials, the public will have to demand it.