Ma proposes visa rights for Chinese
 
PEACE SQUARE: Under the president's plan, tourists from China entering Taiwan via Kinmen or Matsu would be granted visas on arrival or multiple-entry visas
 
By Mo Yan-Chih
STAFF REPORTER
Monday, Aug 25, 2008, Page 3
"After we open direct air and sea links, Kinmen and Xiamen will be doors of reconciliation, doors of peace and doors of cooperation across the Taiwan Strait."— President Ma Ying-jeou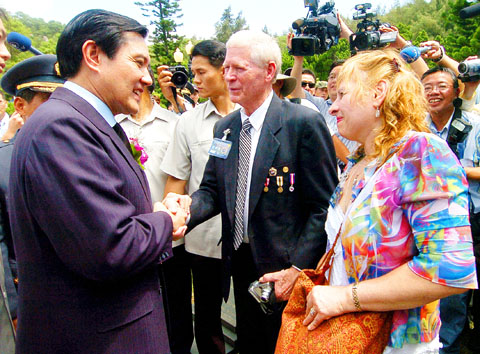 President Ma Ying-jeou shakes hands with a retired US soldier who assisted in the defense of Kinmen during the 823 Artillery Bombardment, which started on Aug. 23, 1958, at an event marking the 50th anniversary of the battle yesterday.


PHOTO: WANG MIN-WEI, TAIPEI TIMES
President Ma Ying-jeou (馬英九) promised yesterday to grant visa-on-arrival or multiple-entry-visa rights to Chinese tourists visiting Kinmen and Matsu, while vowing to turn Kinmen into a "peace square" across the Taiwan Strait in commemoration of the Aug. 23 Artillery Bombardment 50 years ago.

The government opened the small three links between Kinmen, Matsu and cities in China in 2000. Ma's administration expects to attract more Chinese tourists in Taiwan and boost the local economy in the two areas by relaxing the visa application process.

The president, who visited Kinmen yesterday to commemorate the 50th anniversary of the 823 Artillery Bombardment, also promised to complete an evaluation report by the end of this year on the construction of a bridge connecting Kinmen and China's Xiamen, an idea proposed by local politicians in Kinmen seeking to revive the economy.

"After we open direct air and sea links, Kinmen and Xiamen will be doors of reconciliation, doors of peace and doors of cooperation across the Taiwan Strait," Ma said, addressing the 823 Artillery Bombardment commemoration ceremony yesterday.

The 823 Artillery Bombardment refers to a months-long battle initiated by China in 1958, in which China fired as many as 57,500 shells on Kinmen within the opening two-hour period of what became months of intense shelling of the island.

A total of 456 soldiers were killed and 1,972 injured during the exchanges and the shelling claimed 162 civilian lives and wounded 638.

Speaking to veterans and their family members at the ceremony, Ma defended his administration's efforts to strengthen cross-strait exchanges and said the two sides of the Taiwan Strait should learn from the past and join efforts to build a peaceful future.

"We should try our best to turn Kinmen from a cross-strait killing field into a peace square in the 21st century," Ma said. "The two sides of the Taiwan Strait have wasted the past half century because of continuous confrontation. Can we afford to waste more time and not take the opportunity to push for peaceful cross-strait relations?"

Ma reiterated his promise of maintaining the national defense budget at no less than 3 percent of GDP to maintain the country's national defense force, while stressing the importance of developing a peaceful cross-strait relationship in the future.

The president further thanked a group of veterans from the US, who had joined the war to help Taiwan in its fight against China under the US-ROC defense treaty, and pledged to continue pushing for better US-Taiwan relations.

In response to Ma's comments, Democratic Progressive Party (DPP) legislators yesterday criticized the proposal to grant Chinese tourists visas on arrival or multiple entry visas when visiting Kinmen and Matsu.

The legislators aired concerns that the proposals would jeopardize national security and asked the government to abandon them.

"The visa proposal is tantamount to opening the country up to China," DPP Legislator Huang Wei-cher (黃偉哲) said.

He said most foreign countries have strict standards when dealing with Chinese travel documents, while some even refuse to allow Chinese from certain provinces to enter their countries. Taiwan should not allow Chinese to enter Kinmen and Matsu without setting any conditions.

DPP Legislator Chai Trong-rong (蔡同榮) said it was unthinkable that while the US and other countries do not grant Chinese visas on arrival, Taiwan would decide to offer its rival such treatment.

He said the measure would endanger Taiwan's security because more and more Chinese would enter the country using such an easy route and become illegal immigrants or work for Chinese intelligence services.
---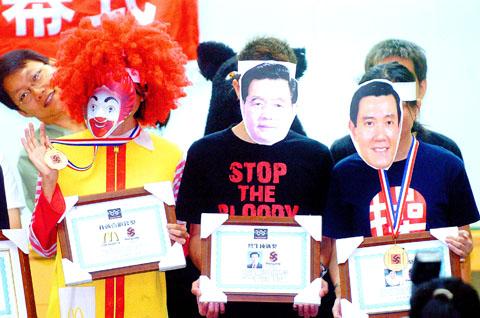 Activists portraying, right to left, President Ma Ying-jeou, Chinese President Hu Jintao and Ronald McDonald hold up their gold medals and certificates after being named winners for human rights abuses at a mock Olympic closing ceremony in Taipei yesterday.


PHOTO: GEORGE TSORNG, TAIPEI TIMES
---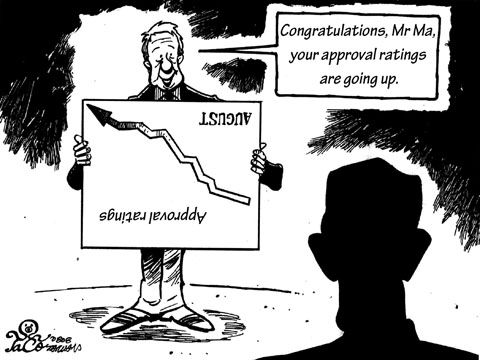 ---
The hollow pride of Beijing

Monday, Aug 25, 2008, Page 8

The Beijing Olympics came to a close yesterday with a ceremony almost as majestic and impressive as the opening ceremony. The Summer Games offered a carefully crafted stage for showing off China's rise to a great power, and through the magnificent sports arenas, the resplendence of the opening and closing ceremonies and the unsurpassed number of gold medals won, China has told the world that it has arrived.

That is all good and well, but the slogan "One world, one dream" would more appropriately read as "One world, different dreams," for the touchstone for full membership in the international community is the ability to rise to the standards of a civilized, developed state.

Despite the brilliance of the opening ceremony, the Olympics showed that Chinese nationalism is of overriding importance. Beijing invested an unprecedented US$42 billion in the Olympics. To gain face for the nation, thousands of households were forced to move and tens of thousands of performers prepared for the opening and closing ceremonies without consideration of time, effort or money. To clear Beijing's polluted skies, factories were closed and millions of cars were forced off the roads. Seven-year-old Yang Peiyi (楊沛宜) was sacrificed because she wasn't considered by some to represent the face of China. A prettier Lin Miaoke (林妙可) lip-synched Yang's voice, while Han children represented China's minorities in a faux show of ethnic harmony.

Respect for the individual was sacrificed on the altar of nationalism.

When vying to host the Olympics, Beijing promised to respect freedom of the press during the Games, but Reporters Without Borders said the Beijing Olympics were a travesty of freedom of expression. Many human rights activists and supporters of Tibet as well as some foreign reporters had their movements restricted. Forty-seven Tibet activists were arrested during the Games. At least 50 human-rights activists were put under house arrest and at least 15 Chinese were arrested for applying for permission to organize demonstrations.

Beijing's promise to allow the freedom to conduct interviews and demonstrations now sounds like a bad joke.

The Dalai Lama told Le Monde that a peaceful demonstration by Tibetans had been violently suppressed. Although it is difficult for the outside world to verify the unrest in Tibet, China's ongoing suppression of that region and Xinjiang is a fact.

China used the Olympics to present itself as a great power, but a wide gulf remains between Beijing's Olympic display and international standards of propriety. Human rights in China fall far short of the international community's norms. China's lack of respect for weaker states and its own citizenry proves that everything else comes second to nationalism.

China may have put on a brilliant performance in the Olympic arena, but when it comes to basic welfare, education, employment, standards of living, not to mention freedom, democracy and human rights, it remains unprepared to join the ranks of modern states.