Chen, Huang questioned upon return
 
'ABSOLUTELY ILLEGAL': Some KMT members criticized the Special Investigations Panel for failing to pick the couple up at the airport and immediately question them
 
By Jimmy Chuang And Ko Shu-Ling
STAFF REPORTERS
Tuesday, Aug 26, 2008, Page 1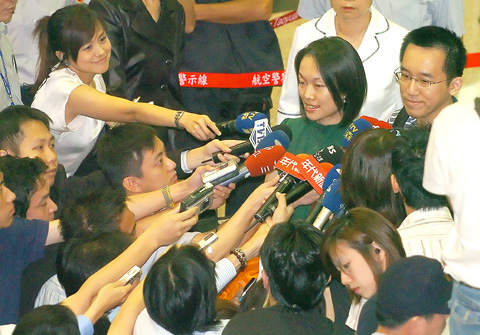 Former president Chen Shui-bian's son, Chen Chih-chung, right, and daughter-in-law, Huang Jui-ching, are surrounded by reporters as they arrive at Taiwan Taoyuan International Airport yesterday morning.


PHOTO: WANG MIN-WEI, TAIPEI TIMES
Former president Chen Shui-bian's (陳水扁) son and daughter-in-law returned from the US yesterday morning for questioning by prosecutors investigating the alleged money laundering by the former president and his wife.

Both have been named defendants in the investigation.

Chen Chih-chung (陳致中) and his wife, Huang Jui-ching (黃睿靚), who arrived in Taiwan at about 5:30am, told reporters at Taiwan Taoyuan International Airport their role in the case was clear.

"We are merely figureheads," Huang told reporters. "I signed the papers, but I had no idea what they were. I did not ask my mother-in-law. I just did what she told me."

Huang said she did not know there was so much money in her overseas account until she read the newspapers.

The couple complained that prosecutors had named them defendants before they could talk to them.

Chen Chih-chung and Huang reported to the Supreme Prosecutors' Office's Special Investigation Panel office at 4pm for questioning after prosecutors, possibly in response to pressure from a number of Chinese Nationalist Party (KMT) legislators, brought forward their questioning, which had been scheduled for Friday.

The couple left the prosecutors' office at about 6:30pm, but declined to make any comment to reporters who had gathered outside.

Prosecutor Chu Chao-liang (朱朝亮) held a brief press conference later, saying the summons had been made yesterday morning and was delivered at noon. The couple reported to the office on time. He said prosecutors had barred the couple from leaving the country should they be needed for further questioning.

Lin Che-hui, a prosecutor, said that Chen Chih-chung and Huang Jui-ching refused to sign an authorization allowing prosecutors to look into Huang's back accounts in Switzerland.

According to Lin, Chen Chih-chung said he "had difficulty" in signing the authorization letter.

KMT legislators Chiu Yi (邱毅) and Lu Hsueh-chang (呂學樟) had earlier expressed dissatisfaction at the Special Investigation Panel's decision not to take the couple for questioning directly from the airport.

Lu, a member of the legislature's Judiciary Committee, said Chen Chih-chung and his wife should be considered "culprits" in Chen Shui-bian's alleged money-laundering activities, regardless of how much distance they tried to create between themselves and the former president.

Chiu, meanwhile, requested that the Control Yuan launch an investigation into the Special Investigation Unit's decision not to question the couple immediately upon their arrival.

Chiu sent a letter of complaint to the Control Yuan, in which the Special Investigation Unit was accused of dereliction of duty and lack of professionalism.

Chiu said that as a result of the delay, the couple had had enough time to communicate with their family members and ensure that their versions of the story coincided.

"They were both listed as defendants and the case has drawn a lot of attention both domestically and overseas. Prosecutors should work against the clock," Chiu said.

Chiu said prosecutors had acted unfairly by questioning Taitung County Commissioner Kuang Li-chen (鄺麗貞) over her alleged abuse of public funds for overseas trips immediately after her arrival in the country while failing to do so in Chen Chih-chung's case.

Asked for comment, KMT caucus deputy secretary-general Chang Hsien-yao (張顯耀) said Chen Chih-chung and Huang had failed to account for the origin of the money wired by the Chen family abroad.

Chang urged the Ministry of Justice's Investigation Bureau to intervene in the investigation.



In response to Chiu's complaint that prosecutors did not meet the couple at the airport, Chu said doing so was unnecessary.

"If they had wanted to exchange information with other defendants about the case, they could have done so already," Chu said.

Chu said the couple had failed to provide clear explanations as to why they possessed so much money in their accounts and admitted that they had opened accounts for former first lady Wu Shu-jen (吳淑珍).

Offering "dummy" accounts to a third party, Chu said, is illegal.

Chen Shui-bian apologized on Aug. 14 for failing to fully declare his campaign funds and for wiring a large sum overseas, while denying he had embezzled money from the government or had been involved in money laundering.

He said his wife had been in charge of the couple's finances and that he knew nothing about the transfers. Chen's office later said that more than US$20 million had been sent abroad.

Prosecutors have said they believe Wu used figureheads, including her husband, brother, son, daughter-in-law, daughter and son-in-law, to wire money overseas.

Soon after being named defendants in the case, Chen Chih-chung and Huang's whereabouts became unknown.

Huang sent her mother and baby girl back to Taiwan on Aug. 17, saying this had been meant to "send a message" to Taiwanese that they would return and that it would be "strange" if they did not come home, as they were wanted by police.

Saying he would fully cooperate with the authorities, Chen Chih-chung said he and his father had little say in family finances and that he and his wife had simply done what his mother asked them. He said he and his wife knew nothing about the source of the money and maintained that his parents were innocent.

He dismissed speculation that he and his wife had applied for US green cards and that he went abroad 25 times over the past six years to take care of business, including school applications, interviews, car rental and apartment rental.

"There is no travel ban imposed on me, so why can I not travel abroad?" he asked.

Chen Chih-chung had planned to pursue a doctorate in law at the University of Virginia this fall. However, the university said that as he failed to show up for orientation, he had forfeited his place in the program.

The school said that although Chen Chih-chung had paid his tuition, he did not complete the enrollment process and as a result was not issued a student ID card.

Chen Chih-chung, however, showed his student ID to the media yesterday and expressed regret over the school's rejection of his request to keep his application active.

While he respected the school's decision, he said he was "shocked" and "sorry" to see the school's change of attitude. He declined to comment on whether this may have been the result of politics, saying that it was beyond his power to speculate.
---
Russia moves to recognize Georgian separatist regions

AGENCIES, MOSCOW AND SOCHI, RUSSIA
Tuesday, Aug 26, 2008, Page 1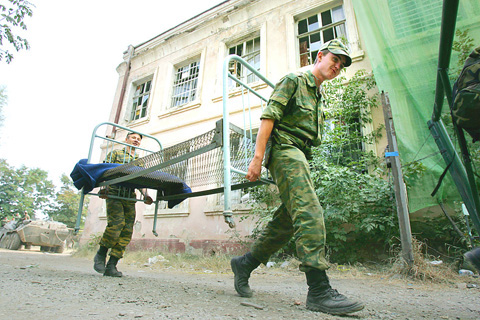 Russian troops partrol in Tskhinvali, South Ossetia, yesterday, as Russian lawmakers voted to recognize the independence of South Ossetia and Abkhazia.


PHOTO: AFP
The Russian parliament voted overwhelmingly yesterday to recognize the independence of two breakaway Georgian regions, while Russian President Dmitry Medvedev linked the Georgia conflict to tensions over another separatist region.

The EU, which has criticized Russia's military intervention, called a special summit on the Georgia crisis. Many European countries expressed concern at the Russian parliament vote to recognize South Ossetia and Abkhazia as independent.

With Russian troops still inside Georgia and tensions heightened by the arrival in a Georgian port of a US warship carrying aid, Russia's two parliamentary chambers approved a resolution calling on Medvedev formally to recognize the two regions.

The Duma and Federation Council held special sessions to debate the region's calls for recognition.

The two regions are internationally recognized as part of Georgia, where Russian troops rolled in on Aug. 8 to fight off a Georgian offensive to retake South Ossetia.

Addressing the Federation Council, South Ossetian leader Eduard Kokoity said Russia had saved his region from "genocide."

He said there was more political and legal legitimacy to recognizing South Ossetia's independence than there had been for Kosovo, the Serbian province that broke free with EU and US backing.

The Abkhaz separatist leader, Sergei Bagapsh, said: "Neither Abkhazia nor South Ossetia will ever again live in one state with Georgia."

The parliament appeal was not binding and a final decision on Russian recognition rests with Medvedev.

Medvedev also warned Moldova yesterday against repeating Georgia's mistake of trying to use force to seize back control of a breakaway region.

Russia sent peacekeepers to Moldova in the early 1990s to end a conflict between Chisinau and its breakaway Transdniestria region and is trying to mediate a deal between the two sides.

Transdniestria, one of a number of "frozen conflicts" in the territory of the former Soviet Union, mirrored the standoff in South Ossetia and Abkhazia.

"After the Georgian leadership lost their marbles, as they say, all the problems got worse and a military conflict erupted," Medvedev told Moldovan President Vladimir Voronin at his Black Sea residence in Sochi.

"This is a serious warning, a warning to all," he said. "And I believe we should handle other existing conflicts in this context."

Medvedev, keen to limit diplomatic damage caused by the Russian operation in Georgia, made clear Moldova had no reason to worry for now.

Also yesterday, Medvedev said he was considering a number of options in ties with NATO including halting relations with the military alliance.

"We are ready to take any decision, up to halting relations altogether," Medvedev said in Sochi during a meeting with Russia's envoy to NATO Dmitry Rogozin.

Moscow also signaled yesterday that it could break off some trade agreements concluded as part of negotiations to join the WTO.

"Russia intends to inform various WTO partners of its withdrawal from accords that contradict its interests," reports quoted First Deputy Prime Minister Igor Shuvalov as saying at a "presidium" of top ministers.
---
Ma rating plunges to 36.9 percent, DPP survey shows
 
WAITING GAME: KMT Legislator Lai Shyh-bao said that he believed the government's approval rating would improve given time to carry out its policies

By Rich Chang
STAFF REPORTER
Tuesday, Aug 26, 2008, Page 3

A Democratic Progressive Party (DPP) survey conducted on the eve of President Ma Ying-jeou's (馬英九) 100th day in office found that his approval rating has plummeted to 36.9 percent, with his disapproval rating standing at 57 percent.

"The poll results indicate that allegations of money-laundering against former president Chen Shiu-bian (陳水扁) did not improve Ma's approval rating, meaning that the public considers them separate issues," the party's Department of Culture and Information Director Cheng Wen-tsang (鄭文燦) told a press conference yesterday.

Cheng said Premier Liu Chao-shiuan (劉兆玄) received an approval rating of 33.2 percent and a disapproval rating of 56.5 percent in the survey.

Cheng said that Liu's low satisfaction rating was in accordance with the Cabinet's poor performance, particularly in the economic sphere.

The poll was conducted by the DPP last week with 1,348 valid samples, Cheng said.

A government poll released last Tuesday put the president's approval rating for his performance over the past three months at 47 percent.

The poll, conducted by the Cabinet's Research, Development and Evaluation Commission, found that 36.3 percent of respondents were displeased with Ma's performance.

Liu received an approval rating of 41.9 percent and a disapproval rating of 37.9 percent for the same period in that survey.

Cheng said the results of the government's poll were at odds with the DPP's as well as those conducted by media groups and academic institutions.

He said the government used its survey to cover up the fact that the nation is facing serious economic problems.

While the government claimed that it was doing a better job than three months ago, the public did not agree with it, Cheng said.

When approached for comment, Chinese Nationalist Party (KMT) Legislator Lai Shyh-bao (賴士葆) defended the government, saying that it was only focusing on laying foundations for the nation's development.

Lai gave the administration credit for its "hard work," adding that he believed the government's approval rating would improve gradually if the administration were given more time to carry out policies that require long-term planning.

KMT Legislator Shyu Jong-shyoung (徐中雄) said the KMT government was forced to "clean up the mess left behind by the former DPP administration," adding that the survey result only reflected the public's general dissatisfaction with their living standard, not their discontent with the KMT administration's achievements.

Shyu said it would be more reasonable to poll the public a year after the KMT administration assumed office, as it takes time for certain policies to yield results.
---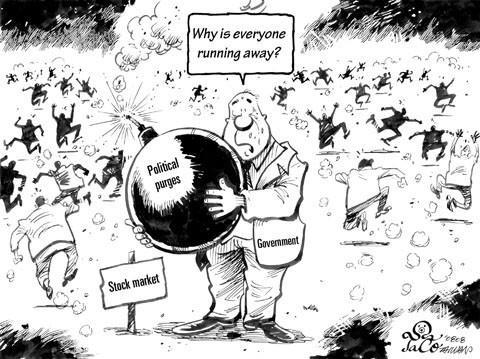 ---
Struggling on in times of hardship
 
By Peng Ming-Min 彭明敏
Tuesday, Aug 26, 2008, Page 8

A friend who I have not been in touch with for more than 20 years and who has never been very interested in politics recently called me in the middle of the night to ask, "What should we do?" I have no doubt that this was the first reaction of the majority of Taiwanese — not Chinese — on hearing former president Chen Shui-bian's (陳水扁) admission of financial irregularities.

The legal implications of his actions may still be unclear, but purely from a moral perspective this came as a bolt from clear skies. This is a massive blow that is difficult to accept mentally, spiritually or emotionally and it most likely will have a huge impact on morale.

We have all fallen into an abyss of disillusion, despair, helplessness, frustration, depression and shame. While some cannot control their emotions, most people swallow their tears and ask: "What should we do?" This has reminded me of some events that I have personally experienced.

On Dec. 7, 1941, the Japanese navy and air force staged a surprise attack on the US at Pearl Harbor in Hawaii, destroying a great number of US vessels and causing severe damage to the US Navy.

Astonished by Japan's raid, Americans could only ask: "What should we do?"

The following day then-US president Franklin Delano Roosevelt called the day "a date which will live in infamy" and urged the public to unite for a prolonged, toilsome war. After several years of hard-fought battles, the US finally defeated Japan.

In 1944, I was strafed by machine gun fire from US military aircraft in Nagasaki, Japan. When I regained consciousness and realized I had lost my left arm, I thought to myself: "What should I do?"

After a prolonged physical and psychological struggle, I kept going and did what I had to do.

On Aug. 15 the next year, in a store in Nagasaki, I heard the Japanese emperor speak on the radio, saying that Japan had no choice but to accept the unacceptable and surrender unconditionally.

Japan lost millions of people in that long war and the entire country was scorched by incessant Allied bombing, followed by the atomic bombs in Hiroshima and Nagasaki. Despite this, the arrogant Japanese could not imagine even in their wildest dreams that the emperor would surrender, and everybody asked: "What should we do?" before falling into an abyss of despair and helplessness.

With their "sacred" national territory occupied by the Allies, the Japanese could not but choke down the humiliation and strive on, and eventually they established a liberal democracy and a mighty economy.

In the same year, Nazi Germany collapsed and Adolf Hitler committed suicide. The entire country was bombed into ruin and trampled by the Allies. Starvation and poverty in the country forced the Germans to ask: "What should we do?" However, the unyielding Germans struggled on and finally reemerged.

Although Chen's actions are sad and infuriating, from a historical perspective it is just an episode in Taiwan's struggle for democracy and human rights — don't forget how many people have lost their lives or their property, families and freedom for these ideals.

Despite its disappointment, I believe the public will learn a lesson and understand that we must never relax in our pursuit of ideals.

We need not react emotionally to the ridicule from those who do not identify with Taiwan, nor should we lash out at them, saying "you deceived the Taiwanese for half a century about being anti-communist and recovering the mainland, doing great harm both to the country and the public," or "you killed innumerable people and took not a few hundred million, but hundreds of billions of NT dollars, so you have no right to accuse others," or "you sold out Taiwan and its people."

We should keep such thoughts to ourselves.

If one wants to find out if the people of a country have moral integrity or a future, one does not look to whether the national leaders are immoral or not. This happens in many countries, such as Israel, where former president Moshe Katsav was indicted for rape and sexual harassment and Prime Minister Ehud Olmert is facing allegations of bribery. Rather, one should look to whether the people have the courage to accept humiliation, swallow their tears and struggle toward their ideals in times of hardship.

Peng Ming-min is a former senior presidential adviser and the chairman of the Peng Ming-min Foundation.
---
Wipe off that blood and stand up again
 
By Cao Changqing 曹長青
Tuesday, Aug 26, 2008, Page 8

The scandal surrounding the former first family's remittances of huge sums of money has shocked the public, the pan-green camp in particular. Although the affair has yet to be tried in court, secretly remitting US$20 million overseas is itself a serious problem. Even former president Chen Shui-bian (陳水扁) confessed that he did something "not permitted by law." Undoubtedly, this is a major blow for the Democratic Progressive Party (DPP) and the pan-green camp.

The scandal has destroyed the nation's democratic image. It has become yet another tool for China when attacking Taiwan's democracy, as state media gloat over such misfortune, calling Taiwan-style democracy a failure and saying that the Chinese Communist Party's one-party dictatorship is the only way to go.

This is also a major blow to the struggle of Taiwanese for the normalization of Taiwan. Ever since former president Lee Teng-hui (李登輝) announced there was no longer a need to work for independence in 2006, Chinese media have made Chen their principal enemy and condemned his pro-independence line. As a result, most Chinese grind their teeth in anger when talking about him. The scandal is seen as confirmation of China's bias against Taiwanese independence.

Does this prove that the red-shirts' anti-Chen campaign was right and the pro-Chen campaign wrong? Not necessarily. The pro-Chen campaign was launched at that time to protect two principles.

First, Taiwan's democratic constitutional system, under which an elected president cannot be forced out by street demonstrations. When fighting dictatorial governments, street demonstrations, armed struggle and other means are justifiable, but it would be difficult to reverse the damage caused to democracy if an elected president were unseated this way.

Second, the path toward becoming a normal country, which was the goal of Chen's government. The pan-blue camp is not only opposed to Chen but also to the normalization of Taiwan. Dancing to the pan-blue camp's tune would be tantamount to blocking progress toward this goal.

It seems that money has a more corrupting effect in Asian democracies than in other regions. After 50 years of democracy, Japan is still haunted by money politics. Several South Korean presidents have been involved in corruption cases. Taiwan may have gone through a power transfer in 2000, but the "black gold" politics of the Chinese Nationalist Party (KMT) government has lived on. Working in such a political environment is a bit like walking into a brothel: People will laugh at you if you claim to have done nothing.

Chen's case still has to be tried. The KMT, meanwhile, has not returned its stolen party assets. The difference between the corruption of DPP officials and that of the KMT is like that between someone guilty of sexual harassment and someone guilty of rape.

Sexual harassment is indeed a serious crime. But the problem arises when those guilty of rape go free while the one guilty of sexual harassment goes to jail. Even more preposterous is that the rapists gang up on the one guilty of the lesser crime. This is where the tragedy of Taiwan lies.

But even so, there is no need for the pan-green camp to cry in grief and blame everyone else. Chen should be responsible for his own actions.

If the pan-green camp panics and chimes in on the pan-blue attacks, it will only prove that the pan-green camp lacks resilience. A heavy blow is cause for deep reflection.

Regardless of whether one is defeated by an enemy or by one's own making, it is the one who can wipe off the blood and stand up again who is the true hero.

Cao Changqing is a political commentator.