Ma's first 100 days under DPP scalpel
 
By Rich Chang and Shih Hsiu-Chuan
STAFF REPORTER
Wednesday, Aug 27, 2008, Page 3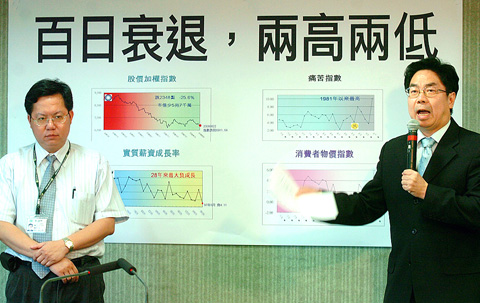 Director of the Democratic Progressive Party's Policy Research Committee Chuang Suo-hang, right, and Department of Culture and Information Director Cheng Wen-tsang show economic data at a press conference yesterday.


PHOTO: CHIEN JUNG-FONG, TAIPEI TIMES
The Democratic Progressive Party (DPP) said yesterday that on the eve of President Ma Ying-jeou's (馬英九) 100th day in office, Ma's contention that close economic exchanges with China would improve the domestic economy had been proven wrong.

Chuang Suo-hang (莊碩漢), director of the DPP's Policy Research Committee, told a press conference that while the former DPP government had managed to keep Consumer Price Index (CPI) growth at about 1 percent, the CPI had been out of control since Ma came to power, reaching 5.92 percent in June.

He said the Core Consumer Price Index had also gone up more than 10 percent during the same month.

Statistics show that more than 9,000 factory workers lost their jobs in June, meaning 9,000 families were suffering increased hardship, Chuang said.

Chuang said Ma had broken his campaign pledge to improve the economy if he was elected.

Ma believed that opening the country's economy to China would boost the economy, but his China-leaning policies have not only failed to profit the country, they have also created a crisis over sovereignty and national security, he said.

Department of Culture and Information Director Cheng Wen-tsang (鄭文燦) said "Ma's 100 days in office were not a golden 100 days, but a 100 days of recession."

He said the misery index had reached 9.98 in June, the highest figure since 1981, adding that while the government has attributed rising consumer prices to high oil prices, the CPI has not climbed down since oil prices dropped.

Cheng said the stock market had plummeted by 2,348 points over the three months, with total stock value dropping by NT$5.74 trillion (US$1.81 billion), adding that the index had lost as much as 25 percent of its value within three months.

He said that wage growth rate had also fallen to 4.1 percent, the lowest in 28 years.

As the general public has suffered much hardship during these three months, he said the DPP was calling on the population to stand up and protest the poor economic policies of the Ma administration during a demonstration on Saturday.

In related news, the Chinese Nationalist Party (KMT) said yesterday it would not hold any event to counter the rally on Saturday.

KMT Culture and Communication Committee head Lee Chien-rong (李建榮) said the party respected the people's right to assembly and that the appropriate procedures had been followed by the organizers.

As the governing party, Lee said the KMT would not make the same mistakes the DPP committed during its eight years in power by holding numerous rallies to disturb public order. The KMT will focus its efforts on improving the economy, rather than gathering supporters to confront the DPP and its supporters.

At a separate setting yesterday, Development and Evaluation Commission Minister Jiang Yi-huah (江宜樺) told reporters that the Government Information Office would make public a report today on the Ma administration's performance to mark its first 100 days in office.

Jiang said the report would include policies implemented by the government and its vision for the country's future.

In line with the government's energy-saving campaign, the report will only be released online.

Meanwhile, Jiang said speeding up a draft statute aimed at streamlining the executive branch of the government was high on the government's list of priorities for the latter half of this year.

Jiang said his commission would make an amendment to the Executive Yuan Organization Statute (行政院組織法), which would cut the number of agencies under the Executive Yuan from 36 to 26.
---
PRC must accept Taiwan's peace offer, or else: Ma

TRUCE:: In an interview with the 'Global Views' magazine, the president painted a rosy portrait of what could happen if his 'olive branch' were accepted
 
By Ko Shu-ling
STAFF REPORTER
Wednesday, Aug 27, 2008, Page 3

President Ma Ying-jeou (馬英九) said yesterday that Taipei would immediately engage in a "diplomatic war" with Beijing if his proposed "diplomatic truce" with China did not receive a positive response.

Through a "diplomatic truce" with Beijing, Ma said, both sides would no longer have to engage in malicious competition over diplomatic allies and Taiwan could drop its reputation as a state that engages in "checkbook diplomacy."

"Some have criticized the proposal as wishful thinking, but it is not," he told the Chinese-language Global Views magazine in an interview on Thursday.

The interview will be published in next month's issue, which hits the shelves on Monday.

In the interview, Ma did not elaborate on what he would consider to be a "positive response" from Beijing, nor did he say what "diplomatic war" would imply.

AID

Ma said foreign aid was necessary, but added that it should not be used to secure diplomatic ties and should be limited to helping emerging states and the international community.

While the UN has recommended countries set aside 0.7 percent of their GDP for foreign aid, Ma said there was room for growth as Taiwan's foreign aid represented only 0.15 percent of its GDP.

Hailing his just-concluded trip to Latin America and the Caribbean as a success, Ma said he did not talk money with leaders of the country's six diplomatic allies and eight leaders of non-allied countries during the visit.

Ma also proposed to allow Chinese students to study in Taiwan, which in his view would increase competitiveness in schools, help cross-strait reconciliation and resolve the problem of insufficient student numbers.

"Twenty years from now, we might have a Tsing Hua University graduate head China's Taiwan Affairs Office and the head of Taiwan's Mainland Affairs Council from Beijing's Tsinghua University. I don't see anything wrong with that," he said.

"How do you expect both sides to engage in a war if they are leaders of our government?" Ma said.

Ma said he believed there was trust on both sides of the Taiwan Strait, as highlighted by the fact that against all expectations, weekend charter flight services began soon after he took office in May.

He said, however, that it would take some time before dramatic changes in the cross-strait situation became apparent.

TOURISTS

Regarding the low numbers of Chinese tourists visiting Taiwan, Ma said this did not worry him and that his understanding was that Beijing had been preoccupied with the Olympics and consequently had not had the time to focus on the matter.

Nor would the economy improve overnight, he said, adding he was confident his administration would overcome the difficulties and that Taiwanese should "just follow me."

In Taipei yesterday, Vice President Vincent Siew (蕭萬長) said the "diplomatic truce" with Beijing would not only bring peace in the Taiwan Strait but would also help stabilize the global community and expedite investment in Taiwan.

The purpose of the proposal was to rebuild the country's international reputation from a "troublemaker" into that of a responsible stakeholder, he said, adding that the Ma administration would maintain friendly relations with all countries, especially Japan and the US.
---
Aung Sang Suu Kyi fails to pick up food
 
HUNGER STRIKE?: The National League for Democracy said their leader did not pick up a delivery on Monday, while an exile group said she has refused deliveries since Aug. 15

AP, YANGON, MYANMAR
Wednesday, Aug 27, 2008, Page 5

Myanmar's detained opposition leader Aung San Suu Kyi rejected food delivered to her home amid speculation that she has launched a hunger strike to protest the government's refusal to hold talks on democratic reforms.

Nyan Win, spokesman for the National League for Democracy (NLD), said yesterday he could not confirm whether the Nobel laureate was refusing to eat, but said bags of food delivered on Monday to a checkpoint outside her heavily guarded house were not picked up.

Aung Sang Suu Kyi has been under house arrest for 13 of the past 19 years and she relies on the NLD's food deliveries for survival. It remains unclear whether she has launched a hunger strike — since her supporters are barred from meeting her.

Nyo Ohn Myint, head of foreign affairs for the NLD (Liberated Area), which is based in Thailand, said the 63-year-old Aung Sang Suu Kyi has refused the food deliveries since Aug. 15 and would continue doing so until her demands are met.

But he could not say whether that constitutes a hunger strike, since his group has no direct contact with her.

Aung Sang Suu Kyi told the regime that she wants a resumption of talks with the government on national reconciliation, the installation of a satellite dish in her house and the freedom for her personal assistant, Khin Win, to leave whenever she wants.

It is unclear how she communicated her demands to the regime or passed messages to her party.

"If Daw Aung San Suu Kyi continues to refuse food from her comrades, her health will be of serious concern," the NLD (Liberated Area), said in a statement.

"Two people living with Daw Aung San Suu Kyi are also refusing food. The international community's immediate action is necessary," it said.

The news comes after Aung San Suu Kyi repeatedly canceled meetings with UN Special Envoy Ibrahim Gambari during his six-day visit to Myanmar that ended on Saturday. Since refusing to see Gambari, supporters have speculated that Aung San Suu Kyi has grown more frustrated with the UN's failure to bring about change in the military-ruled nation.

On Sunday, Nyan Win said Gambari had wasted his time in Myanmar.

He also criticized the envoy for failing to meet the country's leader, General Than Shwe, and for being unable to get any commitment from the junta to start talks with the opposition on national reconciliation.

Nyan Win also castigated Gambari for offering to help the junta prepare for planned 2010 elections.

The NLD has criticized the planned polls, which follow a constitutional referendum earlier this year that critics say was neither free nor fair.

The new Constitution guarantees 25 percent of parliamentary seats to the military, and allows the president to hand over all power to the military in a state of emergency.
---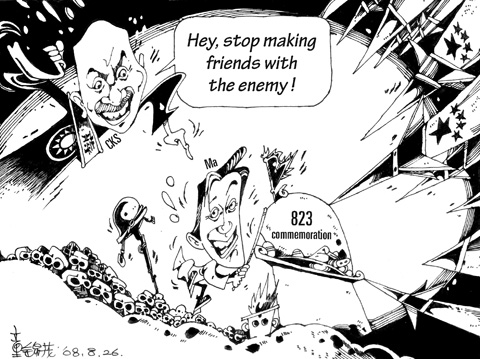 ---
An open letter to DPP supporters
 
By Tsai Ing-Wen 蔡英文
Wednesday, Aug 27, 2008, Page 8

There is a kind of sadness so painful it cannot be soothed, and a kind of disappointment so grave it cannot be overcome. I believe this is what Democratic Progressive Party (DPP) supporters are going through.

Since the evening of Aug. 15, when former president Chen Shui-bian (陳水扁) and his wife, Wu Shu-jen (吳淑珍), withdrew from the party, many people in Taiwan have turned off their cellphones and avoided going online or watching TV because they do not know how to react to this incident. The truth is so unbearable that it has almost completely eroded the trust of the party's supporters, who can only remain silent and hang their heads.

As a party, have we returned to square one? Have we been knocked down yet again?

Every time we struggle to pick ourselves up, we're hit with another powerful blow. As a DPP supporter, it seems that one must always worry about the party and relinquish one's right to happiness.

Past mistakes periodically return to haunt us at unexpected times. I know that many people would like to just turn around and leave, but the sad truth is, they do not know where to go. For a long time, the DPP has been the only choice in politics for these people, and yet the party has now made some unpardonable mistakes. All of a sudden, our supporters feel like they have fallen into the sea, unsupported and directionless.

Taiwan is in a diplomatic plight; not only is life tough for our citizens, but our national sovereignty is also being eroded. People are afraid that our beloved land can no longer uphold its dignity and beauty.

Unfortunately, at this crucial time, the DPP has once again disappointed them. To be honest, I do not know how to comfort them, but one thing I do want to say is that this is a democracy. Sometimes a democratic system can be ruthless: All the actions of the previous administration will be publicly scrutinized following the transition of power.

Through its mistakes, the DPP has demonstrated that Taiwan's democracy is gradually heading toward maturation and completion. To our supporters, this is indeed a painful process, but I must reiterate that this is democracy. No one in a democracy can enjoy privileges. When a president steps down from office, he too must assume responsibility for his mistakes.

I had extremely mixed feelings when Chen publicly admitted his mistakes and then withdrew from the party. He will have to face the judicial system, and I hope that he can set a good example for Taiwan's democracy during the investigations.

I also hope that the judiciary will respect his human rights by not violating the principle that "investigations shall not be public" and refraining from publicizing unverified information. This is an opportunity for the entire nation to learn about democracy and self-discipline, and everyone should remain calm and rational.

It cannot be denied that Chen put considerable effort into bringing the DPP to its height, by which we were all touched and even moved to tears. Now that he has left the party, Chen's legacy has become a part of the party's history and memory. I would like to call on all DPP supporters to unite closely and fearlessly at this time of crisis, and to face this collective history and memory together.

Politics cannot return to nothing and start afresh; it is continual. It is impossible to completely cut off and wipe away old ties. As DPP chairwoman, I have the responsibility to shoulder everything that the party has been through in the past eight years. I represent not only the current DPP, but also the past DPP.

I inherited the party's history without any reservation, and, like everyone, I too feel a lot of pain from the opened wounds. However, no matter how excruciating it is, this is the real DPP.

Only by recognizing this truth and taking on these challenges can we resurrect the party. Therefore, I will definitely not shun the responsibility, nor turn a blind eye to our past mistakes. Instead, I will contemplate these mistakes more attentively than anyone else.

I am aware of my responsibilities, and I will spare no effort in helping the party rise from its wretched plight.

Tsai Ing-wen is the chairwoman of the Democratic Progressive Party.
---
Give up the UN bid, it's hopeless
 
By Chang Ling-Chen 張麟徵
Wednesday, Aug 27, 2008, Page 8

'China will become more cautious if Ma talks about a diplomatic truce while stabbing China in the back. Any diplomatic truce or international participation can only rely on China's goodwill because Taiwan has no bargaining chips.'

Praising his concept of "diplomatic truce," President Ma Ying-jeou (馬英九) embarked on his first state visit on Aug. 12. On the 15th, while Ma was still overseas, the Ministry of Foreign Affairs announced that the country's 17 diplomatic allies had submitted a proposal to the UN Secretariat titled "Need to Examine the Fundamental Rights of the 23 Million People of the Republic of China [Taiwan] to Participate Meaningfully in the Activities of the United Nations Specialized Agencies," to be put on the provisional agenda of the 63rd session of the General Assembly as a supplementary item.

This move has undoubtedly challenged China.

Since the two referendums held in tandem with this year's presidential elections failed to pass, the ministry should not have pushed forward any bids to participate in the UN this year if Ma wanted to show respect for either the Referendum Law (公民投票法) or public opinion. The referendums would have let Ma off the hook. But shouldn't he care about the fate of the UN proposal?

Chinese President Hu Jintao (胡錦濤) sincerely responded to the aspirations of Taiwanese to participate in international organizations by appointing diplomat Wang Yi (王毅) as chairman of the Taiwan Affairs Office (TAO). However, this solution involves a number of political and legal factors, so both sides of the Taiwan Strait need time for political adjustment.

Last month, the TAO organized a symposium in Hangzhou, China, on the peaceful development of cross-strait relations. At the forum, Wang exchanged opinions with Taiwanese academics and proposed four ways of resolving cross-strait issues: working together, creating opportunities, consulting each other and gradually solving the problems.

It is rather difficult to create a comprehensive diplomatic truce or to enhance Taiwan's international participation since both concern conflicting political stances and interests.

Thus, one side should not unilaterally put forth a proposal and force the other side to accept it without prior negotiations.

Now that Beijing has given an inch by showing its willingness to cooperate on the diplomatic truce, Taiwan wants to take a foot by proposing a bid for participation in the activities of specialized UN agencies without negotiations with China. This move seems to be an attempt to force Beijing's acceptance.

While the Chinese government is thinking hard about how to both solve the problem and prevent possible negative consequences, Taiwan cannot expect Beijing to accept the move without protest.

Furthermore, Taiwan should not only take its own interests into account and try to push China around. This makes Wang's suggested approach look even more reasonable.

But since the proposal has been submitted, what should we expect China to do?

China has but two options. First, since Hu has expressed his willingness to discuss Taiwan's international participation, he could show his sincerity by allowing the proposal to be put on the agenda. Second, China could kill the proposal in the General Committee as it has done with Taiwan's previous bids to "participate in" or "join" the UN.

Judging on past practice, China will feel forced to adopt the second approach.

The reasons for this are simple.

If China were to allow the bill to enter the General Assembly agenda, it would have to face the risk of the bill being passed. The UN specialized agencies are independent from one another and are not bound by the UN, so a UN resolution would not be a master key for opening the door to any specialized agency.

However, if the bill were to pass, it would bring China endless trouble and it does not conform to China's consistent standpoint.

In addition, because the international community accepts the "one China" principle, cross-strait issues are regarded as internal affairs that should not be discussed on the international negotiation table.

Even if China were to block the bill, it would not affect Hu's credibility, as Taiwan's international participation could still be discussed under the "one China" framework.

What does Taiwan stand to benefit from pushing this proposal? Nothing at all.

Not only is the bill bound to fail, but cross-strait tensions — which have only just begun to show signs of easing — will flare up again in the UN General Committee meeting.

China will become more cautious if Ma talks about a diplomatic truce while stabbing China in the back. Any diplomatic truce or international participation can only rely on China's goodwill because Taiwan has no bargaining chips.

Even domestically, the pan-green camp does not appreciate the proposal and has lashed out at Ma for downplaying Taiwan's role in the international arena.

Therefore, we must ask question the wisdom of Ma and his administration in pushing forward this proposition.

Chang Ling-chen is a professor emeritus of political science at National Taiwan University.