Huge rally against Taiwan leader
 
By Caroline Gluck
BBC News, Taipei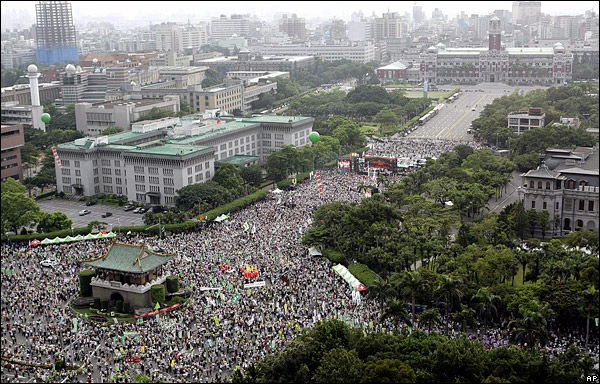 The rally was the first against President Ma since he took office

Thousands of opposition supporters in Taiwan have taken part in a protest in Taipei as President Ma Ying-jeou marked his first 100 days in office.

It was the first mass rally against Mr Ma since his inauguration, and also comes amid increased worries over his pro-China policies and the economy.

The protesters said he was moving too quickly to improve ties with Beijing.

China claims Taiwan as part of its territory, although they have been governed separately since 1949.

Resignation call

This was the first large-scale protest against President Ma since he took office in May.

Advertisement

Opposition supporters protest on the streets in Taiwan.

His critics - mainly pro-independence groups and members of the opposition Democratic Progressive Party - took to the streets in the capital, chanting slogans, and rallied outside the presidential office, calling for him to step down.

They argue that Mr Ma has been too conciliatory towards China and that his policies have damaged the island's sovereignty.

The president was elected by a landslide in March, promising to work for friendlier ties with China and boost the island's economy.

Last month, the two sides launched regular direct flights for the first time in nearly six decades.

President Ma's administration has also relaxed many restrictions on doing business in China, and allowed more Chinese tourists to visit.

The president's office did not comment on the rally, but officials from the governing Nationalist Party (Kuomintang) said the public should not blame the current administration for the island's economic woes but the previous one, which held office for eight years.

They said the public should be protesting against Taiwan's former President, Chen Shui-bian, and his family, who are being investigated over fresh allegations of money laundering involving millions of dollars.
---
Georgia cutting relations with Russia
 
'SPECIALLY CREATED': Russian Prime Minister Vladimir Putin said the White House had a hand in starting the war in Georgia because it needed a 'short, victorious war'

AGENCIES, TBILISI, MOSCOW AND GENEVA
Saturday, Aug 30, 2008, Page 1

Georgia will cut diplomatic ties with Russia over the Kremlin's recognition of two Georgian rebel regions as independent states, Georgian Deputy Foreign Minister Grigol Vashadze said yesterday.

"We have received instructions at the Foreign Ministry and we will cut diplomatic relations with the Russian Federation," Vashadze told reporters. "The final decision has been made."

Moscow remained embroiled in a diplomatic war of words yesterday after Russian Prime Minister Vladimir Putin accused the US of provoking the conflict in Georgia.

Putin said the US administration had a hand in the five-day war between Russian and Georgian forces and drew a link with the US presidential campaign.

There were Americans in the conflict zone "doing as they were ordered, and the only one who can give such orders is their leader," Putin said.

"If my guess is right, then it raises the suspicion that someone in the US specially created this conflict to worsen the situation and create an advantage in the competitive struggle for one of the candidates for the post of president of the United States," he told CNN.

"They needed a short, victorious war," he said.

"And if it didn't work out, they could always put the blame on us, make us look like the enemy and against the background of this surge of patriotism, once more rally the country around a particular political force," Putin said.

The White House dismissed the accusations as "patently false."

Meanwhile, the UN refugee agency said yesterday that thousands of people had fled their villages in the buffer zone between the Georgian town of Gori and South Ossetia amid reports of rampaging militias.

Some 2,300 people have registered as internally displaced in the town of Gori and 800 of them are staying in a tent camp erected earlier in the week, UN High Commissioner for Refugees (UNHCR) spokeswoman Helene Caux told journalists.

"The newly displaced in Gori all have stories of intimidation, including beatings by the militia in buffer zone villages," she said.

"People talked about militias entering the villages, shooting in the air, harassing the inhabitants and looting their property," she said.

Many of the new arrivals had in fact only recently returned to their villages after fleeing the fighting that erupted between Georgian and South Ossetian forces earlier this month, which was followed by Russian military intervention.

Caux said that some of these people have now returned to Gori "because they felt unsafe when they arrived back in their villages: they found their houses damaged and looted, their cattle slaughtered."

She said a UNHCR assessment mission to villages north of Gori on Wednesday "confirmed that many returnees they met were traumatized and scared."
---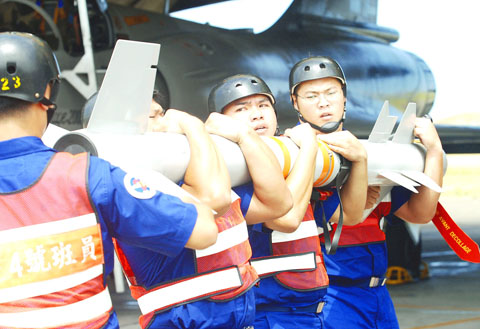 PACKING HEAT

Military personnel load a missile onto a Mirage fighter plane at Hsinchu Air Force airport during a drill yesterday.
PHOTO: CHIANG YING-YING, AP
---
Clash in Xinjiang kills two policemen, reports say

AP, BEIJING
Saturday, Aug 30, 2008, Page 1

Chinese police clashed with members of the Uighur ethnic minority in Xinjiang, authorities and an activist said on Thursday, the first reported outbreak of violence in the area since two high-profile attacks during the Olympics.

Two Chinese policemen died and seven more were wounded. It was not immediately clear what ignited Wednesday's conflict in a village in Jiashi County, or whether any Uighurs were injured.

Activist Dilxat Raxit, spokesman for the Germany-based World Uyghur Congress, said witnesses heard "fierce gunfire" and saw at least 20 Uighurs arrested — part of what he says is a wider, ongoing crackdown. He did not give any other details.

A public security official said eight Uighurs — seven men and one woman — were involved. One man had been captured, but the others were at large, said the official, who refused to give his name as is common among Chinese officials.

Mu'erbiya, an official from Jiashi County's communist party propaganda office, said two police officers had died and an investigation was under way. Like some Uighurs, she uses one name.

Seven police officers were being treated at the No. 1 People's Hospital in Kashgar, including one for stab wounds, said a woman at the hospital's emergency center who declined to give her name.

China has long said that militants among the region's dominant ethnic Uighurs are leading a separatist movement in Xinjiang, an oil and gas-rich region on the border with Afghanistan, Pakistan and other countries. The Uighurs are Turkic-speaking Muslims with a language and culture distinct from Han Chinese.

Critics accuse Beijing of using claims of terrorism as an excuse to crack down on peaceful pro-independence sentiment and expressions of Uighur identity.

Chinese Foreign Ministry spokesman Qin Gang (秦剛) on Thursday confirmed reports of the Jiashi incident but did not provide any details.

He said there were only sporadic tensions in Xinjiang.

"People of various ethnic groups coexist in harmony and equality and the situation in Xinjiang is generally good," Qin said at a regular briefing.

"This has nothing to do with any alleged persecution or oppression of the Uighur people," he said.

He said there was a handful of Uighur "terrorist forces attempting to create violence and split China" but that the government and authorities were cracking down on them.
---
EU lawmaker voices support for Taiwan's UN bid

STAFF WRITER, WITH CNA
Saturday, Aug 30, 2008, Page 3

A senior EU lawmaker expressed full support for Taiwan's bid to join the UN's specialized agencies this year and urged the European Parliament to show goodwill toward the bid, a Brussels-based magazine said in a report on Thursday.

Center-right parliamentarian Georg Jarzembowski, chairman of the parliament's Taiwan Friendship Group, was quoted by the Parliament Magazine on its Web site as saying he "fully endorsed" Taiwan's move.

"It is a perfectly reasonable and well-founded request and the very least China can do. After the success of the Olympics, it would represent an appropriate goodwill gesture on the part of Beijing," he said.

Pointing out that Taiwan's inclusion in such organizations is vitally important not just for Taiwan but for the rest of the world, Jarzembowski said that Taiwan's exclusion from the WHO has been detrimental to the health rights of the 23 million people of Taiwan and foreigners residing in and traveling to Taiwan.

The WHO, the International Civil Aviation Organization (ICAO) and the International Maritime Organization (IMO) are among the 16 UN specialized bodies that Taiwan cites in its latest bid for meaningful participation in UN activities.

Taiwan failed in its previous annual bids over the past 15 years to seek full membership in the world body because of obstruction by China.

This year, the Chinese Nationalist Party (KMT) government changed its strategy to focus on meaningful participation in one or more of the UN specialized agencies.

Two of the nation's 23 diplomatic allies — St. Vincent and the Solomon Islands — submitted Taiwan's bid proposal to the UN Secretariat on Aug. 15.

The report also quoted Edward McMillan-Scott, a vice president of the European Parliament, as saying : "I still think Taiwan should push for full membership of the UN."

The new bid is widely seen as a crucial test to see if China accepts President Ma Ying-jeou's (馬英九) olive branch of a diplomatic truce with Beijing.

However, Chinese Ambassador to the UN Wang Guangya (王光亞) has already blasted Taiwan's allies for trying to put Taiwan's UN participation bid on the General Assembly's agenda.
---
Growth won't hit targets: report
 
LETTING DOWN DEFENSE: In the Directorate General of Budget, Accounting and Statistics budget request, only the figure for military spending was decreased

By Shih Hsiu-chuan
STAFF REPORTER
Saturday, Aug 30, 2008, Page 3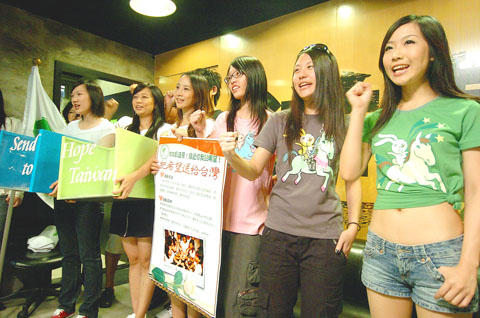 Members of youth groups at a press conference in Taipei yesterday call on young people to join them today at a rally to express their dissatisfaction with President Ma Ying-jeou's first 100 days in office.


PHOTO: CHU PEI-HSIUNG, TAIPEI TIMES
The government expects next year's economic growth rate to be 5.1 percent and per capital national income to be US$19,756, both lower than the figures that President Ma Ying-jeou (馬英九) promised during his campaign — 6 percent and US$30,000.

The projections were made in the government's budget request for next year, which was sent to the legislature for review yesterday. The legislature is scheduled to convene on Sept. 19.

The Directorate General of Budget, Accounting and Statistics said the economic growth rate this year was expected to reach 4.3 percent, while per capital national income was projected at US$18,883.

The budget request will yield a shortfall of NT$124.8 billion (US$4 billion), which will bring the nation's debt to NT$4.026 trillion — an increase of NT$120.5 billion, or 3.08 percent, over this year.

In the budget request, the central government's spending was projected at NT$1.62 trillion, an increase of NT$118.3 billion, or 6.9 percent, over this year, while annual revenue was projected at NT$1.7052 trillion, up from NT$1.6203 trillion.

The Ministry of National Defense's annual budget stood at NT$315.2 billion for next year, a decrease of NT$10.4 billion, or 3.2 percent, from this year's level, marking the only one expenditure item that saw a drop in the budget request.

Despite the drop, the amount allowed Ma to meet his campaign promise to keep his administration's spending in national defense at no less than 3 percent of GDP.

However, the decrease in the defense budget mainly came from money initially earmarked for arms purchases from the US, a decrease of NT$44.1 billion in the ministry's confidential budget, half of which was said to be used in military investment.

A legislative aid, who asked not to be named, said the reduction came in the wake of a US freeze on arms sales as the ministry planned to reserve the approved arms budget for next year and therefore there was no need to add funds to next year's budget request.

Among other expenditure items, the spending for economic development for next year increased by 23 percent and that for community development and environmental protection rose by 64.2 percent in comparison with those of this year.

Meanwhile, the budget request statement showed that the confidential budget of the Ministry of Foreign Affairs, usually used in foreign aid, was cut by NT$1.927 billion, or 33.34 percent, from NT$5.779 billion this year to NT$3.851 billion.

The reduction reflected Ma's call for a diplomatic truce with China, under which both sides of the Strait stop luring each other's allies by offering large sums of money.
---
Pro-localization groups stage rally on Ma's 100th day

By Mo Yan-chih, Rich Chang and Flora Wang
STAFF REPORTERS
Saturday, Aug 30, 2008, Page 3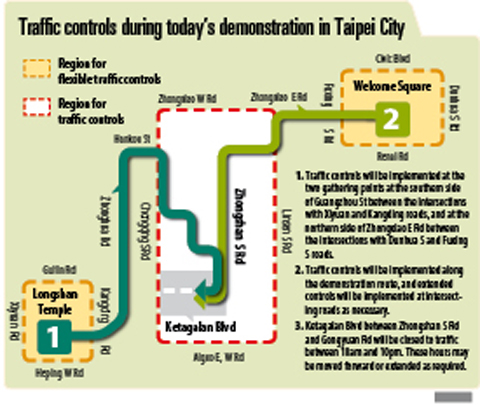 GRAPHIC: TT

The rally to be staged today in Taipei City is a pro-Taiwan event and not a show of support for former president Chen Shiu-bian (陳水扁), the Democratic Progressive Party (DPP) said yesterday.

Director of the DPP's Department of Culture and Information Cheng Wen-tsang (鄭文燦) told a press conference yesterday that the rally, organized by a number of pro-localization groups, is aimed at protecting the country's sovereignty, protesting against the government's poor performance on the economy and promoting "sunshine bills."

The date of the protest was chosen to coincide with President Ma Ying-jeou's (馬英九) 100th day in office.

Cheng denied charges by some pan-blues that the rally is a show of support for Chen.

"Although it is a fact that Chen played an important part in the DPP's history, the party should say goodbye to that period of its history and move toward a future without Chen," Cheng quoted DPP Chairwoman Tsai Ing-wen (蔡英文) as saying.

Calling on the public to join the rally, Taipei City Councilor Wu Su-yao (吳思瑤) of the DPP, at a separate press conference yesterday, accused Ma of failing to improve the economic situation in Taipei and putting more than 2,000 shops out of business over the last two months.

Statistics showed that the commodity price index rose to 6.75 percent last month from 1.9 percent last year, Wu said.

In the 100 days since Ma's administration assumed office on May 20, about 319 households in Taipei City have become low-income families and suffered from economic hardship, she said.

"Ma, a former Taipei mayor and his successor, Taipei Mayor Hau Lung-bin (郝龍斌), have joined efforts to make the lives of Taipei residents more miserable. Shouldn't they be sorry for letting Taipei residents down?" she said.

Commenting on the planned rally, the Chinese Nationalist Party (KMT) caucus yesterday said pro-independence groups should instead conduct a self-review for supporting Chen in the past.

"The [KMT] administration has been unable to boost the economy within 100 days after it assumed office because of the problems left behind by the previous [DPP] administration," said Chang Sho-wen (張碩文), KMT caucus secretary-general.

"If officials of the previous government and pro-independence groups only blame [the economic downturn] on the new administration, it will be very difficult for our next generation to have a promising future," Chang said.

But Chang added that the KMT should also review its own actions for failing to live up to public expectations.

KMT Legislator Diane Lee (李慶安) said it was "ironic" for the pan-green camp to be protesting against Ma while Chen was under investigation for alleged money laundering.

"They have been saying that they want to denounce Ma, but is there any specific evidence showing that President Ma deserves to be criticized?" she said.

The Presidential Office said yesterday it respected the people's rights to rally and assemble.

"Taiwan is a democratic society," Presidential Office spokesman Wang Yu-chih (王郁琦) said. "We respect the people's right to assemble and stage rallies, and will handle the rally as a normal event."

Ma declined to make remarks about the rally later yesterday when asked by reporters for comment.

The rally is scheduled to begin at 2:30pm, with participants assembling at two points. One group will meet at Longshan Temple in the Wanhua District (萬華) and the other at the square in front of the Wellcome supermarket near the intersection between Dunhua S Road and Zhongxiao E Road.

The two groups will then stage a parade, meeting at Ketagalan Boulevard in front of the Presidential Office.

Traffic control measures announced by the Taipei City's Police Department yesterday said that Ketagalan Boulevard between Zhongshan S Road and Gongyuan Road will be closed from 10am to 10pm today. Flexible traffic control measures will be enforced along the rally route, the department said.

The department said it would deploy more than 2,000 police to maintain public order and control traffic this afternoon when the rally begins.

The traffic control will be expanded to Linsen S Road, Gongyuan Road, Aiguo E and W roads and Zhongxiao E and W roads if needed, the department reported.
---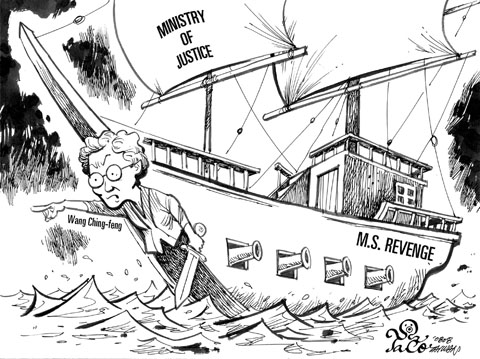 ---
The 'truce' is not all that it is said to be
 
By Emerson Chang 張子揚
Saturday, Aug 30, 2008, Page 8

The administration of President Ma Ying-jeou (馬英九) recently told the media that it had come to an understanding over a diplomatic truce with China and that after building mutual trust, discussions on a peace accord could begin.

Regardless of whether this "understanding" is the result of a unilateral evaluation or the product of cross-strait communication, it shows that the government believes the diplomatic truce is showing some results.

The truce shows that Ma's government has come to realize that Taiwan is no longer a big economic power and that it needs to adopt methods that are more pragmatic and suitable for a small nation.

Domestically, this may direct resources from diplomacy to urgent domestic issues. Internationally, however, it means Taiwan will not satisfy the needs of diplomatic allies, who will develop closer economic relations with China as a result.

During his first overseas visit, Ma said he welcomed these developments. Diplomats will thus be forced to sit idly by as Chinese businesspeople develop deeper economic and political relations with Taiwan's allies.

Although a truce is simply meant to ensure peaceful survival and not to bring about "victory," it can be an effective strategy for a weaker power if it helps consolidate support and maintain the "status quo."

The stronger nation's response will depend on whether it is a declining or a rising power. If it is declining, the two sides will live in peace and the "status quo" may be maintained for a relatively long period.

If, however, the stronger nation is a rising power, the time may come when it will stage a counterattack. Even so, this will allow the weaker nation to gain a few allies. The pace at which the stronger country unfolds its plans decides the length of the truce.

The government views China as a rising power, so in order to establish and then extend the diplomatic truce, it has unilaterally announced several forms of cooperation as a show of goodwill. It is also using peace talks as bait to lead China into believing that the truce is in line with its overall goals.

The key to success here is the ability to predict the opponent's actions. However, judging from government comments lately such as "If the diplomatic truce does not work, we will just come up with something else," it is quite clear that Ma has no idea what China has in store.

Because Ma has only just initiated his "goodwill" strategy, China is holding back and waiting for its opportunity. The "understanding" is thus an over-interpretation of the situation. China is likely to wait for Taiwan to show its goodwill on various issues to gain leverage.

Once the government is fully committed to this course of action, China will likely initiate conditional talks to eradicate the Taiwanese idea of maintaining the "status quo" indefinitely. Any effort by the Ma administration to avoid or postpone talks, or if talks break down, will see China resuscitating a diplomatic war.

The government would have a hard time dealing with a new diplomatic war. Because the diplomatic truce leaves our allies with less bargaining power, they may wait for an opportunity to retaliate. The truce also decreases the motivation among Taiwan's diplomats to encourage Taiwanese businesspeople to invest overseas and drum up diplomatic support for Taiwan.

A truce would strengthen the pan-green camp's ability to speak out against Ma's pro-China policies, but it would limit Washington's ability to help Taiwan consolidate diplomatic support. Once a diplomatic war starts, the truce would make it harder for Taiwan to consolidate relations with allies and find new ones, thus maintaining the "status quo."

Emerson Chang is director of the Department of International Studies at Nan Hua University.