Saturday August 30, 2008
 
Tens of thousands march against Taiwan president
By Ralph Jennings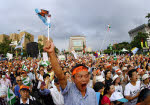 A protester chants slogans during a rally outside the Presidential Office in Taipei August 30, 2008. (REUTERS/Nicky Loh)

TAIPEI (Reuters) - Tens of thousands of opponents of Taiwan President Ma Ying-jeou marked his first 100 days in office on Saturday with a protest march in the island's capital, calling for economic stimulus and more cautious policies towards China.

Streets around central Taipei flooded in the afternoon with at least 50,000 people who banged drums, waved "China No" banners and shouted for Ma to step down. The crowd included legislators, local officials and busloads from southern Taiwan. Organisers put the headcount at 100,000.

Spearheaded by local advocacy groups and Taiwan's main opposition party, demonstrators said they wanted Ma to stake less of Taiwan's economy on China, which has threatened to use force, if necessary, to take the island.

"An open door policy should not come at the expense of Taiwan's security," said organiser Lo Chih-Cheng, secretary general of the group Taiwan Society. "It's horrible that Taiwan's future has been handed over to China for it to decide."

China has claimed sovereignty over self-ruled Taiwan since 1949, when Mao Zedong's Communists won the Chinese civil war and Chiang Kai-shek's Nationalists (KMT) fled to the island.

Ma's government has signed a landmark deal with China allowing direct weekend flights to five cities in China and letting up to 3,000 China tourists per day visit the once largely forbidden island, bringing income to parts of the tourism sector.

His cabinet has also scrapped limits on how much Taiwan-based companies can invest in China.

Campaign pledges for 6 percent economic growth and a 3 percent unemployment rate have fallen short, demonstrators said, while wages have not risen according to promises.

"I hope Ma can do something for the common people," said demonstrator Chou Kuo-shun, 60, an interior designer who said self-employment was tough in his hometown of Tainan.

"Tainan used to be really active, but now due to the economy no one wants to go out and do business," he said.

The telegenic but soft-spoken Ma, elected by a landslide in March on pledges to steady to local economy by getting a piece of China's rapid growth, has seen approval ratings bounce up and down since he took office on May 20.

A growing graft probe into former president Chen Shui-bian and his family did not deter demonstrators, many of whom supported his Democratic Progressive Party's rule from 2000 to early 2008. One march banner read "Support Bian until the end."

Ma plans no policy shifts, as he expects tangible results of his current agenda to come later, spokesman Tony Wang said.

"The speed of our opening (to China) is very appropriate now," Wang said earlier in the week.

Copyright © 2008 Reuters
---
Rally targets Ma on 100th day in office
 
MEET IN THE MIDDLE: Tens of thousands of protesters began their walk at around 2:30pm from two points in Taipei, eventually converging on the Presidential Office
 
By Meggie Lu and Rich Chang
STAFF REPORTERS
Sunday, Aug 31, 2008, Page 1
 
"Ma needs to make drastic changes in his policies to realize his campaign promises — he said that 3,000 Chinese tourists would come [per day], but in reality, about 37 visit each day."— Billy Pan, blogger and rally participant
"We are here to tell the government we care about Taiwan's sovereignty and economy and passing sunshine bills."— Tsai Ing-wen, DPP chairwoman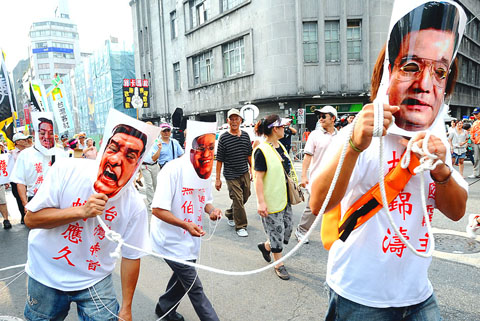 A participant in yesterday's rally wears a mask of Chinese President Hu Jintao, right, followed by demonstrators wearing masks of President Ma Ying-jeou, front left, Chinese Nationalist Party (KMT) Chairman Wu Poh-hsiung, center, and Premier Liu Chao-shiuan, rear left.


PHOTO: LIN CHENG-KUNG, TAIPEI TIMES

Wearing orange wristbands and headbands, tens of thousands of protesters took to the streets of Taipei yesterday to express their dissatisfaction with the government, demanding a stronger economy, a transparent judiciary and better protection of national sovereignty.

The protest was arranged on President Ma Ying-jeou's (馬英九) 100th day in office.

Protesters chanted slogans such as "I want to survive" and "Ma Ying-jeou is selling out Taiwan" and waved banners in English and Mandarin saying "Show me the money," "We want jobs" and "It's not okay to bash Taiwan."

Braving the afternoon heat, the protesters began their walk at around 2:30pm from two points — Longshan Temple (龍山寺) and Zhongxiao E Road — meeting up on Ketagalan Boulevard in front of the Presidential Office.

The Taiwan Society, which organized the rally, estimated that 300,000 people attended, while Taipei police said they would not provide an estimate.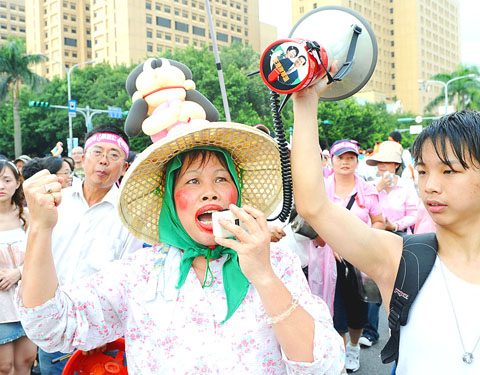 A participant shouts slogans into a megaphone yesterday during a demonstration in Taipei against President Ma Ying-jeou and his administration organized by the Taiwan Society.
 
PHOTO: CNA

Demonstrators said Ma might be opening up to China too quickly, with potentially disastrous ramifications for national sovereignty.

"Ma's unconditional embrace of the Chinese market is not good for the Taiwanese," said protester Kuo Wen-hung, 38.

"If we are overly dependent on China economically, eventually we will be forced to unite with China politically," Kuo said.

Hundreds of senior citizens gathered in 228 Peace Memorial Park under oak trees to voice their dissatisfaction with the government.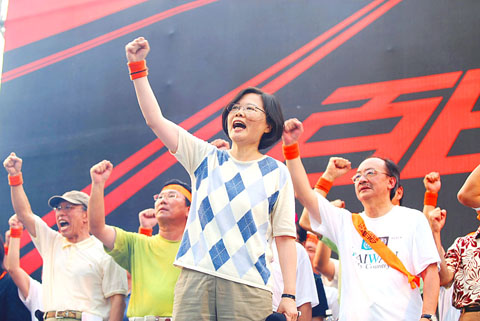 Democratic Progressive Party Chairwoman Tsai Ing-wen, center, shouts slogans after delivering a speech on Ketagalan Boulevard during yesterday's demonstration against President Ma Ying-jeou and his administration on Ma's 100th day in office.


PHOTO: CNA

"I voted for Ma, but I feel cheated," said Chen Chao-cheng (陳昭誠) from Linkou (林口), Taipei County.

"In his presidential campaign, he said he would boost the TAIEX to 20,000 points ... After I lost NT$2 million [US$63,000] on it, he said he was just kidding — but I blame myself too for believing him," Chen said.

Chung Yi-jen (鍾逸人), 88, a retired factory worker from Changhua County, said: "In the past 100 days, many things Mr Ma has done have demonstrated that he is going to sell out Taiwan: from changing 'Taiwan Post' back to 'Republic of China,' to agreeing to attend the Olympics under the name 'Chinese Taipei.' Ma is selling out Taiwan by playing word games, but does he think that we are all idiots who can't see through this?"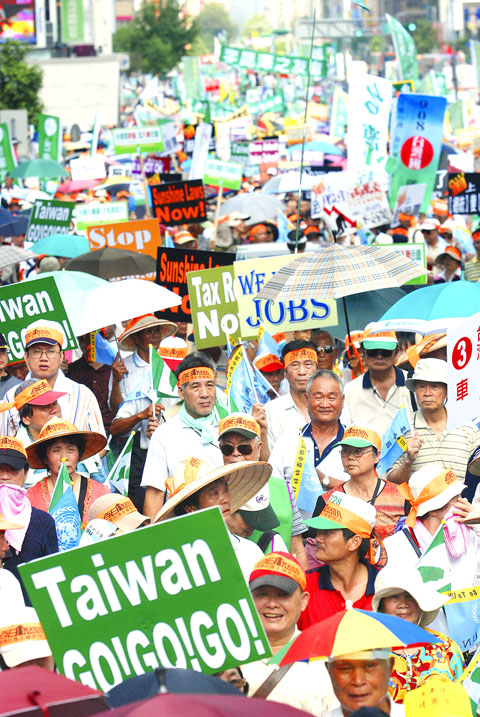 Protesters shout slogans during a rally criticizing President Ma Ying-jeou and the policies of the Chinese Nationalist Party (KMT) administration in Taipei yesterday.
PHOTO: CHIANG YING-YING, AP
A group of bloggers gathered behind the rally stage, holding a banner that said "We blog for Taiwan."

"We came because the event matches the missions of our blogs very closely," said Billy Pan (潘建志), a blogger who has been posting his analyses of political developments online for more than a year and who has linked together a network of more than 1,000 pro-Taiwan bloggers.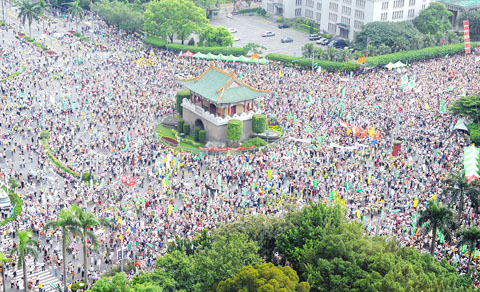 Demonstrators protesting the performance of President Ma Ying-jeou's government crowd Ketagalan Boulevard in Taipei City yesterday. The parade was organized by the Taiwan Society to mark the 100th day of Ma's presidency.

PHOTO: CNA
"Ma needs to make drastic changes in his policies to realize his campaign promises — he said that 3,000 Chinese tourists would come [per day], but in reality, about 37 visit each day," he said.

"Ma's reason for not refunding taxes is also ridiculous ... As long as Ma fails to meet his 6-3-3 promise, we will continue to remind him how ugly politicians are when they fail to cash their political checks," Pan said.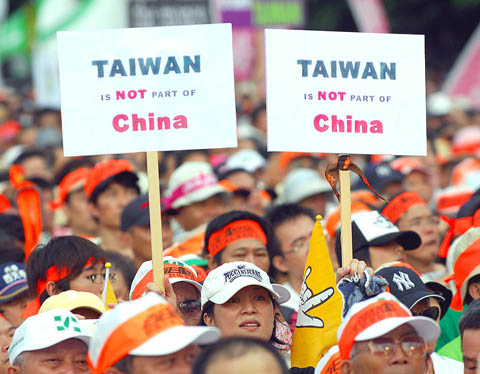 Protesters hold up placards in front of the Presidential Office yesterday.

PHOTO: SAM YEH, AFP

Ma's 6-3-3 campaign pledge was to achieve 6 percent annual GDP growth, 3 percent unemployment and an average annual income of US$30,000.

Rally participants included Democratic Progressive Party (DPP) legislators, local officials and busloads of protesters from central and southern Taiwan.

The National Police Agency mobilized 2,000 police officers to maintain order along the route and prevent any clashes between demonstrators and Ma supporters.

The rally reached a climax at 5:30pm when DPP Chairwoman Tsai Ing-wen (蔡英文) addressed the crowd.

Blasting Ma for sacrificing national sovereignty in favor of closer ties with China and for failing to revitalize the economy, Tsai said that what the Chinese Nationalist Party (KMT) cannot deliver, the DPP can.

"We promise to give Taiwanese a better DPP, to improve the economy and to create a more democratic Taiwan," she said.

"We are here to tell the government we care about Taiwan's sovereignty and economy and passing sunshine bills," she said, leading the crowd in chanting "Go Taiwan."

Taiwan Society president Wu Shu-ming (吳樹民), former presidential adviser Koo Kuang-min (辜寬敏) and former Government Information Office (GIO) minister Shieh Jhy-wey (謝志偉) also addressed the crowd.

Former DPP vice presidential candidate Su Tseng-chang (蘇貞昌) was out of the country, and former DPP presidential candidate Frank Hsieh (謝長廷) issued a statement on Friday saying he would not attend the rally because he did not want his appearance to distract from its efforts.

Former vice president Annette Lu (呂秀蓮) was also absent.

While addressing an annual meeting of the Taipei chapter of Taiwan Heart, an organization she founded in 2001 to promote Taiwanese identity, Lu yesterday called on Ma to admit his policy mistakes, which she said would only lead to a dead end.

Lu said it might take some time for Ma to learn how to govern the nation effectively, adding that she would like to hear Ma tell Taiwan whether he intends to stand up for its sovereignty.

Lu said Ma's defense policy had put the country in peril when he designated Songshan Airport as one of the destinations for direct cross-strait charter flights.

Commenting on the rally yesterday, KMT Chairman Wu Poh-hsiung (吳伯雄) accused the DPP of failing to reflect upon its poor performance over the past eight years.

Yesterday's rally was merely an attempt to shift the focus from the corruption allegations surrounding the former first family, he said.

Wu praised the Ma administration, saying it had worked to alleviate the economic hardship caused by the former DPP government, adding that the rally would not change the public's disapproval of the DPP administration.

"Shifting the focus will not change the reality concerning corruption and money-laundering [allegations against former president Chen Shui-bian (陳水扁)]. Shifting the focus will not change the fact that Taiwanese have suffered for the past eight years," Wu said yesterday.

"We believe Taiwanese have already made their judgment after going through years of hardship," he said.

Additional reporting by Ko Shu-ling, Mo Yan-chih and agencies
 
---
Iran warns attack would mean WWIII

AFP AND AP, TEHRAN
Sunday, Aug 31, 2008, Page 1

A senior military commander warned yesterday that any attack on Iran would start a new world war, as Tehran pressed on with its controversial nuclear drive despite the risk of further UN sanctions.

"Any aggression against Iran will start a world war," deputy chief of staff for defense publicity Brigadier General Masoud Jazayeri said in a statement carried by the state news agency IRNA.

Iran is under international pressure to halt uranium enrichment, a process that lies at the core of fears about Iran's nuclear program as it can make nuclear fuel as well as the fissile core of an atomic bomb.

"The unrestrained greed of the US leadership and global Zionism ... is gradually leading the world to the edge of a precipice," Jazayeri said, citing the unrest in Afghanistan, Iraq, Sudan and Georgia.

"It is evident that if such a challenge occurs, the fake and artificial regimes will be eliminated before anything," he said, without naming any countries.

Iran said on Friday it had increased the number of operating centrifuges at its uranium enrichment plant to 4,000.

The number was up from the 3,000 centrifuges that Iran announced in November that it was operating at its plant in the central city of Natanz. Still, it was well below the 6,000 it said last year it would operate by this summer, suggesting the program may be behind schedule.

Iranian Deputy Foreign Minister Ali Reza Sheikh Attar, who visited Natanz last week, said Iran was preparing to install even more centrifuges, though he did not offer a timeframe.

The UN has already imposed three rounds of sanctions on Iran for its refusal to freeze its enrichment program, which can be used to produce either fuel for a nuclear reactor or the material needed for a nuclear warhead.
---
President Ma's first 100 days draw mixed reviews
 
REPORT CARD: Sovereignty, arms procurement and the 'diplomatic truce' were some of the issues attracting the attention of analysts on Ma's 100th day as president
 
By Ko Shu-Ling
STAFF REPORTER
Sunday, Aug 31, 2008, Page 3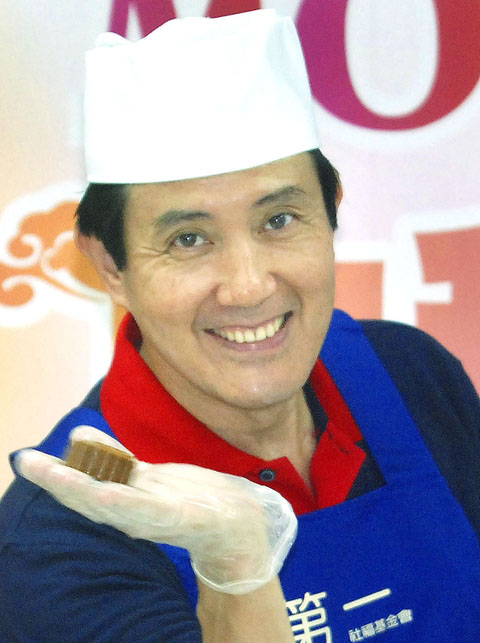 President Ma Ying-jeou shows a mooncake that he made during a media event in Taipei yesterday raising money for social welfare organizations before the Mid-Autumn Festival.


Photo: AP

On President Ma Ying-jeou's (馬英九) 100th day in office, analysts questioned the president's seemingly cavalier approach to sovereignty, cross-strait relations, foreign affairs and other issues.

Ma touched many Taiwanese people's hearts when he stated many times during his presidential campaign that he is Taiwanese and that he would be buried here in this land as Taiwanese. Shortly after he was elected in March, he adopted a strategy meant to defuse tensions with China, but which has been much criticized by pro-localization advocates.

In his inaugural address, he called for cross-strait negotiations based on the so-called "1992 consensus" and proposed reconciliation and detente.

The "1992 consensus" describes the notion that the two sides agreed that each could have its own interpretation of what "one China" means, but the "consensus" is not universally recognized as valid in Taiwan.

Acting on his call, both sides resumed talks in June after a decade-long hiatus. Beijing, reluctant to let the pro-independence Democratic Progressive Party (DPP) administration take credit for weekend charter flights and increase in Chinese tourists visiting Taiwan, finally gave the initiatives the go-ahead.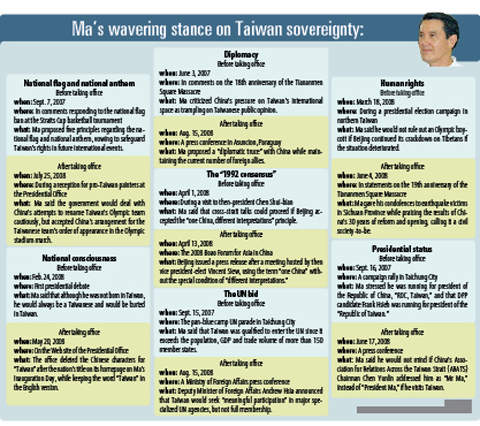 Amid speculation that the administration had asked the US to suspend arms sales to prevent irking Beijing in the run-up to Olympics, Ma has promised to continue purchasing defensive weapons from Washington.

The defense budget, however, was the only government budget that suffered cuts in the budget for next year.

Antonio Chiang (江春男), political analyst and former editor-in-chief of the Taipei Times, said he was most worried about Taiwan's future because the goal of the Ma administration was to unify with China although Ma did not want to admit it on record.

"Before he was elected, he kept saying that he loved Taiwan, but now he doesn't say it any more," Chiang said.

Ma's biggest problem, Chiang said, was that he could not care less about sovereignty, foreign affairs or democracy. Ma has been too optimistic in his expectations for China, while largely ignoring the US and Japan, he said.

"He thought the country's relationship with other countries would improve if cross-strait relations made headway," Chiang said. "When we totally count on Beijing's goodwill, there won't be any peace in the Taiwan Strait."

One hundred days into his presidency, Chiang said Ma has completely wiped out what the former DPP administration had worked for over the past eight years.

Some of Ma's tactics involved a series of largely symbolic gestures that reversed actions taken by the former DPP administration that China found objectionable.

Examples include removing the Chinese characters for "Taiwan" from the presidential Web site and changing back the name of the state-run postal company to Chunghwa Post after the name was dropped by the former DPP administration because it contained the word "Chinese."

The Ma administration is also mulling changing the name of the National Taiwan Democracy Memorial Hall back to Chiang Kai-shek Memorial Hall.

Ma also took pride in having Beijing use the name "Chinese Taipei" in its media's reference to the Taiwanese Olympic team and praised Beijing's change of heart as a diplomatic feat.

Chiang said using different tactics was worth a try, but they must be backed by a well-thought-out plan and implemented by a competent and professional team. Unfortunately, the Ma administration had neither, he said.

On the diplomatic front, Ma proposed a "diplomatic truce" with Beijing and said that Taiwan would concentrate more on cementing ties with existing diplomatic allies than seeking to make new friends.

Instead of seeking full membership in the UN, the Ma administration this year applied for "meaningful participation" in the UN's 16 auxiliary agencies, touting the approach as "pragmatic" and "flexible."

While the Ministry of Foreign Affairs said it was "not too surprised" at Beijing's objection to the bid, the Presidential Office described Beijing's reaction as an "isolated case" and asked the public to refrain from interpreting it as "ill will."

Describing Ma's proposed "diplomatic truce" with Beijing as a "diplomatic holiday," Chiang said Taiwanese diplomats must be happy as they have little to do since the Chinese Nationalist Party (KMT) government's agenda does not stress securing more diplomatic allies.

"I am not saying foreign policy cannot be adjusted, but it is dangerous to pin all one's hopes on Beijing's goodwill," he said.

While the "diplomatic truce" and efforts toward peace concern sovereignty, Chiang said it was wishful thinking that both sides could build peace on nothing.

In addition to sovereignty and diplomacy, political observers also expressed concerns that improved cross-strait relations could affect Ma's defense policy, though they were split on how much influence easing cross-strait strain would have on the administration's plan to purchase weapons from the US.

Antonio Hsiang (向駿), a research fellow at the Society for Strategic Studies, said that while Ma had promised to keep the defense budget at 3 percent of GDP, improved cross-strait relations were expected to have some impact on arms procurement packages from the US.

However, he said he did not think the administration would significantly cut the arms procurement budget because there were too many interests involved.

While Ma has proposed establishing a military confidence-building mechanism with Beijing, Hsiang said Washington's attitude was key.

"I don't think Taipei and Beijing trust each other enough to want to sit down and talk about such a possibility unless Washington is willing to mediate," he said.

Washington might not want to see peace happen in the short term in the Taiwan Strait because if there was peace, there would be fewer arms deals, which would mean fewer business opportunities, he said.

Wang Kao-cheng (王高成), director of the Graduate Institute of International Affairs and Strategic Studies at Tamkang University, however, said that improvements in cross-strait relations would not affect arms procurement projects.

"The administration has never said that they would stop buying weapons from the US," he said. "The problem lies in Washington's delay in approving the deals rather than Taipei's reluctance to buy them."

If Washington genuinely cared about peace in the Taiwan Strait, Wang said, it should have approved the package after the legislature approved the budget because cross-strait peace would tally with US interests.

Aside from arms procurement, Wang called into question Ma's campaign promise of replacing the conscription system with recruitment of volunteer soldiers within four years to six years.

He urged the administration to map out a better-thought-out plan before rushing to put Ma's election promise into practice.

Hsiang said he would like to see Ma take a more pro-active approach in performing his presidential duty of setting policies concerning cross-strait relations, national defense and foreign affairs.

Ma should spend more time setting those policies and leave the rest to the premier, he said, because, after all, he is no longer the mayor of the capital city.
---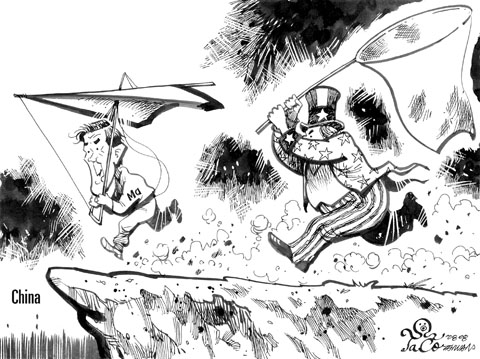 ---
Sunday, Aug 31, 2008, Page 8

Chang's political barrow

I refer readers to Chang Ling-chen's (張麟徵) piece ("Give up the UN bid, it's hopeless," Aug. 27, page 8).

I'm not sure which particular political barrow Chang is trying to push, but what I am sure of is that I've rarely read such rubbish in my life.

"Now that Beijing has given an inch by showing its willingness to cooperate on the diplomatic truce, Taiwan wants to take a foot."

Excuse me? Just what political space or opportunities for cross-strait collaboration (as indicated in this nonsensical statement) has Beijing so far offered up since the Chinese Nationalist Party (KMT) came to power?

Sure, China and Taiwan now exchange a few more hundred tourists a day but so what? This is hardly the panacea for what some people see as Taiwan's ailing economy.

Again, in Chang's assertion here, we see a certain debasement of reality: "Taiwan should not only take its own interests into account and try to push China around."

Excuse me? Which country is the most populous in the world, with a massive economy, huge arms spending and currently holds all the diplomatic bargaining chips?

Which country has so far not been the willing political partner the KMT wants it to be?

I'm definitely no fan of President Ma Ying-jeou's (馬英九) foreign policy, but as far as I can see it's been him and Taiwan doing all the heavy-lifting so far in this relationship.

Free visa anyone?

Really, if Taiwan were to simply wait obediently and subserviently in the diplomatic shadows hoping to feed on the scraps China discards, as Chang seems to suggest, the average Taiwanese had better start tightening their belts.

KARL HABY
Taipei
---
Listen to the voice

Why is A-bian still on TV?

Cao Changqing (曹長青) was right on the money when commenting on the scandal in which former president Chen Shui-bian's (陳水扁) finds himself embroiled ("Wipe off that blood and start again," Aug. 26, page 8).

I hate watching local news at the moment, because most of the "news" is about Chen and his family.

I don't really care if his daughter lost her temper. I'd probably lose my temper too if it were me.

And I don't care if the son missed, or didn't miss, student orientation.

I thought as soon as Chen wasn't president any longer, I wouldn't have to hear about him anymore.

I was so wrong.

I often wonder if the Chicoms will be happy with anything less than his death.

Cao was brilliant when he said that the real hero is the one who can stand up again after the fight, regardless of whether the blood is his enemy's or his own.

I hope that Chen is able to stand upright in the end, after the Chicoms have found a bigger victim to pursue.

If so, he will be a greater man than he was as president.

Shervin Marsh
Lotung, Ilan County
 
---
Pan-greens need new coach

Though I appreciate reading about the past corruption of the KMT, I believe there is an attitude that exists among certain pro-independence individuals and groups that should be vigorously challenged.

Politics is often played like sports.

Just like with any professional team, you will have a group of hardcore fans that stick with their team through thick and thin.

I personally admire the loyalty and doggedness of many of these people.

The pro-independence movement in Taiwan is going through a bad season and desperately needs a new coach to lead it forward.

The previous coach has been saddled with allegations of shady financial dealings. Instead of cleaning house, some fans are questioning the fairness of the allegations made against the embattled coach.

Some are saying the league itself is corrupt and the coach was simply engaging in the same kind of corruption that previous coaches and athletes have been accused of in the past.

I am not sure what the past coach did or didn't do, but what is the point of trying to rationalize defeat?

The franchise had a good record in the 1980s and 1990s but stumbled when the previous coach took over the organization.

Yeah, there are problems with the league and the referees.

But are we going to use these problems to explain away the failings of the new coach as well? Let's hope not.

WILLIAM HOYLE
Taichung
---
Chen is an amateur

I chuckle when I read President Ma Ying-jeou's (馬英九) comments on former president Chen Shui-bian's (陳水扁) financial scandal, which Ma said reminded him of former Philippine dictator Ferdinand Marcos, whose regime was marked by corruption ("Ma breaks silence on Chen scandal," Aug. 18, page 3).

It truly puzzled me that Ma could be so ignorant of his own country's history, which has been so well documented, especially the fact that his beloved Chinese Nationalist Party (KMT) under the control of his beloved dictator Chiang Kai-shek (蔣介石) — including his close clan — were so corrupt that they lost China to Mao Zedong's (毛澤東) People's Republic of China.

In June 1948, Chiang wrote in his diary that the KMT had failed, not because of external enemies, but because of disintegration and rot from within ("Chiang Kai-shek and the Struggle for China," by Tom Bethell, in Hoover Digest No. 1, pages 184-189, 2007).

When Chiang's wife Soong Mayling (宋美齡) came to the US for more handouts in November 1948, president Harry Truman simply ignored her. By then Truman knew the bulk of US aid to Chiang, meant to bolster his forces in fighting the red menace, had disappeared into the pockets of Chiang's inner circle.

Truman said to a reporter during an interview: "They are all thieves, every damn one of them … They stole US$750 million out of the US$3.8 billion that we sent to Chiang. They stole it, and it's invested in real estate … some right here in New York." (The Soong Dynasty, by Sterling Seagrave, pages 433 and 437).

More puzzling or amusing were comments by KMT Chairman Wu Poh-hsiung (吳伯雄), who said, "No one can hide the truth forever" ("No gloating over Chen scandal," Aug. 21, page 3).

But doesn't Wu know that the KMT has been hiding its illegal party assets for more than 50 years and has refused to disclose the source of the funds for fear that party authorities might ultimately have to return the money it had stolen?

It is well documented that the KMT has been practicing crony capitalism for decades.

This is a system in which the party rewards its well-connected members.

Doesn't anyone wonder why so many top KMT officials have been able to accumulate so much wealth — far beyond what public servants usually make — so quickly?

They fled from China to Taiwan and enriched themselves with a lavish lifestyle after getting here.

It is not just Chen's money trail that needs to be investigated. Investigators should focus on top KMT officials as well, such as former chairman Lien Chan (連戰) and People First Party Chairman James Soong (宋楚瑜), who own a number of expensive properties in the US.

KRIS LIAO
San Francisco
---
Taiwan needs a people package

Sunday, Aug 31, 2008, Page 8

Fears of a gradual slowdown in global trade triggered by the US credit crisis, compounded by concerns over an abrupt downturn in China after the Olympics, have recently caused most Asian economies to worry that export demand will dwindle in the second half of the year.

The latest reports of a sudden contraction in economic growth quarter-on-quarter for Japan, Singapore and Hong Kong, as well as slowing growth in Taiwan, India, Malaysia, Thailand and the Philippines, indicate that the slowdown is spreading across Asia.

What has especially come to haunt policymakers in this region are fears that lackluster domestic demand will fail to buffer weakening external trade in the months ahead.

It is under these circumstances that the governments of several Asian economies have recently introduced, or are considering, economic stimulus packages to help their people and businesses cope with the anticipated slowdown.

On Friday, the Japanese government unveiled an ¥11.7 trillion (US$107.03 billion) stimulus package, following similar developments in Singapore, Hong Kong and Thailand. Taiwan is considering a similar package after the index of leading indicators last month dropped to its lowest level this year, among signals of a further slowdown.

Japan's package includes extra government spending, loan guarantees to small and medium-sized enterprises, tax cuts for low-income earners and people with housing loans, as well as discounts on expressway tolls. Its main goal is to lessen people's financial burdens and strengthen consumer purchasing power as well as help domestic sectors affected by rising oil prices.

The details of Taiwan's stimulus program are yet to be revealed. But based on information gathered from several government agencies, the planned program would mostly focus on how to boost domestic investment with tax holidays for the manufacturing industry, more housing and construction loans from banks and more foreign investment.

Taiwan's stimulus package is not likely to succeed in boosting the economy and solving social problems in the short term, however.

Take the proposed measure to increase the housing loan ceiling extended by banks. This could only be wishful thinking on the part of the government to boost the real estate sector, because banks at this point are not likely to extend much credit after becoming bearish on the domestic housing market.

Last week, consumer confidence data for the housing sector showed that potential buyers are adopting a wait-and-see attitude. Even if buyers decide to cut a deal and take out a loan, banks will launch stricter checks on applicants and probably grant smaller loans than applicants expect in a bid to avoid loan defaults. Moreover, this measure will favor potential buyers, not those who already have housing loans.

Japan's proposed tax cuts for people with housing loans, on the other hand, will reduce the credit problems financial institutions are facing while simultaneously safeguarding borrowers.

The implementation of the government's domestic investment-oriented stimulus program is likely to ensure Taiwan's economy will grow steadily in the long run. Before rolling out its detailed package, however, the government should learn from Japan's efforts to support household finance, or learn from the US, Singapore and Hong Kong's tax refund plans to revitalize consumer spending.
---
Is Taiwan prepared to engage the present?
 
By Nat Bellocchi
Sunday, Aug 31, 2008, Page 8

In Taiwan as elsewhere, the Beijing Olympics were the focus of attention for two weeks this month. Now is perhaps the time to consider what has been going on at home.

Taiwan has talked a lot about economic matters that the two sides of the Taiwan Strait might agree on, but has only signed agreements for cross-strait charter passenger flights and allowed larger numbers of Chinese tourists to visit Taiwan.

The Mainland Affairs Council says Taiwan is likely to initiate plans allowing Chinese investments in Taiwan's manufacturing sector. Other issues on the agenda are shipping services, direct charter cargo flights, Chinese investments in commercial property, allowing in Chinese management personnel and general investment in Taiwan.

Meanwhile, the Council for Economic Planning and Development plans to change 67 restrictive policies.

President Ma Ying-jeou (馬英九) shares these views on economic issues, but often includes broader and sometimes more political views as well. Therefore, Taiwan's UN bid this year will seek "meaningful participation," not full membership.

Ma supports having Taiwan's allies enter into economic and cultural relations with China and he will seek participation in 16 UN agencies. Many see these and other issues — suggesting a comprehensive economic cooperation agreement with China similar to Hong Kong's; seeking UN observer status; and suggesting name flexibility — as undermining Taiwan's sovereignty.

At the same time, the main opposition party, just beginning to recover from its election loss, was jolted by allegations surrounding former president Chen Shui-bian's (陳水扁) and his family's alleged financial irregularities. Though the issue is still under investigation, the Democratic Progressive Party is treating it as another crisis.

Taiwanese will see it as inflicting serious damage on their country. If the present situation remains unchanged, the next election may be much more one-sided.

Legislative Speaker Wang Jin-pyng (王金平) said Taiwan would be disappointed if relations with China did not improve after the Olympics. The New York Times said Beijing obtained what it wanted — "a huge prestige … that it will surely use to promote its international influence, and … further tighten its grip at home. It pocketed these gains without offering any concessions in return."

An opinion piece by Willy Lam in the Wall Street Journal is probably something Taiwanese want to hear more about as Taiwan moves closer to China. Lam says "a good number of the strategies and institutions put into place to ensure a fail-safe Olympics are here to stay."

That means the powers of the law and order establishment — military, police, judiciary — have been strengthened and the neighborhood committees are back. Lam states that "All of this together bodes ill for the prospects of a post-Olympics thaw for China's aggrieved residents and political dissidents."

While all this might be a concern for Beijing, Taiwan will be busy trying to move closer to China.

At the same time, Taiwan is trying to rekindle US interest. That is difficult with the US focused on the election race, which will produce a new government in about five months. Its relations with a growing China will be more difficult than before. Its problems in the Middle East will not end, while recent tensions with Russia over Georgia are causing it more headaches.

This is a time to go over what has been going on. Issues both at home and abroad are changing. Are we ready?

Nat Bellocchi is a former chairman of the American Institute in Taiwan and a special adviser to the Liberty Times Group. The views expressed in this article are his own.