President vows to follow through on '6-3-3' policy
 
MONEY WORRIES: Premier Liu Chao-shiuan defended the Cabinet's efforts to improve the economy, saying the stock market would improve in the fourth quarter
 
By Mo Yan-Chih
STAFF REPORTER
Sunday, Sep 07, 2008, Page 1

President Ma Ying-jeou (馬英九) pledged again yesterday to carry out his "6-3-3" economic policy, while promising that his administration would reflect upon its performance in the face of growing anger.

One day after offering apologies to the public for failing to explain the policy clearly in a recent interview with a Mexican newspaper, Ma yesterday brushed off concerns that he would be unable to follow through with his plans.

"We did not give up the '6-3-3' policy and the campaign promise was not broken. The government will do its best to carry out the policy," Ma said during a meeting with Chinese Nationalist Party (KMT) members in Tainan County.

The "6-3-3" economic policy, which refers to an annual GDP growth of 6 percent, an unemployment rate of less than 3 percent and annual per capita income of US$30,000, was a major campaign platform presented by Ma during the presidential election.

The Ma administration's ability to carry out the policy, however, has been called into question after the president acknowledged during an interview with Mexican daily Sol de Mexico late last month that the three goals may not be achievable until 2016 because of the global economic slowdown.

During the meeting yesterday, some urged Ma to fulfill his campaign promises to improve the economy and tackle corruption, while warning him of consequences if his administration failed to carry out its policies.

"If President Ma does not show determination and does not clamp down on corruption, I think the KMT should drop out from the elections for local government heads next year. President Ma can also forget about re-election in 2012," a KMT member said.

Ma reiterated his defense yesterday, saying the goal of raising income to US$30,000 had always been targeted for 2016. Ma said he had planned to achieve annual GDP growth of 6 percent in two years, but he would now seek to achieve those goals by the end of his term in 2012 because of the global economy.

Meanwhile, Premier Liu Chao-shiuan (劉兆玄) defended the Cabinet's efforts to improve the economy yesterday at a meeting of KMT local government heads in Changhua County. Liu urged the public to have faith in the government.

In response to the stock market's plunge below 7,000 points last week, Liu said that only by strengthening economic fundamentals could the stock market improve.

Liu said the policies, including domestic demand expansion projects and energy-saving measures, all aimed to improve the economy in the long run, adding that the government is confident the market would rise in the fourth quarter.

The Cabinet vowed on Friday to present a proposal in the coming week and formulate "miracle cures" to lift the slumping market.
---
Listen to the voice
County official says Beijing to blame for low tourist numbers
 
GET IN LINE: The second most populated province in China has only a single agency handling tourism to Taiwan, a Taipei County tourism bureau official said

STAFF WRITER, WITH CNA
Sunday, Sep 07, 2008, Page 3

"It takes five days to send an ordinary piece of mail from Taipei to Beijing."— Huang Shu-chien, Chunghwa Post vice president

A Taipei County official yesterday called on Chinese authorities to relax regulations that have limited the number of Chinese visiting Taiwan for tourism.

Chin Huei-chu (秦慧珠), director of the Taipei County Tourism Promotion Bureau, made the call in Xiamen, Fujian Province, where she is attending a travel fair.

A county government statement quoted Chin as saying strict Chinese regulations were responsible for the low number of Chinese who had visited Taiwan since the two sides launched cross-strait weekend charter flights in July.

Under the agreement, up to 3,000 Chinese could enter Taiwan per day, but less than 300 have come per day on average.

Chin said she saw the problems first-hand during her visit to Shandong last month to attend an international travel fair. Shandong is China's second-largest province in terms of population, with 96 million people, and enjoys the second-largest GDP behind Guangdong.

Yet only one travel agency in the province was authorized to offer tours to Taiwan and the agency is limited to three tour guides for Taiwan trips, Chin said.

This means people must wait for a spot on one of the agency's tours to Taiwan, she said.

Chin said she would ask the Straits Exchange Foundation (SEF) to suggest in talks with China's Association for Relations Across the Taiwan Strait (ARATS) that Beijing authorize more local travel agencies to offer tours to Taiwan.

The Xiamen travel fair, organized by the Chinese National Tourism Administration and the Fujian provincial government, has attracted representatives from government tourism agencies and private tour companies from around China, as well as from countries in Southeast Asia, Japan, South Korea, Taiwan and the US.

Taipei County has a booth at the fair.

Meanwhile, Taiwanese and Chinese mail operators are calling for direct mail delivery across the Taiwan Strait.

"It takes five days to send an ordinary piece of mail from Taipei to Beijing because the mail has to go through Japan or Kong Kong," Chunghwa Post vice president Huang Shu-chien (黃書健) said.

"The opening of direct mail delivery would halve the [delivery] time and cost," he said.

Wang Yuci (王渝次), deputy head of China's postal authority, also urged both sides to open direct mail delivery.
---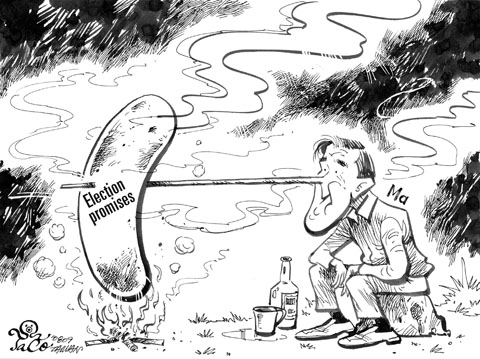 ---
Ma's absurd surrender?

While every person in Taiwan with common sense always knew that President Ma Ying-jeou's (馬英九) ultimate goal is to surrender and unite with China, he has made it official himself in his interview with the Mexican newspaper El Sol de Mexico on Aug. 26.

He was quoted as saying: "The relationship is a special one, but that relationship is not between two countries …While it is unlikely that double recognition of both sides of the Taiwan Strait can be obtained from any foreign country, we must maintain a peaceful and prosperous relationship with Beijing" ("'State to state' theory is dead, Ma says," Sept. 4, page 1).

This is official surrender. But is it surrender or simply meeting the expectations of his people in the so-called "mainland region"?

Of course, the Presidential Office will continue trying to convince the public that this is not surrender.

What else should we call it? A "diplomatic truce"?

Alex Raymond
Niaosong,
Kaohsiung County


 
While reading Ma's comments as recorded in El Sol de Mexico, I could not help pondering the days when I would read such "absurdist" authors and playwrights as Samuel Beckett and Eugene Ionesco.

My profound love and concern for Taiwan — especially its students whom I used to teach — leads me to experience a sadness that borders on grief.

Ma gets it right when he says that neither the People's Republic of China nor the Republic of China allows for the existence of another country or state within its territory. This is by definition the essence of sovereignty.

There presently exist two self-governing and sovereign states on either side of the Taiwan Strait.

Where Ma wanders into absurdist "la-la land" is when he refers to the so-called "1992 consensus."

Perhaps mine may be considered a naive question posed by an ignorant foreigner, but I will ask it anyway: Does the "1992 consensus" exist in any written form? Was the "1992 consensus" ever recorded or transcribed?

If so, who were the signatories to this document? Did they have the authority vested in them to sign their names on such a document?

The term "1992 consensus" has been bandied about since its birth (or is still birth a more accurate term?). It seems that much could be at stake in regard to this "consensus." It seems that certain politicians would feign to permit public policy be dictated by this "consensus."

Certain politicians seem to be willing to allow this "consensus" to set their course and hence that of the nation.

So one would do well to ascertain the legitimacy of the "1992 consensus."

A thought experiment that I find interesting is to question whether said consensus has any validity in a Taiwanese court. What is the legal basis of this "consensus"?

Perhaps a person with a law degree from Harvard or Yale could answer this question. Has this consensus been vetted or reviewed by any panel of justices?

Most importantly, has anyone consulted the 23 million people living in Taiwan for their opinion on the matter?

Or is the "1992 consensus" at best — at the very best — an empty slogan and empty words with no basis in fact or reality? Is it merely an absurd illusion, or even a delusion?

How can two people or parties maintain two "interpretations" while talking about one thing? In my mind, to do this adds absurdity to a paradox that is already mired in inanity and senselessness.

I seem to remember reading once about a group of philosophers in ancient China. I believe that they attached great importance to the names of things.

These philosophers called for the "rectification of names." They understood that if any progress were to be made, people had to be sure that they were designating the same thing when they used a certain word.

Karl Marx said that events in history first appear as a tragedy before reappearing as farce. Designating Taiwan as "Chinese Taipei" would be farcical were it not a question of the tragic humiliation of some 23 million people.

Out of all the countries represented at the Beijing Olympics, only Taiwan — free and democratic Taiwan — was made to endure such an outrageous humiliation.

The world should be ashamed of itself.

Michael Scanlon
Kaohsiung County