Legislators demand answers after SARS claim
 
By Shih Hsiu-Chuan
STAFF REPORTER, WITH AGENCIES
Wednesday, Oct 08, 2008, Page 1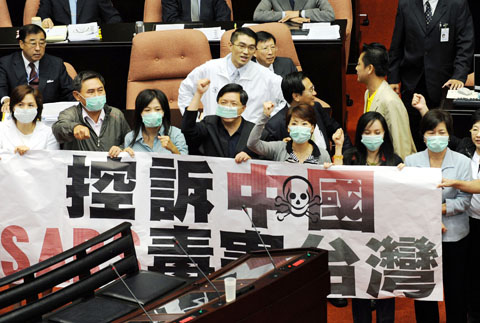 Reacting to suggestions that the 2003 breakout of the SARS virus may have been started deliberately by China as a form of biological warfare, Democratic Progressive Party lawmakers raise a banner in the Legislative Yuan yesterday demanding that China compensate Taiwanese victims.

PHOTO: CNA
Wearing surgical masks and displaying banners on the legislative floor, Democratic Progressive Party (DPP) legislators yesterday urged the government to disclose its intelligence and demand answers from Beijing, a day after National Security Bureau (NSB) Director Tsai Chao-ming (蔡朝明) accused China of starting the global SARS epidemic six years ago as part of a biological warfare campaign.

Tsai told a legislative committee on Monday that sources in China suspected biological warfare, but that conclusive evidence had not been found. SARS triggered a global health crisis after emerging in Guangdong Province in 2002, causing nearly 800 deaths worldwide, including 73 in Taiwan.

"The bureau listed it as a biochemical warfare agent," Tsai said at the time in response to DPP Legislator Twu Shiing-jer in the legislature's Foreign and National Defense Committee. "We have evidence and we have asked UN experts to look into this."

The NSB on Monday night issued a press statement saying that Tsai had been misunderstood. Tsai "expresses his sincere apology that his gaffe ... has caused misunderstanding and concerns," it said.

When fielding questions from DPP lawmakers on the matter yesterday, Premier Liu Chao-shiuan (劉兆玄) said he believed Tsai simply misspoke.

"I never thought that there was a connection between SARS and biological warfare," Liu said during the legislature's question-and-answer session.

When asked by DPP Legislator Huang Wei-cher (黃偉哲) whether Tsai should resign if he indeed misspoke, Liu said that Tsai was not a member of the Cabinet but he would forward the opinion to President Ma Ying-jeou (馬英九).

Minister of the Department of Health Yeh Chin-chuan (葉金川) said that "there is very little chance that the SARS virus could be used as a biological weapon now."

"It's a different situation now than it was five years ago. As we are now 100 percent sure how to treat the SARS virus, there is very little possibility of SARS becoming an epidemic," Yeh said.

"In the past, it took seven days to identify the SARS virus, but now we just need two hours," he said.

Yeh's remarks drew criticism from DPP lawmakers who accused Yeh of taking China's side.

DPP spokesman Cheng Wen-tsang (鄭文燦) told a press conference yesterday that if the SARS virus were to be used as a bioweapon, it would cause irreparable harm to mankind. Cheng appealed to the international community and the UN to investigate the case "because the Chinese move would cause a terrible global disaster."

At a separate setting, DPP caucus whip William Lai (賴清德) said that if the NSB had found evidence China was behind the use of the SARS virus as a biochemical weapon, the government should represent Taiwanese SARS victims by asking for compensation from China.

Meanwhile, Chinese Nationalist Party (KMT) Legislator Wu Yu-sheng (吳育昇) and Luo Shu-lei (羅淑蕾) yesterday both urged Tsai to call a press conference in person to clear up his remark.

"Just issuing press statements [as a correction] was not enough. Tsai has to step down if he fails to show evidence for his claim," Wu said.

KMT Legislator Chang Sho-wen (張碩文) said that Tsai's accusation was part of a DPP plot to thwart the planned visit by Association for Relations Across the Taiwan Strait (ARATS) Chairman Chen Yunlin in the near future.
---
Government chiefs slam sign changes
 
ROMANIZATION SHIFT: Seven DPP local government officials said their primary concern was the cost of changing all their signage to the Hanyu Pinyin system

STAFF WRITER, WITH CNA
Wednesday, Oct 08, 2008, Page 4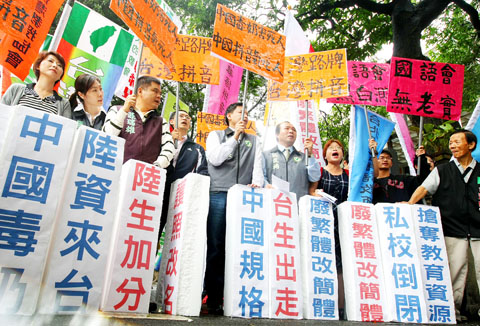 Supporters of the "Taiwan Mandarin Spelling League" and other groups demonstrate outside the Ministry of Education in Taipei yesterday to protest against the ministry's policy of promoting the Hanyu Pinyin romanization system.
PHOTO: CNA

Chiefs of seven local governments in southern Taiwan said on Monday they oppose the central government's decision to use the Hanyu Pinyin romanization system on all public signs nationwide.

Kaohsiung Mayor Chen Chu (陳菊), Tainan Mayor Hsu Tain-tsair, Kaohsiung County Commissioner Yang Chiu-hsing (楊秋興), Tainan County Commissioner Su Huan-chih (蘇煥智), Pingtung County Commissioner Tsao Chi-hung (曹啟鴻), Chiayi County Commissioner Chen Ming-wen (陳明文) and Yunlin County Commissioner Su Chih-fen (蘇治芬) — all Democratic Progressive Party (DPP) members — released a joint statement protesting the decision.

Picking a system for romanizing Chinese should favor simplicity, consistency and be easy for users to understand, and any system used should not be chosen for political purposes or have political overtones, the statement said.

The new measure will not only cause confusion around the country, but will also come at a high price tag, they said.

A preliminary estimate of the cost of converting all public signs in the seven cities and countries to Hanyu Pinyin was NT$500 million (US$15.44 million), they said.

The government adopted the Tongyong Pinyin system under the previous DPP government.

The pan-blue camp had criticized the decision, saying it had been based on political and ideological reasons and that Hanyu Pinyin was being ignored mainly because it originated in and was used in China.

The Executive Yuan recently announced it would switch to Hanyu Pinyin to bring Taiwan in line with international standards.

Hanyu Pinyin was developed in China in the late 1950s.

The government's new policy was quickly challenged by the Kaohsiung City Government, which said it had only recently changed most of its signage to Tongyong Pinyin and did not want to spend an estimated NT$213 million to convert the signage to Hanyu Pinyin.

The city government said it had spent a lot of money over the past two years to make the romanization on signs more consistent as part of its efforts to build an international English-language environment.

It also said the Executive Yuan's policy will cause confusion around the country ahead of the 2009 World Games in Kaohsiung in July.Around 5,000 foreign athletes and team personnel take part in the games and could run into trouble because of the use of two different romanization systems, city officials said.

Representatives of the seven cities and counties will attend a meeting called by the Ministry of Education to voice their opposition to the new policy.
---