¡@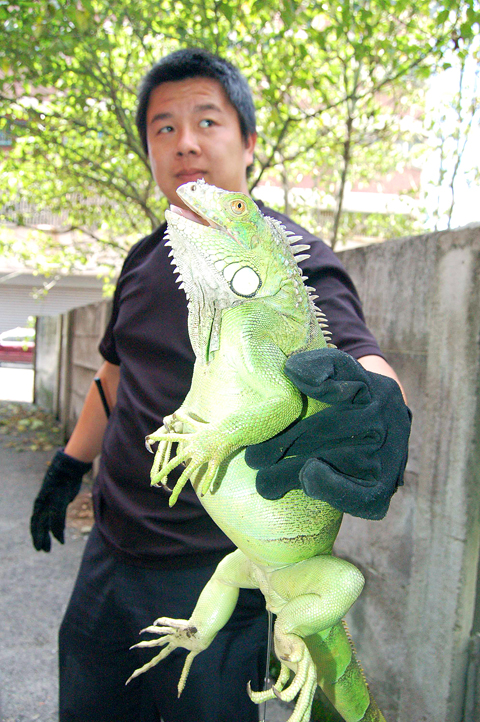 NO LOUNGE LIZARD
A man wears protective gloves as he holds up a 1m-long green iguana that was found in a tree in Changhua City yesterday.

PHOTO: TANG SHIH-MING, TAIPEI TIMES
¡@
---
Melamine found in more Nestle, Klim milk products
¡@
By Mo Yan-Chih
STAFF REPORTER
Thursday, Oct 09, 2008, Page 2

Taipei City¡¦s Health Department yesterday said traces of melamine were found in 10 more types of Nestle and Klim milk powder manufactured in China, and it demanded stores pull the products from shelves.

The Executive Yuan¡¦s Department of Health had found traces of melamine in six types of Nestle milk powder and ordered a recall of 20 products last week ¡X following random tests by local health bureaus ¡X and expanded the scale of tests to include more products.

Chiang Yu-mei («¸­§¬ü), director of the Taipei Health Department food and drug division, said the results of the latest round of random tests came in yesterday.

A total of 16 types of Nestle and Klim milk powder, including the six types already pulled from shelves, contained between 0.06 parts per million (ppm) and 0.85ppm of melamine.

All the tainted products were made by the Shuangcheng Nestle company in Heilongjiang Province and had been pulled from shelves, she said.

Nine types of Nestle milk powder imported from the Netherlands, Switzerland, Germany and the Philippines tested negative for melamine and were therefore not recalled, she said.

The national Department of Health had earlier raised the acceptable level for melamine content in food to 2.5ppm, but later decided to employ its most sensitive testing method ¡X liquid chromatography/tandem mass spectrometry (LC-MS/MS) ¡X to check for melamine.

LC-MS/MS can detect melamine levels as low as 0.05ppm, health officials said.

Chiang said yesteday that his division would continue conducting random tests on products in stores to ensure public safety.

Health officials can be contacted with questions regarding products at 02-2720-8889, ext. 7077.

Nestle is one of the leading brands for infant and adult milk products. Klim is one of scores of brands owned by Nestle. The Swiss multinational brought the brand in 1998 from the US dairy and chemical company Bordon.
¡@
---
PRC decision leaves US disappointed
¡@
LONG WAIT: Republican presidential candidate John McCain welcomed a decision to unfreeze arms sales to Taiwan, saying that it 'has been on hold for too long'
¡@
By Charles Snyder
STAFF REPORTER IN WASHINGTON
Thursday, Oct 09, 2008, Page 3

The US government has expressed disappointment over China¡¦s decision to suspend some joint military activities in retaliation for Washington¡¦s sale of nearly US$6.5 billion in advanced military equipment to Taiwan, reminding Beijing that the US has a legal obligation to supply Taiwan with the defensive weapons it needs.

¡§It¡¦s an unfortunate decision that the Chinese have taken,¡¨ State Department spokesman Robert Wood told reporters on Tuesday.

¡§We¡¦ve explained to them that what we¡¦ve done is very much in accordance with the Taiwan Relations Act in terms of selling defensive systems to the Taiwanese,¡¨ he told the department¡¦s daily press briefing.

¡§The Chinese reaction is unfortunate and results in missed opportunities,¡¨ said Pentagon East Asian affairs spokesman, Marine Major Stewart Upton, adding that ¡§there has been no change in US government policy, and we have faithfully carried out the provisions of the Taiwan Relations Act¡¨ to supply Taiwan with defensive weapons.

Chinese Ambassador Zhou Wenzhong (©P¤å­«) lodged a protest on Monday with US Undersecretary of State for Political Affairs William Burns and informed him of the cancelation or postponement of several joint activities planned between now and next month.

While Wood would not give details, Upton said the activities include senior level visits and exchanges involving humanitarian assistance and disaster relief.

Other reports say that China will also halt port calls by US naval vessels, and indefinitely postpone meetings on stopping the spread of weapons of mass destruction.

It was not immediately known whether the action on port calls would be a repeat of last November¡¦s last-minute decision by Beijing to cancel a Thanksgiving holiday visit to Hong Kong by the then Seventh Fleet aircraft carrier Kitty Hawk, a decision that soured US-China relations for some months.

That action was in turn reportedly a response to the US decision to sell Taiwan nearly US$1 billion in advanced ground support equipment for its Patriot II anti-missile batteries, the predecessors to the US$3.1 billion in PAC-III batteries, which were the largest items in the Pentagon¡¦s arms sales notification to Congress on Friday.

The PAC-IIIs are a core item in the US¡¦ own missile defense network, whose development and deployment has long been a source of anger in Beijing, and more recently in Russia.

Sales of such items by the Pentagon¡¦s Defense Security Cooperation Agency imply a degree of military-to-military cooperation and interoperability between the US and the receiving nation.

While it is not clear if the sale would imply any such cooperation in missile defense between US and Taiwanese forces, the main aim is to enhance Taiwan¡¦s ability to resist an attack by the more than 1,000 Chinese missiles aimed at Taiwan, something which the PAC-IIs would be less effective in doing.

In his comments on the arms sales and the Chinese reaction, Upton said the US ¡§look[s] forward to resuming our mil-mil [military-to-military] exchanges with China,¡¨ but warned China over its military buildup and lack of transparency.

¡§Uncertainty over the motivations and direction of China¡¦s military expansion leads others to hedge. This could lead to a security environment less favorable to China¡¦s interests, the region¡¦s and our own,¡¨ he said.

Meanwhile, Republican presidential candidate John McCain on Tuesday welcomed the arms sales decision, saying that the weapons package ¡§has been on hold for too long¡¨ and praising the Bush administration for ¡§taking a step in the right direction.¡¨

¡§I have long supported such sales in order to strengthen deterrence in the Taiwan Strait and to help preserve the peace,¡¨ McCain said. ¡§American interests in Asia are well-served through faithful implementation of the Taiwan Relations Act.¡¨

If elected, ¡§I will continue the longstanding and close ties between our peoples,¡¨ he said.

But in a statement issued seven days after the US officially announced the sale through a notification to Congress, McCain also expressed concern that the package did not include diesel-electric submarines or advanced F-16 fighter aircraft requested by Taipei.

¡§I urge the administration to reconsider this decision, in light of its previous commitment to provide submarines and America¡¦s previous sales of F-16s,¡¨ he said.

Saying that the US should promote the improvement of cross-strait relations, McCain said that ¡§the possibility of productive times between Taiwan and China are enhanced, not diminished, when Taipei speaks from a position of strength.¡¨

¡§I believe that America should continue to sell defensive weapons to Taiwan in the future ... and stand by this remarkable free and democratic people,¡¨ he said.
¡@
---
¡@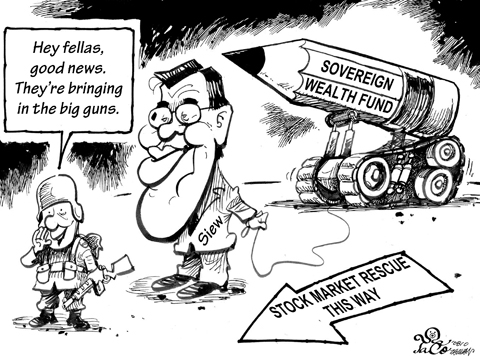 ¡@
---
Parallels across the globe

The response of the Chinese Nationalist Party (KMT) government to the melamine scare is in some ways analogous to the US government¡¦s reaction to the problems in its banking sector. In both situations, domestic and foreign companies exploited a lack of regulation in an environment of institutional corruption to base the largest part of their profit margin upon practices that were unsound and, in terms of market stability, unsustainable.

When Sanlu Group executives decided to add melamine to milk to artificially raise protein readings and cheat the market, they turned the company into a sociopathic entity acting purely to sustain itself ¡X and one that operated outside of the social contract and acceptable business ethics.

That the Ministry of Health raised the level of acceptable melamine in products from zero parts per million (ppm) to 2.5ppm as a response to the exposure of this scandal is, and I reserve the right to be wrong, a knee-jerk reaction because the minister feared that actually enforcing the zero ppm standard would not only mean an effective boycott on a whole range of goods from China but also seriously threaten domestic producers who may not have been meeting the standards for years.

In the US, taxpayers have now been asked to pay out US$700 billion to rescue a financial sector that has imploded under the weight of buying on the never-never and gambling with people¡¦s mortgages and pensions. Before the ¡§crash,¡¨ financiers were the first to insist on deregulation and ¡§freedom of markets.¡¨

This hegemony of neo-liberal economics has been exposed as a sham, because the same people now say that the crash represents the failure of markets, not the people that comprise them. It seems some markets are more equal than others and if they were to fall, governments fear that the whole house of cards would tumble too.

What is most striking, however, is that both the US and Taiwanese governments have in their own way put the interests of businesses before public security and safety.

In these democracies the influence and weight that the wealthy exert on the political decision-making process is disproportionate to that of the least wealthy.

Some citizens are more equal than others.

When corporate interests capture the agenda of a state and then act in a way that undermines the social contract between citizen, government and market, the integrity of the democratic polis is compromised.

Luckily some companies, like the Taiwan High Speed Rail Corp, have high standards and act as a beacon for others by showing that the extra expense is worth it to a business, since it almost guarantees customer satisfaction and trust.

If the KMT and Chinese Communist Party want business as usual, they may find the market to be uncooperative as ¡X at least in Taiwan ¡X freedom of information is likely to result in consumers making better choices. Perhaps then Taiwanese will defend their sovereignty and their health through their purses and wallets in the face of a national government that is a closed shop to their concerns but open for business.

BEN GOREN
Tamsui, Taipei County
¡@