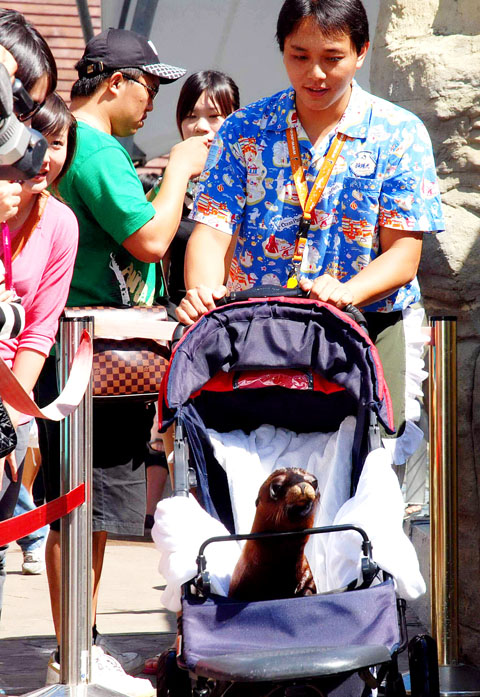 SEALED AND DELIVERED
A young sea lion is shown to the public by a staff member at Hualien's Farglory Ocean Park yesterday. The sea lion is one of a pair born at the ocean park in June.

PHOTO: KAN YU-WEI, TAIPEI TIMES
---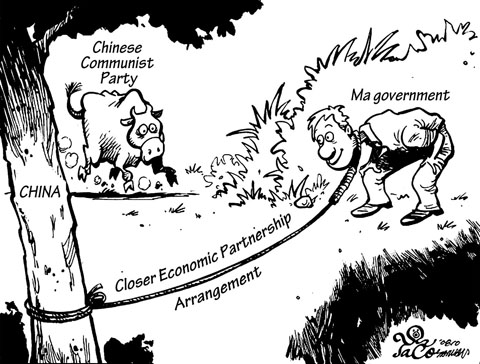 ---
Direct air routes and the threat to security
 
By Chen Kuo-Hsiung 陳國雄
Saturday, Oct 11, 2008, Page 8

'The routes now under discussion leave out third country identification zones.'

Recent reports stated that Taiwan and China have reached a consensus on routes for chartered direct cross-strait flights on weekends and that an agreement will be signed when Association for Relations Across the Taiwan Strait Chairman Chen Yunlin (陳雲林) comes to Taiwan at the end of this month.

The proposed northbound route will run from Taipei's Air Traffic Service Route B576 and include a left turn that brings planes directly to Shanghai before reaching Okinawa and Korea, which were originally transit points between Taiwan and China.

The southbound route will run via the "A1" route, and after passing along the no-fly zone in the centerline of the Taiwan Strait, will lead planes directly to Xiamen without traveling via Hong Kong.

As soon as these more direct routes are established, the R8 no-fly zone located at the northern point of the centerline in the Taiwan Strait, which has been in place for 50 years, will cease to exist.

This will not only affect the vigilance of Taiwan's armed forces, but will also produce a gap in air defenses in the north. The changes will dramatically lessen the amount of air space that Taiwan's military can use for maneuvers, which will be detrimental to overall defense capabilities.

These routes are extremely close to the Taiwan Strait centerline, originally drawn up by the US.

Not long after President Ma Ying-jeou (馬英九) came to power, China's People's Liberation Army (PLA) changed the Russian-made S-300PMU 1and 2 surface-to-air missile systems, with a range of 80km to 120km, in the coastal areas of Xiamen, Longtian and Shantou to the S-300PMU3, with a range of more than 200km, which means that all of Taiwan's airspace is now within range of Chinese missiles.

This poses a great danger to Taiwan, because even if radar detected a Chinese "Trojan-horse strategy" — whereby an attack was launched by hiding fighter aircraft under the wings of civilian aircraft — the first target to be hit would be the civilian planes, placing huge pressure on a commander's willingness to issue the order.

Some say that talk of a Trojan-horse attack is unfounded. However, war is based on surprise and strategy.

If China is not considering such a strategy, why did it stage an exercise just before direct chartered flights commenced that involved troops in civilian aircraft taking over an airport? Because the PLA had nothing better to do? I seriously doubt that.

When the Democratic Progressive Party was in power, there were plans to establish an air identification zone in Okinawa. Having and using identification procedures in a third, neutral country can better secure safety and security.

But the routes now under discussion leave out third country identification zones, turning them into domestic routes.

This would not only erode Taiwanese sovereignty, but would also show that the Ma administration has no regard for national security.

If the government is so hell-bent on selling out the nation, why doesn't it close down the Ministry of National Defense and be done with it?

Chen Kuo-hsiung is the general-secretary of the Taiwan National Security Institute.