Group protests move to open ports to PRC labor
 
By Chung Li-Hua
STAFF REPORTER
Sunday, Oct 12, 2008, Page 1

A Democratic Progressive Party (DPP) legislator and a labor rights group yesterday accused President Ma Ying-jeou (馬英九) of breaking a campaign promise not to open the market to Chinese workers, after the Council of Agriculture began allowing Chinese fishermen to operate at a fishing port and announced plans to extend the measures.

On Aug. 12, while attending a National Fisheries Conference, Ma said the government would loosen restrictions, allowing Chinese fishermen to work in fenced off, monitored areas at certain fishing ports to help their employers with a wider array of tasks.

Ma said at the time that it would be unreasonable to ban the fishermen from performing certain tasks if they were allowed to work at the ports.

The government expanded the fenced-off port area for Chinese workers at Nanfangao (南方澳) fishing port in Ilan County on Aug. 5 to allow them to perform tasks such as unloading cargo.

The area measures 120m by 50m. Chinese fishermen are allowed to unload cargo, prepare fishing bait, and repair nets in the area — tasks the labor group argues should be done by domestic workers.

Wuchi (梧棲) fishing port in Taichung County will have a fenced off area for Chinese workers by the end of this year, followed by Badouzih (八斗子) in Keelung, Nanliao (南寮) in Hsinchu City and Donggang (東港) in Pingtung County next year.

Fisheries Agency officials said Chinese fishermen would be able to earn money doing tasks on shore.

DPP Legislator Wong Chin-chu (翁金珠) yesterday criticized the changes, saying they posed a threat to social order and the rights of domestic workers.

She expressed concern that the port shelters could be repeatedly expanded to include more workers and processing facilities.

Taiwan Labor Front head Son Yu-lian (孫友聯) said the unemployment rate was high because of the global financial crisis, with more than 1,000 workers losing their jobs each day.

The government should create jobs for locals rather than importing cheap Chinese labor, he said.

In response, Fisheries Agency Director James Sha (沙志一) said the areas in which Chinese fishermen operate on shore would be fenced off with steel bars and monitored by cameras and that employers would be responsible for their behavior.

In addition, Chinese fishermen will only be allowed to work at the areas between 8am and 5pm and the maximum number of workers allowed at each area at any given time will be 100, he said.

Sha said the fishing industry had been suffering a serious manpower shortage for years because local workers do not want to take the jobs.

The agency has tried to attract local workers with monthly subsidies to no avail, he said.
---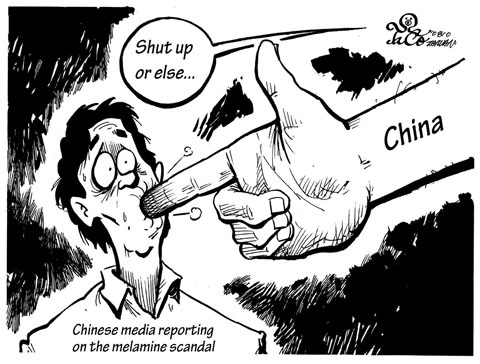 ---
Facing a darkening future

Sunday, Oct 12, 2008, Page 8

On Friday, Singapore's latest economic data showed its economy contracted for a second consecutive quarter in the third quarter, bringing the city-state to the brink of recession. This news was all the more worrisome because Singapore was the first nation in the region to release third-quarter GDP figures and its performance can shed some light on Taiwan's export-oriented economy.

The Ministry of Finance said on Tuesday that exports dropped 1.6 percent year-on-year last month to US$21.85 billion. The decline, the first in more than six years, was a surprise to industry watchers because it was a sharp reversal from an export growth of 18.4 percent in August and showed an across-the-board weakness in the country's major export markets, especially China (including Hong Kong), which President Ma Ying-jeou's (馬英九) government hopes will re-energize Taiwan's economy.

A closer look at the export data showed Taiwan's trade surplus dropped 74.3 percent to US$810 million last month from the same period last year. Moreover, in the third quarter, the surplus fell 90 percent to US$460 million from the second quarter's US$4.72 billion and 86 percent from the first quarter's US$3.3 billion. This has alarming implications for GDP growth in the fourth quarter, not to mention the whole year.

Given the escalating global financial turmoil, the central bank cut its policy rate from 3.5 percent to 3.25 percent on Thursday, following other central banks' efforts to preemptively stem liquidity problems. Central bank Governor Perng Fai-nan (彭淮南) admitted that the risk of economic drawback domestically has increased.

While Perng emphasized that the economy was not at risk of a recession, the latest economic forecast for Taiwan by the IMF — along with other predictions made by various foreign brokerages — show Taiwan is facing growing headwinds.

On Wednesday, the IMF sharply cut its forecast for Taiwan's economic growth next year from its 4.1 percent prediction in April to 2.5 percent on the back of the global downturn. However, in its latest World Economic Outlook, the fund said Taiwan's economy was likely to grow 3.8 percent this year, up from its April estimate of 3.4 percent.

On Thursday, Standard Chartered Bank lowered its forecast for Taiwan next year from 4.8 percent to 3.1 percent, after Deutsche Securities cut its forecast from 3.3 percent forecast in June to 1 percent.

The benchmark TAIEX has plunged nearly 40 percent since the beginning of this year. No one knows when the market will bottom out. So Taiwan is unlikely to achieve the Ma administration's target of 4.3 percent growth this year and 5.08 percent next year.

Finally, Minister of Economic Affairs Yiin Chii-ming (尹啟銘), who once predicted the TAIEX could rise to 20,000 points under the new government, said on Thursday that the public would suffer at least another year of hardship amid the current global financial crisis.

Yiin's words were a reminder of what then minister of economic affairs Lin Hsin-yi (林信義) said eight years ago — the public needed to be prepared for days of hardship in 2001. Lin's words were followed by a record GDP contraction of 2.17 percent in 2001.

As a spate of recent government measures have failed to boost market confidence, people have to wonder how far away we are from a repeat of 2001.
---
Democracy — an inconvenient truth
 
By Lii Ding-Tzann 李丁讚
Sunday, Oct 12, 2008, Page 8

The approval ratings for Premier Liu Chao-hsiuan's (劉兆玄) Cabinet have dropped steadily since it took office. There are many reasons for this.

Liu has said the constant stream of criticism from the media and commentators is partly to blame. He takes particular offense at critical remarks made by Chinese Nationalist Party (KMT) legislators and commentators who usually favor the party, complaining that their lack of support for Cabinet policies is undermining public confidence in the government. He has even suggested that the KMT use party discipline to restrict what its lawmakers say in public. Meanwhile, the Government Information Office has reportedly told state-owned Radio Taiwan International not to criticize China too harshly.

The Cabinet's moves indicate that Liu and his ministers don't really understand the workings of democratic politics.

Under the constitutional system, the executive branch and legislative branch are meant to balance each other. Lawmakers represent the public and are responsible only to voters, so they are entitled to monitor the government's performance. Liu's attempt to restrict their freedom of speech is a violation of this basic democratic principle.

The media is duty bound to take a critical approach to politics. When the media sing the praises of the government and cover up for it, this is a sign of deep corruption. Under former president Chen Shui-bian (陳水扁), the "pro-green" media — those that supported Chen and the Democratic Progressive Party's (DPP) — made every effort to conceal or deny Chen's misconduct, thus accelerating the spread of corruption and ultimately leading to the DPP's electoral defeat.

This kind of behavior has earned the revulsion of the public, and rightly so. Why, then, do former opposition figures reverse their attitude as soon as they find themselves in government, refusing to endure media criticism and even seeking to interfere in the media?

Under the DPP's eight-year rule, the "pro-unification" (pro-KMT) media were sharply critical of the government. Many DPP supporters saw this as a case of ideology dominating political comment. In the months since the KMT regained power, viewers and readers have been curious to see if the "pro-unification" media would continue to monitor the government, or whether they would change their tune, proving that they only "monitored" the DPP government for political reasons.

As it turns out, with some notable exceptions such as talk show host Jaw Shaw-kong (趙少康), most "pro-unification" commentators have acted professionally over the past few months, being just as critical of the KMT government as their "pro-green" counterparts. More commentators are taking to heart their independent role as media workers.

The Taiwanese media is really a world wonder. With so many TV channels and live talk shows, any event may be scrutinized by a dozen talk shows that same day, followed by public criticism in newspaper editorials and readers' letters the next day.

Such a weight of public opinion can indeed bring enormous pressure to bear on the government, but such is the nature of democracy. If the government can't take the pressure, how will it shape up when the going really gets tough?

Liu's Cabinet is a group of aged, even outdated figures. It is made up of technocrats left over from the last century who have never undergone the test of democratic politics. Unaccustomed to the democratic process, they shy away from cameras and journalists. Rarely do they ever take the initiative to hold press conferences to defend their policies.

How can the public have any confidence in such a government?

A policy can only be accepted by all sides after it has been formed through a certain political process, so a leader in the democratic era must be able to shuttle freely between "policy" and "politics." Without either one of them, no accomplishment can be made.

Technocrats see policy as an internal decision of their elite group. This was acceptable and even efficient under authoritarian rule, but in the democratic era it is no longer so convenient. Officials have to throw policies into the public domain for comprehensive examination, so that policy and politics can interact effectively.

Officials should treat opinions expressed in the media with due humility. In the case of useful suggestions, they should accept them and adjust their policies accordingly. As to the not so useful ones, they should take the initiative to clarify the issue in public and show their appreciation anyway.

Democracy is an inconvenient truth. In the process of forming and implementing policies, the government should have a long-term vision on the one hand, and communicate with the public on the other. It should adjust policy direction and content whenever necessary, so as to make them even better. In this way, the government can really be at the service of the people. Such a transformation may be inconvenient, but it is a process that must be endured.

Above all, democracy is an ability that has to be learned. It is a skill that people can only acquire through their own experience of the democratic process, so we must give the public the chance to gain that experience.

It may be a little bit chaotic at the beginning, but the public will gradually gain the skills needed in a democracy. Then, and only then, will the quality of Taiwan's democracy improve.

Lii Ding-tzann is a professor at the Institute of Sociology of National Tsing Hua University.