DPP members, officials clash at party office in Taipei
 
By Rich Chang
STAFF REPORTER
Tuesday, Oct 14, 2008, Page 1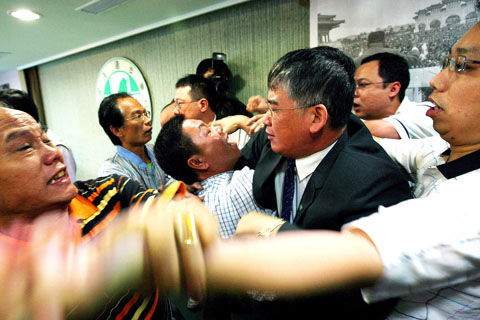 Democratic Progressive Party (DPP) officials and members clash at the party's office in Taipei yesterday over remarks DPP Secretary-General Wang Tuoh made about supporters of former president Chen Shui-bian.

PHOTO: CNA

Democratic Progressive Party (DPP) officials clashed yesterday morning after members loyal to former president Chen Shui-bian (陳水扁) held a protest at the party's office in Taipei.

Huang Chin-lin (黃慶林), director of the DPP's Taipei branch, led dozens of Chen supporters to the DPP office to protest remarks by DPP Secretary-General Wang Tuoh (王拓) against Chen.

Wang on Saturday criticized party officials who attended rallies in support of Chen after DPP Deputy Secretary-General Chen Chi-mai (陳其邁) was spotted at an event in Kaohsiung with the former president.

Wang said he believed it was a "negative" thing for party officials to participate in the rallies, adding that politicians should be able to "tell right from wrong."

The protesters asked Wang to apologize and step down.

"Protect Tsai Ing-wen [DPP chairwoman], Wang Tuoh step down," they sang.

DPP Vice Secretary-General Hung Yao-fu (洪耀福), who met the protesters on behalf of the party, told them it was the chairwoman's right to decide on the appointment and removal of DPP officials, adding that if they supported Tsai, they should respect her decisions.

"Everyone should remember that after A-bian [Chen Shui-bian] held a press conference [admitting he failed to fully declare his campaign funds], DPP Taipei branch Director Huang Chin-lin was the first DPP member to ask the party to expel Chen," Hung said.

Huang and the protesters then rushed toward Hung, triggering a clash between protesters, DPP officials and office staff.

The altercation lasted about 10 minutes, whereupon Huang asked the protesters to leave, adding they would come back tomorrow, when the party's Central Standing Committee is scheduled to meet.

Accompanied by Tsai, Huang yesterday afternoon apologized for the incident.

"Former president Chen's performance in his eight-year term will be judged by history, but since DPP grassroots supporters remain passionate about Chen, it is hard to control their behavior," he said.

Tsai yesterday called for party unity and barred DPP officials from pro or anti-Chen rallies.

Tsai also asked officials not to speak publicly on the matter.

Separately, the DPP yesterday said it would stage a protest this weekend against a planned visit by China's top cross-strait negotiator, Chen Yunlin (陳雲林).

Although the date of the visit has yet to be set, National Security Council Secretary-General Su Chi (蘇起) said it would be best if it took place before the APEC summit that opens on Nov. 22 in Peru.

Addressing concerns over protocol for a possible meeting between the Chinese official and President Ma Ying-jeou (馬英九), Su said Ma would "certainly uphold dignity and parity."
---
Russia shows muscle with missiles
 
COLD WAR NOSTALGIA: Two of the missiles were fired from nuclear submarines, while a third was watched by Russian President Dmitry Medvedev in the northwest

AFP, MOSCOW
Tuesday, Oct 14, 2008, Page 1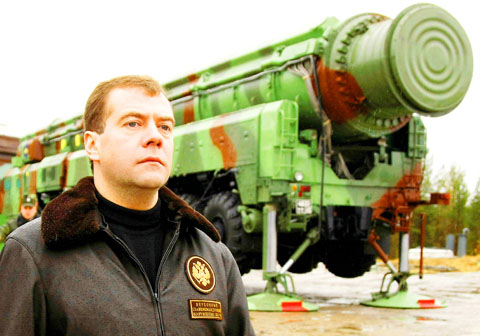 Russian President Dmitry Medvedev stands next to an intercontinental ballistic missile before its launch from the Plesetsk cosmodrome in northern Russia on Sunday.

PHOTO: AP

Russia fired three long-range missiles on Sunday and pronounced its nuclear deterrent strong in an extraordinary show of force experts said had not been seen anywhere since the Cold War.

Two of the missiles were fired from nuclear submarines in the Asian and European extremes of the sprawling country while a third was watched by Russian President Dmitry Medvedev on land in northwest Russia, news agencies reported.

It was the second Russian intercontinental ballistic missile (ICBM) test in as many days and the latest in a series of high-profile military exercises of conventional land, sea and air forces as well as strategic nuclear units.

"This shows that our deterrent is in order," Medvedev was quoted by RIA Novosti news agency as saying after Sunday's missile launches.

"We will of course be introducing new types of forces and means into the military," he said, without elaborating.

Independent military analyst Pavel Felgenhauer said the exercises reflected Russia's determination to prepare for major conflict.

"This was a dry run for a war with the United States," Felgenhauer said of the missile launches, part of major military maneuvers billed "Stability 2008," involving all military branches.

"These are the biggest strategic war games in more than 20 years. They are on a parallel with those held in the first half of the 1980s. Nothing of the sort has been seen either in Russia or the United States since then," he said.

Russian navy spokesman Igor Dygalo confirmed the test-launches from submarines in the Sea of Okhotsk north of Japan and the Barents Sea northeast of Norway.

"The missiles hit right on target," he said.
---
DPP laments 'party of violence' remark
 
HUMILIATING COMMENT: Showing up five minutes late at a meeting room yesterday, Executive Yuan Secretary-General Hsueh Hsiang-chuan was grilled by DPP legislators
 
By Loa Iok-Sin
STAFF REPORTER
Tuesday, Oct 14, 2008, Page 3

Democratic Progressive Party (DPP) legislators yesterday lashed out at Cabinet Secretary-General Hsueh Hsiang-chuan (薛香川) for his comment that the DPP was a "party of violence" and demanded an apology.

Reporting to the legislature's Internal Administration Committee for the first time following the comment earlier this month, Hsueh was grilled by DPP legislators the moment he stepped into the meeting room.

On Oct. 3, Department of Health Minister Yeh Ching-chuan (葉金川) attended a press conference held by the Chinese Nationalist Party (KMT) legislative caucus to promote milk and bread produced locally amid China's tainted milk scare.

Protesting Yeh's decision to attend the KMT press conference but not the DPP's, DPP lawmakers tried to persuade Yeh to go to the DPP caucus office as Yeh was leaving and engaged in a physical clash with their KMT colleagues who were escorting Yeh out.

During the clash, Yeh's blood pressure increased and he was hospitalized at the National Taiwan University Hospital nearby later in the day.

Walking out of the hospital after paying a visit to Yeh, Hsueh said: "After so many years, the DPP is still a party of violence."

Hsueh came under fire the moment he walked into the meeting room yesterday as he was five minutes late. He explained that he was held up in traffic, but the explanation only drew more fire from DPP Legislator Chiu Yi-ying (邱議瑩) as the Executive Yuan is only a few blocks away from the Legislative Yuan.

"You cannot humiliate the entire party like this — do you think it would be reasonable if I called the KMT a 'party of murderers' because the KMT's Cheng Tai-chi [鄭太吉] is a murderer?" DPP Legislator Tsai Huang-liang (蔡煌瑯) asked.

Cheng committed murder in 1994 when he was the Pingtung County Council speaker and was executed in 2000.

"I demand that you apologize to the DPP," Tsai said.

"Seeing what happened to Yeh, as a Cabinet member I was in great fear at the time and thought that I — or any other government official — may be treated like that as well," Hsueh said.

Criticism also came from KMT Legislator John Wu (吳志揚), who told Hsueh: "It's inappropriate for you to make such a comment as a Cabinet official — especially when improving relations with the opposition is an important part of President Ma Ying-jeou's [馬英九]
---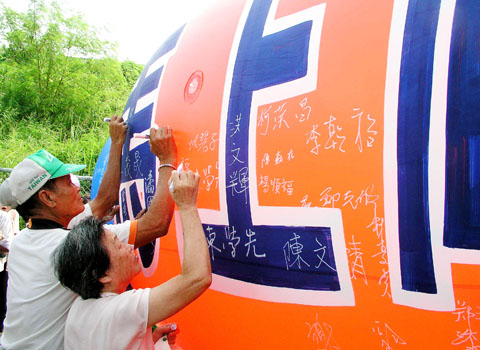 DRINK THIS
Residents write their names on an air balloon shaped like a feeding bottle to express their dissatisfaction with the government in Tainan County yesterday.

PHOTO: WU CHUN-FENG, TAIPEI TIMES
---
Double Ten: Just another pep talk

Tuesday, Oct 14, 2008, Page 8

Friday was the first Double Ten national day celebration since the Chinese Nationalist Party (KMT) government of President Ma Ying-jeou (馬英九) took office. In his national day address, Ma admitted that his Cabinet's performance over the past four-and-a-half months has not entirely lived up to public expectations, but he offered no apologies for its failings. He did not clearly explain the challenges facing the nation, nor did he propose any tangible solutions.

"We feel deeply the pain of our people caused by the economic downturn," he said, while attributing the slowdown entirely to the notion that Taiwan could not avoid the effects of the US financial crisis.

His speech was just one more in a string of calls for public confidence. As Democratic Progressive Party Chairwoman Tsai Ing-wen (蔡英文) said, it was no more than a collection of empty phrases.

If there is one thing that Taiwan has not been short of recently, it is confidence calls full of empty verbiage. The Cabinet's performance during its few months in power has been entirely devoid of merit. Consequently, the whole nation is now in peril, the public is suffering and a sense of foreboding prevails.

Ma promised to make the economy the No. 1 priority in his government's program but, as he admitted in his speech, the economy is sluggish, share prices are falling, prospects are grim, business is difficult and life is hard. Despite the dismal state of the economy, neither Ma nor his appointed financial decision makers are willing to face reality. Instead, all they can offer is one pep talk after another. Unable to change things for the better or set the public's mind at rest, they are losing credibility fast.

By repeatedly making promises it can't live up to, Ma's government has thrown its credibility to the four winds. Take Vice Premier Paul Chiu (邱正雄), for example. With the stock market trending downward since Ma took office, Chiu has repeatedly called for public confidence. His basic contention each time has been that the nation's economic fundamentals remain sound and its long-term prospects are good. Local stocks' price/earnings ratios are fair, he says, while urging the public to take heart that the government will fulfill its promise of economic growth.

Chiu has said that foreign investors have confidence in Taiwan's stock market — but that was before Lehman Brothers filed for bankruptcy protection and pushed the global financial crisis to a new level. Chiu's calls for confidence have not turned the situation around. Sometimes he has made more than one such call a day, while on other occasions he was compelled to dodge questions from reporters. In the meantime, the TAIEX kept tumbling even faster than those of its neighbors.

The reason why the government's pep talks have had no effect is quite simple. To install confidence, you need to let the public know what is really going on. Whatever you say to the public needs to be based on reality. If you dodge the issues and depart from reality, the public won't accept it.

Take the economy, for example. The IMF recently reported that the global economy is entering a period of much lower growth rates. Forecast worldwide growth for next year has been revised down from 3.9 percent to just 3 percent. The government of Singapore has recognized that the city-state is already in recession. Japanese Prime Minister Taro Aso has voiced his concern over the country's economic outlook on more than one occasion.

Perhaps it is for the sake of face that the Taiwanese government insists that its growth target of 5 percent for next year can still be met. When government officials refuse to face reality and don't dare tell the truth, their calls for confidence are bound to fall on deaf ears.

Taiwan is a democracy and the public cannot be lead around by the nose anymore. Instead of coming up with sound policies, the government has taken advantage of the economic downturn to push its line of complete opening up to China, which would only make the domestic economy even more reliant on cross-strait trade.

How can the public have confidence in a Cabinet that comes up with one wrong policy after the other? Ma's team has overestimated its ability and misjudged the situation. Confronted with falling growth since the second quarter, rising prices, stagnant wages and a falling stock index, the government has not come up with any effective remedial policies. On the contrary, each ministry has its own idea and their uncoordinated policies are doomed to fail.

The Cabinet announced "eight big projects" to inject life into the economy, but still the public has no faith in its ability to turn the economy around. Ma and his government have failed to honestly explain to the public what is going on in the unfolding financial crisis, where it is heading or what policies they can come up with to deal with the situation.

Before taking office, Ma's team was full of self-confidence, claiming that "everything will be fine just as soon as Ma Ying-jeou gets in." Then they changed the promise to "everything will be fine ... soon." Now, with the government facing serious challenges at home and abroad, it looks more like "everything has gone wrong since Ma got in."

Ma's national day address was just another empty call for confidence, touting a list of old and failed policies in an attempt to anesthetize and hoodwink the public.

Before the presidential election, people bought shares on the promise that the TAIEX would top 20,000 points with Ma in power, only to see their share prices plunge. Workers in the tourism industry believed the promise that direct flights between Taiwan and China would bring unlimited business opportunities, but they have been disappointed. Wage earners have watched their real incomes fall. Consumers can't even eat or drink without worrying about the milk powder scandal.

With Ma's Double Ten day speech, Taiwanese have heard one pep talk too many. We can't allow this government to pull the wool over our eyes any longer.