Legislators push for melamine compensation
 
By Shih Hsiu-Chuan
STAFF REPORTER, WITH CNA
Wednesday, Oct 15, 2008, Page 1

Legislators across party lines yesterday agreed to back three bills that would make it possible to offer compensation to firms suffering financial losses as a result of importing melamine-contaminated products from China.

The Democratic Progressive Party (DPP) legislative caucus said it would call inter-party negotiations on the bills before they proceed to the second and third readings.

The legislature's plenary session agreed to speed up the legislation on compensation and approved a motion to bypass the preliminary review.

The three bills are: a draft special statute engineered by DPP Legislator Wang Sing-nan (王幸男) to compensate the affected importers for their losses, an amendment to the Commodity Labeling Law (商品標示法) and an amendment to the Act Governing Food Sanitation (食品衛生管理法).

Wang suggested in the draft that importers be exempted from business taxes for last month and receive cash compensation for melamine-related losses based on their annual business revenues.

For example, a firm whose revenues were between NT$3 million and NT$4 million (US$92,600 and US$123,500) last year would be given NT$500,000 in compensation from the government, while a smaller business with revenues of less than NT$1.2 million could receive NT$50,000.

AMENDMENTS

The DPP legislative caucus initiated the two amendments. The amendment to the Commodity Labeling Law would grant producers "China-Free" certification and the amendment to the Act Governing Food Sanitation would require producers to list on the package the places of origin of all ingredients in their products.

Chinese Nationalist Party (KMT) legislative caucus whip Lin Yi-shih (林益世) said that the party supported the proposals by the DPP in principle, but also hoped the Executive Yuan would present its counterproposals to thrash out difficulties if any arose.

In August, panic spread among local consumers after 25 tonnes of milk powder imported from China were found to contain melamine, which can cause kidney stones.

The government has asked for compensation for Taiwanese consumers from the culpable Chinese companies.

VISIT

The food scare over products made in China has become a sensitive issue in bilateral relations at a time when a key Beijing official is preparing to visit Taiwan.

Chen Yunlin (陳雲林), China's top liaison with Taiwan in his capacity as the chairman of the Association for Relations Across the Taiwan Strait (ARATS), is scheduled to visit Taiwan late this month or early next month to hold talks with his Taiwanese counterpart, Straits Exchange Foundation (SEF) Chairman Chiang Pin-kung (江丙坤).

EXTRA SESSION

Meanwhile, lawmakers failed to reach a consensus on holding an extra plenary session for an amendment to the Securities Transaction Act (證券交易稅條例). As a result, the amendment will not have its second and third reading until Nov. 7.

Because the DPP legislative caucus opposes the amendment, the legislature will keep to the initially scheduled agenda of holding plenary sessions every Tuesday and Friday for lawmakers to question Premier Liu Chao-shiuan (劉兆玄) until it ends on Nov. 4.

If the DPP refuses to accept the amendment, the KMT caucus cannot put the amendment to a vote to pass its second and third reading until Dec. 7, as the DPP is entitled to ask for inter-party negotiation on the bill that can last for a maximum of one month.
---
Pepper spray causes scare in Taipei
 
TEAR JERKER: The EPA speculated that a motorcyclist may have dropped a can of pepper spray that was crushed by a vehicle, releasing its contents into the air
 
By Meggie Lu
STAFF REPORTER
Wednesday, Oct 15, 2008, Page 2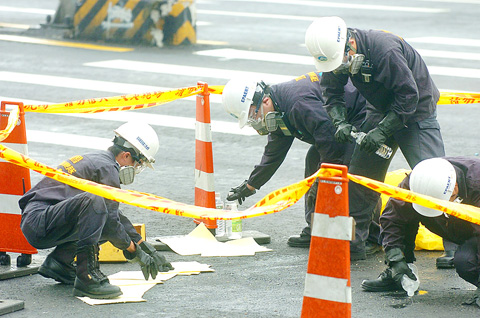 Members of an emergency response team from the Environmental Protection Administration collect test samples of an unidentified powder that sickened pedestrians and motorists in Taipei City yesterday.

PHOTO: LO PEI-DER, TAIPEI TIMES

A bottle of pepper spray was crushed on Taipei City's Guangzhou Street-Zhonghua Road intersection yesterday morning, causing a day-long scare before the substance was analyzed and identified by the Industrial Technology Research Institute (ITRI) in the evening.

Dozens of scooter riders and pedestrians suffered eye problems and skin rashes and irritation after inhaling the yellow powder, which was blown into the air by the wind, the Environmental Protection Administration's (EPA) director of environmental sanitation and toxic substance management department Yuan Shaw-ying (袁紹英) said.

The accident happened at around 11am, Yuan said, adding that half an hour later the Environmental Protection Administration (EPA) deployed its environmental toxic disaster emergency response team to clean up the powder and collect samples for laboratory analysis.

As the ITRI is located in Hsinchu, the lab results did not arrive until late in the evening.

Meanwhile, there was some speculation among hospital doctors that the substance was monochloroacetaldehyde — a toxin that can cause eye injury and acute pulmonary edema when ingested above certain levels — after preliminary assessment of those affected.

The incident caused a citywide scare.

Longshan Junior High School, which is located close to where the powder was found, initiated a school-wide emergency action and distributed masks to students.

Some media portrayed the incident as a potential "toxic attack."

A total of 43 people — the youngest of whom was a two-year-old child — sought medical attention at National Taiwan University Hospital, Chung-shing Hospital and Heping Hospital, Yuan said.

The scare finally ended at 6:30pm, when the EPA received the lab results that revealed the powder to be pure 2-chlorobenzalmalononitrile (CS), the main ingredient in pepper spray.

CS was first discovered by two Americans in 1928, and is now widely used in aerosol spray form as a self-defense weapon.

"While CS may cause short-term discomfort such as watering of the eyes, sneezing, coughing and skin irritation, those who inhaled it should recover after a while," Yuan said.

The substance is not regulated by the EPA, Yuan said, adding that the administration speculated that the can was dropped by a motorcyclist by accident, and then crushed by the vehicle behind, causing the CS powder to mix in the air.

"Most chemicals can be toxic depending on exposure time and amount, however, as the pedestrians were very briefly exposed, and there were less than 10g of powder on the road, most should be fine after some rest," he said.

At press time, only two of the injured people remained hospitalized, Yuan said, adding that the rest had been discharged.
---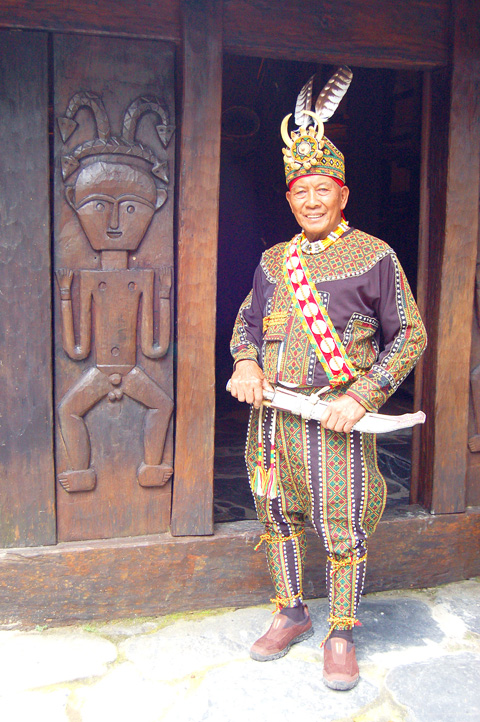 STANDING PROUD
Rukai chieftain Chen Chih-heng stands next to a carved totem in the Formosan Aboriginal Culture Village in Nantou County yesterday. Chen, who is a master of traditional crafts, will soon lead a group of colleagues to Japan to promote tourism to Taiwan.

PHOTO: CHEN HSIN-JEN, TAIPEI TIMES
---
Probe confirms Thai police used strong, cheap tear gas

AP, BANGKOK
Wednesday, Oct 15, 2008, Page 5

Thai riot police used a cheap Chinese tear gas that contained an explosive powerful enough to rip craters in the ground to disperse crowds of anti-government protesters last week, an investigator said.

The investigation by forensics experts and a human rights commission could explain why several protesters had limbs and feet blown off and three died in clashes last week with police, who insist they only fired tear gas into the crowd.

Police used tear gas to clear the streets after protesters attempted to blockade parliament to keep Thai Prime Minister Somchai Wongsawat from delivering a policy statement. The ensuing clashes injured 478 people — mostly protesters — including 85 who were hospitalized, medical authorities said.

Investigators found that police used three types of tear gas — from China, the US and Spain — but "relied heavily on tear gas made in China," Pornthip Rojanasunand, director of the Central Institute of Forensic Science, said on Monday.

Pornthip said an experiment showed that the Chinese gas contained high levels of RDX — a chemical commonly used to make bombs and not a standard component of tear gas intended for crowd control.

Pornthip's institute conducted the investigation as part of a probe into the clashes by the National Human Rights Commission.

Tests at a military field over the weekend found that a Chinese-made tear gas canister fired from a shotgun left a crater 8cm wide and 3cm deep, she said, noting that it also "left a hole in a metal pipe."

One of the three people killed in last Tuesday's clashes was a 28-year-old woman who had a wound on her chest that was "roughly the same size" as a Chinese-made tear gas canister, Pornthip said.

She said it was too soon to tell if the Chinese tear gas caused the woman's death but it was "potentially highly damaging" and could "cause death and injuries."

"The police and military generally use American [tear gas], but it's expensive — much more expensive," Pornthip said. "But comparatively, the American [tear gas] is safer."

The protest alliance said it planned a large demonstration today outside police headquarters to protest alleged police brutality in the clashes.

The protesters regard Somchai as a proxy of deposed prime minister Thaksin Shinawatra, the telecommunications billionaire who was ousted by a 2006 military coup for alleged corruption and misuse of power.
---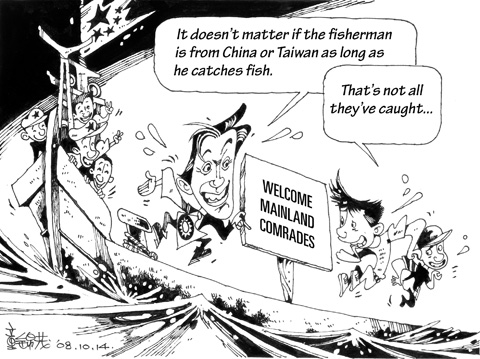 ---
Keeping politicians out of the media
 
By Lu I-Ming 呂一銘
Wednesday, Oct 15, 2008, Page 8

Until party-state ideology has been eliminated, the only thing we can do to stop politicians from meddling in public broadcasting is to close down public broadcasting stations. Otherwise, government-funded media such as Radio Taiwan International (RTI) and the Central News Agency (CNA) will undergo personnel changes and power struggles whenever there is a transition of power.

For instance, our public broadcasting turned from blue to green during the administration of former president Chen Shui-bian (陳水扁), and is now turning from green back to blue as a result of the vicious struggles taking place under the new government.

In the past, the Chinese Nationalist Party's (KMT) rule was built on the basis of military power, media control, party networks and an intelligence system. Guided by its party-state ideology, the KMT viewed the media as an important propaganda tool and a weapon that could be used in political struggles.

Ever since the era of Chiang Kai-shek (蔣介石) and Chiang Ching-kuo (蔣經國), our government has viewed the media as a private tool it can use in achieving its goals. This is in total contradiction with the ideal of the media being a public instrument.

Even party leaders, who for the most part received higher education abroad, merely curried favor with authorities in order to make quick personal gain after taking control of the media or departments of journalism at colleges and universities.

In earlier years, party or state media were able to provide better employment with high pay to journalists. The monopoly over newspapers was unshakable until private newspapers, such as the United Daily News and the China Times appeared in the 1970s. Although the KMT still controlled Taiwan's three terrestrial TV stations, RTI and party and state newspapers, its influence had weakened significantly by that time.

With the rise of the dangwai (outside the KMT) movement, the Democratic Progressive Party (DPP) and increased pressure from the US, the KMT finally lifted martial law and its ban on independent newspapers in 1987 and 1988 respectively.

Suddenly, the withdrawal of political and military forces from the media became a trend and spurred the establishment of stations such as the Public Television Service in 1998.

Despite these political developments, the poison of party-state ideology still affects Taiwan to this day. After the KMT regained power earlier this year, President Ma Ying-jeou's (馬英九) government showed once again that party-state ideology is still alive with its use of the media as a propaganda tool.

Key DPP figures are no better, since they mostly grew up under the KMT's party-state ideology, albeit on the other side of the political divide. Many in the DPP learned from their political rivals in the KMT. The DPP's rise to power was accomplished on the wing of the media.

An example of the link between media and political power can be seen in the Independence newspaper group, which actively supported the DPP and played a key role in the push for local democratization before it ceased publication.

When it came to power in 2000, the former DPP regime focused on freeing up and reforming our public broadcasting. However, the DPP also used the media as a propaganda tool.

In other words, although officials of the former DPP government despised the KMT's party-state ideology, they demonstrated the same ideology by using the state media as a tool for achieving their goals. This thought process caused the DPP to repeat the KMT's past mistakes and caused even more political struggle within Taiwan.

The most innocent people in this whole mess are probably those who work for party and public broadcasting. With educations in modern broadcasting, freedom of the press and social accountability are fundamental ideas to these people.

These ideas are of course in direct contradiction with those in higher places who have been appointed as a form of "political payment."

These workers agonize as they go against what they recognize as established professional journalistic practices by following the orders of their superiors. The DPP and the KMT governments emphasize totally different goals and use totally different methods to achieve them. Therefore, journalists are never sure what they should cover.

Instead of letting politicians from the blue and green camps manipulate and recklessly abuse public broadcasting, it would be better to close down all forms of public broadcasting so as to not waste our taxpayers' money.

Those in power will always want to manipulate the media and will always view the media as a tool for propaganda. Public broadcasting is no exception.

The only solution is to close down all of our public broadcasting providers, except maybe for PTS. This would not only stop politicians from manipulating public broadcasting, but would take away any hope for people who want to curry favor with those in power or serve as their mouthpieces.

Lu I-ming is the former publisher and president of Taiwan Shin Sheng Daily News.