Recession fears drive global stocks lower
 
'INSUFFICIENT': US retail sales fell 1.2 percent last month, nearly double the 0.7 percent analysts expected. The Dow Jones showed its second-biggest point loss ever

AP AND AFP, HONG KONG AND BRUSSELS
Friday, Oct 17, 2008, Page 1

World stocks tumbled yesterday, with Tokyo's market plunging more than 11 percent, after another dive on Wall Street as worse-than-expected data about the US economy heightened fears of a global recession.

Japanese Prime Minister Taro Aso blamed the renewed drop in markets, which had rebounded earlier this week, on investor concerns that the US government's US$700 billion bank bailout was insufficient.

"Since it was insufficient, the market is again falling sharply," Aso told lawmakers.

He did not elaborate.

Tokyo's Nikkei 225 stock average slid 1,089.02 points, or 11.41 percent, to 8,458.45, its biggest drop since the 1987 stock market crash.

In South Korea, the main index dropped 9.25 percent after Standard & Poor's said it may downgrade the credit ratings of some of the country's leading banks. The ratings agency warned the credit crisis could make it difficult for the companies to refinance maturing debt.

Hong Kong's key index trimmed losses, closing down 4.8 percent after falling more than 8 percent earlier, while Taiwan's TAIEX finished 3.25 percent lower.

Benchmarks in Britain, Germany and France opened about 3 percent lower. Russia's RTS also fell back.

Investors were unnerved by US data showing the country's retail sales fell 1.2 percent last month almost double the 0.7 percent decline analysts expected — clear evidence that consumer spending, which accounts for more than two-thirds of US economic activity, was weakening.

That was followed by more bearish data from the US Federal Reserve that showed the economy continued to slow in the early fall as financial and credit market problems took a turn for the worse.

All told, the readings provided some of the most ominous signs to date that the world's largest economy — a critical export market for Asia — was sliding into recession, if not already in one.

In New York on Wednesday, the Dow Jones Industrial Average ended down 733.08, or 7.87 percent, at 8,577.91 — its second-biggest point loss ever.

Facing an economic downturn and the worst financial crisis since the Great Depression, EU leaders pushed yesterday for increased oversight in their own backyard after the recent turmoil on the money markets.

In a draft statement that was likely to be endorsed at the end of the two-day summit, the 27 EU leaders reiterated plans to set up a financial crisis cell that would act as an early warning system and revived a long-talked about plan to beef up Europe-wide supervision of cross-border finance groups.

All 27 EU leaders on Wednesday threw their support behind measures taken by members of the eurozone to safeguard banks, which include plans for governments to guarantee over 1 trillion euros (US$1.35 trillion) in interbank loans.

EU leaders also pushed for a sweeping revamp of the international financial architecture.
---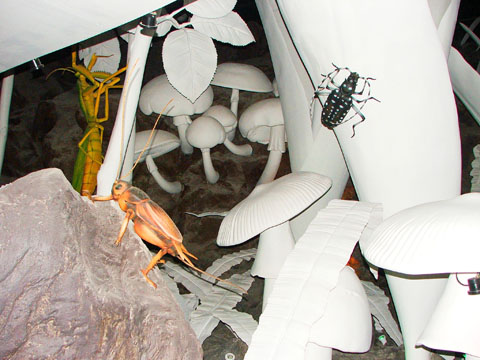 UP CLOSE
Huge models of insects are displayed by the Miaoli District Agricultural Research and Extension Station in Gongguan Township in Miaoli County yesterday.

PHOTO: CHEN CHIEH-LIANG, TAIPEI TIMES
---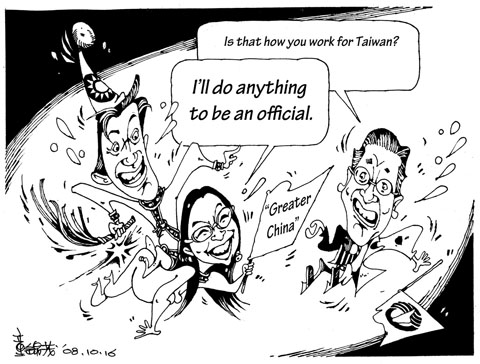 ---
A shameful tradition of tainted food

Friday, Oct 17, 2008, Page 8

In China, tasteless and colorless melamine has been part of the food chain for a long time. Its addition to Sanlu's milk powder has now created a global panic over contaminated Chinese foodstuffs.

And this was not the first time.

In May last year, companies in China's Jiangsu and Shandong provinces added melamine to wheat protein and barley protein powder, which caused thousands of pets in the US, Canada and other countries to fall ill or die.

More than 60 million pet food products were recalled. Feed for 20 million chickens, hundreds of thousands of cultivated fish and thousands of pigs was also contaminated with melamine.

The immediate reaction by the Chinese authorities to the allegations of poisonous animal food was strong denial, and it was only when the US insisted that it be involved and sent representatives to China to take samples that the scandal was exposed.

So what did the Chinese authorities learn from that incident? Nothing.

In the most recent crisis, local governments continued to offer denials even after New Zealand company Fonterra Co-operative Group used diplomatic channels to put pressure directly on the Chinese government. It is well-known within the Chinese industry that melamine is added to milk powder, vegetable proteins, processed food products and animal feed. The government knows it and tolerates it.

Melamine is one of many harmful additives, and even if the melamine problem were eliminated, other hazardous substances could be added to products.

On Wednesday, frozen green beans imported from China to Japan were found to contain 34,500 times the amount of pesticides allowed in Japan. The government immediately ordered a recall.

There is no end to all the problems with Chinese food products.

Importing countries must pressure China and demand that it meet its responsibilities by strengthening procedures to manage, inspect and ban contaminated food products and thus control the export of toxic food.

Taiwan's Bureau of Standards, Metrology and Inspection and the Department of Health should meet their control responsibilities and implement stricter sampling of raw materials imported finished or semi-finished.

The government should amend the Commodity Labeling Act (商品標示法) to require that, in addition to listing manufacturing country, contents and nutritional value, labels also show the production process at the place of origin for raw materials to that consumers can make an informed choice as to the safety of a specific product.

Although China's Taiwan Affairs Office spokesperson Yang Yi (楊毅) said China would handle the milk powder incident satisfactorily and demanded that Duqing Co in Shandong send representatives to Taiwan to investigate its export of dairy creamer here, he has kept mum on the issue of compensation to the victims, which displays a total lack of sincerity.

The milk powder scandal has had a serious economic impact on the companies involved as well as public health in Taiwan.

The Taiwanese government and private sectors must demand compensation from the Chinese government and manufacturers.

If China does not provide an adequate response to compensation demands in a timely manner, Chinese products should be boycotted and people should take to the streets to protest when Association for Relations Across the Taiwan Strait Chairman Chen Yunlin (陳雲林) visits Taipei.