Flags to stay during PRC official's visit
 
PROTOCOL: The premier said the national flag and portraits of Sun Yat-sen would not be removed from venues during the ARATS chairman's expected visit to Taiwan
 
By Shih Hsiu-cuan And Rich Chang
STAFF REPORTERS
Saturday, Oct 18, 2008, Page 1

The government will make sure the sovereignty of the Republic of China (ROC) is protected during the upcoming visit of a top Chinese official, and national flags will not be removed from places the official is to visit during his stay in Taiwan, Premier Liu Chao-shiuan (劉兆玄) said yesterday.

"I will stand my ground [on this]," Liu said in response to questions from Democratic Progressive Party (DPP) legislators Pan Meng-an (潘孟安) and Chen Chieh-ju (陳節如) during a legislative question-and-answer session.

China's Association for Relations Across the Taiwan Strait (ARATS) Chairman Chen Yunlin (陳雲林) is expected to visit Taiwan at the end of this month or early next month for talks with his local counterpart, Straits Exchange Foundation Chairman Chiang Pin-kung (江丙坤). They are expected to discuss issues ranging from the launch of cross-strait cargo charter flights and direct shipping links to the establishment of more direct cross-strait air routes.

Taiwan Solidarity Union Chairman Huang Kun-huei (黃昆輝) said on Thursday he had heard from reliable sources that China had requested that no ROC flags be displayed at places Chen would visit.

"Will flags or [ROC founding father] Sun Yat-sen's (孫逸仙) portrait be removed from venues' normal decor for the reception of Chen Yunlin? And would you say no should such a request be made?" Pan asked Liu.

Pan said the government was bound by the Guidelines Regulating the Reception of People From the Mainland Visiting Taiwan for Exchanges (接待大陸人士來台交流注意事項), which was enacted in 1997.

Pan said an article in the guidelines stated that, in line with international etiquette, local hosts should make it clear to visitors from China that they should accept how the venues they visit are decorated, including Sun Yat-sen's portrait, flags and photograph of the heads of state, and that hosts should turn down requests from Chinese visitors to alter such adornments.

Liu said he was glad to see that DPP lawmakers had such great respect for the ROC flag, and added that he would abide by the guidelines.

In a poll released by the DPP yesterday, 77.1 percent of respondents said President Ma Ying-jeou (馬英九) should refer to himself as "President Ma," not "Mr Ma," when he meets Chen.

The president had previously said that he would not mind if Chen addressed him as "Mr Ma."

Chen Chun-lin (陳俊麟), director of the DPP's Public Opinion Survey Center, said the poll also showed that 67 percent of respondents disapproved of Ma saying that cross-strait relations were not "state-to-state" relations, but a special case of "area-to-area" relations.

The survey was conducted by telephone on Wednesday and Thursday, Chen Chun-lin said.

A total of 926 valid samples were collected in the survey, which had a margin of error of plus or minus 3.3 percentage points.
---
CEPA endangers Taiwan: forum
 
'NOT WHAT TAIWAN NEEDS': An economic partnership with China would do more harm than good to Taiwan's economy and sovereignty, panelists claimed yesterday
 
By Rich Chang
STAFF REPORTER, WITH CNA
Saturday, Oct 18, 2008, Page 3

Panelists attending a forum yesterday on a Closer Economic Partnership Agreement (CEPA) with China said it could jeopardize Taiwan's economy and sovereignty if Taiwan does sign an agreement.

Hong Kong and China inked a CEPA in June 2003, opening up a huge market for Hong Kong goods and services and effectively improving Hong Kong's economy. On Jan. 1 the following year, Macau signed a CEPA with China to receive similar trade benefits.

Chairman of the pro-independence Taiwan Thinktank Chen Po-chih (陳博志) said that if Taiwan signs the CEPA, it would bolster China's scheme to link Taiwan with Hong Kong and Macau as part of Chinese territory, adding that the matter should be decided by voters in Taiwan by putting it to a referendum.

"What China is doing is trying to secure political power through the support of the business community and speed up reunification by economic means," he said.

Chen said that an economic agreement like a CEPA would not only compromise Taiwan's economic strength but would also eventually jeopardize the country's sovereignty because "when Taiwan becomes more and more dependent on China, Beijing can use the economy for political coercion."

Echoing Chen's opinion, Taiwan Labor Front president Ngou Giok-siong (吳玉祥) told the forum hosted by the Democratic Progressive Party's (DPP) Policy Committee that the Taiwan government should take Hong Kong's example as a warning, "as China is always the biggest winner in the game."

Describing Hong Kong's economy after signing a CEPA with China as a "bubble economy," he said the Taiwanese government should hold public discussions on whether to sign a major agreement with China or hold a referendum on the issue.

"If the government just goes ahead without considering the consequences, Taiwan will end up like another Hong Kong," he said.

In response to DPP lawmakers' questions, Mainland Affairs Council Chairwoman Lai Shin-yuan (賴幸媛) said on Thursday that the legislature would not sign an agreement with China.

But Ngou said he still harbored concerns, saying that if the CEPA were signed, a large number of Taiwanese labors would be unemployed after Chinese laborers and cheap products entered the country.

DPP Legislator Twu Shiing-jer (??, another panelist at the forum, said Chinese "black hearted" food could easily enter Taiwan, jeopardizing the nation's food safety network.

Twu added that after Hong Kong signed a CEPA with China, Hong Kong had to loosen inspections of domestic fowl imported from China. As a result, this contributed to a breakout of bird flu in Hong Kong in June 2003, he said.

He said that there were substantial differences between Taiwan and China in terms of the quality of food standards, medical services and public health, as well as differences in the way people think and do business, saying that a CEPA "is not what Taiwan needs.

"Taiwanese are not Chinese; Taiwan does not belong to China and Taiwan is better than China," Twu said.
---
TSU joins DPP in organizing Oct. 25 rally
 
By Rich Chang
STAFF REPORTER, WITH CNA
Saturday, Oct 18, 2008, Page 3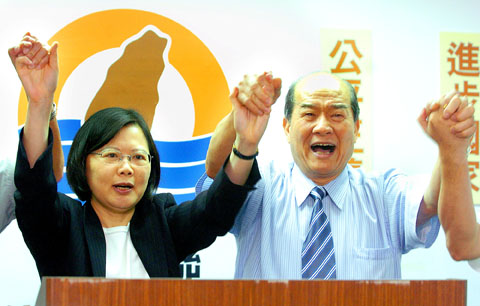 Democratic Progressive Party (DPP) Chairwoman Tsai Ing-wen and Taiwan Solidarity Union (TSU) Chairman Huang Kun-huei join hands yesterday after the TSU accepted an offer from the DPP to co-organize a "safeguard Taiwan" rally scheduled for Oct. 25.

PHOTO: LIAO CHEN-HUEI, TAIPEI TIMES

The Taiwan Solidarity Union (TSU) yesterday accepted an offer from the Democratic Progressive Party (DPP) to be a co-organizer of a "safeguard Taiwan" rally scheduled for Oct. 25.

DPP Chairwoman Tsai Ing-wen (蔡英文) extended the invitation in person during a visit to TSU Chairman Huang Kun-huei (黃昆輝).

At a news conference held after the meeting, Huang said the TSU would take an active role in the event because the demonstration's theme is one of the party's longstanding goals.

"The theme of the rally — protesting 'black-hearted' products from China and protecting Taiwan's sovereignty — have been key issues the party fights for, and so the TSU has decided to support and join the rally," Huang said.

The DPP has accused the Chinese Nationalist Party (KMT) government of President Ma Ying-jeou (馬英九) of "tilting excessively toward China" and sacrificing Taiwan's sovereignty by adopting a series of liberalization measures toward China since Ma's inauguration on May 20.

These measures include launching nonstop cross-strait charter flights on weekends, opening Taiwan up to more Chinese tourists, allowing cross-strait currency trading, raising the cap on China-bound investment by local enterprises from 40 percent of their net worth to 60 percent and recognizing Chinese academic degrees.

Regarding the DPP's invitation for the TSU's spiritual leader — former president Lee Teng-hui (李登輝) — to take part in the demonstration, Huang said the 85-year-old Lee seldom takes part in public rallies. However, Huang said he would pass on the invitation to Lee.

Tsai said that anyone who supports the rally's goals is welcome to take part, whether they are for or against former president Chen Shui-bian (陳水扁).

Allegations of money laundering have been lodged against Chen and have complicated the issue as some party members have demanded that the party bar Chen from taking part.

When asked if Chen would lead a group in the rally, Tsai said "the details of the rally are still being planned."

DPP spokesman Cheng Wen-tsang (鄭文燦) told a separate press conference yesterday that the rally would depart from five separate assembly points before meeting up on Ketagalan Boulevard in front of the Presidential Office.

The five gathering points are Mengjia Park (艋舺公園) in Wanhua District (萬華區), the main entrance of National Taiwan University, the Welcome Business Center on Zhongxiao E Road, the Zhongshan Soccer Stadium and the Chunghsing Bridge (中興橋) in Sanchung (三重), Taipei County.

He said the DPP has also decided to hold three evening rallies in Taipei from Oct. 28 to Oct. 30, but added the party has not decided the sites of those rallies.
---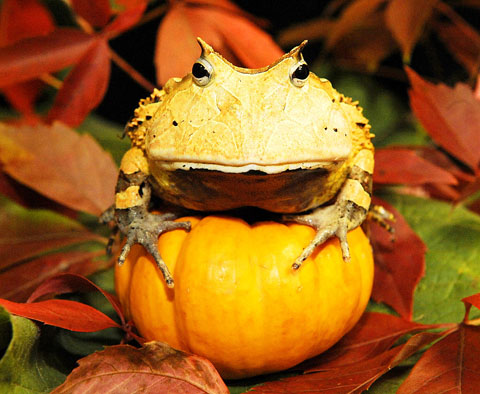 TOADSTOOL
In this photo released by the Wildlife Conservation Society, a Surinam horned frog sits on top of a pumpkin at the Bronx Zoo's "World of Reptiles" exhibit in New York on Oct. 6. Pumpkins are given to zoo residents around Halloween to stimulate the animals both mentally and physically.

PHOTO: AP
---