Bush excludes Taiwan from US visa-free list
 
ESTONIA YES, TAIWAN NO: Except for machine-readable passports, Taiwan seemingly met all of the criteria for inclusion in the US' 'Visa Waiver' program
 
By Charles Snyder
STAFF REPORTER IN WASHINGTON
Sunday, Oct 19, 2008, Page 1

Taiwanese hopes for more favorable visa treatment from the US were dashed on Friday when US President George W. Bush named 13 new countries as immediate or pending beneficiaries of its "Visa Waiver" program. The list excluded Taiwan.

Taiwan's supporters in Washington were outraged at the omission and blamed the administration's close ties to China.

Taiwanese officials in Washington had no comment on the announcement, according to an aide to Taiwan's envoy in Washington, Jason Yuan (袁健生).

Yuan was involved in meetings on Friday and could not respond to the Taipei Times on the issue.

Other Taiwanese officials in Washington had expressed optimism that Taiwan would eventually be included in the visa program.

A White House spokesman indicated that Taiwan could be admitted to the program in due course.

Saying he had no details on Taiwan's position, the US official told the Taipei Times that "this is not to rule out anyone else in the future. I would expect immigration officials on a bilateral basis to continue discussions with those countries that are interested ... It is a process, the program is organic."

The program allows passport holders of friendly countries with low security risk to enter the US for up to 90 days for business, pleasure or transit without a visa. US officials had previously identified Taiwan as a candidate eligible for visa-free status.

A recent report by the Government Accountability Office (GAO), a US government watchdog, has criticized the administration for mistreating Taiwan in operating the Visa Waiver program. It accused the State Department and the Department of Homeland Security of not informing Taiwan of its status in its bid for inclusion, adding that the agencies "created confusion" and failing to explain why the US was not negotiating with Taiwan.

The program was created in the wake of the Sept. 11 terrorist attacks to keep potential terrorists out of the US and to use favorable visa treatment to reward friendly countries that supported the US-led "war on terror" and did not pose a security risk.

The program was initially limited to countries with "refusal rates" — the number of people refused entry by US consular officials abroad (including the American Institute in Taiwan) — of below 3 percent each year.

Last year, Congress enacted a law that would allow countries with refusal rates less than 10 percent to be added to the program. The GAO report showed that Taiwan last year had a rate of 5 percent, though Taiwanese officials say the real rate was about 3.8 percent, well below the rates of most countries added this year. The rates of some of those countries exceeded 10 percent last year, the GAO said.

The law also requires that at least 97 percent of people who enter the US from a given country leave the US on time.

Other requirements are that the government in question exercise effective border control, issue secure travel documents and have a reliable system for reporting lost or stolen passports.

Another requirement, which could have affected Taiwan's inclusion in the current list, is machine-readable passports with biometric information, including a digitized photograph.

But Taiwan's real problem, according to some of its supporters, is political.

"It is a disgrace," said Coen Blaauw, executive director of the Formosan Association for Public Affairs.

"It's an outrage that Taiwan — which is ready, willing and able to qualify as soon as possible — is still being pushed out because of political posturing, political pressure," Coen said.

"Taiwan again becomes the victim of US-China relations and Chinese pressure on the United States. This is political, not technical," he said.

The countries added on Friday represent the first expansion of the Visa Waiver program since 1999.

Countries that were added immediately were the Czech Republic, Estonia, Hungary, Latvia, Lithuania, Slovakia and South Korea.

Those named by Bush as likely additions later this year were Bulgaria, Cyprus, Greece, Malta, Poland and Romania.

The Bush administration has long expressed an intention to add a number of Eastern European nations, many of whom were former Soviet republics, to the list.
---
Japan elected to UN Security Council

AFP, UNITED NATIONS
Sunday, Oct 19, 2008, Page 1

Japan was on Friday elected to a seat at the UN Security Council for 2009-2010, displacing a bid by Iran for a place at the head table of international diplomacy.

In a vote in the UN General Assembly, which includes all member nations of the world body, Japan took 158 votes against 32 for Iran, the assembly's president Miguel d'Escoto of Nicaragua said.

Asia has two non-permanent seats on the 15-nation Security Council, on top of the permanent seat held by China. Indonesia's term is ending; Vietnam's stint continues through the end of next year.

Among nations in the European group at the UN, Austria and Turkey won non-permanent places on the Security Council, leaving Iceland defeated.

Mexico and Uganda took the seats available for Latin America and Africa respectively without contest.

It will be Japan's 10th turn on the Security Council since the founding of the UN more than 50 years ago. It is a major contributor to the UN budget and contends it should have a permanent place on a reformed council.

Its bid to join the Security Council was a near certainty, given Japan's status as an economic powerhouse and the support it enjoyed from around the world, notably in Western countries.

Iran, meanwhile, is under UN sanctions for refusing to comply with Security Council demands to suspend nuclear enrichment, amid fears — denied by Tehran — that it is developing nuclear weapons.

"It's a comprehensive defeat, a thrashing, and it's an important signal from the United Nations membership," British Permanent Representative to the UN John Sawers said.

"Had Iran, by some massive error or misjudgment ... come on the Security Council, it would have obstructed the effective work of the council," Sawers said.

Deputy US Ambassador Alejandro Wolff said: "It's important for Iran to understand that its refusal to comply with its obligations is reflected in its very poor showing."

Turkey and Austria won Security Council seats with 151 and 133 votes respectively, with Iceland — badly shaken, by coincidence, by the global financial crisis that brought it near bankruptcy — getting only 87 votes.

Mexico and Uganda secured 185 and 181 votes each, but as they were the only candidates from their respective regions, the outcome represented a show of support from their neighbors.

The newly elected countries will replace Belgium, Indonesia, Italy, Panama and South Africa from Jan. 1.

Remaining on the Security Council until the end of next year will be Burkina Faso, Costa Rica, Croatia, Libya and Vietnam.
---
DPP predicts 1 million will take part in protest
 
HITTING THE STREETS: Caucus whip Ker Chien-ming said he would visit former president Chen Shui-bian to discuss his controversial plan to participate in the rally
 
By Rich Chang
STAFF REPORTER, WITH CNA
Sunday, Oct 19, 2008, Page 3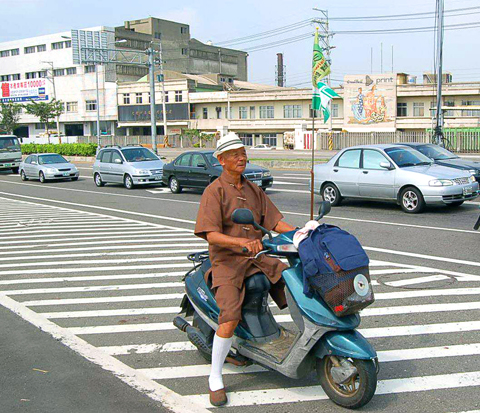 Seventy-nine-year-old Wei Pan-kui sits on his scooter in Taichung County yesterday. Wei is riding from Yunlin County to Taipei to participate in a demonstration organized by the Democratic Progressive Party and the Taiwan Solidarity Union scheduled for next Saturday.

PHOTO: CHEN CHIEN-CHIH, TAIPEI TIMES
The Democratic Progressive Party (DPP) predicted yesterday that 1 million people would take part in its "safeguard Taiwan" demonstration to be held next Saturday in Taipei.

DPP legislative caucus whip William Lai (賴清德) said the event had spurred the interest of "more people than any other demonstration held in the past."

For example, Lai said that in his Tainan constituency office alone 200 people had signed up for the rally over the past two days.

Lai said the widespread response reflected deep public resentment against the Chinese Nationalist Party (KMT) administration.

"Everybody wants to take to the streets, regardless of political affiliation or class," he said.

DPP legislative caucus deputy whip Pan Meng-an (潘孟安) said crowds of protesters are expected to converge on Taipei, with at least 100 charter buses set to arrive from Pingtung County alone.

DPP Legislator Chen Ting-fei (陳亭妃) said that the rally, organized in cooperation with the Taiwan Solidarity Union, "will definitely trigger an unprecedented uproar" because the KMT administration's "tilt toward China" has damaged Taiwan's sovereignty.

The main objective of the planned demonstration is to reject the "one China market, the downgrading of Taiwan's sovereignty and an incompetent government," the DPP said.

The DPP has accused President Ma Ying-jeou (馬英九) of sacrificing Taiwan's sovereignty by adopting a "modus vivendi" approach that advocates a"diplomatic truce" with China and introducing a series of cross-strait liberalization measures since his May 20 inauguration. These measures include launching nonstop cross-strait charter flights on weekends, opening Taiwan up to more Chinese tourists, allowing cross-strait currency trading, raising the cap on China-bound investment by local enterprises from 40 percent of their net worth to 60 percent and recognizing Chinese academic degrees.

It is also unsatisfied with what it says is the Ma administration's failure to take a tough stance in dealing with the scare over melamine-tainted food imported from China.

In related news, DPP caucus whip Ker Chien-ming (柯建銘) said yesterday that he would visit former president Chen Shui-bian (陳水扁) on behalf of the party tomorrow to discuss Chen's planned participation at the rally.

Some DPP members have called for Chen to be banned from the rally because of allegations of money laundering.

DPP Chairwoman Tsai Ing-wen (蔡英文) said on Wednesday that anyone who supported the rally's goals was welcome to take part, whether or not they support Chen.

The DPP has proposed that Chen join the rally at Welcome Business Center on Zhongxiao E Road with members of A-bian Family, The Friends of Lee Teng-Hui Association, Northern Taiwan Society, Taiwan Hakka Society and other pro-localization groups.

The DPP proposed that Chen participate in the rally, but not make a speech.
---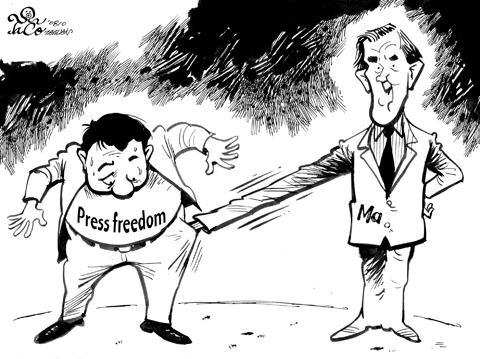 ---
Making peace with the past

Many East Europeans formerly living under communist regimes would like to bury their unpleasant memories of the totalitarian period. However, without addressing past human rights abuses, forgiving and forgetting is not possible.

Recent events in the Czech Republic and Poland show that the totalitarian past is never far from the surface. The leading news weekly Respect says the Czech Republic's well-known writer Milan Kundera was a communist informer in the 1950s who played a crucial role in the arrest of Miroslav Dvoracek. Dvoracek was a pilot who fled Czechoslovakia shortly after the communists came to power.

He became a Western agent and returned on an undercover mission to Prague in 1950. However, shortly after arrival he was betrayed to the police, arrested and sentenced to death — the sentence was later commuted to 25 years of hard labor.

A careful study by Adam Hradilek, a researcher at the Czech Institute for the Study of Totalitarian Regimes, showed that a student named Milan Kundera reported the presence of Dvoracek at the student dormitory in Prague to the police. The event led to the arrest of Dvoracek.

A similar case shocked Poles this summer after Polish station TVN presented the documentary Three Buddies. It is a real story of three friends — Stanislaw Pyjas, Bronislaw Wildstein, a leading conservative journalist in Poland, and Leslaw Maleszka, once a leading opinion writer at the left-leaning paper Gazeta Wyborcza.

In the 1970s, the three college friends were active in anti-communist organizations. However, Maleszka was a valuable agent for the communist secret police. His reports on students, in which he did not hesitate to describe the intimate lives of his closest friends, were called "excellent" by the secret service.

On May 7, 1977, 24-year old Pyjas was brutally beaten to death. The documentary showed that Pyjas had to die because he might have suspected Maleszka of collaboration with the communist regime. The secret services did not want to lose such a precious agent and an unknown officer ordered the murder.

In his books and essays, Wildstein — a former Polish dissident, journalist, freelance author and one of the "three buddies" — argues for a thorough review of the country's communist past. He has become an ardent supporter of the lustration law, which is a crucial element of transitional justice.

The law was passed in the Czech Republic in 1991 and finally in Poland last year and is meant not only to serve as a form of justice, but also to ensure that history does not repeat itself. Coming to terms with the past, as the Polish and Czech examples show, can be traumatic. However, without it, justice and rebuilding social trust is not possible. A peaceful and democratic nation can't exist with an unhealed trauma in its historical memory.

HANNA SHEN
Taipei
---
The Sino-US reciprocal relationship
 
By Holmes Liao 廖宏祥
Sunday, Oct 19, 2008, Page 8

Regardless of whether the massive US bailout of Wall Street with huge capital injections into the banking system will work or not, the world has seen the end of laissez-faire, free-market economies. If the US financial and monetary systems are not salvaged or partially rebuilt, the US may lose its credibility and status as a financial superpower.

In comparison, the Chinese economy was growing at an annual rate of 9 percent before the financial crisis, generating astronomical foreign reserves. China currently holds about US$1 trillion in US debt, including US$460 billion in US Treasury bills. Before the US Congress passed the bailout package, there were reports that the Chinese threatened to reconsider their policy of buying US debts unless Washington moved to stabilize the markets.

With so much at stake, Beijing appears unlikely to stop buying Treasury securities or start selling their US holdings because such actions would not only throw the world market into deeper chaos but would also reduce the value of Chinese holdings in the US.

China is not without its own looming financial problems. In the globalize world, a deep US downturn will hit China, whose growing economic clout has been largely dependent on its exports to the US. A US recession accompanied by the shrinkage of the insatiable appetite of US consumers will most definitely induce a significant reduction in China 's GDP. But a Chinese slump will also lower commodity prices.

While US citizens have been horrendous spenders, by comparison, Chinese have been meritorious savers. In the past 10 years, US savings declined from 5 percent to virtually zero, while Chinese savings surged from less than 30 percent to nearly 45 percent. To add fuel to the fire, traditional forms of savings in the US were abandoned in favor of leveraged speculation in both stock and real estate markets. Such activities brought about a tremendous explosion of debt in the US.

A quick glance at history tells us that the British pound used to be the world's No. 1 currency, in which most financial transactions were made. Sterling nevertheless slid from close to US$5 before World War II to near par in 1980s. The reasons were the huge deficits incurred from fighting two world wars and the UK's underperforming economy, which lasted for decades.

Is the US heading down a similar path with its geopolitical and financial hegemony being edged out by China?

In a 2005 Goldman Sachs report, China was projected to overtake the US in GDP by 2040. Before this wave of financial turmoil, the date had been brought forward to 2027. Now, some analysts say the date may come even sooner.

Despite all of these factors, we should not simply write off the US and prophesy that the 21st century will belong to the Chinese. In the last two weeks, the US stock market plummeted 22 percent but its Chinese counterpart suffered an even more appalling 55 percent freefall.

If Washington is able to avert a fresh wave of banking failures and credit meltdown, the world will likely see the US emerge with its geopolitical eminence significantly enhanced, much like after the Great Depression in the 1930s and the Great Stagflation of the 1970s.

As the world still considers US government debts as "safe haven" in uncertain times, we've seen the dollar rally rather than sag further, even before the US$700 billion bailout package was passed by the US Congress. Fund injections from around the world will provide sufficient ammunition to help the US recover.

What do all these events mean to Taiwanese?

Geopolitically speaking, the US will find it harder to denounce China for human rights abuses while simultaneously expecting Beijing to keep buying US Treasury bills. If China's ownership of US debt exceeds a certain threshold, Beijing may even hold veto power over US support for Taiwan, especially in a military contingency across the Taiwan Strait.

Taiwan lacks strategic thinking and appears rather weak and passive in the face of the current financial crisis. Not surprisingly, the nation was completely excluded from the recent "ASEAN plus three" conference — potentially the world's largest free trade zone — which discussed concerted action to tackle the global monetary tsunami.

Taiwan is lucky Beijing hasn't attempted to acquire US banks that are on the verge of bankruptcy. If China were to acquire foundering US banks, it would not only help Beijing gain inside knowledge of the US financial system, but would also dramatically reshape the negative impression of China in the US.

Moreover, Beijing's passive ownership of US debt, though useful at certain levels, doesn't empower China in building badly needed domestic infrastructure, financial or otherwise.

Taiwanese have long suffered from political-economic schizophrenia because we maintain that Taiwan is a sovereign country and simultaneously conduct business and trade with China without demanding the auspices of a sovereign nation.

As we criticize the US for losing the moral high ground when it invaded Iraq, by a similar token, it is illogical for Taiwan to expect the US to support its sovereignty while Taipei leans ever closer to Beijing.

Holmes Liao is a former adviser to Taiwan's Ministry of Foreign Affairs and adjunct professor at the War College, National Defense University. He currently lives in Washington and works as an aerospace professional.