DPP mass rally to 'safeguard Taiwan'
 
DIVERSION?: Media speculated that an agricultural fair planned by the Executive Yuan was a ploy to detract protesters from the anti-Ma, pro-independence rally
 
By Rich Chang
STAFF REPORTER
Saturday, Oct 25, 2008, Page 1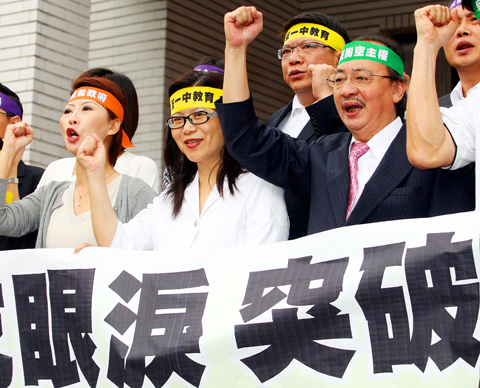 Democratic Progressive Party caucus members protest against President Ma Ying-jeou before a legislative meeting outside the legislature yesterday.

PHOTO: CNA

The Democratic Progressive Party (DPP) called on the public yesterday to take part in its "safeguard Taiwan" demonstration to be held today in Taipei City.

The rally, co-sponsored by the Taiwan Solidarity Union and several pro-independence groups, will target "the one China market, the downgrading of Taiwan's sovereignty and an incompetent government."

"The President Ma Ying-jeou (馬英九) administration's policies and governance have made people concerned that the country is moving toward unification with China, so Taiwanese need to take to the streets and let the Ma government and [chairman of China's Association for Relations Across the Taiwan Strait] Chen Yunlin (陳雲林) hear the real voice of the people," DPP Chairwoman Tsai Ing-wen (蔡英文) told a press conference yesterday.

Chen is scheduled to visit Taipei on Nov. 3 for a second round of cross-strait talks.

Tsai said Chen's visit was a milestone in cross-strait policy because it signified a step toward unification — something Beijing has long pursued.

"This is something we don't want to see," she said.

The DPP has accused Ma of sacrificing Taiwan's sovereignty by adopting a "modus vivendi" approach that has advocated a "diplomatic truce" with China while introducing a series of cross-strait liberalization measures since his May 20 inauguration.

These measures included launching nonstop cross-strait chartered flights on weekends, allowing more Chinese tourists, allowing cross-strait currency trading, recognizing Chinese academic degrees and raising the cap on China-bound investment by local enterprises from 40 percent of their net worth to 60 percent.

The party also expressed dissatisfaction with what it said was the Ma administration's failure to take a tough stance in dealing with the scare over melamine-tainted food imported from China.

Tsai said that despite the fact that China's tainted milk crisis spilled over to Taiwan, resulting in thousands of local food items being removed from shelves, the Ma government has yet to demand an apology and compensation from China.

"Tomorrow is the time for the public to tell the government to make a major change to its policies," she said yesterday.

Many pan-green heavyweights including former president Chen Shui-bian (陳水扁), former premiers Su Tseng-chang (蘇貞昌) and Yu Shyi-kun planned to take part in the rally.

However, former DPP chairman Frank Hsieh (謝長廷) will not. His office said that Hsieh, defeated by Ma in the March presidential election, would not take part in the rally in order to avoid obscuring the theme of the rally.

The Chinese Nationalist Party (KMT) caucus yesterday challenged the legitimacy of the DPP's rally, saying that the public should instead support the government and focus on how to revive the economy.

KMT Legislator Shuai Hua-ming (帥化民) accused the DPP of attempting to "legitimize its recent corruption and violent behavior" by holding the demonstration.

"Instead of sticking to its plan to hold the rally, the DPP should tell the public how it intends to distance itself from [money laundering allegations against former president] Chen Shui-bian," Shuai told a press conference.

KMT Legislator Pan Wei-kang (潘維剛), who also attended the conference, said the public should blame the recent economic downturn on Chen's eight years in office.

People should refrain from participating in the protest, she said, adding that anyone who intended to join the rally should hold up posters and banners to show their opposition to the former president.

KMT Legislator Tsao Erh-chang (曹爾忠) said the DPP was holding the rally to protest against the "incompetent" government when "former president Chen is the most incompetent of them all," over which he said Tsai had "feigned ignorance."

In related news, the Executive Yuan yesterday announced it would kickstart a series of Made-in-Taiwan exhibits with the Council of Agriculture's (COA) "Come and Buy Our Agricultural Goods" fair in Taipei today.

The agricultural fair, the first of several exhibitions, opens today in Taipei's former Songshan Tobacco Plant and will last until tomorrow.

The Chinese-language Liberty Times (the Taipei Times' sister paper) yesterday reported that the decision to hold the fair had not been made until Monday, sparking speculation that the Executive Yuan may be using the event to counter the effects of today's anti-Ma parade.

Premier Liu Chao-shiuan (劉兆玄) said on Thursday that, starting this weekend, the Executive Yuan would host an event each week promoting Taiwanese-made products.

Although the COA hosts a farmer's market every weekend at the city's Hope Plaza (希望廣場), the Liberty Times reported that the council received instructions from the Executive Yuan to expand the event this weekend.

COA Deputy Minister Huang Yu-tsai (黃有才) rejected media speculation that the event may have been planned to counter the anti-Ma parade.

"This event is to promote agricultural goods in Taiwan and has nothing to do with politics," he said.
---
DPP accuses KMT of stifling protests
 
ROAD RAGE: DPP Taipei City councilors said the KMT had reserved the use of several streets to block pan-green camp protests during the visit of ARATS chief Chen Yunlin

By Mo Yan-chih
STAFF REPORTER
Saturday, Oct 25, 2008, Page 3

The Democratic Progressive Party (DPP) yesterday accused the Chinese Nationalist Party (KMT) of scheming to deprive people of their right to protest in key locations during the visit of Association for Relations Across the Taiwan Strait (ARATS) Chairman Chen Yunlin (陳雲林) next month.

DPP Taipei City councilors Lee Ching-feng (李慶鋒) and Chien Yu-yen (簡余晏) said President Ma Ying-jeou (馬英九) and Taipei Mayor Hau Lung-bin (郝龍斌) of the KMT had helped the KMT to obtain permits to use Ketagalan Boulevard next month in an attempt to prevent the pan-green camp from staging a rally there to protest against the Chinese official's visit.

Straits Exchange Foundation (SEF) Chairman Chiang Pin-kung (江丙坤) said on Thursday that he expected to meet Chen on Nov. 3 in Taipei, with the schedule expected to be finalized during a preparatory round of talks in China on Monday.

"The KMT government cleared the roads to make sure that Chen Yunlin will not hear Taiwanese people's opposition to his visit," Chien said yesterday at the Taipei City Council. "The KMT takes Chinese people's dignity seriously, but how about the dignity of Taiwanese people?"

According to Taipei City's Public Works Department, the KMT has obtained permits to use Ketagalan Boulevard from Nov. 3 to Nov. 9, as well as Yuanshan Park (圓山公園) and Zhongshan N Road Sec 3 and Sec 4 from Nov. 3 to Nov. 15.

Chien said the KMT obtained permits to use the roads around the Grand Hotel in Taipei, where Chen is expected to stay, to prevent members of the pan-green camp from protesting outside the hotel.

KMT spokesman Lee Chien-jung (李建榮) said in response that the party applied for the permits long before Chen's schedule had been confirmed, and that the party did not intend to prevent pan-green camp protests.

At a separate setting, DPP Chairwoman Tsai Ing-wen (蔡英文), when asked for comment, said that the KMT had booked the roads to prevent the public from expressing opposition to Chen's visit.

This constituted an infringement of the freedom of speech, she said.

Tsai called on the KMT not to "play tricks" to limit people's right to express themselves.

She said the KMT government would have to accept full responsibility if any conflict were to erupt at the DPP's planned overnight vigil as a result of the party not being able to gain permission to use Ketagalan Boulevard.

Chen, Chiang and their respective delegations are expected to discuss a wide range of topics, including food safety concerns related to China's tainted food exports, the establishment of direct shipping and cargo charter links and increasing the number of direct passenger charter flights on weekends between Taiwan and China.

Meanwhile, in response to speculation that Chen might avoid visiting Tainan following the confrontation between ARATS Vice Chairman Zhang Mingqing (張銘清) and pro-independence advocates in the city on Tuesday, Chiang yesterday said the foundation would respect whatever schedule China has planned for Chen's visit.

People First Party Legislator Lin Cheng-er (林正二) yesterday raised concerns at the legislature over the safety of Chen and his delegation.

Premier Liu Chao-shiuan (劉兆玄) responded by saying that he had on many occasions given his assurance that there would be no gaps or lapses in security during Chen's visit.

Lin asked Minister of the Interior Liao Liou-yi (廖了以) whether the government was ready to provide airtight personal protection for Chen and his group.

"Absolutely," Liao said.
---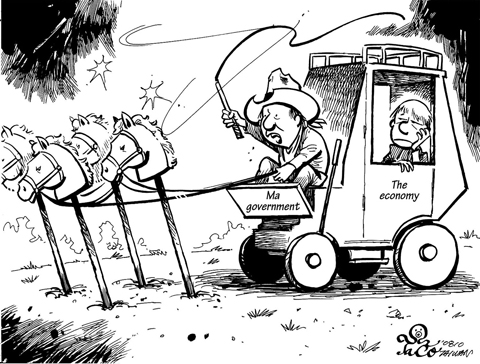 ---
War game prepares US forces for next threat
 
By Richard Halloran
Saturday, Oct 25, 2008, Page 8

In a war game called "Pacific Vision" run by the US Pacific Air Forces (PACAF) in Hawaii, aviators concluded that US air power would defeat a "near-peer competitor" in the Asia-Pacific region over the next seven years — provided a strategy of dispersal is adopted and certain investments are made.

For "near-peer competitor," read China. But Air Force officers said that the adversary could also be a resurgent Russia. In any case, the war game was intended not only to test strategy but also to deter others from miscalculating US power and intentions.

General Carroll Chandler, who commands PACAF, said in an interview: "I asked them to look at what we think we need to carry out our mission, particularly when we have finite resources." A staff officer said the general, in effect, "asked us to tell him where he should spend his next dollar."

Meanwhile, the publication Defense News reported on a RAND study that suggested "US air power in the Pacific would be inadequate to thwart a Chinese attack on Taiwan in 2020."

Among the conclusions drawn from the war game were:

Dispersal: Before hostilities begin, US fighters, bombers and aerial tankers should be dispersed to bases along an arc anchored in Alaska and wending south through Japan, South Korea and Guam and on to Southeast Asia and Australia. Said one officer: "This would complicate targeting for an adversary."

Access: The US should intensify efforts to cultivate nations along that arc, including treaty allies, to ensure access to bases there and the freedom to operate in the event of hostilities.

Hardening: Aircraft hangers, command posts, electrical plants, ammunition depots and supply warehouses should be hardened to withstand attack, particularly from missiles rapidly being acquired or developed by China.

Repair: Crews and equipment to repair damaged bases should be trained and positioned so they can move quickly to bases where needed. Airfield runways, for instance, would need to be repaired quickly after an attack.

Tankers: The age of the Air Force's tankers was documented. Because of distances in the Pacific, more tankers would be needed to defend the region than were needed in Europe to deter the former Soviet Union.

Stealth: Advantages of stealth technology that permits B-2 bombers and F-22 fighters to evade radar detection were validated. "We are sure that we can shoot them before they can see us," a staff officer said.

Communications: The war game underscored the vulnerability of communications because the Air Force relies on unprotected commercial channels. Moreover, China destroyed an inactive satellite last year with an anti-satellite missile.

Integration: Aircraft carriers and submarines armed with cruise missiles would need to be dispersed like land-based aircraft. The Navy was represented in the war game but work was needed to integrate war plans.

Intelligence: The need for Global Hawk, an unmanned reconnaissance plane that can fly great distances, covering 100,000km² a day in all weather, was confirmed. The first of three Global Hawks will be sent to Guam next year.

Cyber Warfare: Officials discovered that the US is lagging in cyber warfare, from jamming radar to attacking computer networks as well as protecting radar and computers. China has emphasized cyber operations.

Control: The Air Operations Center in the 13th Air Force has been running for two years. PACAF and the 13th Air Force would fight an aerial war in the region through the center, which must improve controls over widely dispersed forces.

PACAF plans to apply these lessons. One officer said: "We've maintained a long period of peace because we continually prepare for war. That's what Pacific Vision was all about."

Richard Halloran is a writer based in Honolulu.