Ralliers vent anger at Ma government
 
TAKING TO THE STREETS: When night fell, protesters gathered along Ketagalan Boulevard shone an image on the Presidential Office that read 'incompetent'
 
By Rich Chang, Jenny W. Hsu and Shih Hsiu-chuan
STAFF REPORTERS
Sunday, Oct 26, 2008, Page 1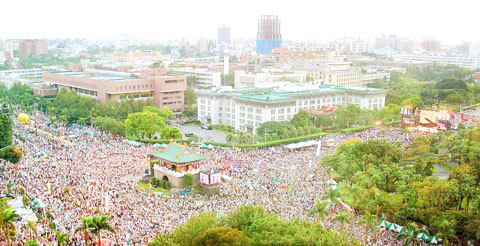 Protesters gather during a rally outside the Presidential Office in Taipei yesterday.

PHOTO: FANG PIN-CHAO, TAIPEI TIMES

Floods of demonstrators took to the streets in Taipei City yesterday, venting their anger at the administration of President Ma Ying-jeou (馬英九) and its policies, which they said threaten Taiwan's sovereignty.

Protesters young and old marched under banners reading "Oppose toxic products, defend sovereignty," "Defend Taiwan," "I am Taiwanese, not Chinese" and "Taiwan is not part of China," demanding that Beijing apologize to Taiwan for selling milk and other products tainted with the industrial chemical melamine.

The Democratic Progressive Party (DPP), which cohosted the demonstration with the Taiwan Solidarity Union and a number of pro-localization groups, also accused Ma's government of failing to stand up to China in the wake of the melamine scare.

"Ma is the devil, no doubt about it. It was not enough for him to denigrate himself as a mere regional head, he had to drag all of Taiwan down with him. He is nothing but the mastermind of a fraud ring," said Chang Chung-wen (張瓊文), a drama teacher who spearheaded a skit ridiculing Ma's government.

Donning a grim reaper mask and brandishing a flaming red pitchfork, a student from Chiayi City said he was playing the role of Ma, whom he called a demon for pushing Taiwan into hell by catering to China.

Tsai Chia-chun (蔡嘉俊), also from Chiayi, dressed as a poor doctor in a raggedy white coat said Ma was singlehandedly destroying the nation's medical profession by allowing Chinese doctors to practice in Taiwan.

A Tainan County protester brought a homemade horse-shaped punching bag to the parade and welcomed anyone who believed Ma — whose name literally means "horse" in Chinese — was a traitor to vent their anger on the doll.

Liu A-fu (劉阿福), A 72-year-old man from Yunlin County who walked with the help of crutches, said: "Even if I had to crawl, I wouldn't miss this parade because I must voice my disdain for Ma. I am too angry to just sit at home and do nothing about this incompetent government."

Liu said that since Ma took office in May he has been worrying he would die penniless after losing most of his life savings as the stock market crashed over the last few months.

"Didn't he promise that the economy would revive as soon as he became the president? The only wallets that have fattened since May are the ones belonging to the corrupt Chinese Nationalist Party [KMT] and Chinese communist officials," he said.

A British protester — who declined to give his name, saying he feared the KMT government might deport him for participating in the rally — agreed with Liu, calling Ma "a big woman who lied to become the president."

Some people declined to talk to the press, saying that they were afraid of a repeat of the KMT's reign of "white terror" in the 1950s and that going on the record could put their families in danger.

Huang Jui-da (黃睿達) of Banciao (板橋) said even his dog would be a better president than Ma.

"At least the dog knows to attack bad people instead of inviting them in the house for tea," Huang said.

The weak economy was also on the minds of the protesters.

"Taiwan's economy is facing harsh times and the government can not do anything," said Liu Tse-jun, a pregnant mother who brought her three children to join in the protest.

Event organizers estimated that more than 600,000 people took part in the rally, while Taipei police said they would not provide an estimate.

Converging on Ketagalan Boulevard in front of the Presidential Office, the demonstrators spread to a nearby road, chanting "Ma Ying-jeou is incompetent," "Ma Ying-jeou step down" and "[Premier] Liu Chao-shiuan (劉兆玄) step down."

The protesters began their march at 3pm from five different assembly points — Mengjia Park in Wanhua District (萬華), the main entrance of National Taiwan University, the Wellcome Business Center on Zhongxiao E Road, the Zhongshan Soccer Stadium and the Chunghsing Bridge in Sanchung (三重), Taipei County — meeting up on Ketagalan.

DPP Chairwoman Tsai Ing-wen (蔡英文), heading the crowd as it left National Taiwan University, led the protesters in chants of "No hollowing out sovereignty, no incompetent government, no 'one China' market, no tainted products," and "Support the DPP, support Taiwan, go Taiwan."

"I am glad to see today's rally bringing more people than the Aug. 30 rally," Reverend Kao Chun-ming (高俊明) said while addressing the crowd from a stage.

He was referring to a rally two months ago that was arranged to protest against Ma on his 100th day in office. Taiwan Society — the organizer of that event — estimated that 300,000 people attended.

"Seeing the more than 500,000 taking to the streets, I hope Ma will no longer downgrade Taiwan or downgrade Taiwan's sovereignty," former premier Yu Shyi-kun of the DPP said.

At nightfall, the event's organizers projected a laser display of the Chinese characters for "incompetence" (無能) onto the Presidential Office building.

The rally reached a climax at 7:40pm when Tsai addressed the crowd.

"Ma broke his campaign promises to boost the country's economics ... Ma owes us an apology," she said.

"The protest today is a warning to the Ma government. We don't like his policies. Not only is he incompetent in lifting the sagging economy, but he is also adopting a policy that will result in Taiwan losing its sovereignty to China," she told the rally.

"Today's rally is a beginning, and the DPP and the Taiwanese want to let [Chairman of China's Association for Relations Across the Taiwan Strait] Chen Yunlin [陳雲林] know that he is not welcome in Taiwan," she said, referring to Chen's planned visit on Nov. 3.

Tsai then led the crowd in a chant of "Ma Ying-jeou step down" and "Cabinet step down."

Former president Chen Shui-bian (陳水扁), who quit the DPP earlier this year to show his remorse for causing damage to the party amid allegations of money laundering by him and his family, also took part in the rally despite reported threats against him and Tsai. Police on Friday arrested a man who allegedly threatened to harm them.

Along the march route from Ding Hao Plaza near the Zhongxiao Fuxing MRT Station, Chen, leading one of the five groups in the rally, made no remarks as he had promised organizers that he would "play a low-key" role in the event.

Chen, dressed in a green T-shirt, chanted pro-Taiwan slogans and gave the thumbs-up sign to his supporters.

The DPP has been put in an awkward position in its relationship with Chen, with some suggesting the party distance itself from him to stress party integrity and reform, while some worry that doing so would draw ire from its core supporters, most of whom are Chen's diehards.

"I am here to support A-bian [Chen's nickname] because supporting A-bian is tantamount to safeguarding Taiwan. The DPP without A-bian would quickly fade away," 60-year-old Lee Chung-min (李忠明) said.

Kao Tien-sheng (郭天盛), who came from Taichung City to join the rally with his son, said that Chen's alleged corruption didn't make him less loyal to the DPP.

"A-bian didn't represent the whole DPP," he said. "That A-bian [allegedly] deposited large sums of money in overseas bank accounts really hurt my feelings, but I still support the DPP. I am sympathetic with its stance on cross-strait issues, unlike that of the KMT, which is willing to sacrifice Taiwan's sovereignty."

Lin Mei-hue (林美蕙), 33, said she was initially a bit hesitant about joining the brigade led by Chen because of his alleged corruption, but came to the conclusion that Chen had the right to join the rally and that any wrongdoings would be determined by the judicial system.

After waving to the crowd shortly from a truck a few hundred meters away from Ketagalan Boulevard, Chen left at 4pm without joining the night rally, which continued until 10pm.

It took a few hundred security officers protecting Chen about 30 minutes to push through the crowd so that he could get into his vehicle as his backers strove to shake hands with him, chanting "A-bian, Jia you [加油]!"

The National Police Agency said that a total of 5,406 officers were on duty for the demonstration.

No major conflicts happened in the rally except a small fire that broke out near a generator at the site, injuring one man. Police said they were investigating the cause of the fire.

At a separate setting, Presidential Office Spokesman Wang Yu-chi (王郁琦) said the government would review its policies and make every effort to push necessary reform.

Acknowledging that the demonstrators' appeals are the government's policy goals,"maybe we haven't done enough, so some people are complaining. Compounding the problem is the global economic downturn," he said.

On whether Ma would meet Tsai, Wang said Ma would be very happy to talk about anti-violence, anti-corruption and other economic issues with Tsai.

Wang said the office had invited her on several occasions in the past, but that Tsai had been unable to attend.

The office would, however, keep trying and "extend the most sincere invitation."
---
KMT challenges legitimacy of rally
 
NON-ISSUES: A KMT spokesman criticized the DPP for holding the rally when governments around the world are working to address the global economic crisis
 
By Mo Yan-chih
STAFF REPORTER
Sunday, Oct 26, 2008, Page 3

The Chinese Nationalist Party (KMT) yesterday challenged the legitimacy of the Democratic Progressive Party's (DPP) rally, and said the DPP should be ashamed of its corruption record and its indulgence in violent behavior recently.

KMT spokesman Lee Chien-jung (李建榮) condemned DPP Chairwoman Tsai Ing-wen (蔡英文) for failing to reject the attendance of former president Chen Shui-bian (陳水扁) in the demonstration. He said Tsai should take full responsibility for any accidents or clashes during the rally, as well as for its lack of legitimacy because of Chen's participation.

"The destination of the rally was Ketagalan Boulevard, also known as Anti-Corruption Square. It was a huge irony that Chen, who is involved in corruption scandals, walked down to the square with other DPP protesters," Lee said.

Lee also challenged the DPP for holding a massive rally to protest against the government at a time when Taiwan and other countries around the world were striving to end the global economic crisis.

One of the themes of the DPP's rally was dissatisfaction with President Ma Ying-jeou (馬英九) and his administration's failure to take a tough stance on melamine-tainted food imported from China. Lee said this was a non-issue, as the government was also against bad products imported from China.

The topic of melamine-tainted food and other food safety issues are to be discussed during the upcoming meeting between Straits Exchange Foundation Chairman Chiang Pin-kung (江丙坤) and his Chinese counterpart, Association for Relations Across the Taiwan Strait (ARATS) Chairman Chen Yunlin (陳雲林), he said.

"The government and the opposition parties did not disagree on the issue of bad Chinese products, and as Taiwanese, we all want the best for Taiwan. We don't understand the appeals of the DPP in this rally," he said.

The former DPP government's incompetence and corruption scandals, and the recent "violent behavior of DPP members," such as the confrontation between China's ARATS Vice Chairman Zhang Mingqing (張銘清) and pro-independence advocates in Tainan City last week, "damaged Taiwan's democracy and should be blamed and protested against," Lee said.
---
I work for the PRC, police officer tells rally protesters
 
By Jimmy Chuang
STAFF REPORTER
Sunday, Oct 26, 2008, Page 3

The director-general of the National Police Agency (NPA) Wang Cho-chiun (王卓鈞) yesterday apologized for the conduct of a female officer who told protesters that she works for "the People's Republic of China."

"What she said has damaged the police's public image," Wang said. "I would like to apologize on behalf of my fellow police and instruct her superior officers to come up with proper punishment for her."

Wang made the remarks when asked by the press for comments on the incident, which took place earlier yesterday during the demonstration.

The female officer, surnamed Chou (周), belongs to Jen-ai Road Police Station of the Chungcheng First Precinct in Taipei City. Around 2pm, while on duty dispersing vendors who crowded around the Jing Fu Men (景福門) on Ketagalan Boulevard, she said in response to a protesters' question about whether her boss is President Ma Ying-jeou (馬英九) that "my boss is the People's Republic of China."

Chou's response irritated pan-green supporters, who surrounded her, demanding an apology.

The female officer apologized and then left the scene.

"We will find out what was wrong with her, but she will be punished for sure," Wang said.
---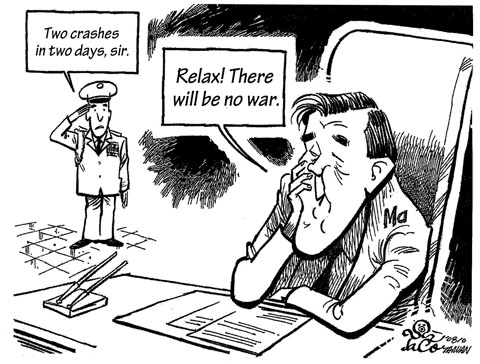 ---
Ma should take a good look at the CCP's past
 
By Paul Lin 林保華
Sunday, Oct 26, 2008, Page 8

President Ma Ying-jeou (馬英九) said in a recent interview with the Indian quarterly India and Global Affairs that there was no timetable to achieve mutual military trust or sign a peace agreement between Taiwan and China, but added that he would make every effort to realize these goals during his presidency.

This was the first time that Ma had broached the subject of a peace agreement with China to an international audience since his inauguration. A series of government measures favorable to the Chinese Communist Party (CCP) and proposed by Ma were aimed at paving the road for such an accord, I believe.

Since Ma likes citing the classics, he would do well to take a good look at history and consider the consequences of conducting "peaceful negotiations" with the CCP.

After Japan surrendered, dictator Chiang Kai-shek (蔣介石) dispatched three telegrams to Chinese leader Mao Zedong (毛澤東) inviting him to Chongqing for peaceful negotiations. But Mao was not interested. Finally, at the request of the Soviet Union, Mao changed his mind and arrived in Chongqing on Aug. 28, 1945. When he saw Chiang, he shouted: "Long live Chairman Chiang." After talks that lasted 43 days, both parties signed the Double Tenth Agreement, stating that "through peace, democracy, unity and unification as founding principles [the parties will] seek long-term cooperation between the two parties and resolutely prevent a civil war in order to establish an independent, free and strong new China."

When Mao returned to Yan'an in Shanxi Province, he told party cadres that the agreement was just "a piece of paper," adding that weapons must be kept ready.

Subsequently, the Soviet Union handed weapons seized from the Japanese Guandong Army and its occupied territories in northeastern China to the CCP for its base of operations to combat the Chinese Nationalist Party (KMT).

After the KMT suffered a crushing defeat, it tried to negotiate peace with the CCP. On April 1, 1949, Zhang Zhizhong (張治中), a confidant of Chiang, led a delegation to Beijing to attend peace talks with the CCP. During the negotiations, the CCP proposed to punish war criminals — including Chiang — abolish the "fake" Constitution and legal system and restructure the reactionary army. The KMT could not accept these conditions, so the six KMT representatives all surrendered to the CCP. The delegation entrusted with negotiations became a delegation of surrender.

Jung Chang (張戎), the author of Mao: The Unknown Story, has long doubted that Zhang was a CCP spy.

As many as 80 million Chinese later died enslaved under the CCP. To date, China's police system is still corrupt. Moreover, after a 17-point pact was signed between China and Tibet, the situation between the two did not improve but continued to worsen.

Today, Chinese President Hu Jintao (胡錦濤) does not shout "Long live President Ma," nor does he recognize Ma as president, while Ma agreed to be called "Mr." The consequences of further negotiations are obvious.

In 1973, then-US secretary of state Henry Kissinger and North Vietnamese Communist Party (NVCP) Political Bureau member Le Duc Tho signed the Paris Peace Accords. Soon after that, both of them were awarded a Nobel Peace Prize, but Le refused to take it.

Two years later, the NVCP occupied the capital of South Vietnam, Saigon, now called Ho Chi Minh City. Vietnamese fled all over the world to avoid slavery.

Paul Lin is a political commentator.