DPP councilor makes attack claims
 
UNPLEASANT EXPERIENCE: Wang Ting-yu claims he was roughed up by a man he suspected was a gangster and had his office in Tainan ransacked on Thursday
 
By Rich Chang And Jimmy Chuang
STAFF REPORTERS
Wednesday, Oct 29, 2008, Page 1

Democratic Progressive Party (DPP) Tainan City Councilor Wang Ting-yu (王定宇), who is under investigation over allegations he instigated an incident last week that saw Association for Relations Across the Taiwan Strait (ARATS) Vice Chairman Zhang Mingqing (張銘清) fall over, said yesterday he had been the victim of an assault by pro-China gangsters.

Zhang was allegedly manhandled by Wang and a group of pro-independence supporters during a private visit to the Confucius Temple in Tainan City last Tuesday.

Zhang fell to the ground during the commotion.

During a press conference yesterday, Wang said his office in Tainan was ransacked on Thursday, and later a man he suspected of being a gangster, Huang Ju-yi (黃如意), and his friends came to his office, asking Wang to apologize to Zhang, saying that some people from China were offering money to people willing to hurt him if he did not.

REPORTERS

Wang said that later in the afternoon he met Huang and his friends again in a building in Taipei, where two reporters from cable channel CTI were also present.

"A gangster told me 'you had better offer an apology to the camera, or I could kill you with one shot,'" Wang said.

Wang said he also received an anonymous telephone call saying there were people who were willing to pay for Wang to run an apology in the national press.

According to the CTI footage, Huang sat by Wang on the sofa, saying "Zhang Mingqing is my friend. Wang Ting-yu is my younger brother. Pushing Zhang was not done to attract attention for his bid for Tainan mayor, but to defend Taiwan."

Huang then pounded Wang on the chest twice, saying "there is no one in Taiwan who can touch him, only me, I represent Wang in his apology to Zhang."

Wang, meanwhile was silent and appeared embarrassed in the footage.

Wang said he was scared that he would be hurt, and "the four hours there were torture."

THREAT

The threat seemed to come from China, he said.

Wang said he had met Huang three times before, but that he did not know him well.

Wang made a statement to police about the incident last night.

Earlier, Kao Cheng-sheng (高政昇), deputy head of the Criminal Investigation Bureau, said: "When we talked to him on Oct. 26, he said he had promised his friends that he would not report this to the police. When we talked to him yesterday, he said: No comment.' Today he just said: 'I'm busy.'"

Kao said that Huang finished making a statement at the Taipei City Police Department at about 11pm on Monday, but Wang had refused to report to the police and finish his statement.

In addition to Huang, Kao said police had interviewed several other people who were present at the scene. But their statements did not match the story Wang had told during his press conference.

"We need [Wang] to tell us what happened," Kao said.

Meanwhile, Kao said police had submitted the case to the Taipei District Prosecutors' Office for further investigation.

Prosecutor Deng Ding-chiang (鄧定強), who is in charge of the investigation, said he would summon Wang, Huang and other witnesses in the near future.

"Huang told police that Wang visited him on that day because they are old friends. He said he did not do the things Wang has accused him of," Deng said.

Huang was arrested in Kinmen yesterday as he attempted to board a ferry bound for Xiamen, Fujian Province. Huang was stopped by immigration officers, who would not allow him to board the ferry. He was forced to fly back to Taiwan instead.

Chinese Nationalist Party (KMT) caucus secretary-general Chang Sho-wen (張碩文) questioned the veracity of Wang's story, saying that he might be staging a political stunt.

KMT Legislator Wu Yu-sheng (吳育昇) asked why the councilor did not report the case to the police immediately, adding that the footage of the meeting showed Wang acting "naturally" and "calm."
---
Chinese protein powder contains melamine: DOH
 
By Shelley Huang
STAFF REPORTER
Wednesday, Oct 29, 2008, Page 1

The Department of Health (DOH) said yesterday that protein powder imported from China was found to contain 1.90 parts per million (ppm) to 5.03ppm of melamine.

Health authorities randomly tested 13 batches of protein powder, six of which were contaminated with melamine.

The tainted powder was produced by two companies in China — Jilin Jinyi Egg Products Co Ltd (吉林金翼蛋品有限公司) and Dalian Green Snow Egg Product Co, Ltd (大連綠雪蛋品發展有限公司).

Of the 393 tonnes of protein powder imported from China this year, 261 tonnes imported from Jilin Jinyi and Dalian Green Snow were found to be contaminated with melamine, deputy health minister Cheng Shou-hsia (鄭守夏) said at a press conference yesterday.

Protein powder is used in the food industry as a legal food additive.

It is commonly used to produce foam and add cohesiveness.

The department's Bureau of Food and Drug Safety on Sunday randomly tested 40 samples of ham, vegetarian ham, fish paste and cakes, which are all products commonly made with protein powder. No melamine was detected in these finished products, Cheng said.

The 261 tonnes of tainted powder were imported by Kuohui (國暉食品香料化工有限公司), Paoli (寶立興業股份有限公司), Union Chemical Industrial Co Ltd (六和化工股份有限公司) and Ali-Mon Co (育盟股份有限公司).

Union Chemical imported malt extract and creamer found to contain melamine last month.

The four local companies have warehouses in Taipei, Tainan, Kaohsiung and Taoyuan counties.

Local health departments have already begun tracking down and recalling the powder, Cheng said.

Cheng emphasized that the department used one of the most sensitive testing methods — liquid chromatography/tandem mass spectrometry — which can detect melamine levels as low as 0.05ppm.

Cheng said that the department is requiring all companies that have imported protein powder from China, whether or not they have been found to contain melamine, to take the materials off the market.

The department also announced a ban on all imports of protein powder materials from China.

Taiwan imports about 704 tonnes of protein powder a year from countries including Germany, France, Sweden and Japan, so Taiwanese businesses can replace the China-made protein powder with supplies from elsewhere, Cheng said.

Contaminated milk powder, laced with the chemical melamine, has been blamed for causing the deaths of four infants and sickening more than 54,000 others in China.

Melamine is added to milk powder by some companies in China to falsely register foods as having a high protein content.
---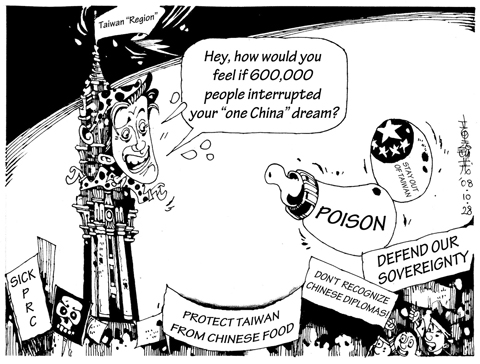 ---
Feeling the Dalai Lama's pain

Wednesday, Oct 29, 2008, Page 8

On Saturday the Dalai Lama made a quiet statement of desperation, signaling the frustration of decades of failed efforts to win fair treatment for Tibetans living within China's borders.

"As far as I'm concerned, I've given up," reports quoted the Dalai Lama as saying, referring to his attempts to engage Beijing in meaningful talks on human rights abuses and the lack of autonomy in Tibet.

With these heartbreaking words, the exiled spiritual leader conceded what independent observers have long recognized: Beijing has not and will not move one inch on Tibet.

For all the differences between Taiwan, a sovereign country, and Tibet, which has been controlled by the People's Republic of China since 1951, the Taiwanese public can no doubt sympathize with the Dalai Lama's distress. Beijing brands any stand for the ideals of human rights and self-determination as dangerous, "splittist" and a provocation. Peaceful actions are scorned and cited by Beijing as sedition deserving of military retaliation — whether in the form of deploying missiles in the Taiwan Strait or cracking down on Tibetan demonstrations.

While Beijing time and again blames the lack of dialogue over Tibet on the Dalai Lama, likewise, Taiwan has been repeatedly labeled the provocateur across the Strait. Thus, the two UN referendums held in conjunction with the presidential election in March drew much saber rattling from Beijing.

Despite all the talk of detente, it is amply clear that China has no intention of budging on its claim to Taiwan. On that front, nothing has changed since the shift from a Democratic Progressive Party to a Chinese Nationalist Party (KMT) administration in May, nor can we expect to see any progress.

Taiwan, as a sovereign country with control over its borders and economy, has more bargaining power than Tibet, where dissent is met with aggressive reprisals. In spite of this, the nation has nothing more than the Dalai Lama to show for extending olive branches to Beijing. This was confirmed when Association for Relations Across the Taiwan Strait Vice Chairman Zhang Mingqing (張銘清) said during his brief visit that China would not give up Taiwan without war.

President Ma Ying-jeou's (馬英九) critics argue that his goodwill toward Beijing has yet to be reciprocated on any level. A single, meager gesture of "goodwill" from Beijing came days ago when it belatedly apologized for the tonnes of melamine-tainted products it has exported to Taiwan. It would seem Beijing is worried about the future of its exports to Taiwan — or disturbed by anti-China sentiment fed by that scandal.

But as for the nation's status and international diplomacy, China remains incapable of discussing Taiwan's future without brandishing its missile arsenal.

For his many years of promoting a peaceful dialogue and human rights in Tibet, the Dalai Lama was awarded the Nobel Peace Prize. But from Beijing, he walks away empty-handed, accused of inciting riots and supporting terrorism.

As our own government pursues a dialogue with Beijing, it is unclear why we should expect results that are any better.
---
PRC is changing military balance
 
By Michael Danby
Wednesday, Oct 29, 2008, Page 8

In recent years there has been a rapid rise in China's military and economic development, with growing global influence. Much uncertainty surrounds China's future course, in particular in the area of expanding military power and how that power may be used. This has significant implications for Australia, our region and the world. China has long-term goals, joining economic growth to military power. The Japanese slogan meaning "rich country, strong arms" was transformed into China's 16-character policy, which states: "Combine the military and the civil; combine peace and war; give priority to military products; let the civil support the military."

China's peaceful rise and its economic development attract widespread acclaim around the world. Unfashionable as it may be, however, I want to focus on its rapid and non-transparent growth in military power. China is transforming its forces into a full-spectrum military capable of military operations and remote power projection. It has recently acquired advanced foreign weapons and it has continued high rates of investment in its domestic, defense and science technology industries, as well as making substantial organizational and doctrinal reforms to its armed forces.

This expansion, as well as improving its military capability, is changing the military balance in East Asia. The improvement of China's strategic capabilities has implications for Australia, East Asia and beyond the Asia-Pacific region. Only recently, the construction of a vast new naval base has become known via commercial satellite imagery. The opening of the Sanya base will enable China's new type 094 ballistic missile submarines to find a safe 5,000m deep operating area south of Hainan Island.

The apparent strategic purpose of this base is to protect these nuclear submarines and to defend China's growing interest in securing sea lanes to critical resources in distant areas like Africa, the Persian Gulf and Australia.

In the May issue of Jane's Intelligence Review, Richard Fisher says Sanya can be expected to host future Chinese aircraft carrier battle groups, given the size of its piers. The size of the openings of the piers and tunnels that the submarines go into gives it the capacity to host eight nuclear submarines. This has been detected by commercially available satellite imagery.

According to the Wall Street Journal Asia, in mid-November last year, the People's Liberation Army (PLA) held major naval and air exercises south of Hainan Island. In conjunction with this exercise, or soon after, the first type 094 nuclear submarine moved into Sanya.

China has the most active ballistic missile program in the world. It continues to develop and test offensive missiles and upgrade missile systems. It has deployed an increasing number of short-range ballistic and cruise missiles opposite Taiwan. In addition, China is modernizing its long-range ballistic missile force and it is in the process of developing a new submarine-launched ballistic missile. China is modernizing its nuclear force, presently fielding the new DF 31 and DF 31A intercontinental range missiles, which has increased its strategic strike force capabilities.

From the point of view of strategic stability in our part of the world, it is of concern that China is developing advanced cruise missiles and anti-ship missiles designed to strike ships including aircraft carriers from great distances. Moreover, in January last year, without warning the international community, China successfully tested a direct ascent anti-satellite weapon, destroying a defunct Chinese weather satellite.

This unannounced test raised concerns internationally and demonstrated China's ability to attack satellites as well as posing a danger to space flights. In addition, in November last year, China successfully launched its first lunar orbiter. Together they demonstrate China's ability to conduct complicated space maneuvers that have far-reaching military implications.

Moreover, China is increasing its army and ground forces as well and equipping them with modern tanks, APCs and artillery. According to the Pentagon's assessment and analysis "Chinese Military Power," its ongoing military reforms and modernization emphasize the need for highly qualified officers and soldiers trained in modern and key technologies.

This military modernization emphasizes the need to equip them with new and high-tech weaponry, making them capable of advanced military operations as well as directing and participating in what is called "informatized warfare."

In addition, the PLA emphasizes the role of modern information technology as a force multiplier to enable their forces to conduct military operations with precision at ever greater distances from China. Because of the modern battlefield and the need for high technology and equipment, which it does not have itself, many governments say, China is running an aggressive effort to acquire advanced technologies, particularly from the US. Investigations have revealed there has been considerable illicit export of US arms and technologies to China. Last year, many computer networks around the world, including US information systems, were intruded upon, and they appeared to be targeted from the PRC. This is of great concern to many governments around the world.

Continuous and steady economic growth is the basis of China's future development. As China emerges as a regional and global power, its continued economic development remains the foundation of the power of the Chinese Communist Party and leads it to further military expansion and modernization because of the prestige it gives the party in nationalistic sentiment within China.

According to Mark Helprin in a speech given to the Hoover Institution, a country with restrained population increases and a high rate of economic expansion can over time dramatically improve its material lot while simultaneously elevating military spending almost beyond belief. The crux is to raise per capita income significantly enough that diversions for defense will go virtually unnoticed. China's average annual growth of roughly 9 percent over the past 20 years has led to an absolute 10-fold increase in per-capita GNP and a 21-fold increase in purchasing power parity of its military expenditure.

As far as China's nuclear forces are concerned, the Chinese leadership and the Chinese defense paper of 2006 reiterate their commitment to a declaratory policy of no first use. The main purpose of its nuclear force is to deter other countries from using or threatening to use nuclear weapons against China.

However, doctrinal material suggests additional purposes for its forces, like deterring conventional attacks against nuclear assets or conventional attacks with weapons of mass destruction, in order to reinforce China's great power status.

Last year, Beijing announced an astonishing 19.47 percent increase on the previous year's military budget to approximately US$45.9 billion, which surpasses the growth of its overall economy.

Moreover, its defense budget does not include other large categories of expenditure, such as the expenses for strategic forces, foreign acquisitions, military related research and development and paramilitary forces. Therefore, the actual military expenditure of China is hard to estimate because of its lack of transparency.

Even though its actual military expenditure is not apparent, it is certain internationally that China significantly under-reports its military spending. The US Department of Defense estimates China's military spending last year was between US$97 billion and US$139 billion. The US and other nations continue to urge China to increase the transparency of its military expenditure.

US nuclear reductions and China's acquisition of ballistic-missile submarines, multiple warhead mobile missiles and modern Soviet air fighters (the SU series), the expansion of the Sanya base and the increase in China's ballistic missile preparations and its mobile nuclear missiles will eventually lead to the two countries becoming level in strategic nuclear weapons. Moreover, US military force reductions are not only nuclear but conventional as well. As the world is occupied with wars in Afghanistan and Iraq, this shift in the Pacific, identified by Helprin and others, goes largely unnoticed.

Australians welcome China's peaceful rise and we all want good relations with the People's Republic of China. We want Australia and East Asia to continue to have good economic relations with China and to benefit from its economic development. But we have to note these fundamental shifts in strategic power that are taking place in our region.

The now obvious sensitivity of the operation of this base in Sanya was emphasized to us a few years ago by the apparently overboard decision of the Chinese military to impound a US reconnaissance aircraft on Hainan island. It was obviously because of the Chinese preparations for this vast submarine and naval base, which, as Fisher argues, will have piers that can host potentially future Chinese nuclear powered aircraft carriers.

These projections of power that are far beyond the coast of China are something that countries like Australia and all the countries in the Pacific have to note. We have to view Chinese growth with equanimity but we should at the same time note its exponential military growth, prepare for it and understand it. Above all, we should not ignore this Chinese growth in military power.

Michael Danby is a federal member of the Australian parliament for Melbourne Ports. This is an edited version of a speech delivered in parliament on June 16.