ARATS sorry for melamine scandal
 
THORNY MATTER: chinese food products have become a sensitive issue in bilateral relations after local consumers reacted angrily to melamine-tainted milk powder
 
By Ko Shu-ling and Rich Chang
STAFF REPORTERS
Tuesday, Oct 28, 2008, Page 1

"The incident has been confirmed as illegal dealing by some people. We will not appease anyone who sabotages the health of consumers on both sides of the Taiwan Strait."— ARATS statement
China's cross-strait agency yesterday apologized to the Taiwanese public for the scandal over melamine tainted food, a move that seems aimed at easing tension ahead of the meeting between top cross-strait negotiators next month.

The Straits Exchange Foundation (SEF) issued a statement yesterday saying it had received a letter from its Chinese counterpart, the Association for Relations Across the Taiwan Strait (ARATS), asking the foundation to convey an apology to Taiwanese consumers and distributors for causing them trouble and losses.

"The incident has been confirmed as illegal dealing by some people," the statement said.

"We will not appease anyone who sabotages the health of consumers on both sides of the Taiwan Strait," it said.

The statement said ARATS would make every effort to mete out severe punishment to those held responsible and protect the rights of all consumers.

SEF Chairman Chiang Pin-kung (江丙坤) said that although the apology was a little late, it would have a positive impact on the meeting between him and ARATS Chairman Chen Yunlin (陳雲林).

The SEF has established a service center for consumers and distributors who wish to file a complaint or seek compensation from China, Chiang said, encouraging those affected to take advantage of the service.

Local consumers reacted angrily after 25 tonnes of milk powder imported from China in June was found to contain the industrial chemical melamine.

The government has asked China for compensation for Taiwanese consumers from the companies responsible. Premier Liu Chao-shiuan (劉兆玄) has also demanded that Beijing apologize, unsuccessfully until yesterday.

The scare over Chinese food products has become a sensitive issue in bilateral relations ahead of a planned visit by Chen.

MAC Vice Chairman Liu Te-shun (劉德勳) yesterday said that the government would like to see Beijing take concrete action following the apology. Although it was made by ARATS, Liu said it carried the weight of an official apology.

SEF Secretary-General Kao Koong-lian (高孔廉), who led a delegation to Shenzhen for a preparatory consultation yesterday, told reporters after the four-hour meeting that Chen was scheduled to arrive in Taiwan next Monday for a five-day visit.

It will herald the first cross-strait negotiations held in Taiwan since both sides engaged in bilateral talks in 1992.

Kao said Chen would lead a 60-person delegation consisting of government officials and experts. Chen is expected to sign four agreements with Chiang.

The agreements would include direct aviation routes, direct sea transport, direct postal services and a food safety mechanism.

In addition to inking the accords, Kao said two forums would be held to discuss the impact of the global "financial tsunami" and other economic issues.

Liu said that Chen would also meet some government officials, but it was not yet clear if he would meet President Ma Ying-jeou (馬英九).

If the two are to meet, Liu said, how Chen would address Ma would be "properly arranged." Ma has said that he would not mind Chen calling him "Mr. Ma."

While Chen would stay at the Grand Hotel, Liu said it was unlikely Chiang would meet Chen at the Taipei Guest House as the media have speculated.

Chen would also do some sightseeing, but he would not have time to visit central or southern Taiwan, Liu said.

Following incidents last week during a visit to Taiwan by ARATS Vice Chairman Zhang Mingqing (張銘清), Kao yesterday said every effort would be made to ensure "negotiations are conducted in an environment that is safe and comfortable."

Meanwhile, the Democratic Progressive Party (DPP) yesterday said it would hold a large-scale "Nightwatch for Taiwan, say no to China" rally to protest Chen's visit.

"The site, time and activities of the rally will be decided after the government releases the details of Chen Yunlin's visit," DPP spokesman Cheng Wen-tsang (鄭文燦) told a press conference.

He said the party had also proposed an evening rally to be held in Kaohsiung after Chen leaves.

The DPP, which co-hosted a rally on Saturday with the Taiwan Solidarity Union and a number of pro-localization groups, said that more than 600,000 people attended the rally.

The DPP said the rally had been a success and that it would continue to use "people power" to express its opposition to Chen's visit and the government's China-friendly policies.

Cheng said Saturday's rally showed that Ma's measures to weaken Taiwan's sovereignty and his "one China" policy were not mainstream public opinion in Taiwan.
---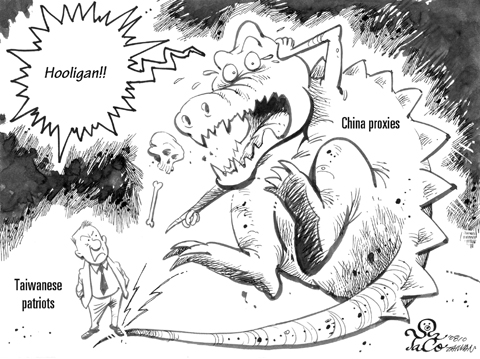 ---
Wrong track to sovereignty

Many Taiwan supporters like Michelle Wang ("Lesson 1: Which one is our country?" Oct. 24, page 8) continue to believe that drafting a new constitution will help Taiwan on the road to normalization and boost international recognition for the Taiwanese republic. However, the burning issue of non-recognition of Taiwan is the diplomatic centerpiece of the Shanghai Communique and "one China" policy, which remains the political bane of Taiwan supporters.

The general consensus is the Republic of China (ROC) is nothing more than a Chinese government-in-exile and the ROC on Taiwan has been a putative state of the Chinese Nationalist Party (KMT) on Taiwan since 1949. If we treat the ROC in this manner, then we can see how international non-recognition factors into the Taiwan dilemma.

But how can anyone support the ROC on Taiwan as a proxy for the Taiwanese republic? That is a political conflict of interest and does not allow for the impartial prosecution of the KMT for war crimes under the San Francisco Peace Treaty. This co-opts the pan-greens and cannot be supported in the interest of bringing justice to the people of Taiwan.

We must hold the KMT accountable for 1947's atrocities and its stolen assets must be brought under the treaty's judicial process of redress. The pursuit of justice under the San Francisco treaty can lead to the legal extinction of the exiled ROC on Taiwan without disrupting the current "one China" status quo.

Popular sovereignty is an overextension of the ROC putative state and entirely ignores the treaty. The ROC constitutes a secret codeword for the Taiwan republic in the pan-green camp, but Retrocession Day is a fraudulent conveyance of Taiwan's territory.

Territorial sovereignty for Taiwan is only derived from a treaty. The organic law of Taiwan's cession should be rewritten in accordance with US military government regulations that can legally transform the "governing authorities" from the ROC martial law era into a true "civil government" in the post-1952 period.

By closely following the treaty's regulations and supporting the rule of law, we could ultimately see the KMT held fully accountable for its actions. Japanese decolonialization is an ongoing process and it remains incomplete, but removing the ROC governing apparatus is a perk of the treaty's redress. This is just the beginning of the end.

Jeff Geer
Olympia, Washington