SEF, ARATS heads begin historic talks
 
TIGHT SECURITY: Straits Exchange Foundation head Chiang greeted his Chinese counterpart as police broke up protests, fracturing the finger of a Taiwanese activist
 
By Ko Shu-Ling
STAFF REPORTER
Tuesday, Nov 04, 2008, Page 1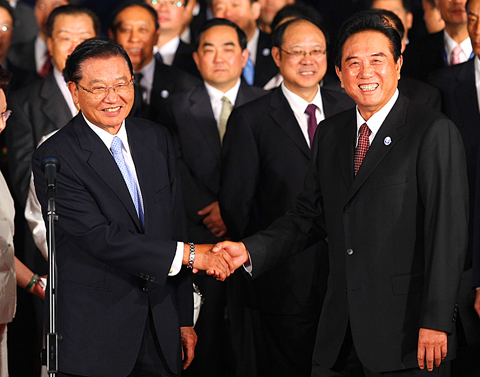 Straits Exchange Foundation Chairman Chiang Pin-kung, left, greets Association for Relations Across the Taiwan Strait Chairman Chen Yunlin at the Grand Hotel in Taipei yesterday.
PHOTO: CNA

Association for Relations Across the Taiwan Strait (ARATS) Chairman Chen Yunlin (陳雲林) and his 60-member delegation arrived from China yesterday, kicking off five days of high-level talks between Taipei and Beijing amid a heavy police presence and a slew of protests.

The highest-ranking Chinese official to ever visit Taiwan arrived in a chartered Air China Boeing 737-800 at Taiwan Taoyuan International Airport at 11:46am.

The countries resumed talks in June after a 10-year hiatus.

Two agreements were signed at the time allowing weekend chartered flights and increasing the number of Chinese allowed to visit Taiwan.

This time around, both sides plan to ink four agreements today on food safety, direct air and shipping links and direct postal services.

Police escorted a black limousine carrying Chen from the airport to the Grand Hotel. He was welcomed by his Taiwanese counterpart, Straits Exchange Foundation (SEF) Chairman Chiang Pin-kung (江丙坤), in the hotel lobby, where the two exchanged greetings and made brief speeches.

Minutes after Chen began to talk, four Taipei City Democratic Progressive Party (DPP) councilors began shouting "Taiwan and China are two different countries on each side of the Taiwan Strait!"

They were immediately swarmed by security officers and swept into the hotel's basement.

"I am bringing goodwill wishes to Taiwan's 23 million compatriots from the mainland's 1.3 billion people," Chen said.

Saying the purpose of his visit was "clear and simple," Chen said the meeting would not touch on any political issues and that it was a rare opportunity for the negotiators to meet again, this time in Taiwan.

Chen said former ARATS chairman Wang Daohan (汪道涵) and former SEF chairman Koo Chen-fu (辜振甫), who conducted the first cross-strait negotiations in 1993 in Singapore, would have been happy to see this moment, adding that peaceful development of the Taiwan Strait was the common wish of "compatriots on both sides." Wang and Koo both passed away in 2005.

"Only communication can enhance mutual trust and cooperation to create a win-win situation," Chen said.

Describing his state as "emotional," Chen said it was his first time visiting Taiwan, which he called a "lovely land," and that he was happy to make close contact with "respectful Taiwanese compatriots."

Chiang said Chen's visit was a "historic moment" that took about 60 years to bring about and was being closely watched by Taiwanese, Chinese and the entire world.

It is also a "key moment" in the history of cross-strait development because it is the first time negotiations have taken place in Taipei, as well as a significant step for cross-strait peace and a win-win situation economically, Chiang said.

Chiang said he believed a majority of Taiwanese welcomed his meeting with Chen because the four accords serve the public interest.

Thousands of police were deployed at the airport and hotel, where they set up barbed wire and large nets to block eggs or other items thrown by protesters.

In the afternoon, Chen visited Cecilia Koo (辜嚴倬雲), the widow of Koo Chen-fu, at the Taiwan Cement Corp Building, while the SEF and ARATS vice chairmen held preparatory negotiations on the four deals.

An agreement was reached on tripling direct passenger flights to 108 per week and expanding services to 16 more Chinese cities, the Central News Agency reported. Chen and Chiang are set to sign the deal this afternoon, the report said.

The report could not be immediately confirmed with the SEF.

The two sides in June agreed to operate 36 flights across the Taiwan Strait each weekend, connecting the Taiwan and five Chinese cities.

Cecilia Koo lamented the stalemate in cross-strait relations over the years, saying Chen's visit signified the thawing of the relationship and "the end of winter and beginning of spring."

She said her late husband always said there were no petty matters in cross-strait relations and that all things must be carefully and seriously dealt with.

Chen invited her to visit China "at an appropriate time."

Chen said cross-strait relations over the past 60 years had been "eventful" and sometimes moved forward, sometimes stalled and sometimes even reversed. Nevertheless, what people on both sides hoped to see was peace, he said.

Chen rounded off his first day in Taipei with a banquet hosted by the SEF at Taipei 101.
---
Dalai Lama says Tibet autonomy drive has failed
 
'THINNER, THINNER, THINNER': The Tibetan leader also said that he planned to ask Tibetans whether or not to end the tradition of the reincarnation-succession method

AFP, TOKYO
Tuesday, Nov 04, 2008, Page 1

The Dalai Lama said yesterday that the drive for greater autonomy for Tibet has ended in failure, urging Tibetans to be open to all options in negotiations with Beijing over the region's future.

The exiled leader is on a week-long visit to Japan for talks on spirituality as the latest negotiations between his envoys and Chinese officials were due to begin in Beijing.

"My trust in the Chinese government has become thinner, thinner, thinner. Suppression [in Tibet] is increasing and I cannot pretend that everything is OK," the Dalai Lama told a press conference.

"I have to accept failure. Meantime among Tibetans in recent years, our approach failed to bring positive change inside Tibet, so criticism has also increased. So there is no other alternative than to ask people," he said.

The Dalai Lama has long championed a "middle path" policy with China, which espouses "meaningful autonomy" for Tibet, rather than the full independence that many younger, more radical activists demand.

"Their minds should be open to explore all different options ... and not fixated on one issue," he said, adding that youth groups supported seeking independence rather than autonomy.

The Nobel peace laureate also spoke of his retirement and said he would ask Tibetans whether the centuries-old reincarnation succession method should end.

"My position is semi-retired. I look forward to complete retirement. My retirement is also my human right," he said smiling, in apparent good health less than a month after surgery to remove gallstones.

During his stay, the Dalai Lama is scheduled to give speeches arranged by a Japanese Buddhist group and Tibetan supporters. He will also visit children and monks.
---
CROSS-STRAIT TALKS: Taxi drivers stage protests against Ma-Chen summit
 
IN DEFENSE OF SOVEREIGNTY: The DPP promised to stage daily evening protests outside the Legislative Yuan until China's top cross-strait negotiator leaves on Friday
By Loa Iok-Sin
STAFF REPORTER
Tuesday, Nov 04, 2008, Page 3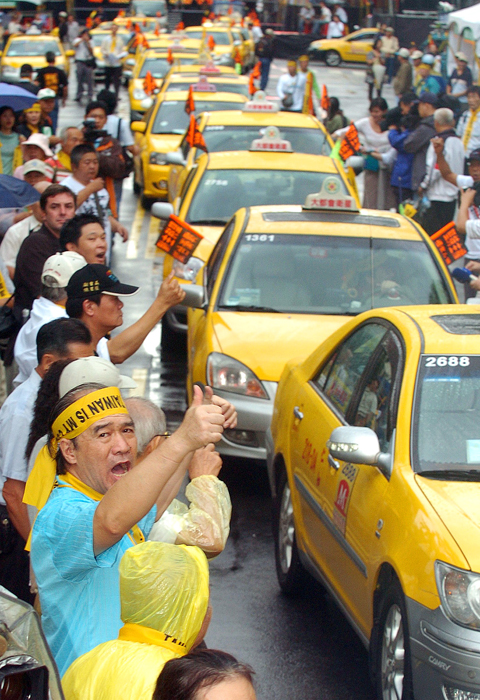 Taxi drivers and Taiwanese independence join a "Safeguard Taiwan" campaign organized by the Taiwan Society in Taipei yesterday to protest against Association for Relations Across the Taiwan Straits Chairman Chen Yunlin's visit to Taiwan.

PHOTO: WANG MIN-WEI, TAIPEI TIMES

Amid applauses and cheers, about 100 taxis, carrying flags with the slogan "Defend our sovereignty, defend Taiwan" set out to stage surprise protests at random locations after a rally outside the Legislative Yuan yesterday.

Before the official departure at 3pm, about 100 taxis had already lined up on Jinan Road outside the legislature.

The drivers then began decorating their cars with small flags with the slogan "Defend our sovereignty, defend Taiwan" and yellow headbands with "Taiwan is my country" written in English and Chinese.

Some brought their own placards to protest against President Ma Ying-jeou's (馬英九) pro-China policies and the visit of China's Association for Relations Across the Taiwan Strait Chairman Chen Yunlin (陳雲林).

"Since Ma took over the presidency [in May], he has been repressing [the pro-Taiwan camp] through political and judicial means — and now he's even trying to compromise Taiwan's sovereignty," Wu Shuh-min (吳樹民), chairman of the Taiwan Society, which organized the event, told the crowd.

"We must act now before it's too late," he said, and was answered with loud applauses and cheers.

With supporters lined up on both sides of the road cheering, the taxis set out after blowing their horns five times.

"They will be out there like viruses making random protests at random locations," said Zhang Ming-you (張銘祐), a Taiwan Society office director.

Earlier yesterday, the Taiwan Solidarity Union (TSU) also staged a demonstration in front of the legislature.

"The Chinese Nationalist Party [KMT] did a 180-degree turn from their anti-communist stance in the past to their pro-communist stance," TSU chairman Huang Kun-huei (黃昆輝) told a crowd of supporters. "And this change really disgusts me."

At the venue, the TSU displayed tainted or toxic products imported from China.

"As Chen Yunlin arrives this morning, I'd like to call on him to apologize to Taiwanese for the tainted milk products and propose real compensation," the TSU chairman said.

After his brief remarks, Huang invited supporters to hit a dummy of Chen labeled "Executioners of China-based Taiwanese businesspeople," "Smiling to hide his intention to annex Taiwan" and "President Ma's emperor."

Huang said that as face-to-face confrontations were not allowed, the TSU would seek "flexible means" to voice its discontent.

Later last night, thousands of people — all wearing yellow headbands that read "Taiwan is my country" and some holding flags with an illustration of the map of Taiwan — rallied outside the legislature.

The rally, organized by the Democratic Progressive Party (DPP), was held outside the legislature rather than near the Grand Hotel where Chen was staying because all of the party's applications for assembly and parade permits around the hotel had been turned down.

A rally will be held every evening until Thursday. Chen leaves on Friday morning.
---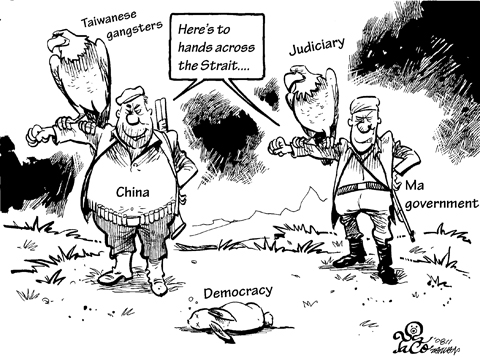 ---
Form a civil government

Chen Yi-chung's (陳怡仲) opinion piece ("Taiwanese need to bone up on their Thoreau," Oct. 31, page 8) had some suggestions on how to exercise the right of civil disobedience.

While it is encouraging to see people stand up for their rights, it is, however, not enough in the context of Taiwanese politics to stop at this level of protest.

Instead of hanging the Republic of China's (ROC) "national flag" at home to counter the Chinese Nationalist Party's (KMT) plan of hiding the "national flag," it is time for Taiwanese to support a truly functional Taiwanese civil government outside the framework of the ROC Constitution.

Since it is now common knowledge that the ROC government does not plan to protect the sovereignty of Taiwan, Taiwanese can legally support their own civil government. The ROC government should move its office to Kinmen or Matsu because these are the only parts of the ROC administrative area that the ROC Constitution has included in its territory.

Besides, a temporary deployment of troops after a war should not last beyond a period of peaceful transition. An election would then have to be held to set up a civil government. In the case of dictator Chiang Kai-shek's (蔣介石) Nationalist troops, the stay has become permanent, contributing to Taiwan's identity crisis.

Furthermore, the rush to reconcile with the Chinese Communist Party (CCP) has put Taiwan's democracy in jeopardy.

In order to protect Taiwanese democratic values, Ma must be reminded that he won the presidential election under a campaign platform that stressed the importance of the economy while promising Taiwanese self-determination.

However, Ma has incorrectly interpreted his victory as allowing him to proceed with determining himself what sovereignty means for the people of Taiwan.

What else can be more effective to counter Ma than supporting a civil government, an election under a new set of rules and abandoning the ROC's unfair election rules?

The current KMT's flip-flop policies are contrary to the policies of the Chiang era. Back then, Taiwanese could be jailed or sentenced to death if they sympathized with or supported Chinese Communism.

Now, half a century later, Taiwanese who oppose Chinese Communism and defend their own country can be prosecuted. What used to constitute treason is now the primary policy of the Ma administration.

After the presidential election in March, calls for fairly dividing the electorate and establishing a new referendum law have been ignored by the KMT.

Recent violence perpetrated by KMT-supported gangsters against Tainan City Democratic Progressive Party Counselor Wang Ting-Yu (王定宇) is a vivid example of the failure of the ROC's public security and justice systems to protect the rights of Taiwanese.

After the 228 Incident, a number of political victims were killed — Chen Wen-cheng (陳文成) and the family of Lin I-hsiung (林義雄) — during the White Terror martial era.

Those killings remain unsolved today. There is simply no justice in a land of unfair rules. The Ma administration is challenging Taiwanese' right to freedom and justice. Are Taiwanese left with any options under the ROC's legislative and justice systems? The answer is very obvious: Within the current ROC Constitution, nothing can be achieved. It is therefore time for Taiwanese to support a functional Taiwanese civil government.

Alison Hsieh
Vyronas, Greece

Contaminated diet needed

The talk and hype surrounding the visit of Chen Yunlin (陳雲林) ("ARATS head to arrive today for talks," Nov. 3, page 1) and all the previous and continuing problems of food contamination arriving from China reminded me of a scene from the movie Erin Brockovich, staring Julia Roberts.

A judge orders a trial to look into water contaminated by PG&E and Erin and her fellow lawyers are sitting opposite three other lawyers representing the company.

As the head lawyer is about to drink some water from a glass on the table, Erin tells her that it has been brought especially from the contaminated area for her to try.

This gives rise to the thought that as Chen is staying at the Grand Hotel for five days, why don't we show him the same hospitality by giving him melamine-contaminated food to eat and inform him that we have "imported" it directly from China to make him feel more at home.

Michael Wise
Danshui