Chen and Chiang sign four agreements
 
TO THE LEGISLATURE: Lawmakers must debate the deals on food safety and direct postal services and ratify the pacts on direct air and shipping before they take effect
 
By Ko Shu-ling And Mo Yan-chih
STAFF REPORTERS
Wednesday, Nov 05, 2008, Page 1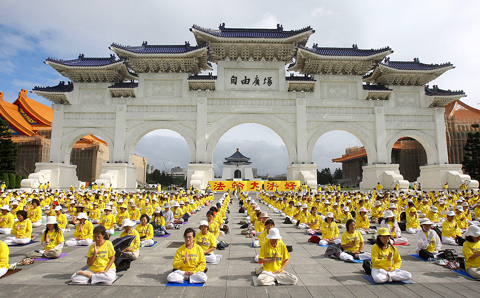 Falun Gong practitioners hold a silent sit-in demonstration at National Taiwan Democracy Memorial Hall plaza in Taipei yesterday to protest the spiritual movement's persecution in China.
PHOTO: CNA

Taipei and Beijing inked four agreements yesterday, agreeing to drastically expand flights and allow shipping links across the Taiwan Strait. The four pacts addressed direct sea links, daily charter flights, direct postal service and food safety.

While the agreement on food safety will take effect within seven days, the other three will be implemented after 40 days.

The agreements on food safety and direct postal services need only a legislative review to take effect, while the deals on direct air and shipping links must be ratified by the legislature.

CHAMPAGNE AND SMILES

After signing the pact, Straits Exchange Foundation (SEF) Chairman Chiang Pin-kung (江丙坤) and his Chinese counterpart, Association for Relations Across the Taiwan Strait (ARATS) Chairman Chen Yunlin (陳雲林), smiled and shook hands with each other. They sipped champagne and held up two lines of framed calligraphy that said: "Peaceful negotiation creates a win-win situation."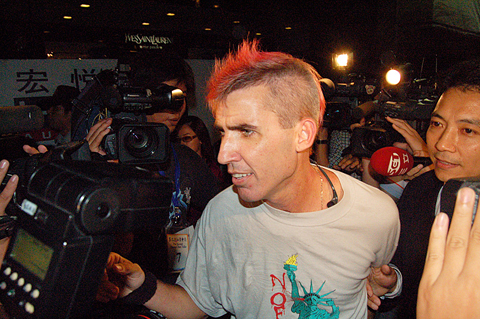 Participants in the second round of talks between the Straits Exchange Foundation and China's Association for Relations Across the Taiwan Strait applaud as the meeting started at the Grand Hotel in Taipei yesterday.

PHOTO: CHANG CHIA-MING, TAIPEI TIMES
In his opening speech to the meeting, Chiang said that at their first talks in Beijing in June, he had a hard time even getting close enough to shake Chen's hand, but "this time around, the distance between us is so little."

"It shows that the distance between both sides, both tangibly and symbolically, is much closer," he said.

Emphasizing that the people of Taiwan and China are "compatriots of the same bone and blood," Chen said yesterday's talks between "the leaders of both sides" were the first since the establishment of the two cross-strait agencies in 1991.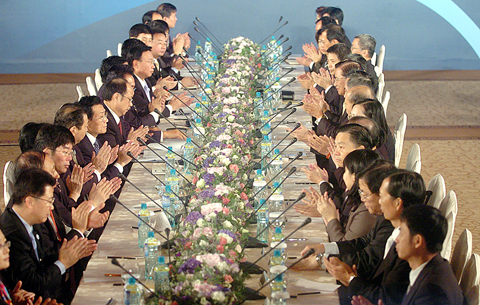 A French national is surrounded by reporters near the Grand Formosa Regent in Taipei yesterday after coming within a few meters of Association for Relations Across the Taiwan Strait Chairman Chen Yunlin and shouting in English "Taiwan is not a part of China."

PHOTO: WU YUE-HSIU, TAIPEI TIMES
Through their joint efforts, direct transportation links and direct postal services will soon become a reality, he said.

NEXT TIME AROUND

The SEF and ARATS also reached a consensus on a list of issues to discuss at the next round of talks: cooperation on law enforcement; financial cooperation, such as allowing banks to set up cross-strait branches; financial supervision of stocks, futures and banking; cooperation on investment; industrial partnership; cooperation on fishing matters; cultural and educational cooperation; and pursuing further exchanges between the two agencies.

Chiang and Chen also discussed the progress made on two agreements signed during the last SEF-ARATS meeting to launch weekend charter flights and increase the quota for Chinese tourists visiting Taiwan to 3,000 per day.

ARATS proposed lowering the minimum threshold for Chinese tourist groups from 10 people to five and increasing the maximum permissible length of stay from 10 days to 15 days.

SEF Secretary-General Kao Koong-lian (高孔廉) said yesterday's meeting did not touch on political issues.

WHEN AND WHERE

The next meeting between Chiang and Chen is likely to take place in the spring or summer, with Chen extending an invitation yesterday for Chiang to visit Beijing next year. Among the priorities for the next meeting between the agencies is investment protection for Taiwanese businesspeople in China, Chiang said.

Kao said he was optimistic that both sides would ink a memorandum of understanding at next year's meeting on financial matters.

PUBLIC INTEREST

At the press conference after the meeting, Chiang told reporters he was confident the four agreements would obtain the backing of the legislature and be implemented on schedule because they serve the public interest.

Regarding establishing a liaison office on the other side, Mainland Affairs Council (MAC) Deputy Chairman Fu Don-cheng (傅棟成) said the two sides agreed at the first round of talks to do so six months after the June agreements were signed, and that preparatory offices had been set up.

At a separate press conference held by ARATS, ARATS Vice Chairman Zhang Lizhong (鄭立中) said that with the new agreements now signed, Chen expected the two sides to gradually develop economic cooperation, while strengthening cultural and educational exchanges in the near future.

Zhang declined to say whether direct routes between China and Taiwan would be considered domestic or international but said the two sides would make every effort to open more direct flights as soon as possible.

While a food safety accord was among the agreements signed yesterday, Zhang touched only briefly on China's opposition to Taiwan's attempts to join the WHO.

"We understand the reaction of the Taiwanese people on this issue ... We agreed to discuss Taiwan's participation at the WHO as a priority issue and I believe that we will find a solution to this problem," he said, declining to elaborate.

Concerning the protests against Chen's visit this week, Zhang said that the majority of Taiwanese welcomed the cross-strait talks and he suggested that independence supporters visit China.

"We welcome them to visit China and gain a better understanding of China. Their misconceptions of China will dissolve and I believe they will instead support us in the end," he said.

Chen spent yesterday afternoon conducting private visits. He paid tribute to late Formosa Plastics Corp founder Wang Yung-ching (王永慶) at a funeral hall.

Saying he had been friends with Wang for 15 years, Chen said Wang had often spoken of the importance of direct cross-strait transportation links. Chen said he was happy that Wang's dream had finally come true.

Chen also met MAC Chairwoman Lai Shin-yuan (賴幸媛) at the Grand Formosa Regent Hotel, during which Chen addressed Lai as "the main person responsible for mainland affairs in Taiwan."

Lai later told reporters that one's status does not depend on how others address one and that Chen had not disparage her status as MAC chairwoman.

Chen ended yesterday with a dinner with former Chinese Nationalist Party (KMT) chairman Lien Chan (連戰) at the Ambassador Hotel.
---
Groups slam legislative failings
 
OVERSIGHT: The DPP and activists decried the lack of legislative participation in the signing of four cross-strait agreements that involve national interests

By Shih Hsiu-chuan, Rich Chang And Flora Wang
STAFF REPORTERS
Wednesday, Nov 05, 2008, Page 2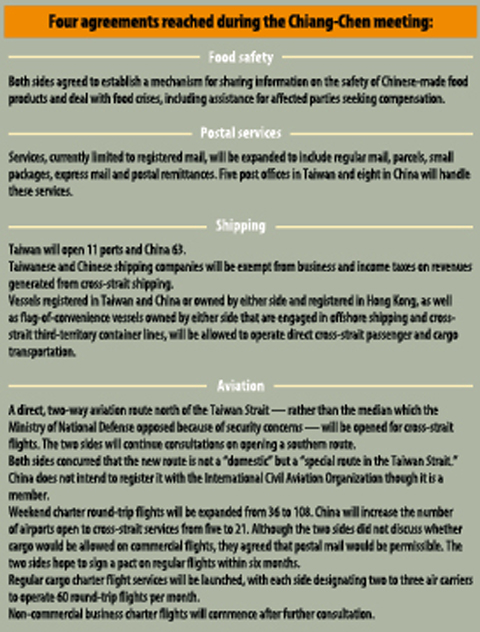 Several groups of activists staged a protest outside the legislature yesterday, denouncing the legislature for relinquishing its authority to participate in cross-strait negotiations n Taipei between the Straits Exchange Foundation (SEF) and its Chinese counterpart, the Association for Relations Across the Taiwan Strait (ARATS).

"The legislature is the highest representative of the people. It should have a say in the cross-strait talks, but it doesn't. We are here to protest against the legislature's waiver of its constitutional right," said Mary Chen (陳曼麗), head of the National Union of Taiwan Women Association.

Legislative Speaker Wang Jin-pyng (王金平), whom she said should be involved in formulating key national policies, was bypassed altogether, Chen said.

Chen was protesting with several other member organizations of Citizen Congress Watch (CCW), a legislative watchdog.

Citing Judicial Yuan Interpretation No. 520, CCW said it was the legislature's right to participate in the decision-making process on critical national issues, a ruling that has been confirmed by the Council of Grand Justices.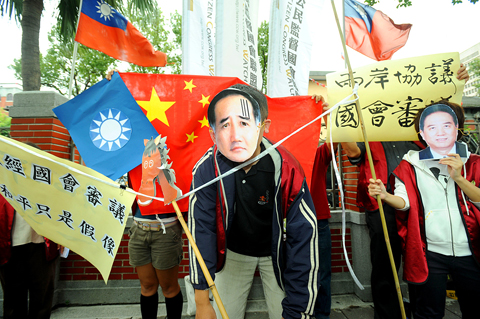 Wearing masks representing Association for Relations Across the Taiwan Strait (ARATS) Chairman Chen Yunlin, right, and Legislative Speaker Wang Jin-pyng, center, members of Citizen Congress Watch perform a skit in front of the legislature in Taipei yesterday to demand that agreements reached at the Chiang-Chen meeting be subject to approval by the legislature.

PHOTO: WANG YI-SUNG, TAIPEI TIMES

"The legislature should activate its task force on supervising cross-strait affairs to reveal the details of the cross-strait negotiations," CCW executive director Ho Tsung-hsun (何宗勳) said.

He added that any cross-strait agreement involving the rights and obligations of the public could not be implemented without legislative approval.

TASK FORCE

The legislature established the task force to supervise cross-strait affairs in November 2000. Regulations stipulate that the panel must be composed of 25 members, with each legislative caucus holding a number of seats based on its number of legislative seats.

However, the task force has not played an active role in cross-strait affairs.

The Democratic Progressive Party (DPP) caucus also joined the protesters' demand that the four agreements on shipping, aviation, postal services and food safety signed by the SEF and ARATS be sent to the legislature for approval.

DPP Legislator Yeh Yi-ching (葉宜津) told a press conference that the party strongly opposed the agreement that cross-strait flights would no longer pass through a third flight information region, leaving the international community with the impression that they are domestic, rather than international routes.

DPP Legislator Kuan Bi-ling (管碧玲) said that the based on the agreement on food safety, Taiwan would have to accept inspection results from China's General Administration of Quality Supervision, Inspection and Quarantine. Kuan warned that Taiwanese could not put their trust in the Chinese organization as it had approved the export of so many toxic foods.

Three former Mainland Affairs Council (MAC) heads — DPP Chairwoman Tsai Ing-wen (蔡英文), former representative to the US Joseph Wu (吳釗燮) and Chen Ming-tong (陳明通) — criticized the agreements at a press conference yesterday.

Slamming the aviation agreement as a domestication of flights, Chen Ming-tong said the Chinese national carrier Air China would not be required to first touch down at Taiwan Taoyuan International Airport and could land at any domestic airport directly, whereas Taiwan's China Airlines would not be granted the same rights.

He also said the shipping agreement was unclear, saying the "devil is in the detail."

While Tsai stressed the agreement could only go into effect after the legislature approves it, Chen Ming-tong said the "three links" — postal, air and shipping — were important issues and that if the administration of President Ma Ying-jeou (馬英九) had faith in the agreements, it should put the issue to a referendum and give the public a chance to decide.

The government has given away too much in the areas of sovereignty and national security and it is hard to see how this has benefitted Taiwan, he said.

He said that Ma had given away too much, too soon.

At a separate setting, Taiwan Solidarity Union (TSU) Chairman Huang Kun-huei (黃昆輝) said the four agreements reached yesterday were secret deals between the Chinese Nationalist Party (KMT) and the Chinese Communist Party (CCP), adding that the legislature and the public have had no chance to supervise the proceedings.

The details of the talks must be made public and transparent, Huang said.

Premier Liu Chao-shiuan (劉兆玄) said yesterday he did not believe any of the items on the agenda of the cross-strait negotiations touched on the sovereignty issue.

"The Chiang-Chen meeting touched on issues that relate to the public's life, such as direct air and shipping links, and were also on the agenda of [DPP Chairwoman] Tsai Ing-wen (蔡英文) when she was MAC chairwoman," Liu said.

Liu was referring to the meeting between SEF Chairman Chiang Pin-kung (江丙坤) and ARATS Chairman Chen Yunlin (陳雲林).

'SPECIAL ROUTES'

Liu called the negotiated flight routes "special routes," adding that they would not pose any threat to national security as the government had considered the Ministry of National Defense's position during the talks.

"In the past, [cross-strait talks] were held in a third country or China. This is the first time the meeting is being held in our country. The whole process of negotiation has been placed under the supervision of the people. This is better than holding the talks in a third country," Liu said.

In related developments, KMT Legislator Tsao Erh-chang (曹爾忠) and DPP Legislator Tsai Huang-liang (蔡煌瑯) proposed an impromptu motion during the legislature's plenary session yesterday afternoon to invite Chiang, MAC Chairman Lai Shin-yuan (賴幸媛), SEF Secretary-General Kao Koong-lian (高孔廉) and other government ministers to report on the four cross-strait agreements at a special joint meeting at the legislature to help the public gain a better understanding of the agreements.

The motion is still pending review by the legislature.

Regarding former president Chen Shui-bian's (陳水扁) call for legislative scrutiny of the negotiations between the SEF and ARATS and a national referendum on any agreement concerning the government's political authority, the MAC said the issues discussed at the cross-strait negotiations were set by the former Chen Shui-bian administration.

The negotiation process was conducted in accordance with due process and supervised by the legislature, the MAC said.
---
Measures to guard envoy condemned
 
SERVE, PROTECT: Chen Shui-bian said the efforts to protect China's Chen Yunlin exceeded those of his last inauguration, when 15 presidents were present
 
By Hsiang Cheng-chen
STAFF REPORTER
Wednesday, Nov 05, 2008, Page 3

The measures employed by police to ensure the safety of China's Association for Relations Across the Taiwan Strait Chairman Chen Yunlin (陳雲林) have drawn criticism from several lawyers and nongovernmental organizations that question whether the police were acting within the bounds of the law and the Constitution.

Kao Yung-cheng (高涌誠), ­secretary-general of the Taipei Bar Association, said that when dispersing protesters or trying to prevent clashes, police should make sure that their actions reflect the circumstances. Otherwise, they infringe on the freedoms of association and expression guaranteed under the Constitution.

"Some actions taken by the police [on Monday and yesterday] clearly went beyond constitutional parameters," Kao said.

Kao suggested that people use cameras or cellphones to record stop and search actions by police outside the security zone.

If people feel that the police are acting beyond their powers, they should lodge a judicial complaint, he said.

Kao said the Constitution guaranteed freedom of association, and that police had to act according to the Assembly and Parade Law (集會遊行法), the purpose of which is to ensure the freedom of association, not restrict it.

Several legal observers also questioned why police forcibly removed people carrying Republic of China flags, as holding or waving the national flag is not forbidden by the Social Order Maintenance Law (社會秩序維護法).

Only if flagpoles are seen as weapons or if flags are used to attack other people may the police take action against them, the observers said. After police on Monday forcibly kept people holding balloons from coming close to the conference venue or police exclusion lines, legal observers said that balloons could not be forbidden unless they have dangerous items attached to them or pose some other kind of real threat.

Yao Sea-yun (姚思遠), dean of the College of Law at Chinese Culture University, said that although freedom of speech is not absolute, the government should take an approach of maximum tolerance and not impose excessive restrictions.

The executive director of the Judicial Reform Foundation, Lin Feng-jeng (林峰正), said that the biggest difference between Taiwan and China is that one is democratic and the other autocratic.

"It was reasonable to set up an exclusion zone to ensure Chen's safety, but beyond that people should be allowed to express dissenting views," he said.

Lin urged victims of police violence to file lawsuits, and asked them to call the Taiwan Association for Human Rights hotline at (02) 2363-9798 or fax to (02) 2363-6102 for legal assistance.

At a separate setting yesterday, former president Chen Shui-bian (陳水扁) criticized the measures taken to protect Chen Yunlin.

"President Ma Ying-jeou (馬英九) talked about an equal footing and dignity, but I don't know what he meant — the five-starred [Chinese] flag can be displayed at will, but the Taiwanese flag has to be taken away," he said. "Seven thousand to 9,000 policemen have been deployed. This is something that was not even seen at the presidential inauguration ceremony four years ago, when there were presidents from 15 countries."

The Mainland Affairs Council dismissed allegations that the government had adopted overly drastic measures to muffle protesters. It added that the government did not order the Grand Hotel or neighboring buildings to put away national flags. Police and security personnel were just doing their job to protect visiting guests, it said.

According to the Ministry of Foreign Affairs' Department of Protocol, the standard security detail for a foreign head of state when visiting Taiwan is five personal bodyguards for a president and a small number of police cars to protect the dignitary's vehicle.

Premier Liu Chao-shiuan (劉兆玄) said yesterday that the incident concerning ARATS Vice Chairman Zhang Mingqing (張銘清) late last month, along with "some people's incitement of violence against Chen [Yunlin]," had put the police on high alert.

 
---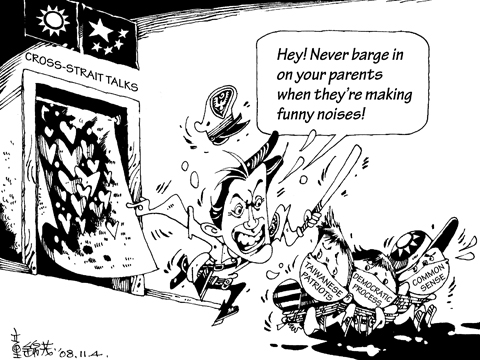 ---
One nation loses in talks: Taiwan

Wednesday, Nov 05, 2008, Page 8

Association for Relations Across the Taiwan Strait (ARATS) Chairman Chen Yunlin (陳雲林) is now in Taiwan. Since the governments of Taiwan and China do not recognize each other, they rely on the semi-official ARATS and its Taiwanese counterpart, the Straits Exchange Foundation (SEF), to handle communications between the two sides. Chen and SEF Chairman Chiang Pin-kung (江丙坤) held talks in Beijing in June, but this is the first time the two have met on Taiwanese soil, and both governments have taken the event seriously.

Taiwan is a democracy and the normally camera-shy President Ma Ying-jeou (馬英九) felt compelled to grant a rare TV interview in an attempt to convince the public that the meeting between the SEF and ARATS chairmen would bring prosperity and peace to Taiwan.

China, in contrast, is an authoritarian regime, so the government does not need to address its people on the issue. Chen, therefore, can devote all his energies to "united front" work directed at Taiwanese. Aside from apologizing — under pressure — for the toxic milk affair, Chen followed the example of ARATS Vice Chairman Zhang Mingqing (張銘清) in trying to launch a tender offensive by sobbing in front of the camera.

They may be crocodile tears, but they will have the desired effect on some people. At the same time, Taiwanese businesspeople operating in China have voiced their support for the Chiang-Chen meeting.

The governments on both sides have done their utmost to generate a positive atmosphere for the talks, but they have encountered numerous obstacles.

For a start, Chen is not a welcome guest for many Taiwanese. After all, the country he represents has more than 1,300 missiles aimed at Taiwan, does all it can to restrict Taiwan's participation in international organizations and activities and is endlessly plotting how to annex Taiwan, by force if necessary.

As if this were not enough, nasty diseases and toxic goods keep making their way from China to Taiwan.

In May, Ma, an advocate of "eventual unification," moved into the Presidential Office, opening the way for Chen to visit Taiwan. Like an emissary of empire, Chen is receiving the full treatment given a head guest of state — except, perhaps, for the red carpet. Contrary to past practice for meetings between the SEF and ARATS, where the guest organization has always followed the arrangements of the host, this time everything has been fixed by China.

Ma's government sought China's prior approval for every detail, including which hotel Chen would stay at, where the talks would take place and even Chen's itinerary during his five days in Taiwan.

And they agreed to keep the itinerary secret.

By bending to China's will at every turn, Ma and his ministers downgraded Taiwan even before the talks began. Their foolishness is bound to put Taiwan at a disadvantage at the talks. On Oct. 25, just a week before the meeting, 600,000 people turned out for an opposition demonstration with the central demand that Taiwan's sovereignty be safeguarded. As head of state, Ma could have ridden the tide of public opinion and used the crowd's demands to push Taiwan's interests in his dealings with China.

Instead, the government never misses a chance to lower Taiwan's status relative to China. It has been leaning increasingly close to China, locking on to China's market as the only solution to the country's woes, and trying to conceal its own inability to handle the international financial crisis and domestic discontent.

The public, however, is not so easily fooled. In a survey published on the eve of the SEF-ARATS talks, 54.2 percent of respondents said that they thought Ma had acquiesced too much to China on the question of sovereignty. This shows that a majority of people in Taiwan can see Ma's cross-strait policy for what it is — wishful thinking.

So, while Chen may be an honored and welcome guest for Ma and his Cabinet, he is persona non grata as far as most people in Taiwan are concerned. Faced with this dilemma, the government has only added fuel to the fire by mobilizing a force of 7,000 police officers and many officials from other government agencies, turning the area around the Grand Hotel, where Chen is staying, into a virtual martial zone.

It has pulled out all the stops to quickly investigate and prosecute Tainan City Councilor Wang Ding-yu (王定宇) of the Democratic Progressive Party for his involvement in the jostling of Zhang during his visit to Taiwan last month.

In so doing, the government meant to make show of strength and discourage protests that nonetheless are following Chen wherever he goes.

Chen himself was surely aware that his visit would be a baptism in democracy, Taiwan-style, but his itinerary was not changed. Clearly, China thought it had something to gain if the talks went ahead as planned.

First, holding talks between the SEF and ARATS in Taiwan creates the illusion within the international community that peace reigns over the Taiwan Strait. China stands to gain much and lose nothing from this, as the Ma government has been swimming straight into the net. Since Taiwan would never start a war, it is entirely up to China whether the two sides remain at peace or not.

Beijing has said openly that it does not exclude the use of force as a means to annex Taiwan, but at the same time it would like to create an illusion of cross-strait peace to deceive the world and put the people of Taiwan off their guards.

Second, this round of SEF-ARATS talks, which has been billed as putting the economy and people's livelihoods first, will result in Taiwan's economy becoming even more dependent on China than it is already. Taiwan's money, talent and technology will be sucked dry. If Taiwan is turned politically and economically into a second Hong Kong, China will be able to annex it without even firing a shot. Most importantly, with the Chinese Nationalist Party (KMT) and the Chinese Communist Party (CCP) collaborating behind the scenes, the SEF-ARATS meeting may well produce a "consensus" based on the "communique" signed three years ago by former KMT chairman Lien Chan (連戰) and Chinese President Hu Jintao (胡錦濤). The gist of that communique was for the KMT and CCP to work together to prevent Taiwanese independence. Now, with Ma and the KMT heading the government, that plan is being put into practice and Taiwan is becoming further ensnared.

As the Ma administration uses the SEF-ARATS talks to deepen KMT-CCP collaboration and keep Taiwan under control — and in the process avoid oversight by the legislature — there are various things people concerned about the future of Taiwan can do. For one, they can join the "Safeguard Taiwan Week" activities organized by Taiwan Society (台灣社) and other civic groups.

Various protests are taking place to show Chen how pluralistic and lively Taiwan's democracy is. Further, when campaigning for the presidential election, Ma made a lot of proposals regarding his China policy. He stressed that he sees himself as a Taiwanese, that the election was for the president of a sovereign state, that Taiwan's future should be decided by its 23 million people, that there could be no negotiations with China unless it removes missiles aimed at Taiwan and so on. The public needs to keep an eye on this man and make sure that he keeps these promises.

Equally important is observing the conduct of any meeting between Ma, or his government ministers, and Chen, and to inspect any agreements that may ensue. We must insist that any such process is open and transparent. We should pay close attention to how the president is addressed, whether Ma allows his own status to be diminished, and whether there is any phony agreement about "one China, with each side having its own interpretation."

Above all, Taiwan's sovereignty and national dignity and the wellbeing of its people cannot be sacrificed for the sake of KMT-CCP collaboration at these talks.
---
This is not about Ma's wishes, but the nation's
 
By Chen Ching-chuan 陳清泉
Wednesday, Nov 05, 2008, Page 8

President Ma Ying-jeou (馬英九) set the tone for the visit by Association for Relations Across the Taiwan Strait (ARATS) Chairman Chen Yunlin (陳雲林) during a TV interview when he said that the talks scheduled between Chen and Straits Exchange Foundation (SEF) Chairman Chiang Pin-kung (江丙坤) would be based on the premise of "facing reality, mutual non-denial, improving living standards, reform and peace across the Taiwan Strait."

In reality, these words merely represent Ma's personal wishes and will have no beneficial effects on Taiwan's sovereignty.

While the public is concerned about the potential damage Chen's visit will have on Taiwan's sovereignty, the Ma administration is still fooling itself with talk of "equality and dignity" and is caught up in how China will address Ma during Chen's visit.

During a TV interview, Ma said he hoped he would be "referred to by Chen as 'president.'"

The problem with this is that China believes that Taiwan is part of China. The education that Chinese receive has made everyone, from top-level leaders to normal citizens, view relations between Taiwan and China as "area to area" relations.

It is therefore not only futile to request that Chen refer to Ma as president, it is also a form of self-deception.

In international law, equality between countries is based on the recognition of sovereignty. As long as China does not recognize Taiwan's sovereign status as a country, any international exchanges that occur between Taiwan and China will be done on the basis of unequal relations.

China's hegemonic attitude and the way it suppresses Taiwan on the international stage are pervasive and far-reaching, with Taiwan being excluded from international meetings of a voluntary, non-governmental nature.

Dignity comes from both self-recognition and recognition by others. As the ancient saying goes: "One must first respect oneself before one can earn the respect of others."

How could someone who does not care about whether he is being belittled by someone else request that he be respected and treated with dignity?

In other words, it is impossible for a political leader who does not really relate to Taiwan's status as a sovereign and independent country to demand that he be treated with respect and dignity when he meets a Chinese official who views Taiwan as a mere province of China.

"Attitude determines altitude," and it is Chen's attitude that will decide whether or not Taiwan will be treated with respect and dignity.

Ma's claim that he hopes Chen will refer to him as "president" after he already called himself an "area chief" is just a cop-out and all the talk of dignity for Taiwan is just a way for the government to cover up its submissiveness.

Equality and dignity are not mere slogans; they represent a determination to uphold Taiwan's sovereignty. Every Taiwanese has to show this determination and take affirmative action.

When our leaders knowingly and repeatedly say foolish things and ignore public dissatisfaction, their failure to uphold Taiwan's sovereignty and failure to represent the will of Taiwanese, all we are left with is empty rhetoric that represents nothing more than the personal wishes and hopes of Ma and Ma alone.

Such rhetoric is nothing to look forward to.

Chen Ching-chuan is a doctoral candidate at National Sun Yat-Sen University.