DPP pans 'excessive' police force
 
SILENCED: Footage from news stations showed police officers forcing a record store to switch off its music and pulling down the metal shutters in front of the entrance

By Rich Chang And Shih Hsiu-chuan
STAFF REPORTERS
Thursday, Nov 06, 2008, Page 1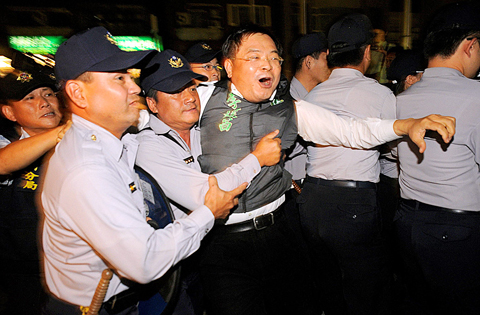 Independence activists struggle with police during a protest near the Grand Formosa Regent hotel yesterday, where Association for Relations Across the Taiwan Strait Chairman Chen Yunlin attended a dinner with KMT Chairman Wu Poh-hsiung.

PHOTO: AFP

Democratic Progressive Party (DPP) Taipei City councilors accused the police yesterday of heavy-handed tactics in dealing with Tuesday night's protests over the visit of Association for Relations Across the Taiwan Strait (ARATS) Chairman Chen Yunlin (陳雲林).

Scuffles erupted when police officers tried to disperse hundreds of protesters gathering near the Ambassador Hotel on Zhongshan N Road, where Chen was having dinner with former KMT chairman Lien Chan (連戰).

The protesters were pushed away from the area surrounding the hotel to near the intersection of Zhongshan N Road and Minsheng E Road, by the Sunrise record store.

The clash intensified when several police officers entered the store, which was playing Falling in Love with the North-link Line (戀戀北迴線), a patriotic Taiwanese song on an album called Songs of Taiwan, produced by the culture agency of the former DPP government to promote Taiwanese national consciousness.

Footage from TV news stations showed the police forcing the store to switch off the music and pulling down the store's metal shutters.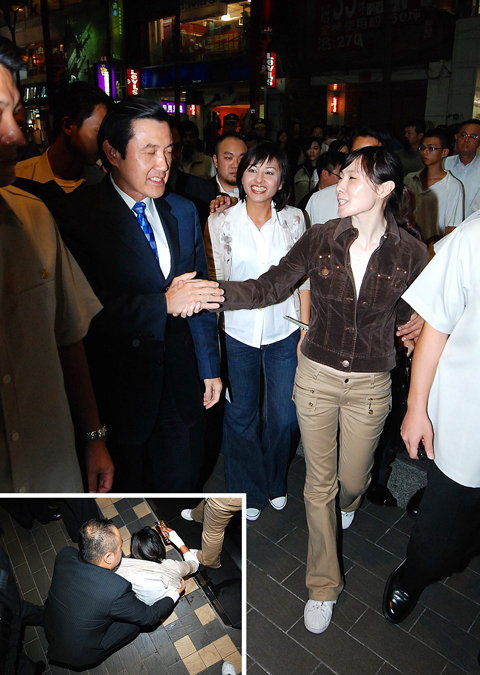 Inset: DPP deputy caucus whip Chiu Yi-ying lies on the ground after being felled by President Ma Ying-jeou's bodyguards yesterday. Main picture: Ma walked away from Chiu after she said she hoped he could do a better job protecting Taiwan's sovereignty. Chiu then shouted at Ma, asking him why he was bullying Taiwanese and was pushed to the ground.

PHOTO: KE SZ-CHI, TAIPEI TIMES

Councilor Yen Sheng-kuan (顏聖冠) told a press conference that police officers rushed into the store soon after the store started playing the song.

"What law did the store owner violate? Can police enter a private place and force a store to close without a search warrant issued by judges?" she asked.

"Is Taiwan still a democracy?" Councilor Hung Chien-yi (洪健益) asked.

DPP councilors had invited Taipei City Police Department Beitou District head Lee Han-ching (李漢卿), who was in charge of the police involved in the incident, to attend the press conference, but he did not attend.

Hung called Lee during the press conference, asking him to explain what had happened and apologize.

"Several people, including the store owner, were injured in the incident. You must step down and take responsibility for the actions of these police officers," Hung said.

"I can explain the incident," Lee replied, "but I will not apologize. The store owner is welcome to file a lawsuit against me."

"I was injured too in yesterday's incident. Do you want to come see my injury?" he asked.

Sunrise owner Chang Pi (張碧) yesterday told TVBS that police officers had rushed into her store and that in the tumult she had sustained injuries to her face and body before police pulled down the store's shutters.

Separately, the DPP legislative caucus also criticized the police.

"An outsider, Chen Yunlin, has arrived and you [President Ma Ying-jeou (馬英九)] have trampled on the Taiwanese to such a degree. Shame on you, shame on you," DPP whip William Lai (賴清德) told a press conference.

Lai filed a lawsuit against Lee and National Police Agency (NPA) Director-General Wang Cho-chiun (王卓鈞), accusing them of violating the law against "malfeasance in office" and offenses against personal liberty.

In response to the allegations of rough police tactics, Executive Yuan Spokeswoman Vanessa Shih (史亞平) quoted Ma as telling a high-level meeting with Wang, Executive Yuan officials and the Chinese Nationalist Party (KMT) yesterday that "commanding officers at the scene should be given full authority to decide how to maintain order, as only they understand what is happening."

Shih quoted Wang as saying at the meeting that the police had gone into the store to ask the owner to turn down the music because it was too loud. The police did not intend to force the store to turn off the music or target it because it was a Taiwanese song, Wang said.

Wang said the police had pulled the shutters down for safety reasons after protesters tried to surge into the store while the police were still talking to the staff.

"Director-General Wang said that the record store violated the Noise Control Act [噪音管制法] and that the police behaved in accordance with the act," Shih said.

Shih said, however, that the police did not mention the law to the store owner at the time.

After Wang's briefing, Ma told Wang that the police should inform protesters of the law or regulation that is being violated before taking action to remove them.

"If the police can't make that clear at the scene, they should be able to explain to the media afterwards," Shih quoted Ma as saying.

Presidential Office Spokesman Wang Yu-chi (王郁琦) said protesters must express their opinions peacefully and that the police must respect and protect their rights. Ma values the importance of respecting legal activities and protecting law-abiding citizens, Wang said.

Premier Liu Chao-shiuan (劉兆玄) asked the police to be careful in dealing with demonstrators lest it seem that the police are using excess force against them.

Meanwhile, KMT caucus deputy secretary-general Lo Shu-lei (羅淑蕾) defended the police's actions.

"The DPP should stop fueling conflict," Lo told a press conference.

KMT Legislator Kuo Su-chun (郭素春) said she was disappointed at DPP Chairwoman Tsai Ing-wen's failure to prevent members of the DPP from acts of "provocation" and clashing with government officials.

KMT spokesman Lee Chien-jung (李建榮) said earlier protests arranged by the pan-green camp at the Legislative Yuan and other locations had been approved it advance and were respected by the police. Lee said the KMT supported the police's handling of the protests against Chen over the past few days.

"The KMT supports law enforcement agencies in their handling of the rallies, in which they have protected legal activities and clamped down on illegal ones," Lee said in a written statement.

Former representative to the US Joseph Wu (吳釗燮), however, condemned "the excessive use of police force," calling the situation "sad and crazy."

"Many of the issues discussed in this round of negotiations were discussed under the DPP government. We were able to reach many agreements with Beijing without acquiescing to the 'one China' principle or accepting the so-called '1992 consensus,'" he said.

Taiwan, he said, used to pride itself as a stable democracy, but the apparent police brutality in the past three days had shamed the country.

He also said Chen was bluffing about his visit being apolitical.

"The very nature of his visit is very politically sensitive," Wu said.

 
---
Dismantle missiles and give Taiwan international space, Wang tells China
 
By Ko Shu-ling
STAFF REPORTER
Thursday, Nov 06, 2008, Page 1

Legislative Speaker Wang Jin-pyng (王金平) urged Beijing yesterday to respond positively to Taiwan's moves to participate in the international community and to dismantle its more than 1,000 ballistic missiles targeting Taiwan.

"I believe that as long as we continue to extend goodwill to each other, cross-strait relations will remain promising," he said after a closed-door meeting with Association for Relations Across the Taiwan Strait (ARATS) Chairman Chen Yunlin (陳雲林) at the Grand Hotel.

Chen said that the issue was related to military confidence-building and that it was more important to address economic issues for the moment.

"Political matters must proceed step by step, one step at a time," Wang quoted Chen as saying during their breakfast meeting.

When asked how Chen addressed him, Wang said he had emphasized that he was the head of the legislature, representing the 23 million people of Taiwan.

Chen called him "elder brother Jin-pyng" because he is eight months Chen's senior, Wang said.

Although they did not talk about President Ma Ying-jeou's (馬英九) scheduled meeting with Chen, Wang said it would be best if Chen addressed Ma as president.

Wang said he suggested Chen talk with representatives of different political parties to improve his understanding of Taiwan.

Wang told Chen he had not ruled out visiting China at "an appropriate time" and asked him to extend an invitation to Wu Bangguo (吳邦國), chairman of the Standing Committee of the National People's Congress, to visit Taiwan.

Asked by the Taipei Times what "an appropriate time" would be, Wang said: "When the two sides need him."

"If my visit would help solve problems, promote sound policies and benefit cross-strait development, I will go when I am needed," he said.

Wang said he was glad to see negotiators meet in Taipei on the basis of the "1992 consensus."

The agreements signed on Tuesday were a historic achievement, he said.

Wang said he hoped the agreements would be implemented on schedule.

Asked whether the legislature would complete its review of the agreements in good time, Wang said he hoped the legislature would deal with the four pacts as soon as possible to benefit economic cooperation and exchanges.

Wang dismissed criticism that the legislature was just a "rubber stamp," saying its job was to oversee the government.

He stressed, however, that legislation was needed to empower the legislature to supervise cross-strait negotiations.

Regarding the June agreement to increase the quota for Chinese visiting Taiwan, Wang said that since nearly 5 million Taiwanese visit China each year, it would make sense to expect 10,000 Chinese tourists a day.

While Chen would not have a chance to visit central and southern Taiwan on his five-day visit, Wang said he hoped that Chen would be able to do so the next time around.
---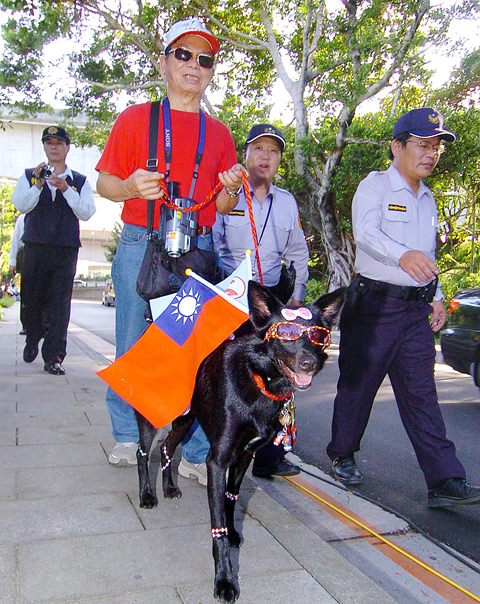 RABID NATIONALIST
A man walks his dog outside the Grand Hotel in Taipei yesterday. The man was allowed to walk his dog, despite carrying flags, although police officers followed him all the way.

PHOTO: LIAO CHEN-HUEI, TAIPEI TIMES
---
DPP's Tsai says cross-strait deals of limited benefit
 
NOTE OF CAUTION: Tsai Ing-wen said Taiwan should not neglect links with countries other than China and stressed the importance of free-trade agreements
 
By Loa Iok-sin
STAFF REPORTER
Thursday, Nov 06, 2008, Page 2

"Without such FTAs, moving closer to China economically will make Taiwan too dependent on the Chinese economy, and, as a result, eliminate our options for the future."— Tsai Ing-wen, Democratic Progressive Party chairwoman
The four agreements signed by Taipei and Beijing on Tuesday would only bring limited economic benefits to the country, while the political cost would be very high, Democratic Progressive Party (DPP) Chairwoman Tsai Ing-wen (蔡英文) said yesterday.

Straits Exchange Foundation Chairman Chiang Pin-kung (江丙坤) and China's Association for Relations Across the Taiwan Strait Chairman Chen Yunlin (陳雲林) signed four agreements on Tuesday, covering the expansion of air links, the launch of direct cross-strait shipping and postal services and the establishment of a reporting mechanism for food safety issues.

HIGH PRICE

While saying that cross-strait talks are generally a positive development and that the four agreements may bring some economic benefits, Tsai said yesterday that Taiwan has paid too high a price for them.

"We too want to see peace and stability across the Taiwan Strait, and we believe proper dialogue between the two sides would help maintain such stability," Tsai said in English at an international press conference at the party's headquarters.

"But such dialogue should not be pre-conditioned by the 'one-China' principle or the '1992 consensus' — this is too much of a political price for Taiwan to pay, as this is an issue that touches upon the sovereignty of Taiwan," she said.

Tsai added that the four agreements could only bring very limited economic benefits to the country and that Taiwan should not neglect its economic ties with countries other than China.

She said that Taiwan's efforts to establish free-trade agreements (FTA) "have been blocked by China."

"Without such FTAs, moving closer to China economically will make Taiwan too dependent on the Chinese economy and, as a result, eliminate our options for the future," she said.

Tsai called on President Ma Ying-jeou (馬英九) to show his determination to defend Taiwan's sovereignty by insisting he be addressed as "president" by Chen when they meet today.

"If he cannot even defend his title, what can he defend for us?" she asked.

AMENDMENTS

Meanwhile, Chinese Nationalist Party (KMT) caucus deputy secretary-general Yang Chiung-ying (楊瓊瓔) promised full cooperation in pushing amendments to pieces of legislation related to the four cross-strait agreements signed on Tuesday.

KMT caucus secretary-general Chang Sho-wen (張碩文) said the KMT caucus would help put proposed amendments to the regulations about direct air and shipping links on the plenary agenda after the legislature votes on the president's nominees for president of the Examination Yuan, vice president of the Control Yuan and members of the two government branches next week.
---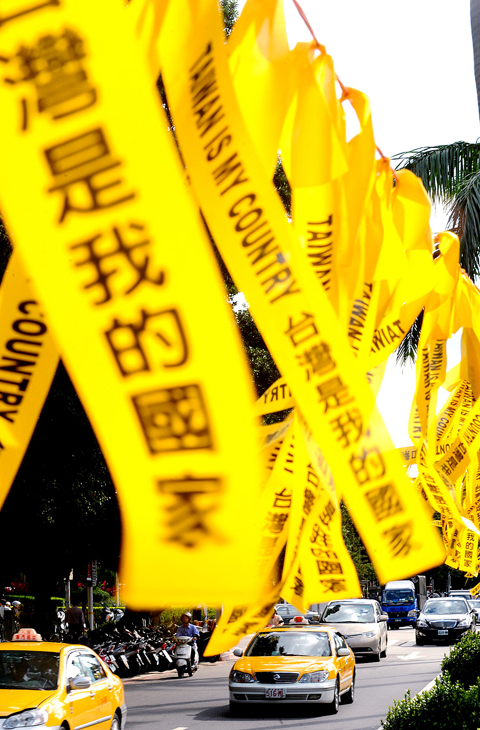 Yellow ribbons reading ''Taiwan is my country'' in English and Chinese are hung outside the legislature yesterday in support of the series of protests against the visit of Association for Relations Across the Taiwan Strait Chairman Chen Yunlin.
 

PHOTO: LIN CHENG-KUNG, TAIPEI TIMES
---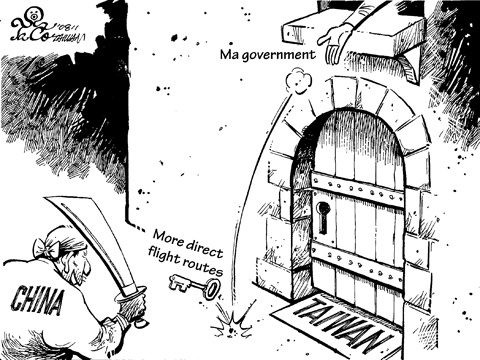 ---
The trampling of Taiwan's rights

Thursday, Nov 06, 2008, Page 8

Nov. 3, 2008, was a historic day for Taiwan, not because Straits Exchange Foundation (SEF) Chairman Chiang Pin-kung (江丙坤) and Association for Relations Across the Taiwan Strait (ARATS) Chairman Chen Yunlin (陳雲林) met, but because it was the first of several days when the capital of the Republic of China was effectively ruled by the People's Republic of China (PRC).

Nov. 3 was a day that saw both the nation's dignity and human rights trampled.

No national symbol of the ROC was allowed where Chen and his delegation might see it. National flags, a representation of national sovereignty, were seized by police from protesters and passers-by alike. People waving the five-starred PRC flag, however, were left alone.

Freedom of speech was suppressed. Police broke into hotel rooms without cause or warrant, as in the case of four Democratic Progressive Party Taichung City councilors whose room on the sixth floor of the Grand Hotel was raided after the councilors exercised their freedom of speech by unfurling banners from the balcony.

Individual human rights were suppressed. Police seized property without legitimate reason, a motorcyclist was stopped by police simply because the scooter was decorated with Tibetan flags and individuals having afternoon tea at hotels that Chen visited were dragged away. People were stopped and questioned on the street for wearing T-shirts reading "Taiwan is my country." A music store was ordered to turn off its sound system and close its doors because it was playing Song of Taiwan. The list goes on.

It appears the PRC's territory does not end in the plane that carried Chen to Taiwan but is in force wherever Chen goes during his stay.

President Ma Ying-jeou (馬英九) promised he would safeguard Taiwan's dignity. He says the Presidential Office did not order ROC flags removed from the Grand Hotel and other spots. How could Ma expect such sophistry to be taken seriously when the flag has vanished from every site Chen has visited or passed?

The Presidential Office said everything has been done according to the law. This does not identify which law was broken by people wearing a favorite T-shirt, playing a favorite song or hanging a protest banner.

The image of the police has also been badly tarnished. Instead of being seen as helpful public servants, they appear arrogant, abusive and partisan.

There has been widespread speculation about how Chen will address Ma when they meet today. What will it matter if Chen calls him "Mr. President" when Ma and his administration have so badly trashed the country's dignity?

Those who say the heavy police presence and repression will disappear once Chen leaves town miss the point. Everything that has happened this week shows not only how far from democratic a Chinese Nationalist Party (KMT) government is, but offers a taste of what could be expected if Taiwan were to become part of China.

For those too young to remember the Martial Law era, for those who wonder what Taiwan would be like if it were annexed by China, remember what has happened in Taipei this week. Taiwanese have come too far and fought too hard to go willingly into the darkness once again.
---
Now it's our turn

I have been in a terrible mood these days, watching TV for 10 hours a day. I know I could remain silent, do nothing and let things be. But this would be a betrayal of everything I believe in.

The people who have been speaking out in the past few days, shouting "Taiwan is my country," "No communist invasion" and "No police violence" have shown bravery, risking arrest and police repression. What they want is similar to what previous generations fought for: Freedom.

I cannot believe the things that I see on TV, that the land I have lived in for 23 years could be so easily ruined by police and politicians.

The visit of a senior Chinese official, regardless of his rank, does not warrant the security measures and violence we have seen since his arrival. And it cannot justify how our police officers have been treating our people. They manhandled protesters, pushed them and detained them to flaunt their power and to impress their superiors—which I fear could also mean Beijing.

Many Tibetans have sought refuge in Taiwan because of oppression by China back home. I fear that if we don't speak up for them, one day Taiwanese, too, could be forced to seek haven in another country.

My grandfather used to tell me about the great efforts and sacrifices his generation had to make to bring democracy to our land. I'm afraid, however, that he forgot to tell me how fragile democracy can be. He also forgot to tell me that, if necessary, I should protest, speak up and do whatever is required to fight oppression.

The reason he forgot to tell me all these things is probably because he never imagined that this could happen again in this beautiful land.

I'm sorry, grandpa. It is happening again.

So, speak up, Taiwanese, for our land, our country, our people and our grandparents. The previous generations are too old now to take to the streets. It's our turn, now. We owe them that.

Carolyn Wu
Kaohsiung

While only six months have passed in this current administration, I must say that the opposition's warnings that a KMT-dominated government would be a danger to Taiwan's sovereignty appears to be coming to fruition. Instead of focusing on more pressing issues to the Taiwanese, such as the economy, and reassuring the public of their commitment to a sovereign Taiwan, the KMT government has issued only window-dressing legislation and regulations, such as introducing cross-strait flights and think tank meetings.

Even more troubling has been the government's actions to accommodate the arrival of ARATS Chairman Chen Yunlin (陳雲林).

While all countries attempt to make a foreign dignitary feel welcome, the KMT has shown its muscle by using unnecessary force on its own people in the name of "securing public safety." There is little doubt that the powers that be in China would not reciprocate the actions of the Taiwanese government if a similar meeting took place in Beijing in terms of taking down its national flag. Yet rest assured the highly restrictive police presence would undoubtedly be present, eerily similar to the current situation in Taipei in the past few days.

The restrictions on displaying the national flag and on the public's movement are troubling signs of a government that has little fear of opposition due to the current fragmentation of the opposition parties.

However, the government's actions over the past few days will have many Taiwanese, and perhaps many foreigners as well, questioning the loyalty of the KMT government to its own people. This will result in a quicker rise of the DPP to a position of a solid opposition than many people would have anticipated.

Brian Benedictus
Taipei
---
Taiwan must stand up for itself
 
By Tsai Ing-wen 蔡英文
Thursday, Nov 06, 2008, Page 8

I urge the public to remember Nov. 3, 2008. On this day, President Ma Ying-jeou (馬英九) once again pushed Taiwan significantly closer toward China.

In order to promote the visit of Association for Relations Across the Taiwan Strait (ARATS) Chairman Chen Yunlin (陳雲林), the Chinese Nationalist Party (KMT) mobilized all their resources and approaches. Suddenly, all voices of opposition vanished from our nation to create the illusion that everyone was looking forward to Chen's visit. This was not the case. At a time when our government is trying to suppress public opinion with little regard for the feelings of our people while doing everything it can to please China, the Democratic Progressive Party (DPP) must stand out as Taiwan's major opposition party and make its position clear.

The DPP does not welcome Chen's visit at this point in time for the following reasons:

First, Chen did not have to come to Taiwan. We have never opposed the idea that Taiwan should conduct talks with China on technical issues. But given the current political climate, social unrest could have been avoided if the government had conducted the talks at a third location. The reason the KMT insisted on inviting Chen to visit Taiwan was simply to shift attention from its falling approval ratings with a vainglorious "cross-strait reconciliation" ceremony.

Second, we oppose the superficial "ceremonial rule of the country" and demand that the Ma administration clearly explain what substantial economic benefits the talks will bring to the people of Taiwan. We demand to know how much the accelerated cross-strait exchanges will impact on our industries and labor market. We also demand to know whether the government has any measures in place to deal with the industries who may lose business and the workers who may lose their jobs as a result of these talks.

Since May 20, our government has repeatedly fooled the public and we cannot allow this to continue.

Following talks between Straits Exchange Foundation (SEF) Chairman Chiang Pin-kung (江丙坤) and Chen in Beijing in June, our economy remained slow. While cross-strait tensions may have been alleviated, unemployment and bankruptcies have risen. The government has never stopped to examine its actions and has instead tried to further link Taiwan's economy to China's. This strategy is very risky and its benefits are limited.

After the talks in Taipei, Taiwan will have moved a huge step closer to the "one China" market. At this important historical juncture, we must tell those in power that they are wrong, and that our country's economy cannot be managed this way. If the government continues on this path, Taiwan's economy will become irreversibly dependent on China, which will turn the country into a second Hong Kong. If this were to happen, one might wonder if Taiwan would have any sovereignty left at all. What other choice will the Taiwanese have than to accept unification?

Third, there is not a single nation in the world that would proudly announce it has given up its sovereignty. Unfortunately, the Ma government has done just that. The nation's flags that hung in the Grand Hotel were taken down for Chen's visit. Taiwan is our country and if the talks were based on dignity, why did the flags have to go before the Chinese delegation arrived?

The Ma administration is allowing our nation to be humiliated. Ma has been president for almost half a year and may still not know what sovereignty or making concessions means. The DPP would like to tell Ma that hiding our flag is tantamount to hiding the nation and is a concession in terms of our national sovereignty.

Ma has not just made small concessions; his concessions will erase the democratic progress the DPP worked on for more than 10 years to create.

Senior national security officials racked their brains over how Ma would be addressed by the Chinese delegation and tried to be very "creative." The DPP, however, believes that a presidency has more to do with "dignity" than "creativity." We do not need creativity. A president is what is needed — just a president.

We urge Ma to request that Chen address him as "president" during his visit. Ma should also clearly express to Chen the political opinions he proposed during his presidential campaign when he stated: "The future of Taiwan must be decided by its 23 million people."

This is the only way these talks can be beneficial to Taiwan's sovereignty.

Fourth, China is ripping Taiwan apart, which was made very clear from the arrangements for Chen's visit. The DPP was deliberately omitted from the entire visit. The KMT is the only political party in the world that would align itself with a hostile foreign party to damage its domestic rivals. While this situation is not new, it has to stop immediately. If not, Taiwan will become embroiled in everlasting division and opposition.

Chen's visit to Taiwan is not the KMT's and the Chinese Communist Party's (CCP) private business. Chen's visit is of concern to the entire country. We appeal to the government to immediately abolish the KMT-CCP platform and ensure that all agreements made between SEF and ARATS are monitored through the legislature and public opinion.

There was never a war across the Taiwan Strait during the eight years the DPP was in power. The DPP proved to the world that as long as our government has wisdom and determination, Taiwan's sovereignty could be protected while developing cross-strait trade and avoiding war with China. However, the method employed by the Ma administration to develop trade and avoid war with China is to make endless concessions in terms of our national sovereignty.

I hereby request that the people of Taiwan think hard about what we have really gained from all of Ma's appeasement. Are two pandas really all we have to show as a nation after all the trouble the Ma administration has gone to?

Beloved Taiwanese, as of Nov. 3, let us make Taipei City into the true essence of "Taiwan." Our government has forgone our dignity and sovereignty, so let us take action to uphold these values. This is all we can do and this is a responsibility that we all share.

We must use peaceful, rational, resolute, non-violent methods to uphold and protect everything that we now possess.

I would especially like to make it clear to all the members of the DPP that you cannot resort to violence, regardless of the time or situation. Democracy is the DPP's only weapon and peace is the only method we can utilize. This is my only request and my only order.

Tsai Ing-wen is chairperson of the Democratic Progressive Party.
---
Open letter on erosion of justice in Taiwan

Thursday, Nov 06, 2008, Page 8

The undersigned, scholars and writers from the US, Europe and Australia, wish to express their deep concern about the recent series of detentions in Taiwan of present and former Democratic Progressive Party (DPP) government officials. To date there have been at least seven such cases.

It is obvious that there have been cases of corruption in Taiwan, but these have occurred in both political camps. The political neutrality of the judicial system is an essential element in a democracy. It is also essential that any accused are considered innocent until proven guilty in the court of law.

We also believe that the procedures followed by the prosecutor's offices are severely flawed: while one or two of the accused have been formally charged, the majority is being held incommunicado without being charged. This is a severe contravention of the writ of habeas corpus and a basic violation of due process, justice and the rule of law.

In the meantime, the prosecutor's offices evidently leak detrimental information to the press. This kind of "trial by press" is a violation of the basic standards of judicial procedures. It also gives the distinct impression that the Kuomintang (KMT) authorities are using the judicial system to get even with members of the former DPP government.

In addition, the people who are being held incommunicado are of course unable to defend themselves against the misreporting and the leaks in the news media.

We do firmly believe that any alleged wrongdoings must be dealt with in a fair and open manner in an impartial court. Justice through the rule of law is essential to Taiwan's efforts to consolidate democracy and protect fundamental human rights.

We do not want to see Taiwan's hard-earned democracy jeopardized in this manner. Taiwan can justifiably be proud of its transition to democracy in the late 1980s and early 1990s. It would be sad for Taiwan and detrimental to its international image if the progress which was made during the past 20 years would be erased. Taiwan needs to move forward, not backwards to the unfair and unjust procedures as practiced during the dark days of Martial Law (1947-1987).

Signed:
Julian Baum
Former Far Eastern Economic Review bureau chief
Nat Bellocchi
Former American Institute in Taiwan chairman
Coen Blaauw
Formosan Association for Public Affairs, Washington
David Prager Branner
Director at large (East Asia),
American Oriental Society
Gordon G. Chang
 
Author of
The Coming Collapse of China
PROF. June Teufel Dreyer
University of Miami
PROF. Edward Friedman
University of Wisconsin
PROF. Bruce Jacobs
Monash University
Richard C. Kagan
Professor emeritus,
Hamline University
Jerome Keating
Author and former associate professor, National Taipei University
ASSOC. PROF. Daniel Lynch
School of International Relations, University of Southern California
PROF. Victor H. Mair
University of Pennsylvania
ASSOC. PROF. Donald Rodgers
Austin College
PROF. Terence Russell
University of Manitoba
PROF. Scott Simon
University of Ottawa
John J. Tkacik Jr
Senior research fellow,
The Heritage Foundation
Gerrit van der Wees
Editor, Taiwan Communique PROF. Arthur Waldron
University of Pennsylvania
PROF. Vincent Wei-cheng Wang
University of Richmond
Stephen Yates
President of DC Asia Advisory and former deputy assistant to the vice president for national security affairs.