Student sit-in protest enters 10th day
 
MOVEMENT: As the number of signatures on a three-point petition grew to more than 58,000, the president invited the Wild Strawberries to negotiate this week
 
By Shih Hsiu-chuan
STAFF REPORTER
Sunday, Nov 16, 2008, Page 1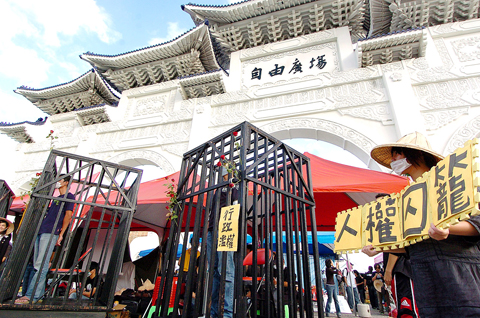 Participants in a student sit-in protest lock themselves in cages at Liberty Square in front of National Taiwan Democracy Memorial Hall in downtown Taipei yesterday. They said they would remain in the cages for 24 hours.

PHOTO: LIAO CHEN-HUEI, TAIPEI TIMES

The student sit-in protest against alleged police brutality during a recent visit by Association for Relations Across the Taiwan Strait Chairman Chen Yunlin (陳雲林) drew more than 500 students from around the nation to Liberty Square in Taipei yesterday.

Visitors signed a three-point petition written by the students, bringing the total number of signatures backing the Taiwan Wild Strawberries Movement to more than 58,000, spokesman Hsu Jen-shou (?? said.

The petition called for apologies from President Ma Ying-jeou (馬英九) and Premier Liu Chao-shiuan (劉兆玄) over police brutality during Chen's visit, resignations of National Security Bureau Director-General Tsai Chao-ming (蔡朝明) and National Police Agency Director-General Wang Cho-chun (王卓鈞), as well as reform of the Assembly and Parade Law (集會遊行法).

"We will continue our protest, as we haven't received any positive response to the petition from the government," Hsu said, adding that they were considering how to increase pressure on the government as the sit-in entered its 10th day.

One student suggested the group file a lawsuit against the police based on videotapes that allegedly show police cracking down on protesters who were waving national flags.

"No abuse of power! The president and premier must apologize," the students shouted during the intervals between speeches and other protest activities.

A student from National Cheng Kung University and a student recently returned from the UK, both of whom wished not to be named, and Lin Yu-hsuan (林邑軒), a sociology graduate student at National Taiwan University, sat inside a prop that was designed to look like a cage to symbolize the repression of freedom of speech and human rights in the country under the Ma administration, Lin said, adding that they planned to sit inside the cages for 24 hours starting at 3pm yesterday.

Yen Chueh-an (顏厥安), a law professor at National Taiwan University, and Hsu Szu-chien (徐斯儉), an assistant research fellow at the Institute of Political Science at Academia Sinica, played Ma and Liu in a satirical skit to represent the politicians' "arrogant" attitude toward the students.

"I don't think we need to offer an apology. Things like this will be over in a day or two if [I] hang in there," Hsu mimicked Liu as saying.

Liu made a similar remark on Monday during a break in an ETTV interview.

Students who couldn't join the Taipei rally staged sit-ins in Hsinchu, Taichung, Chiayi, Tainan and Kaohsiung.

Lee Li-wei (李立偉), a student representative, said they hadn't been told that Ma would like to communicate with the students on condition that the students give up the first two petitions, as was reported in yesterday's Liberty Times (the Taipei Times' sister paper).

The students asked three questions of Ma — whether he agreed with criticism of excessive police force made by professor Jerome Cohen, Ma's mentor during his studies at Harvard University; what laws and regulations were police actions were based on when stifling demonstrations against Chen; and whether Ma would like to apologize for the police intrusion into rooms booked by protesters against Chen at the Grand Hotel, where Chen stayed during his visit.

At a separate setting yesterday, Ma reiterated his willingness to reform the Assembly and Parade Law. Ma lauded the students for showing their concern for the country through a sit-in protest and invited them to negotiate the issue this week.

"Democracy is something we need to learn. People should respect one another's freedom, otherwise democracy will be compromised," Ma said yesterday during an interview with M-Radio Station in Taichung City.
---
Group protests former president's detention

STAFF WRITER, WITH CNA
Sunday, Nov 16, 2008, Page 3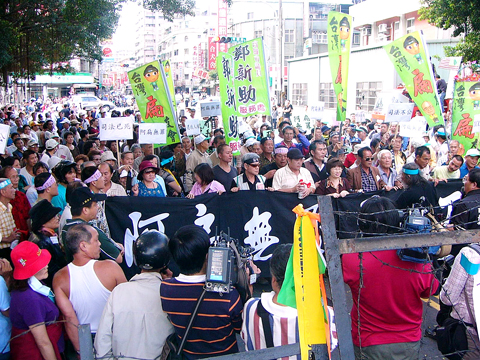 People mobilized by independent Kaohsiung City Councilor Cheng Hsin-chu show their support for former president Chen Shui-bian outside the Taipei Detention Center in Tucheng City, Taipei County, yesterday.

PHOTO: CNA
Supporters of former president Chen Shui-bian (陳水扁) and Chiayi County Commissioner Chen Ming-wen (陳明文) yesterday rallied outside detention centers in Taipei and Chiayi counties to show their support.

Chen Shui-bian was sent to the Taipei Detention Center in Tucheng (土城), Taipei County, on Wednesday on charges of embezzlement, bribe-taking, money laundering and illegally removing classified documents from the Presidential Office.

For his part, Chen Ming-wen, of the Democratic Progressive Party (DPP), was detained at the Chiayi Detention Center for alleged acts of corruption.

About 100 Kaohsiung residents mobilized by independent Kaohsiung City Councilor Cheng Hsin-chu (鄭新助) boarded buses to Taipei Detention Center yesterday to show their support for Chen Shui-bian.

Holding up banners, the supporters shouted "A Bian innocent" and "unfair justice" to protest against his detention.

Police were deployed to the site to control the crowd. No incidents were reported.

Meanwhile, DPP Chairwoman Tsai Ing-wen (蔡英文) yesterday visited Chen Ming-wen at the Chiayi Detention Center.

Outside the detention center, a sit-in was staged by demonstrators as a show of support for Chen Ming-wen.

Deploring the fact that Chen Ming-wen was being held incommunicado without formal charges being made, Tsai said to the crowd: "This is a violation against human rights."

"It should not happen in a democratic country," she said.

Tsai also visited Yunlin County Commissioner Su Chih-fen (蘇治芬) at hospital yesterday where the county chief is recovering after an 11-day hunger strike.

Tsai said the party would nominate Su to run for re-election next year in Yunlin County despite her indictment on Friday on corruption charges.

After going on a hunger strike for 11 days to protest her detainment, Su was set free by the Yunlin District Court late on Friday night after she was indicted on corruption charges earlier the same day.

The court, finding there was no reason to keep Su in custody after the indictment was filed, allowed her to eb released, but required that she report any change in residence and barred her from leaving the country.

Su was charged with taking a total of NT$21 million (US$635,000) in bribes in two separate cases involving the operation of a county landfill and the expansion of the Yunlin branch of Chang Gung Memorial Hospital.

Prosecutors recommended she be sentenced to prison for 15 years, deprived of her civil rights for eight years and fined NT$21 million.
---
Hsieh, lawyers launch alliance of attorneys
 
'UNDER ATTACK': The former presidential candidate and law experts created the organization to help 'future victims' of police abuse, such as students and workers
 
By Loa Iok-sin
STAFF REPORTER
Sunday, Nov 16, 2008, Page 3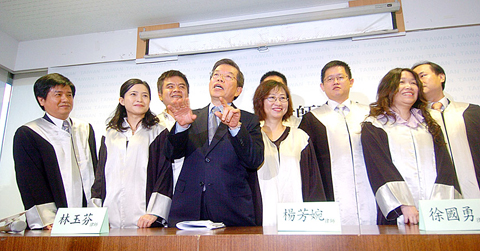 Former premier Frank Hsieh, center, accompanied by a group of lawyers, launches the ''Taiwan human rights lawyers' alliance'' in Taipei yesterday.

PHOTO: LO PEI-DER, TAIPEI TIMES
Saying that human rights conditions in Taiwan are deteriorating and that the judicial system is biased, former premier Frank Hsieh (謝長廷) — himself an attorney — convened a group of lawyers yesterday and created an alliance to defend civil rights.

"Democracy and human rights are crucial to Taiwan's prosperity. However, recent events have shown that such values are under attack," Hsieh told a press conference to inaugurate the Taiwanese Attorneys' Alliance for Human Rights.

Hsieh was referring to corruption cases against Democratic Progressive Party (DPP) Yunlin County Commissioner Su Chih-fen (蘇治芬) and former president Chen Shui-bian (陳水扁). Su was detained for nine days before she was summoned to testify at a prosecutors' office where she was charged. Chen, who has yet to be indicted, was detained on Wednesday.

"As lawyers, we support putting anyone who may have broken the law on trial, but what we're seeing is more of a purge than a fair trial," Hsieh said. "The difference between a purge and a regular judiciary is that in the first instance, you characterize someone as evil — through the media or by other means — before the trial has begun."

Lin Yu-fen (林玉芬), a lawyer affiliated with the alliance, accused law-enforcement authorities of violating people's rights and civil liberties by using excessive force and acting illegally while dispersing crowds at anti-China protests during the visit by Association for Relations Across the Taiwan Strait chairman Chen Yunlin (陳雲林) to Taipei earlier this month.

Witness accounts and media reports have shown police officers forcefully taking away Republic of China flags from demonstrators, stopping and checking the identity of individuals who wore T-shirts manifesting Taiwan as a sovereign country and asking a music store owner to stop playing music while trying to close the store's front door.

National Police Agency Director-General Wang Cho-chiun (王卓鈞) dismissed the accusations and said the video clips and accounts were taken out of context. He has refused to apologize.

Hsieh said further rights violations were to be expected.

"The government refuses to listen to voices from the opposition, so more people will take to the street and become victims [of police brutality]," Hsieh said. "This is why I created this alliance, to help those [potential] victims, [who could include] workers and students."

"If we don't make things right today, maybe my children and grandchildren, or your children and grandchildren, will be the victims tomorrow," he said.
---
China offers new talks to Dalai Lama
 
'STILL OPEN': As Beijing hardens its stance on the Tibet question, Tibetan exiles will discuss the future direction of the movement at a special six-day meeting

AP, LONDON AND DHARAMSALA, INDIA
Sunday, Nov 16, 2008, Page 4

"We can be proud at this moment when the Tibetan people themselves are ready and able to take responsibility for Tibet."— the Dalai Lama

A senior Chinese official said in comments broadcast on Friday that Beijing is open to further talks with Tibetan spiritual leader the Dalai Lama.

Zhu Weiqun (朱維群) told the BBC: "China has done everything it can to talk to the Dalai Lama. The door is still open."

Tibetan representatives and Chinese officials have held several rounds of talks on the disputed territory, with little apparent progress.

Earlier this week, Zhu, a vice minister of the United Front Work Department, blamed the Dalai Lama and his envoys for the talks' failure. In an apparent hardening of Beijing's stance, he said the Tibetan spiritual leader's calls for greater autonomy masked his desire for the Himalayan region's independence.

Zhu welcomed an Oct. 29 statement by British Foreign Secretary David Miliband that said: "Like every other EU member state, and the United States, we regard Tibet as part of the People's Republic of China."

Miliband told lawmakers that Britain supported greater autonomy, rather than independence, for Tibet and called for the region's "distinct culture, language, traditions and religions" to be respected.

Zhu said the statement "brought the UK into line with the universal position in today's world."

Meanwhile, a special six-day meeting of Tibetan exiles that starts tomorrow in Dharamsala has no set agenda, the Dalai Lama said, though the gathering is widely expected to determine the direction of the movement.

The 73-year-old Tibetan Buddhist leader urged his followers on Friday to take responsibility for their future when they meet in northern India next week after the repeated failure of talks with China to preserve the Himalayan territory's culture and language.

"It must be clear to all that this special meeting does not have any agenda for reaching a particular predetermined outcome," the Dalai Lama said. "We can be proud at this moment when the Tibetan people themselves are ready and able to take responsibility for Tibet."

China has dismissed the meeting as meaningless, saying the participants do not represent the views of most Tibetans.

The Dalai Lama voiced impatience with China last month and appeared to give up hope of achieving a form of autonomy from Beijing that would allow Tibetans to freely practice their culture, language and religion.

"As far as I'm concerned I have given up," he said.

China insists Tibet has been part of its territory for 700 years, though many Tibetans say they were independent for most of that time. Chinese forces invaded shortly after the 1949 Communist revolution and the Dalai Lama fled to India in 1959 during an unsuccessful uprising against Chinese rule.
---
More Myanmar activists sentenced

AP, YANGON, MYANMAR
Sunday, Nov 16, 2008, Page 4

Courts in military-ruled Myanmar sentenced 14 members of the opposition National League for Democracy party to lengthy prison terms, bringing to more than 50 the number of pro-democracy activists jailed his week.

The UN, Western nations and human rights groups expressed concern after sentences of 65 years each were given to 14 activists on Tuesday. They included members of the 88 Generation Students group who played prominent roles ahead of mass pro-democracy protests that were violently crushed last year.

"It's no secret that Burma's military rulers show no respect for law, but these last few weeks show a more concentrated crackdown on dissent clearly aimed at intimidating the population," said Elaine Pearson of New York-based Human Rights Watch.

"These peaceful activists should not be on trial in the first place, let alone thrown in prison for years after unfair trials," Pearson said.

At least 14 National League for Democracy members were given prison sentences ranging from two-and-a-half years to 16 years in different courts on Friday, party spokesman Nyan Win said.

More than 50 people, including 30 NLD party members, were given long sentences, he said. Many were arrested in connection with protests against economic hardship and monk-led pro-democracy demonstrations late last year.

Nine Buddhist monks were given six to eight-year jail terms this week, Nyan Win said.

The army used force last December to quash the demonstrations.

According to UN estimates, at least 31 people were killed and thousands of protesters detained. Many fled the country or went underground.
---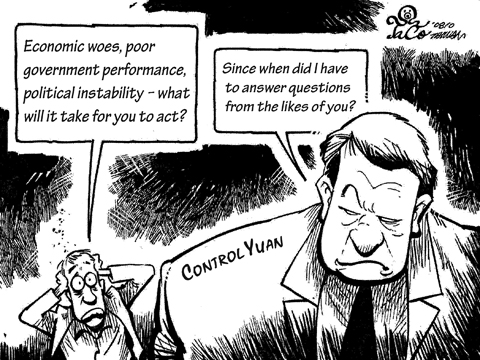 ---
A movement away from the political orthodoxy
 
By Jack Wu 吳振嘉
Sunday, Nov 16, 2008, Page 8

The visit of Association for Relations Across the Taiwan Strait (ARATS) Chairman Chen Yunlin (陳雲林) and the events surrounding it have brought a fundamental change in Taiwan's political scene.

It goes beyond the advance in cross-strait peace claimed by the Chinese Nationalist Party (KMT) government and its pan-blue allies, and beyond the pan-green opposition's accusations that the government is leaning too close to China. What we are seeing now is a new line of thinking on freedom — or the lack of it.

Over the past decade, political parties have focused on the issue of national identity — on whether Taiwan should be independent or united with China. But the pro-unification pan-blue camp and the pro-independence pan-green camp have been unable to convince one another of the merits of their positions.

Although Taiwan has had several democratic elections, politicians still mobilize and motivate supporters through manipulation and the demonizing of opponents. This has created an almost unbridgeable rift. Agitation and negative campaigning has led to the public losing confidence in politics and politicians in general. With the blue and green camps mired in mutual accusations of selling out Taiwan and corruption, there is no room for the neutral voter or new elector.

The ARATS visit brought this situation to the fore once again. With the blue and green camps attacking each other's positions, clashes broke out between agitated crowds and security forces. Politicians of both camps sought the limelight by putting on performances, while biased media outlets distorted their reporting to fit political standpoints.

Chen sought to gain whatever benefits he could from Taiwan's political rift. However, just as his visit was drawing to a close, and with bloody clashes around the Grand Hotel reaching a climax, a new social force was quietly taking shape.

A group of students and academics linked up via the Internet to launch a silent vigil, one quite different in form and purpose from the noisy mobilizations of the blue and green parties.

Their goals are very simple: Criticize police for acting outside their authority and infringing on freedom of speech in the name of security; demand that the government admit to and apologize for its errors; and call for amendments to the Assembly and Parade Law (集會遊行法) where the law conflicts with freedom of expression.

The students are straightforward, sincere and deserve to be taken seriously. These are people who originally gave politics the cold shoulder and who are sick and tired of the endless war of words between pro-unification and pro-independence forces. During the overextension of police authority during Chen's visit, the students saw the ugly face of the abuse of government power. They saw how the police were selective in approving applications for assembly, how they banned the display of the Republic of China flag in specified areas, how they gratuitously marched into a record shop and ordered the management to stop playing certain music.

To the protesters, all of these actions exceeded the boundaries of law enforcement.

The protesters' agenda indicates that a new generation has appeared with its own way of thinking. The axis of political debate in Taiwan may gradually move away from the struggle between unification and independence forces, which the younger generation finds meaningless, toward a fight for deeper democracy and civil liberties.

Politicians should recognize the sincerity of this movement instead of smearing it. Any party that fails to recognize the shift that is taking place risks being sidelined and swept away.

Jack Wu is a doctoral student in the Department of Political Science at National Taiwan University. Translated by Julian Clegg