Chen Shui-bian rushed to hospital for checkup
 
STILL NOT EATING: Complaining of chest pains and soreness while refusing medication, the former president was taken to Far Eastern Memorial Hospital last night
 
By Ko Shu-ling
STAFF REPORTER
Monday, Nov 17, 2008, Page 1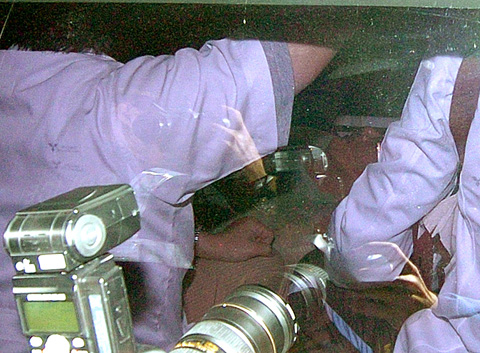 The ambulance transporting former president Chen Shui-bian arrives at the Far Eastern Memorial Hospital in Banciao, Taipei County, last night. Inset: Chen is pictured as he is being taken from the ambulance to the hospital.

PHOTO: LIU HSIN-DE, TAIPEI TIMES
Former president Chen Shui-bian (陳水扁) was taken to hospital yesterday for a check-up and possible force-feeding as he refused to eat for the fifth day since he was detained on Wednesday.

Lee Da-chu (李大竹), deputy head at the Taipei Detention Center in Tucheng (土城), Taipei County, where Chen is being held, said that Chen had complained about discomfort in his chest and soreness, adding that the former president's blood pressure and pulse were near the lower margin of safety.

Doctors said his electrocardiogram was abnormal and that a check-up was necessary.

Lee said doctors at the center had prescribed drugs but that Chen had refused to take them.

He said Chen had also been vomiting liquid as a result of an empty stomach.

TV footage showed Chen being rushed to Far Eastern Memorial Hospital in Banciao (板橋), Taipei County, in an ambulance at about 8pm.

Rather than carrying Chen on a stretcher, the ambulance backed into the emergency room and let Chen get out.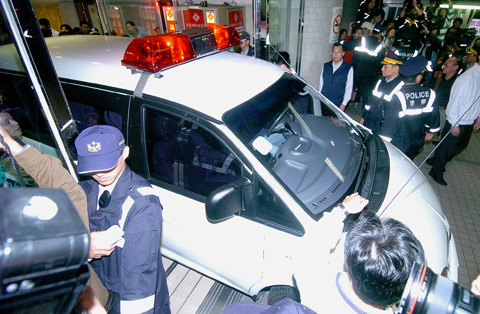 PHOTO: LIU HSIN-DE, TAIPEI TIMES

The hospital said Chen would be spending the night.

Chen, who is suspected of money laundering, taking bribes, forgery and embezzling NT$15 million (US$450,000) during his two terms in office, has been held incommunicado without charge.

He has accused the Chinese Nationalist Party (KMT) administration of "political persecution" and waging a "political vendetta" against him to curry favor with Beijing.

Denying any wrongdoing, Chen yesterday continued to push away food trays in protest against what he describes as judicial injustice.

Supporters were chanting "A-bian [Chen's nickname], jiayou" outside the hospital, while more than 100 police officers were deployed to maintain order.

Meanwhile, hundreds of supporters of the former president yesterday continued rallying outside the detention center protesting Chen's detention and chanting "Release! Release!"

Tucheng police were deployed to the site to control the crowd. No incidents were reported.

At a separate setting yesterday, former president Lee Teng-hui (李登輝) declined to comment on Chen's fast. Lee has dismissed Chen's remarks about "political persecution" and "judicial persecution," saying: "Chen should not shift the blame on the rest of the world. He's the one who made a mistake."

Meanwhile, Chiayi County Commissioner Chen Ming-wen (陳明文) of the Democratic Progressive Party (DPP) yesterday continued his hunger strike to protest accusations of corruption against him.

He was taken into custody on Oct. 28 on suspicion of engaging in graft by leaking confidential information to help a businessman win a tender worth more than NT$650 million. He has been on a hunger strike since last Tuesday.

Supporters of Chen Ming-men yesterday also continued their rallies outside the Chiayi Detention Center where he is being held.

Tainan County Commissioner Su Huan-chih (蘇煥智), Kaohsiung County Commissioner Yang Chiu-hsing (楊秋興), Pingtung County Commissioner Tsao Chi-hung (曹啟鴻), all DPP members, showed their support for Chen Ming-wen by joining the supporters.
---
Parents name child 'Taiwan' as gesture of thanks to medics

STAFF WRITER, WITH CNA
Monday, Nov 17, 2008, Page 2

The parents of a baby in Nauru named their child "Taiwan" recently to express their gratitude to the healthcare assistance the country has extended to the Nauruan people, the International Cooperation and Development Fund (ICDF) said yesterday.

Born with a respiratory ailment at Nauru's National Hospital, the baby boy was saved by a Taiwanese mobile medical team that was in the country on an 11-day medical service mission, the ICDF said.

The baby was found at birth to be suffering from Meconium Aspiration Syndrome, a respiratory ailment caused by the overdue pregnancy of the mother, an ICDF official said.

With the baby in clear distress and taking 70 to 80 breaths per minute, visiting Taiwanese doctors from the Taichung Veterans General Hospital and the Show Chwan Health Care System operated on the infant and saved its life, the official said.

The team's mission in the Pacific island country from Nov. 2 to last Wednesday was organized by the ICDF, which is affiliated with the Ministry of Foreign Affairs and coordinates mobile medical teams to provide free medical services in foreign countries as an extension of the country's diplomacy.

Meanwhile, the ICDF said another Taiwanese mobile medical team was set to depart for Haiti yesterday, marking the first time an ICDF-organized team would travel to the country to provide medical services.
---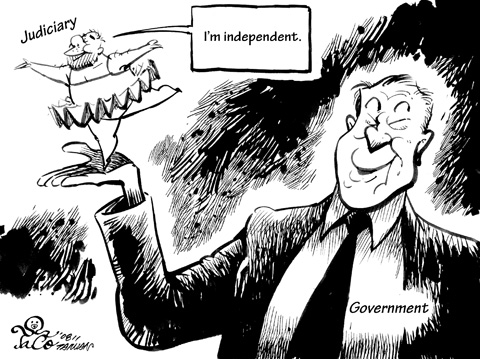 ---
Speak out now

Your editorial ("Speak now or forever be silent," Nov. 14, page 8) was good advice for the public to speak out or risk being silenced forever by the Chinese Nationalist Party (KMT) and/or the Chinese Communist Party. Taiwanese suffered from "White terrorism" before and are now suffering from "Blue terrorism" because of the KMT administration. They are afraid that someday "Red terrorism" might fall on them.

Unfortunately, the courts appear to only be punishing pan-green officials. Blue officials are virtually untouched. President Ma Ying-jeou (馬英九) was acquitted of charges he pocketed money from the mayoral special fund and claimed that thousands of officials were in the same situation. Justice is way off balance, and the people should correct it.

"Blue terrorism" was further illustrated by recent incidents of police brutality against demonstrators protesting the visit of Association for Relations Across the Taiwan Strait Chairman Chen Yunlin (陳雲林). In spite of non-violent protests by students and others , the government refuses to acknowledge that police violence could have been avoided.

Taiwan's young democracy is in crisis. Taiwan has reverted to a police state.

To protest bad policies or practices of the government, the people should not use hunger strikes or immolate themselves. The best way is to speak out loud and clear. Ma was elected by the people and has an obligation to listen.

CHARLES HONG
Columbus, Ohio
---
Tibetans meet to discuss failed "middle way"
 
Tibet's 6 million people, led by a devout pacifist, have found they aren't making much progress against China's 1.3 billion people and the world's largest army

By Tim Sullivan
AP, DHARAMSALA, INDIA
Monday, Nov 17, 2008, Page 9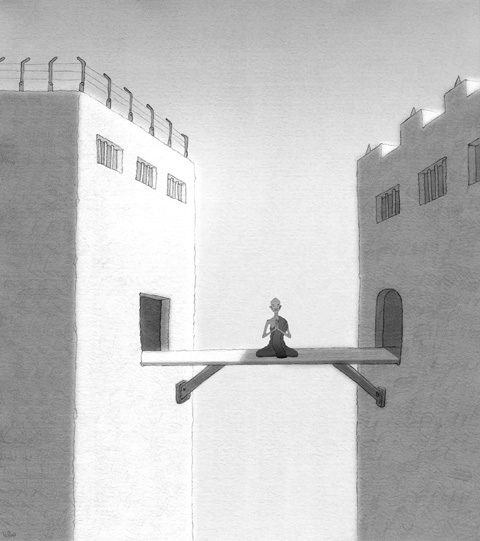 It's been almost 50 years since the Tibetan god-king fled across the Himalayas and created his government-in-exile. Decades later, the Dalai Lama and his followers are still in Dharmsala.

And the struggle for Tibet? That, they increasingly say in the hilly, northern Indian town, has been futile.

"We have failed to bring any positive change inside Tibet," said Samdhong Rinpoche, prime minister of the government-in-exile. "The majority of Tibetans are increasingly frustrated and want more forceful change."

Now, nearly everything is on the table for discussion. Starting today, exiled Tibetans from around the world will gather in Dharamsala, called together by the Dalai Lama for a six-day meeting that could end years of carefully moderated policies toward Beijing.

In a town of often-feuding exiles, many now have at least one thing to agree upon: Their movement has reached a crossroad. The Dalai Lama is growing old, a young generation of activists want tough talk toward China and Beijing is moving thousands of ethnic Han Chinese into Tibet.

"In 10 or 15 years, when we look back at this, we're hopeful that we'll see this as a historic conference," said Tsewang Rigzin, president of the Tibetan Youth Congress, one of the more militant activist groups. "We know that we have to be rational and reasonable, but we also need to change the political stand of the Tibetan people."

For 20 years, the exile movement has been guided by the Dalai Lama's "middle way," which rejects demands for outright independence but calls for limited autonomy for Tibet. Until very recently, the Dalai Lama had insisted on conciliation, repeatedly telling Beijing that progress for Tibet could come only through talks, and insisting he did not want independence.

Conciliatory talk, though, brought little but disdain from China.

Instead, Beijing derides the Dalai Lama as a "splittist," saying he really wants a Tibetan nation. For years, talks between Beijing and the Dalai Lama's envoys have ended in stalemate.

Last month, the man who turned patience into an art form appeared to finally grow impatient.

The Dalai Lama said in a speech that after years of pursuing the middle way "there hasn't been any positive response."

"As far as I'm concerned, I have given up," he said.

From those statements came his call for the special exile conference. Many specifics remain vague, but any issues can be discussed (though policy changes would require approval by the government-in-exile). The Dalai Lama now remains silent, worried any statements would be seen as support for a particular policy.

So what sort of agendas could emerge from the conference?

The days of CIA-backed Tibetan military units ended decades ago, and even the most hard-line exiles see no hope in fighting China's army.

Today, the clearest divide is between those favoring Tibetan autonomy and those favoring independence. But there are also endless sub-permutations, with various factions urging more protests, angrier protests, boycotts, more pressure on Western nations and, among a small group, a push for sabotage of China's infrastructure.

With China heightening its rhetoric — last Monday, Beijing officials accused the Dalai Lama's envoys of trickery — the exile debate has also become sharper.

"The tough line taken by China is increasing divisions among the exiles and uncertainty about what it should do," said Robbie Barnett, an expert on modern Tibet at Columbia University.

In many ways, these debates can seem pointless. China has 1.3 billion people and the world's largest army. The Tibetans number perhaps 6 million and are led by a devout pacifist who hasn't been home since fleeing amid a failed uprising against Chinese rule in 1959.

But the discussions are taken deadly seriously in Dharamsala, where movement leaders hope for a time when changes in China will lead to meaningful change in Tibet.

Certainly, this is a time of turmoil in the Tibetan exile movement. Bloody anti-government riots in March in Lhasa, Tibet's capital, were brutally put down. Shaken by reports of anti-Chinese attacks, the Dalai Lama threatened to resign unless his followers stopped their violence.

That was followed by the Beijing Olympics, which many Tibetan activists had hoped would offer the best stage in years for demonstrations. Instead, protests in Europe during the Olympic torch run faded into near-silence after China was hammered by an earthquake.

The lack of protests, in turn, helped reinforce divisions between Tibetan exiles who back the Dalai Lama's relentless pacifism and a far angrier young generation, many born in exile, increasingly desperate for action.

Most importantly, though, there is the Dalai Lama, 73. While people close to him insist he remains in good health for his age, he has been hospitalized twice since August and his travel schedule has been curtailed.

In a movement that often sways between centuries, it can be hard to differentiate between the Tibetan struggle at large and the Dalai Lama himself.

On one side there is a modern protest movement, with Web sites and hip T-shirts and Richard Gere speeches. On the other is a leader who came to power because Buddhist mystics proclaimed him the reincarnation of the previous Dalai Lama. He is a holy man who became a master at public relations, and who remains a god to his followers.

"I have heard of this middle way, but I don't know much about it," said a former businessman, his hair combed into a pompadour, waiting recently in a Dharamsala refugee center.

Days earlier, he had fled Tibet, fearing the police because he'd joined the March protests. He asked that his name not be used out of concern for his family.

As for the conference, he wasn't worrying about it: "I will do what His Holiness wants, no matter what."
---
China wants to make bricks from toxic milk: report

Monday, Nov 17, 2008,Page 15

A Chinese worker destroys one of 2,784 boxes of contaminated Mengniu milk that were recalled in Wuhan, China, on Nov. 5, 2008.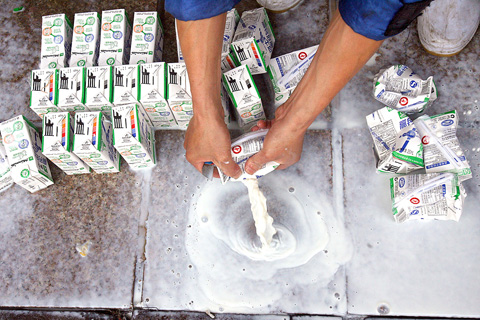 PHOTO: AFP

A south China city is considering using milk at the center of a poisoned food scandal to make bricks as a cheap and clean way of disposing of the tainted products.

Guangzhou officials are looking into the viability of dumping the toxic products, found to have been tainted with the industrial chemical melamine, into furnaces that make bricks and cement.

City officials are having a hard time ensuring the milk is disposed of properly. Some Guangzhou garbage stations poured tainted milk into rivers earlier this month, triggering concerns the city's water supply would be contaminated.

Using the milk products in the manufacturing process is estimated to cost 700 yuan (NT$3,369) for each ton of milk processed, more than 70 percent cheaper than burning it in garbage incinerators, media reports said.

The reports said that burying the poisoned products was another alternative allowed by the government, at a cost of 200 yuan a ton, but quantities would have to be limited to prevent soil pollution.

In China alone, four children have died and 53,000 have fallen ill after consuming milk or milk products laced with melamine, which can make the protein content appear higher.

Many countries and territories have banned Chinese milk and milk products in the wake of the scandal, one of many involving tainted Chinese-made foods. (AFP)